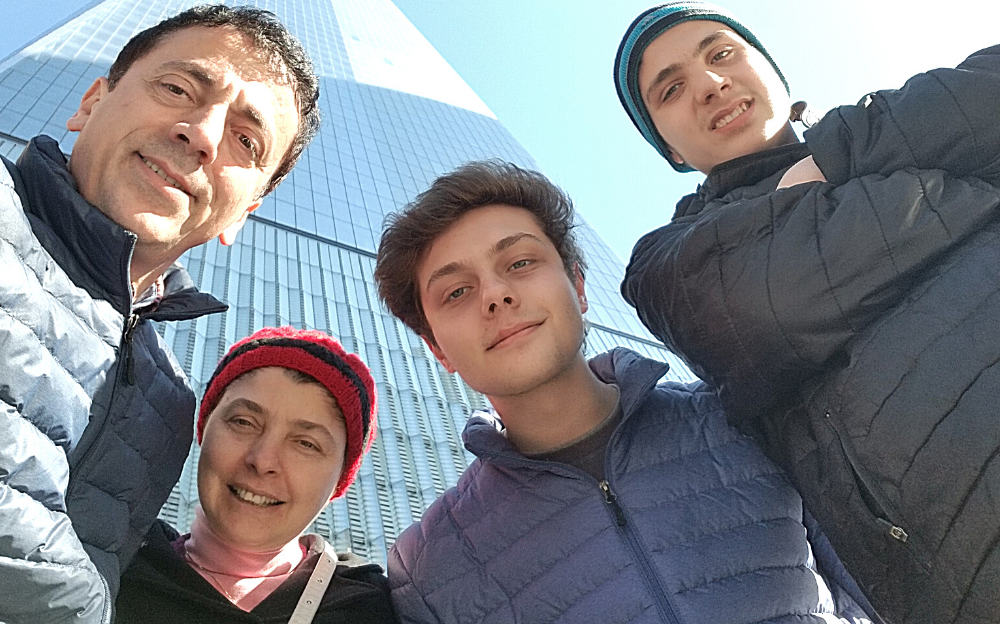 From left to right: Ahmet, Fatma, Bera and Emir Demirbilek of Brookfield.
When Bera Demirbilek, an 18-year-old from Brookfield, was a child, he noticed his exceptionally smart and highly educated parents were limited by their ability to communicate. Immigrants from Turkey, "both had Ph.D.s and are incredible engineers, but it had been hard for them to express what they know in English, and that held them back in their careers.
"I would definitely contend there is a bias in American workspaces against people who have accents or can't communicate as clearly," Demirbilek said in an interview last week with the Wisconsin Muslim Journal. Like so many children of immigrants, he felt the need from a young age to be the bridge between his parents and the larger American community.
Then, when Demirbilek was 6, his twin brother Emir was diagnosed with nonverbal autism. "He was not able to communicate a lot of things. For example, when he was hungry or in pain, sometimes it was a problem to know what he needed," he said.
"I felt my family, and especially my brother, needed someone who will stand up for them," Demirbilek said. "That has shaped my identity. I have always thought I have to be able to communicate incredibly well and I worked on those skills," he said.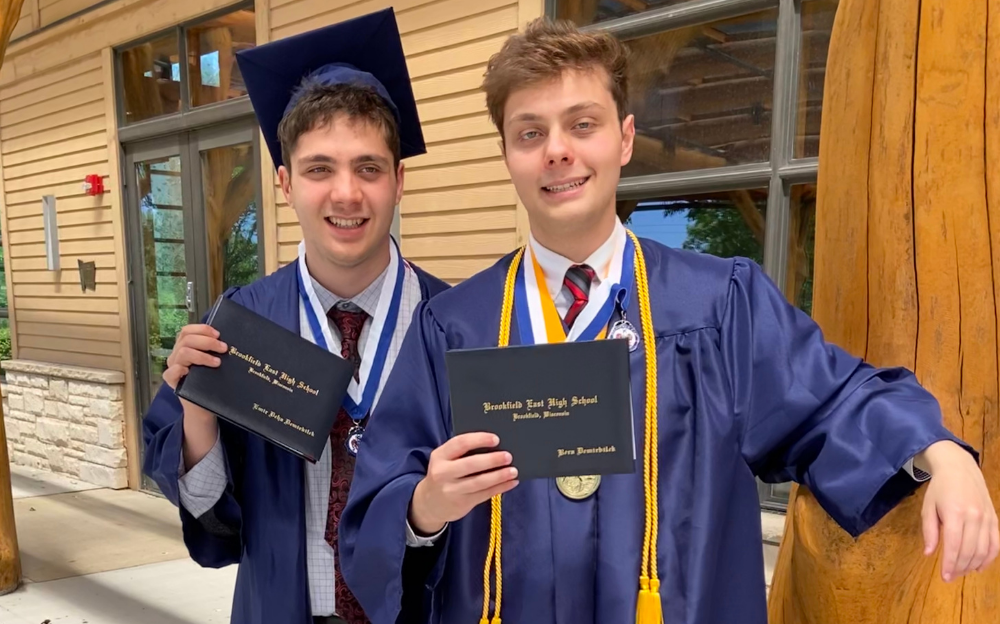 Twin brothers Emir and Bera Demirbilek graduated from Brookfield East High School this year.
Three days back from a two-week trip to a family wedding in Turkey (they bought their tickets well before the pandemic) and just before launching into his computer science and economics studies at Stanford University, the Brookfield East High School salutatorian, Wisconsin state champion public speaker, published researcher and activist talked over Zoom about the life experiences behind his drive to break down barriers of prejudice against immigrants, Muslims and people with disabilities.
Inspirational parents
Polite and reserved, but with a lot to say, Demirbilek beamed with pride as he shared his parents' story. His father, Ahmet Demirbilek, "came from extreme poverty. He studied middle school, high school and college all for free, living off scholarships for everything after elementary school.
"Then he came to America, which is an incredible feat.  People don't really know how hard that is."
His mother, Fatma Demirbilek, "was a woman in STEM in Turkey in the 80s, which is definitely something very hard. Like my dad, the obstacles she had to overcome are incredible."
All their relatives, except their immediate family are still in Turkey, he added.
His mother is currently a product management engineer at GE and his father works at the Wisconsin Department of Transportation as an electrical engineer.
"When you put everything in perspective, when you look at their situation, it is super inspiring and I'm very motivated to do things to be somewhat close to the level of accomplishment they had."
Representing family and community
"I am really motivated by representing my family first and foremost, but also I feel like I have to represent people from my community, the Muslim community and Turkish community," Demirbilek explained.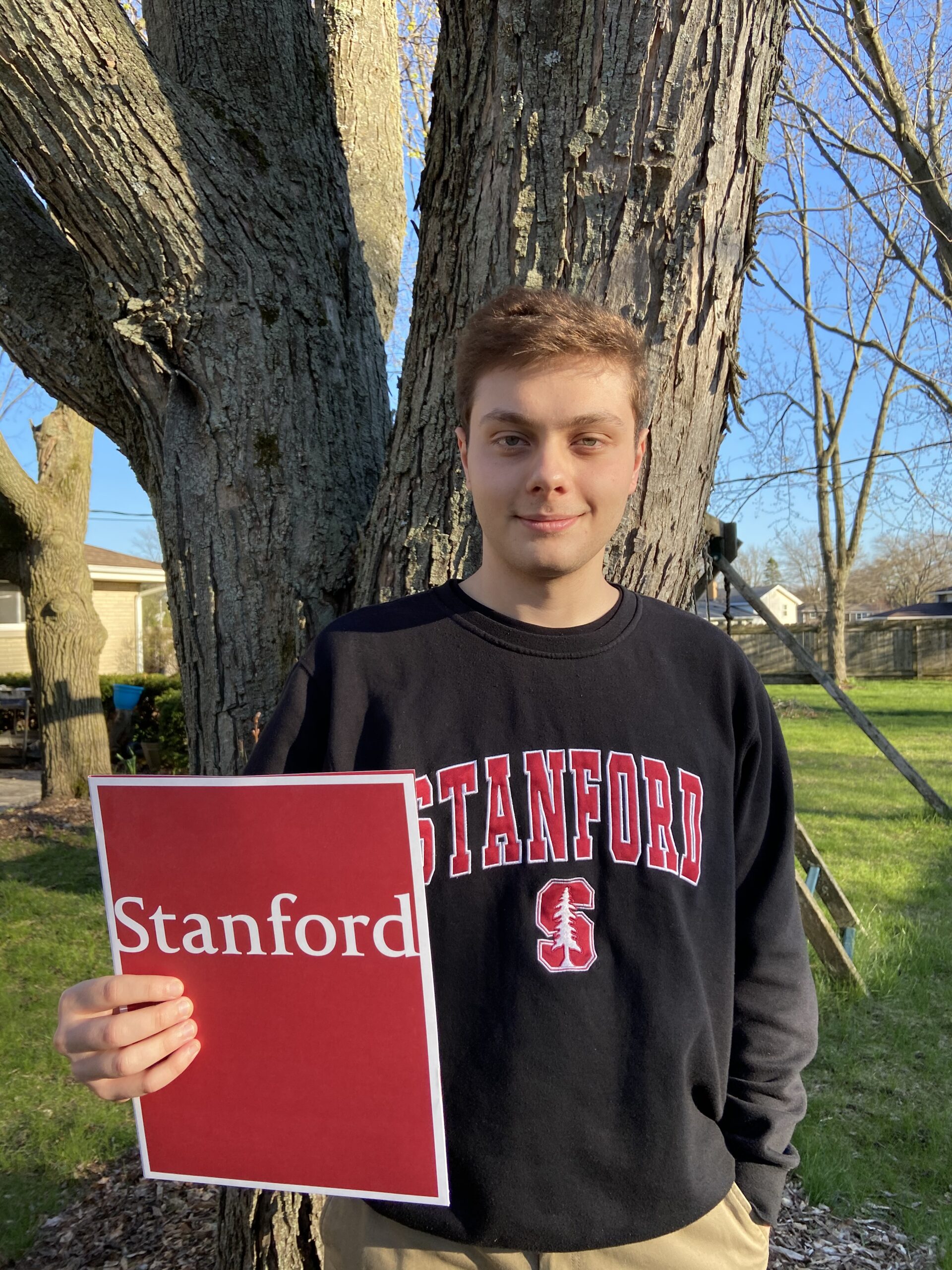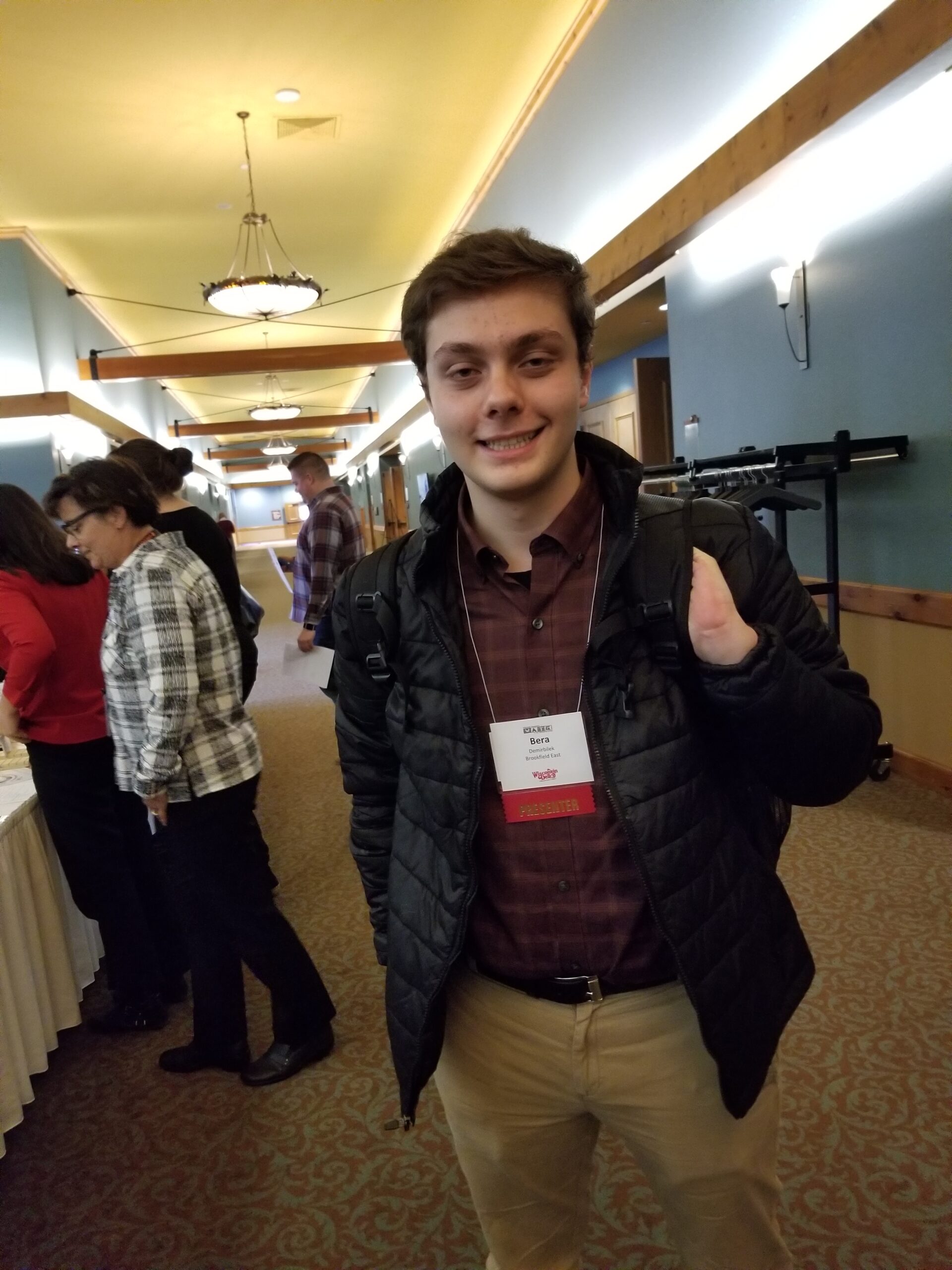 But he did not always feel that way. As a child growing up as a Muslim in post 9/11 America, "I was ashamed of who I was," Demirbilek said. "In elementary school, I begged my mom not to wear her hijab because I was scared about my image, concerned that my peers would exclude me from their group." In middle school, Demirbilek joined the Speech and Debate Team and that gave him the confidence to stand up himself, his family and his faith.
"As a result, neither my mother's hijab nor other's biased thoughts bothered me. With my eyes no longer on my feet while I walked through the hallways, my classmates noticed, and I started to become a leader in their eyes," he said.
Now with the awareness that "the chance of someone meeting a person like me only once is very high where I live, I feel a duty to represent a whole culture and faith. I know I may be the only Turkish person a lot of people meet and, in Brookfield, I am one of the only Muslims anyone will meet. Ultimately, I am responsible for how a lot of people see communities like mine. I can't justify being lazy or not standing up against things that are wrong."
This attitude has led Demirbilek to participate in youth interfaith events at Masjid Al-Noor in Brookfield. "One reason I do is that is when people who have not interacted with Islam before see someone who looks like me, who can speak normal American English, they tend to find more tolerance for the religion itself.
"The fact that I have worked on my public speaking a lot throughout middle school and high school makes me a leader in that sphere. I can use humor to get a point across. I can explain things in a way people can understand and don't have to make it too complicated.
"Regardless of what job I have in the future, being an active and contributing member of the Muslim community and being a leader are incredibly important," he said. "I want to be an activist and an advocate for the Muslim community and other marginalized communities as well. Because I find it to be a duty I think I will always be doing it."
Being my best for my brother
As Demirbilek grew into his role as a representative of the Muslim community, he also grew as an advocate for Emir. "I used to be very insecure of the fact of having a brother who is disabled. Back in around 2008, 2009 and 2010, the understanding of autism wasn't there. People would ask me what was wrong with him. Being a 10-year-old, I didn't know.
"I always had this anxiety of a teacher coming to a classroom and pulling me out to deal with my brother. That motivated me to learn more about his condition."
In high school, Demirbilek engaged in award-winning research on autism and created a website called Learning Autism to serve as an informational platform "that simplifies everything about Autism Spectrum Disorders" and links families to services, research and support.
He also continued to develop himself as a scholar and speaker to be the best he can be for his brother, he said. He earned a 4.0 unweighted grade point average at BEHS, while taking 18 advanced placement university courses, along with Calculus 3 and Organic Chemistry.
Demirbilek won the Wisconsin Congressional Debate State Championship and the Wisconsin Public Forum Debate State Championship. He is particularly proud of his speech about special education policy, described as a "powerful speech about underfunding in schools and the needs in special education for certain technologies."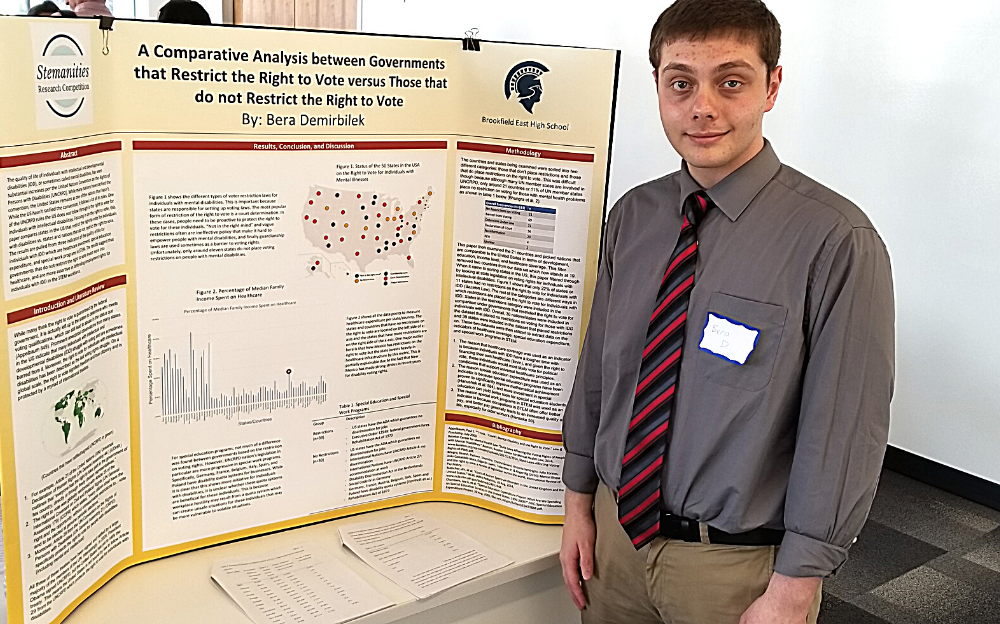 His motivation for his academic and extracurricular success has been "to do well in every aspect of my life for my brother. It's not a burden, but it is a duty for me to take care of him his entire life if he is not able to take care of himself. Especially as my parents get older, it is up to me. I want to make sure he has the best possible care, the best possible life.
"I also want to learn everything I can about the special education system the government has to make sure that that he and others like him are going to have opportunities to work and do things that give his life more purpose, to enroll in courses like piano and swimming, art. Emir is actually very good at piano, mashallah."
As the editor-in-chief of BEHS's The Spartan Banner, Demirbilek wrote a cover story about the Best Buddies Program. In it, he made the case for the integration of special education students. "It is super important to a lot of these kids," he said. "It gives them the opportunity to interact in any sort of way. It doesn't have to be talking. It can be just being in that crowd of people. I was very proud of it," he said.
He has also been an active leader in ISM-Brookfield's chapter of MUHSEN, an organization that works to establish a "Special Needs Friendly" environment in the Muslim community.
Research Success
Demirbilek pursued three major research experiences. At Northwestern University, he worked in the Neurodevelopment for Disabilities Lab, where he was mentored as he participated in research. At the Medical College of Wisconsin (MCW)/Clinical and Translational Science Institute (CTSI) he participated in the 500 Stars Internship Program, a paid internship in neuropsychology research. He developed research on the ecological validity of cognitive tests. "I found some clinically and statistically significant results, and I got to present that research at the Milwaukee Regional Research forum. It was really fun!"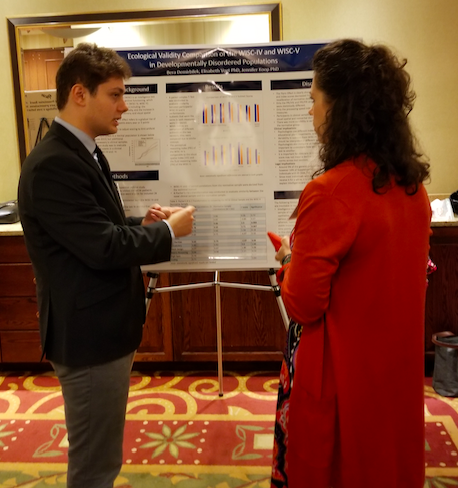 The third project was independent research that he submitted to a competition in "Stemanities," interdisciplinary projects between STEM subjects and the humanities. Demirbilek studied the voting rights for individuals with mental disabilities, comparing U.S. states that restrict voting rights for individuals with disabilities to those that don't. "The results suggest that governments that do not restrict the right to vote invest more into healthcare and are more assertive in defending employment rights for individuals with IDD in the STEM workforce," he concluded. Demirbilek was selected to join the 10 finalists invited to present their research to the Stemanities National Conference in California, where he placed third.
What the future holds
Demirbilek initially planned to study neurotechnology at Stanford or maybe become a doctor. But he has changed now to a double major in computer science and economics.
"As an 18-year-old, I don't know exactly where this path is going to lead," he said. "Right now, I am focusing on majoring in computer science and economics. Maybe I'll end up studying management science and engineering. There are several different majors I am interested in," he said. And he is thinking of joining the Stanford Debate Society.
Whatever he does, representing his family, his faith and his community will clearly be at the heart of it.