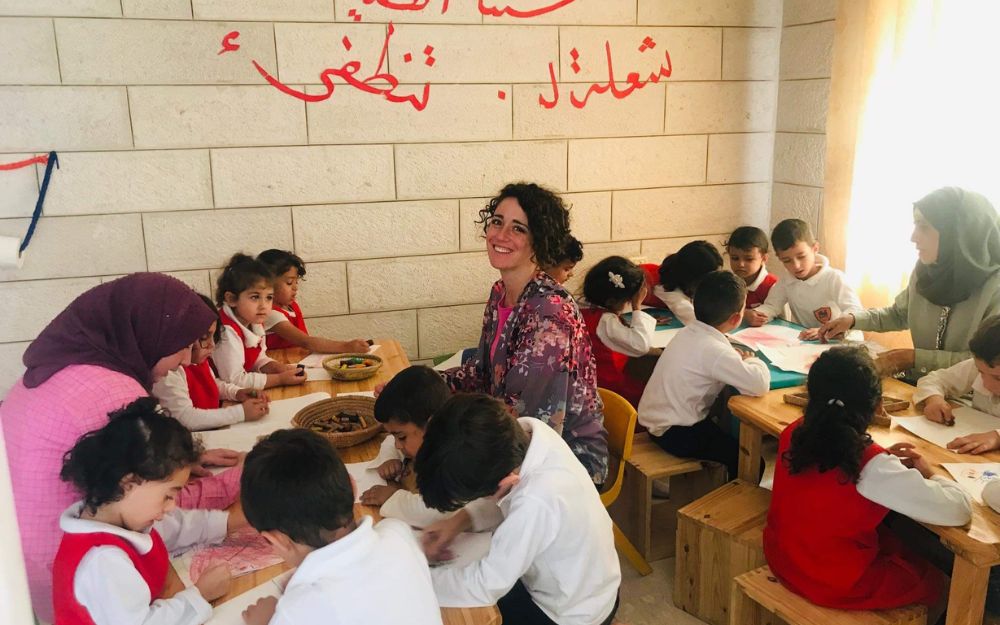 Thea Lavin (center) of Kansas, Wisconsin, visits a kindergarten class at House of Hope Vision School in Al Eizariya, West Bank.
Why would a Wisconsin-born-and-raised Jewish woman with Ivy league credentials and a promising career in Silicon Valley leave the tech-world behind to support trauma-informed education for Palestinian children?
Thea Lavin remembers the exact moment her life changed. 
It was 2014, she said last week in an interview over Zoom. With a Bachelor of Arts degree in U.S. history from Tufts University and a Master of Arts degree in journalism from Stanford, Lavin was thriving in hi-tech public relations and marketing. She and her husband, also working in hi-tech, lived nine years in San Francisco before they moved to Portland, Oregon, in 2011.
That night in their Portland home, they watched news coverage of the 2014 War in Gaza, about which a United Nations commission said "the scale of devastation was unprecedented." The conflict lasted 50 days. On the Palestinian side, 2,251 people were killed, of whom 1,462 were civilians, including 551 children, the U.N. report said. More than 11,000 Palestinians were injured, some permanently. On the Israeli side, 67 soldiers were killed and six civilians, with up to 1,600 injured, it noted. Homes, hospitals and infrastructure in Gaza were destroyed; the electricity network, water and sanitation incapacitated.
"We were watching this nightmare unfold, Lavin, now 43, explained. "At that time, I was a new mother with infant twins. One evening, I had put my baby daughters down to sleep and was standing in my kitchen, looking out the window at the moon when a question came to my mind: If I was a Palestinian mother right now, how would I keep my children safe? That thought changed my life and inspired all the work I do."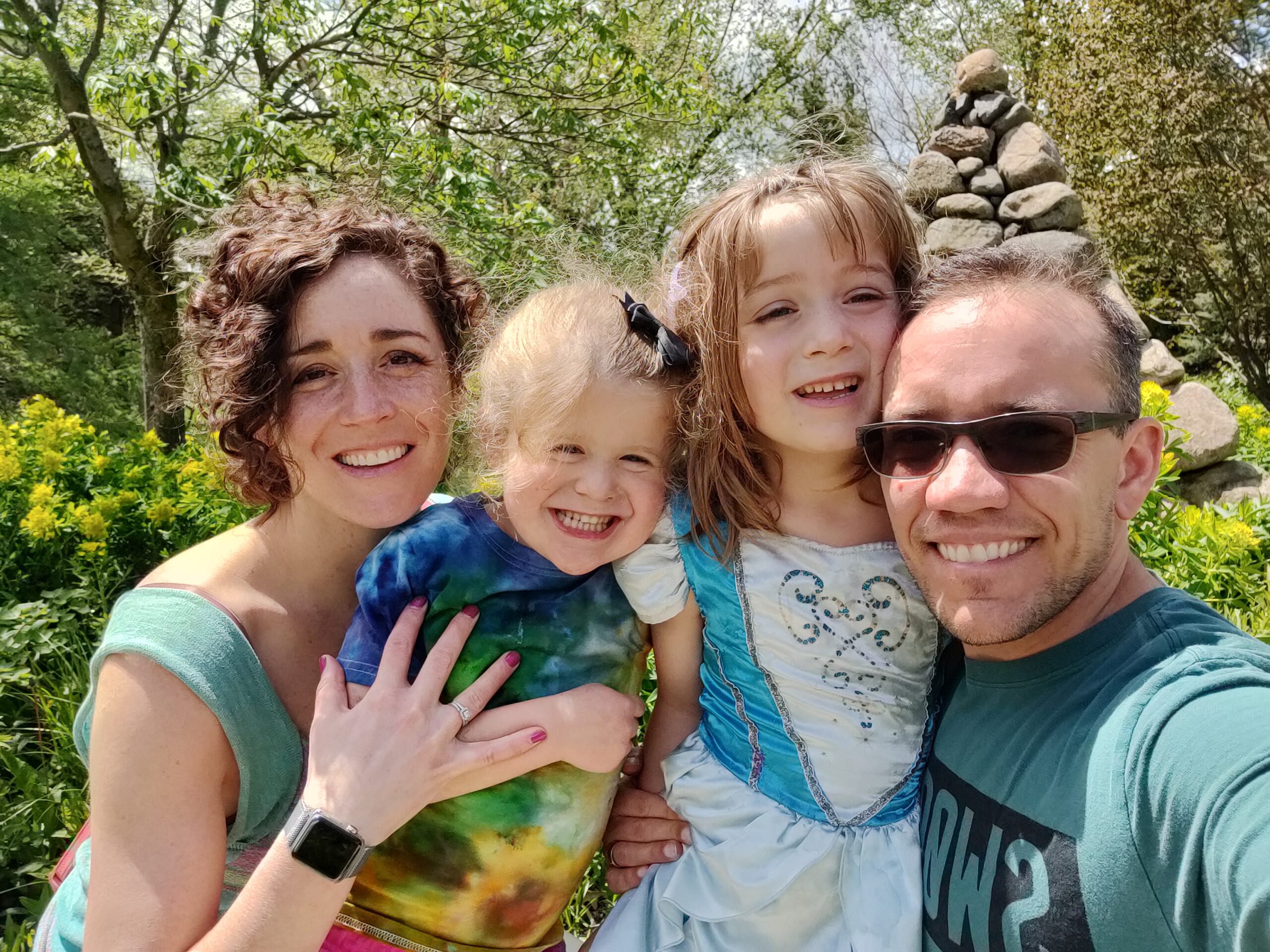 Left to right: Thea Lavin, daughters Skylar and Shaylee, and husband James Lavin.
Lavin became a social entrepreneur who starts and participates in nonprofits "dedicated to advancing prosperity and peace for Palestinian communities through trauma-informed education," she said. "I work with Palestinians on both sides of the Green Line," the border separating pre-1967 Israel from the Occupied Palestinian Territories.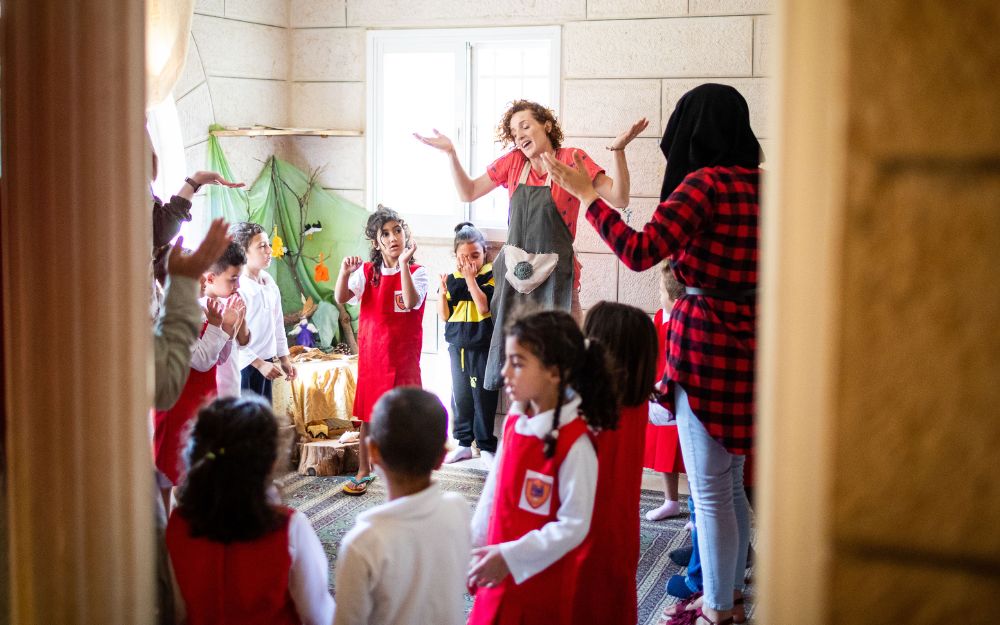 Thea Lavin (center) participates in activity with House of Hope Vision School students.
She co-founded and serves as managing director of Supporting Hope, a nonprofit dedicated to supporting and sustaining the House of Hope Vision School, a school in the West Bank designed to help children overcome trauma-induced obstacles to learning. It is the first holistic kindergarten and elementary school in the West Bank founded on principles of nonviolence.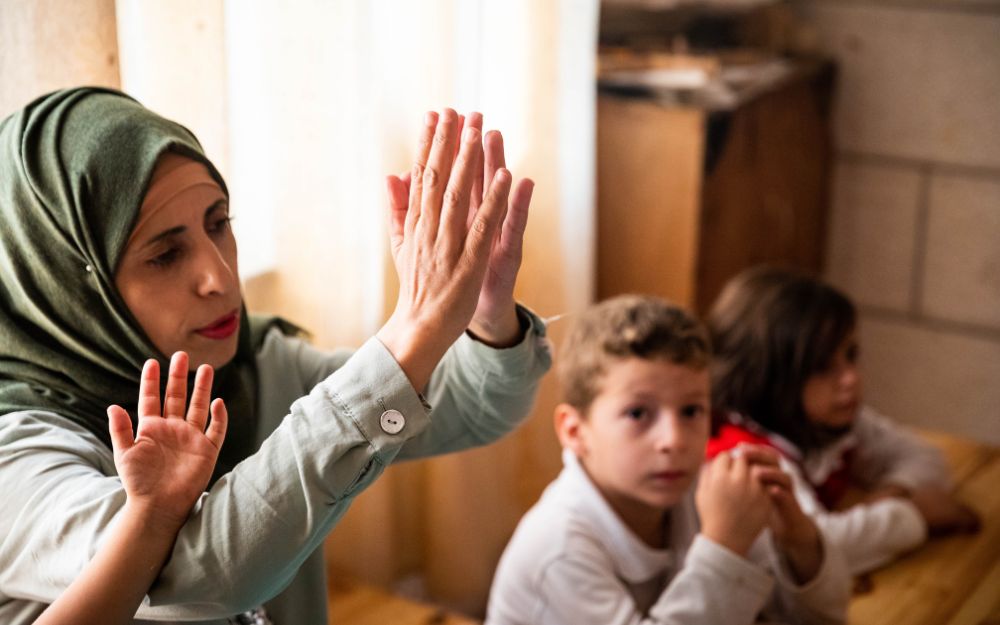 House of Hope Vision School kindergarten director and teacher Nadia Emtair with students.
She is also the communication, development and Middle East programs director for reGeneration Education, a nonprofit advancing "peacebuilding through innovative approaches to the education, development and resilience of young children in crisis zones so they are able to imagine and create a better future."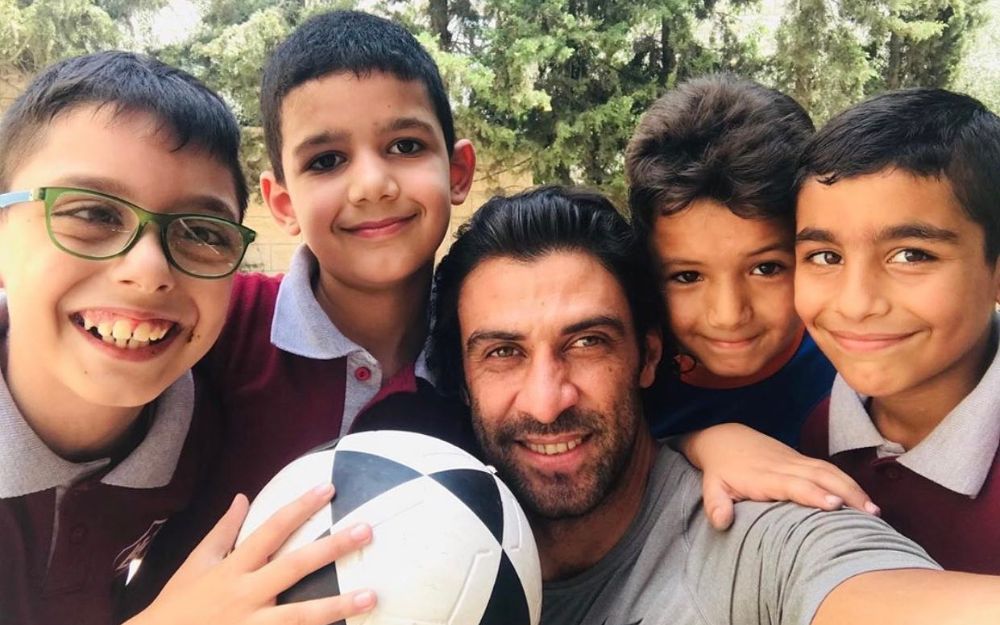 House of Hope Vision School co-founder and chairman Milad Vosgueritchian (center) poses with students.
Today reGeneration Education announced the results of a 21-month study of systemic barriers, including Israeli governmental policies and societal phenomena that prevent Palestinian Arab children in Israel from accessing trauma-informed early childhood and elementary education. It identifies barriers and charts a way forward.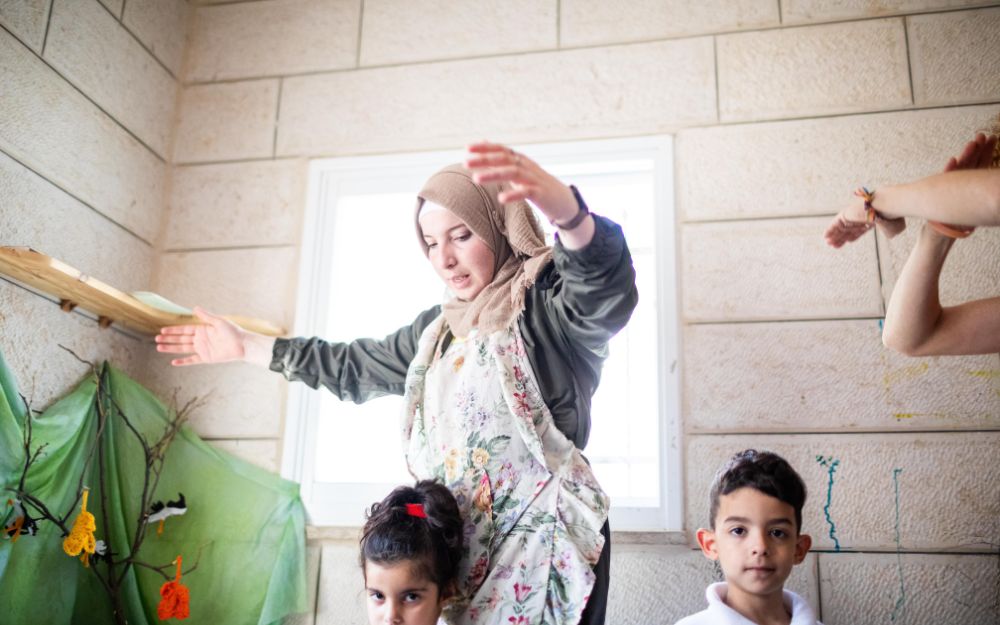 Kindergarten teacher Zain Khanafseh leads students in movement.
Lavin spoke from her home office on the seventh-generation family farm in Southeastern Wisconsin that has been in her family since 1842. She lives there with her husband and two soon-to-be-9-year-old daughters. 
In conversation with Wisconsin Muslim Journal, Lavin spoke passionately about her work.
WMJ: How did that moment of empathy with Palestinian mothers happen?
Lavin: I had been able to ask myself that question about Jewish Israelis for a long time. I had been able to relate to that question, but I had never been able to access that question about Palestinian mothers. All that changed when I became a parent. I started to be able to see Palestinians as parents, as mothers, as kids—really see them.
WMJ: Why couldn't you "access" that question about Palestinian mothers before?
Lavin: I had been very defensive around the issue of occupation and human rights for Palestinians for a long time. That defensiveness made it difficult to fully see Palestinians and the suffering they experience. 
WMJ: Where did that defensiveness come from?
Lavin: Intergenerational trauma and ignorance. There is a lot of intergenerational trauma among Jewish Americans in a post-holocaust world and it creates fear. 
I didn't want to believe things are as bad in the West Bank, Gaza and East Jerusalem as they are. When I was able to break through my defensiveness and become informed about the human rights violations and circumstances these families are having to live in, I was able to see Palestinians as full people. Now I can say, 'How can I help?'
WMJ: How did you translate that empathy into action?
Lavin: In 2016, some Palestinians came to my synagogue to speak. They're the leaders of the trauma-informed education movement in the West Bank. They have an amazing school, House of Hope Vision School. A couple of months later, I got on a plane and went to see the work they're doing. 
I came back and told my husband I'm done with working in hi-tech. The world does not need another public relations person in technology and I'm needed doing this kind of work. 
Along side Kristi Boesen, an amazing Christian American who had recently returned from visiting House of Hope, we started our own nonprofit, Supporting Hope, that is dedicated to supporting their remarkable little school. Then I learned how to run a nonprofit, how to fundraise, how to support these heroic parents and teachers.
About a year later, I encountered reGeneration, which had been around for about a decade at that time, supporting Palestinian parents and teachers, and Jewish allies working to advance holistic quality education for Palestinian communities in Israel and the West Bank. I started working with them as well.
WMJ: What did you see on your first trip?
Lavin: I had never been to the West Bank or Israel until the age of 37. I flew into Tel Aviv and took a shared van to the old city in Jerusalem, then a bus to the West Bank. 
I was shocked. I was really shocked. I saw military checkpoints everywhere, not just along the Green Line, but between and within Palestinian villages. I saw soldiers enter villages, a large military presence everywhere and a lot of freedom of movement problems for Palestinians. 
I saw deep poverty, household food insecurity and water scarcity. I felt tear gas in my eyes sometimes when driving through villages. I saw confrontations between soldiers and Palestinians. 
I was staying with a Palestinian family so I saw their two young children seeing everything I was. I felt concerned about how it would affect their development.
Science and research show exposure to that kind of trauma and toxic stress negatively affects childhood development, especially executive brain function, the part of the brain that is critical for learning. The medical community around the world is concerned about the impact of adverse childhood experiences. They have implications for your physical and mental health that will impact the rest of your life. 
Then I saw these communities of Palestinian parents and teachers who are working so hard to bring excellence in education for their children. I wanted to do anything I could to support them.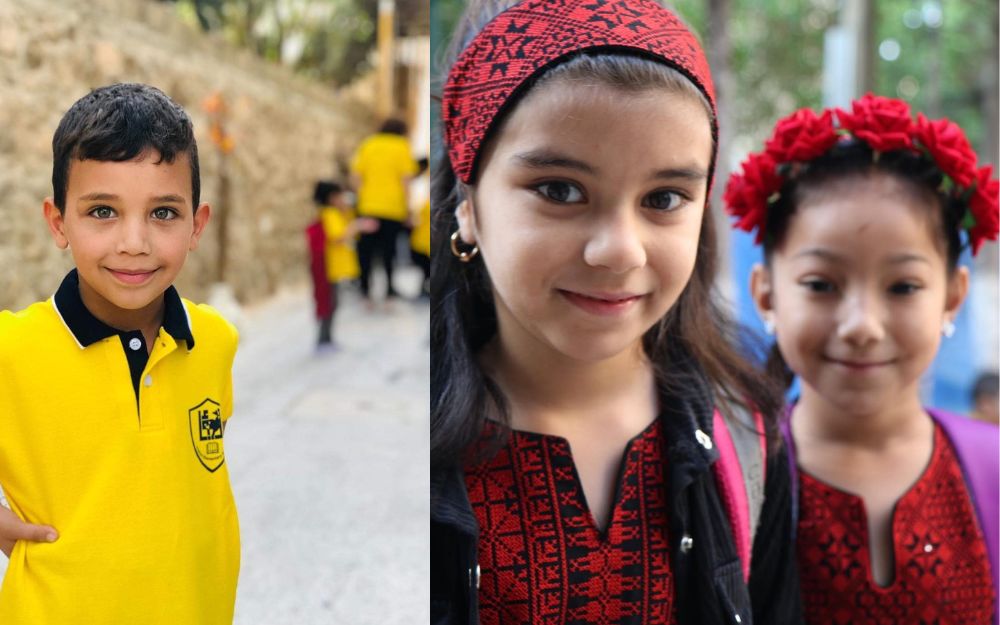 House of Hope Vision School serves Palestinian children in a city in the West Bank.
WMJ: How did you decide what to do?
Lavin: What Palestinian parents wanted was the cause of the trauma, the occupation, to be addressed. I can't affect that. The next thing I heard them say they wanted were beautiful schools that were soothing and healing, that helped these children overcome the trauma-induced obstacles to learning they're experiencing. So, I thought, okay, I'm going to figure out how to do that. 
I decided I could be most helpful in supporting Palestinian parents and teachers who want to provide trauma-informed education, which is simply education that takes into consideration the impact trauma and toxic stress have on a child's normal, healthy development and ability to learn. I said to myself, I can support these parents and teachers in creating healing school environments.
WMJ: All of this—working with education, launching and running nonprofits—was new to you. How did you know what to do?
Lavin: I have a master's degree in journalism so I have a journalist's sense of curiosity and I'm a Wisconsin farmer's daughter, which means if I don't know how to do something, I just figure it out. I sought out smart people; I listened to Palestinians who talked about what they needed.
WMJ: Was it hard to leave corporate America?
Lavin: I just did a big flying leap off the ladder. Why? I don't know. I'm not a particularly religious person but my only explanation is God picked me. I stood in my kitchen that night and thought, 'Oh my God! What would I do if I were a Palestinian mother?' I've been obsessed with that question ever since.
I had been climbing up the corporate ladder for 15 years. When you're on the corporate ladder, your title means a lot to you. It gives you a sense of self-worth. It was a big identity shift at first.
WMJ: Did you return to visit House of Hope Vision School?
Lavin: I went three years in a row after 2017 until the pandemic. My husband and mother watched the kids. I'd go for three weeks at a time. I have a lot of family support.
WMJ: How does your husband feel about your career change?
Lavin: He doesn't have the same what I'll call 'Jewish baggage' that made it difficult for me to see Palestinian suffering for so long. He saw it with clarity. From Day One, he said, "Get on the plane and go be part of this.'
WMJ: Has your synagogue been involved in your work?
Lavin: I'm a congregant of the Beth Hillel congregation in Kenosha and teach at the Sunday school. My congregation welcomed both co-founders from House of Hope Vision School as guest speakers and they really support the work I do. 
It's not an uphill battle. The majority of American Jews want a two-state solution and absolutely oppose the occupation. We want to see Palestinians with a state of their own. 
WMJ: House of Hope is a Waldorf school. Do your children go to a Waldorf school?
Lavin:  We are out in the countryside and there's not a Waldorf school available. But here in the United States, public schools have an awareness of trauma, of adverse childhood experiences and toxic stress. They are helping children develop emotional regulation. 
In Wisconsin, we have excellent public schools compared to where I was living in Portland, Oregon. As parents, our children's school is at the top of our priority list. When it was time for our children to start school, we just moved home to Wisconsin for better schools. We have freedom of movement. 
For Palestinian communities in Israel and the West Bank, there are few options, with the fewest in the West Bank. That made me realize how important access to excellent education is. 
Sometimes people ask why both the House of Hope and reGeneration Education support Waldorf education. Waldorf meets the three major qualifications of trauma-informed education. 1) It repairs a child's emotional regulatory abilities; 2) It repairs disrupted attachment, so a child can securely attach to a caregiver; and 3) It increases a child's psychological resources, which help them hold on to positive emotions, develop strengths and identify tools of resilience. 
Waldorf is also the type of trauma-informed pedagogy Palestinian parents are united around. It is very popular among both Jewish and Palestinian parents.
WMJ: reGeneration Education has just released results from its massive, 21-month research project that identifies barriers Palestinian citizens of Israel face when trying to access trauma-informed education. What impact do you hope this research will have?
Lavin: My hope is the Israeli government sees this as an opportunity to invest in Palestinian citizens of Israel and to make a positive change. I hope it will remove barriers and provide some assistance to close equity gaps so everyone has equal access to an education that heals. There is a new governing coalition in Israel that seems to be responsive and receptive to positive change in the educational landscape.
Thea Lavin (center) joins with House of Hope Vision School teachers to celebrate students' birthday.
WMJ: What has this work meant to you personally?
Lavin: The older you get, and now I'm in my mid-forties, especially when you're living in the United States, you have a comfortable life. We have a house. We have enough food. We have what we need. More stuff isn't going to make us happy. 
I'm not immortal. What do I have? Forty years left on this planet, if I'm lucky? I want to help. I want to support amazing people. 
WMJ: But there are so many causes and needs. Why the Palestinians?
Lavin: All I know is my own life experience and that's the experience of a Jewish woman. That means I'm reckoning with the occupation, the suffering of Palestinians. I'd say the occupation happened to me; it absolutely influenced why this is my thing.
I'm a proud Jewish woman. I have a tattoo on my arm that says in Hebrew, hineni, 'Here I am.' It is the Prophet Isaiah's answer when he heard the Lord saying, 'Whom shall I send?'
Isaiah said, 'Here I am. Send me.'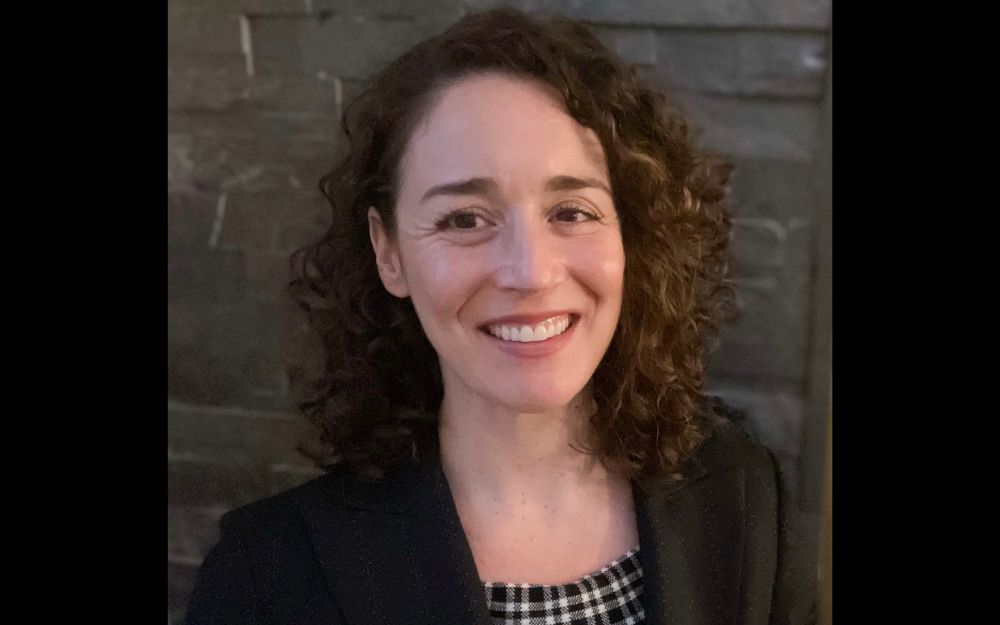 Thea Lavin is a regular at the Islamic Resource Center book club and other Milwaukee Muslim Women Coalition's activities.