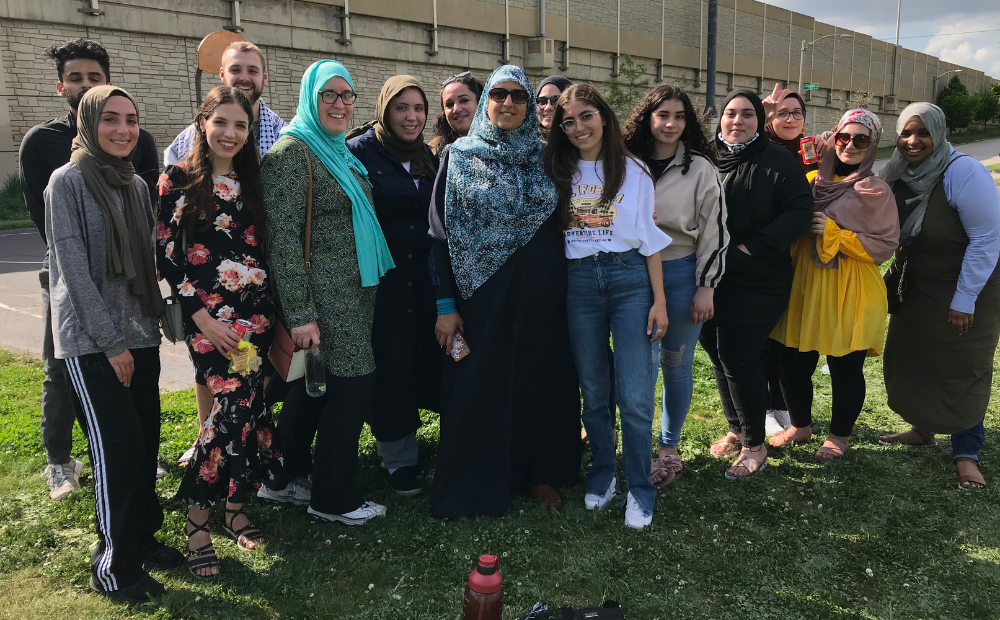 Participants in Leaders Igniting Transformation's "I am Muslim" Storytelling in the Park
In a park on Milwaukee's South Side, in a neighborhood where you'd least expect to find community art, an art installation for a Muslim audience is drawing some attention. 
Take your time. Look closely. There is more to this piece than initially meets the eye.
It invites Milwaukee Muslim residents to participate with the interactive mural in the park at 1600 W. Edgerton Avenue until June 5. About 40 people attended the unveiling event Saturday of the mural "I am Muslim." The event also included an intimate storytelling session that brought together a diverse group who shared their personal experiences of being a Muslim in America.
The Hanan Refugee Relief Group extended invitations to the unveiling to Milwaukee's refugee community and its volunteers, and participated in the storytelling session.
The mural focuses on the Muslim American identity, organizers said. It aims to revive emotions of hope, trust, safety and belonging for the Muslim community through the participation of answering the following questions: "Am I Safe? Am I Heard? Am I Seen? Am I Loved?"
Art that invites interaction
Drive by the park at 1600 W. Edgerton Ave. during this week and next. You will see four colorful panels, each 7 feet tall by 10 feet wide. 
Park your car and walk right up to them. You'll see yourself reflected in a shiny surface bordering each panel. As you stand in front of the pink panel, the words "I am loved" appear; on the blue panel, "I am seen." The green panel states, "I am heard," and the tan says, "I am safe."
You are invited to pick up the reflective stickers provided and place one on each panel that expresses what you feel. The panels will be up until June 5 and the organizers are counting on the Muslim community to participate.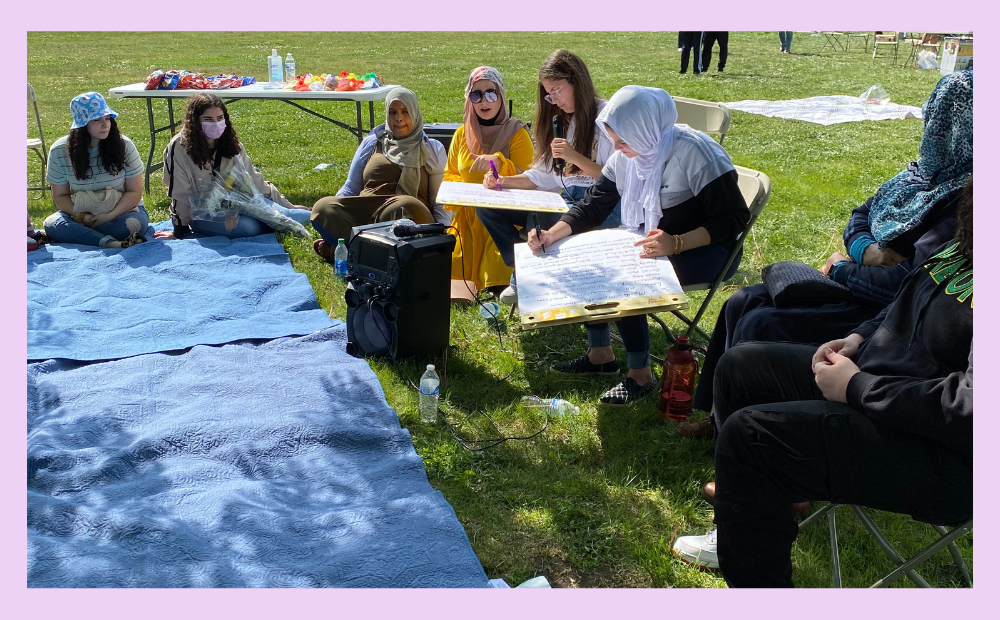 "I am Muslim" event brought diverse Muslims together to share their experiences.
The project's greater purpose
The "I am Muslim" community art installation is the brainchild of Leaders Igniting Transformation's Muslim Civic and Cultural Organizer Amal Azzam. You may know her as a popular local Muslim artist and co-founder of Fanana Banana, a platform of art shows and events that features the work of young Muslim artists and aims to show an authentic representation of Muslims to the larger Milwaukee community.
In her role as LIT's Muslim and Civic Cultural Organizer, Azzam is "able to do community organizing work and remain an artist," she said in an interview with the Wisconsin Muslim Journal. Azzam has been at LIT for about a year. Before working at LIT, the University of Wisconsin – Milwaukee graduate in graphic design "worked primarily as an artist," she said.
In a way, you could say that Azzam created her position at LIT herself. Two years ago, she and a friend launched Fanana Banana and held their first Muslim art show in Milwaukee. They developed a large following and raised awareness "that there is a very large Muslim community in Milwaukee," she said. "But, when it comes to voters, it is difficult to find the number of Muslims. That is a gap LIT wanted to bridge. They have allowed me to have a role very specific to me."
LIT is an independent non-profit that aims to help young people of color to "build independent political power for social, racial and economic justice," according to its website. The Black and Brown-led independent nonprofit, founded in 2017, engages "in values based issues and electoral organizing, direct action, public policy advocacy and leadership development."
"My main goal is to raise voting in the Muslim community and to inform our community about voting," Azzam said. 
Azzam spoke with people in the Muslim community during the last election, asking, Who do you think should win? "A lot of people in our community said, 'It doesn't matter. All the politicians are going for the same agenda.' I started to dig into that and ask why we look at American politics with our very specific lens. There is a lack of hope in the system."
Azzam said she wants to dig deeper and learn more about how Milwaukee's Muslim community is feeling.
"Telling someone to vote is not the first step," she said. "There are a lot of feelings that need to be attended to. 
"That is where the idea for the mural came in," Azzam said. Through it, she hopes to get insights on how the Muslim community is feeling at this moment. "That is something crucial to understand in order to know how to solve anything and how to grow," she said."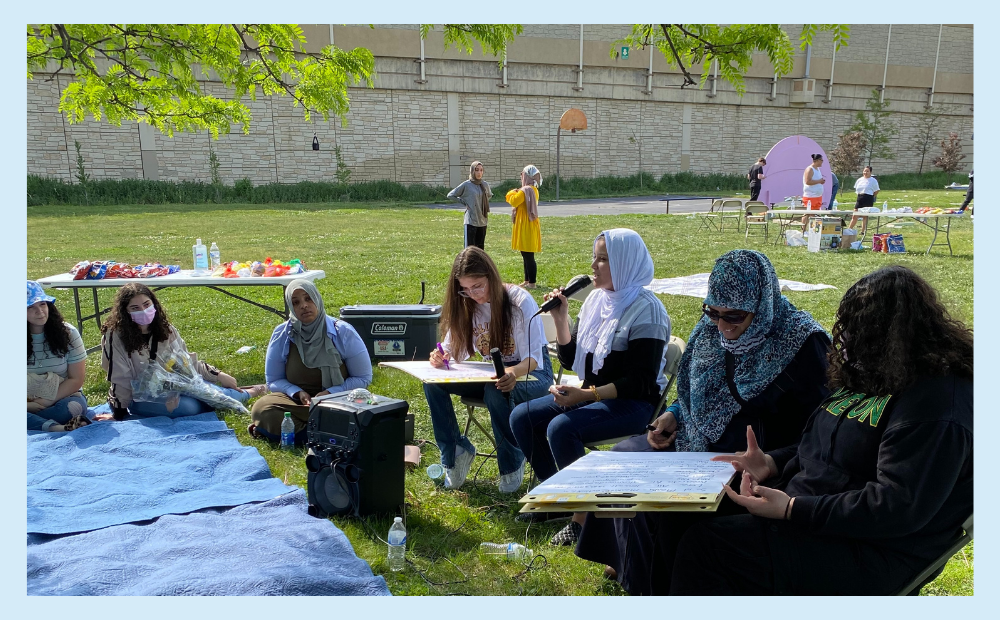 Participants shared stories of being Muslim in Milwaukee.
Sharing Stories
"We decided to use the momentum and the installation date to provide an opportunity for intimate storytelling," Azzam said. "I felt very proud of those who came out. It takes a lot of courage to attend something that requires you to be honest and vulnerable.
"There was a lot of self-reflection in that group. We were hearing things we have never heard before from people we have always known," said Azzam. "The topics brought up were racism, discrimination, needing more support, needing more validation, and needing more self-reflection on things we can improve on within the community. That's a good thing."
Marlene Zahran, a community organizer who was contracted by LIT to help with logistics and facilitate the storytelling session, said the participants were very diverse, including refugees, converts and Muslims of a variety of nationalities, from native Milwaukeeans to Somali, Palestinian and Iraqi immigrants. 
They talked about their experiences with Islamophobia, and discrimination and racism, both inside and outside the Muslim community. They shared their hopes for the future.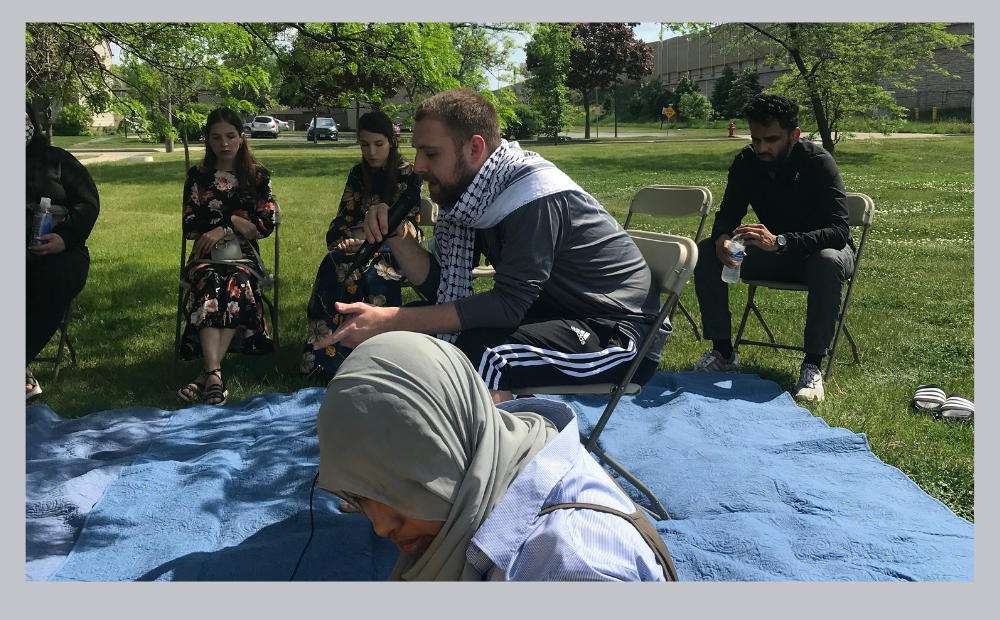 A convert shared his story.
"The discussion touched multiple levels," Zahran said. "The struggles of being Muslim in the U.S. and challenges within the community. Talking together created a sense of community and built unity." 
"There is a lot of change that needs to happen in the Muslim community and one of those is try to mend the gap of organizing among youth and grow the youth voice," Zahran added. "This is a platform LIT is addressing.
"When you give youth a voice, youth will become empowered to create change within their own circle of friends and families," she said.
"The majority of events in the Muslim community are organized by leaders who are not youth. This causes a little gap in understanding. It is important to both include the youth's input and to have them implement events themselves, she added.
In addition to placing your stickers on the mural, Azzam invites community members who would like to volunteer in LIT's community organizing work in the Muslim community to email her directly at amal@litmke.org.