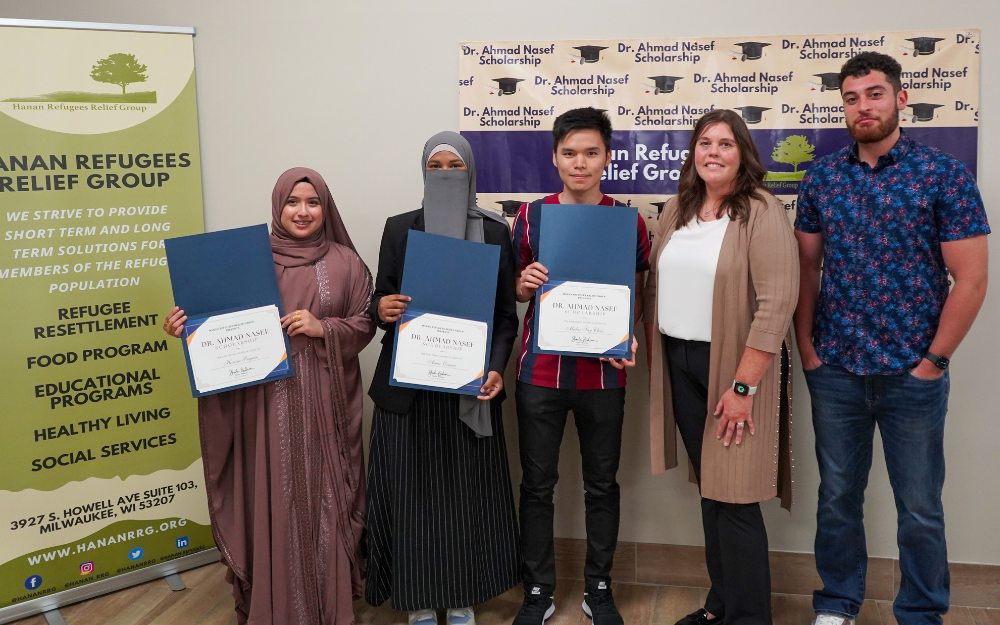 Photos by Kamal Shkoukani
(Left to right) Dr. Ahmad Nasef Scholarship winners Hasina Begum, Asma Osman and Mular Say Chris pose with Charlotte and Mohamad Nasef, wife and son of the late Dr. Nasef.
When applying for the Dr. Ahmad Nasef Scholarship, Mular Say Chris of Milwaukee wrote that it "would not only be an investment in my personal education, but an investment in many more future first-generation college students." 
That's because Chris, 25, whose family escaped the threat of genocide in Myanmar, decided to double-major in mathematics and secondary math education, where he aims to "positively influence the lives of others."
The three 2023 Dr. Ahmad Nasef Scholarship winners—Chris and Asma Osman of Milwaukee, and Hasina Begum of Sheboygan—all came to the United States with their families as refugees from Myanmar. Their families experienced trauma and loss unimaginable to most, as they escaped persecution from a government the United States has deemed responsible for genocide. Each of them struggled to make a life here, learning a new language and culture, and working to help their families get by financially. And each is now the first member of their family to pursue a university degree. Their challenging life experiences inspired them to pursue careers where they can help others, particularly refugees and marginalized people, their application essays reveal. 
(Left to right) Hasina Begum, Asma Osman and Mular Say Chris display certificates declaring them winners of the 2023 Dr. Ahmad Nasef Scholarships, a scholarship program of Hanan Refugees Relief Group.
In an interview with the Wisconsin Muslim Journal, Islamic Society of Milwaukee president Saleh Sarsour said the scholarship winners' goals "fit Ahmad's way of doing things 100%." Nasef, an immigrant from Syria who made his home in Brookfield, is remembered for the big impact he had on the lives of others. 
The Dr. Ahmad Nasef Scholarship, created by the Hanan Refugees Relief Group in Dr. Nasef's honor, continues that legacy by supporting refugees' educational aspirations as they transition into contributing members of their host communities. HRRG is a humanitarian organization that works to aid refugees and Dr. Nasef "was our biggest supporter," HRRG executive director Sheila Badwan of Franklin told Wisconsin Muslim Journal in 2021, when awarding the first round of Nasef scholarships were a few months after Dr. Nasef's death from advanced kidney cancer.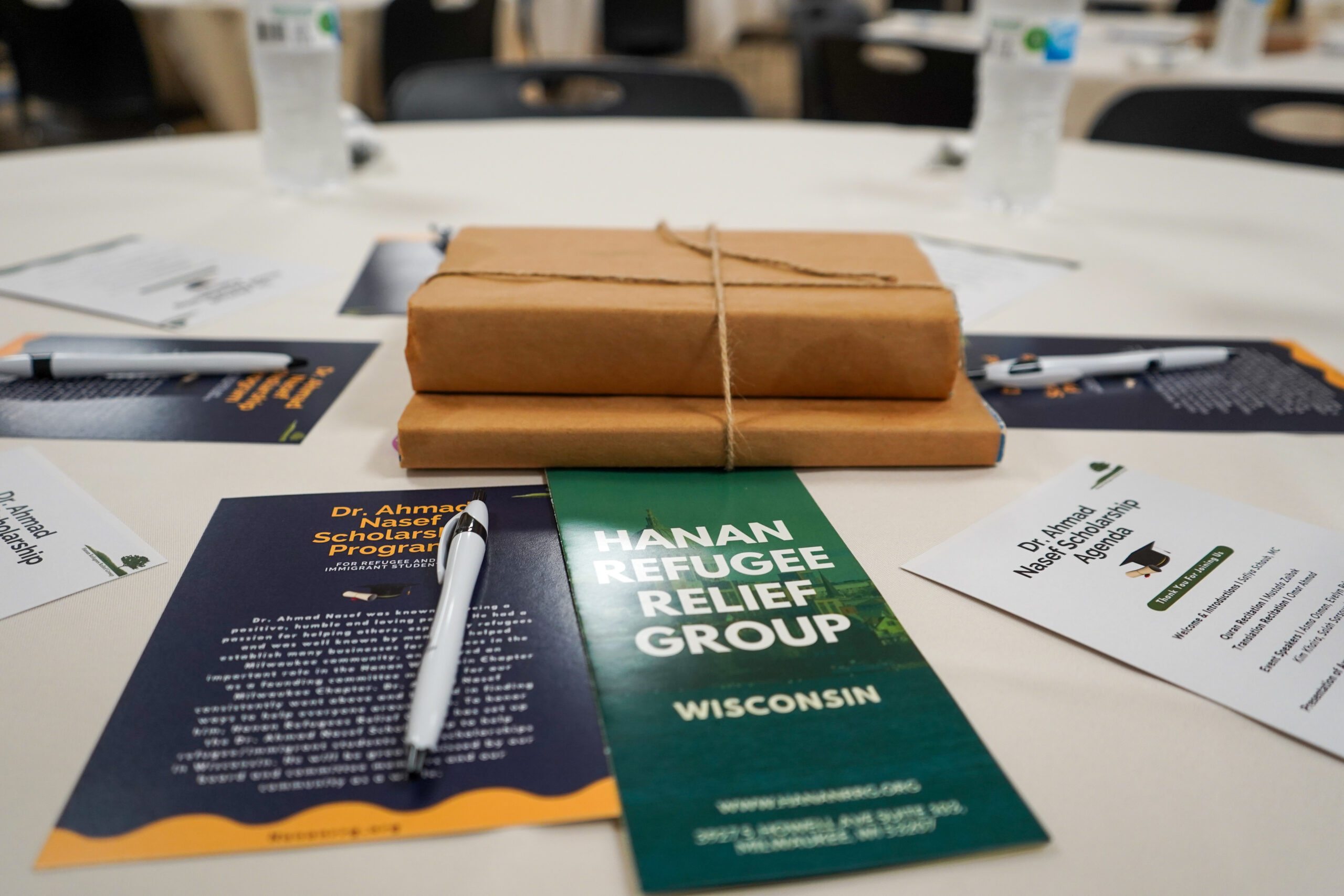 Hanan Refugees Relief Group helps refugees as they settle in their host communities by providing housing, labor opportunities, medical relief and other support.
HRRG announced the winners of the 2023 Dr. Ahmad Nasef Scholarship at a banquet Saturday, Aug. 12, at Salam Elementary School in Milwaukee. Dr. Nasef's wife Charlotte and children, Mohamad and Omar, attended. Also in attendance was SEA Literacy executive director Anne Bingham, who mentored two of the awardees.
Sarsour offered opening remarks. Other speakers included Evelyn Price, SEA Literacy (Southeast Asia Literacy) director of educational development; Kim Khaira, coordinator of the HOME Program (which celebrates refugees) at the Lynden Sculpture Garden in Milwaukee; and HRRG's Badwan.  
Now in its third year, the Dr. Ahmad Nasef Scholarship Program awards scholarships to refugees who demonstrate hard work and commitment to their studies and activities, including volunteerism. The scholarships are open to refugees of all ethnic backgrounds and religions. 
Contributions to the Dr. Ahmad Nasef Scholarship Fund are welcomed. Donate here.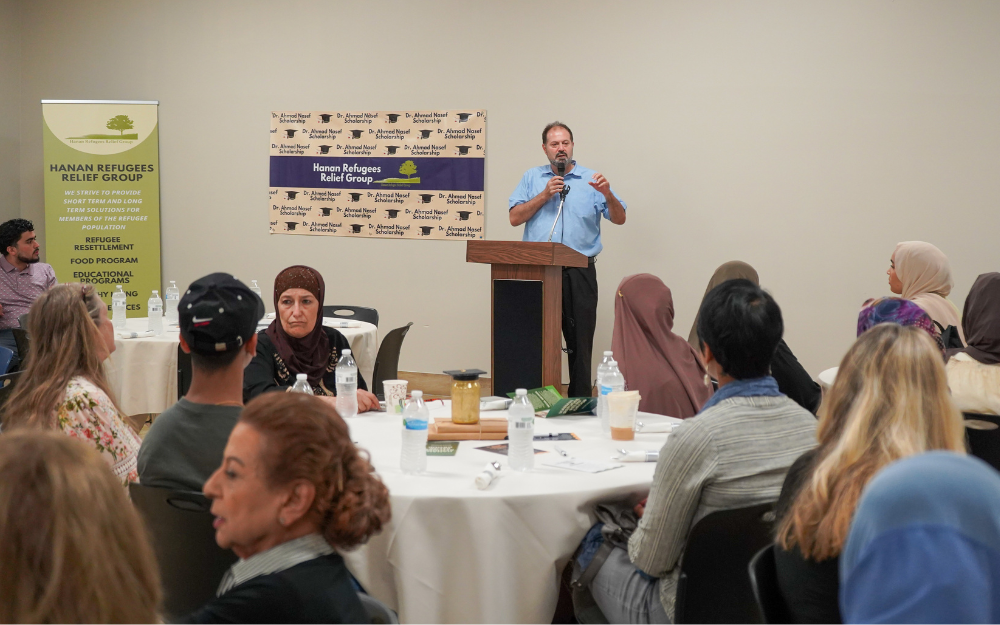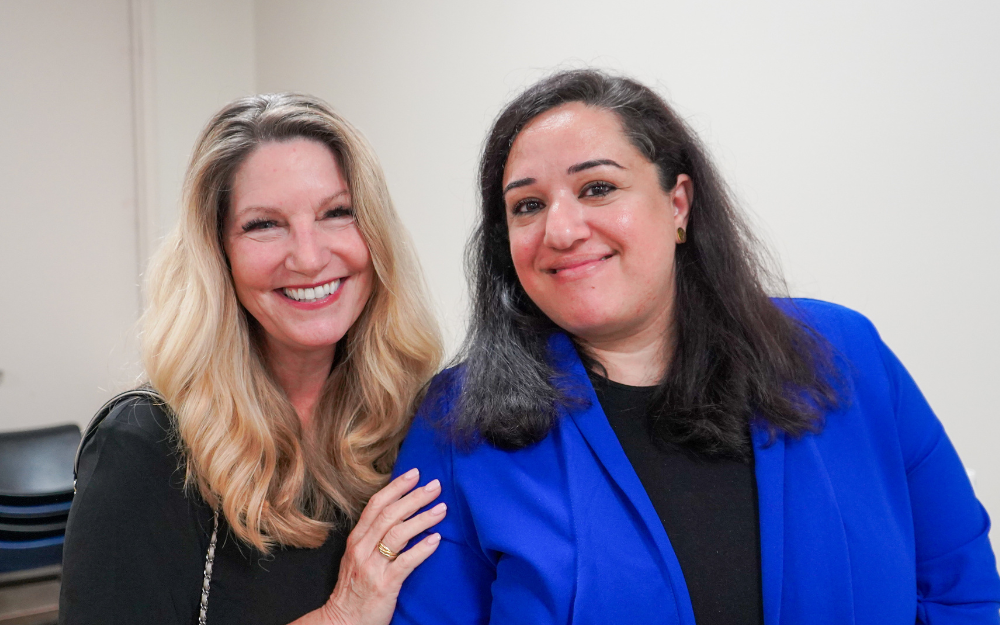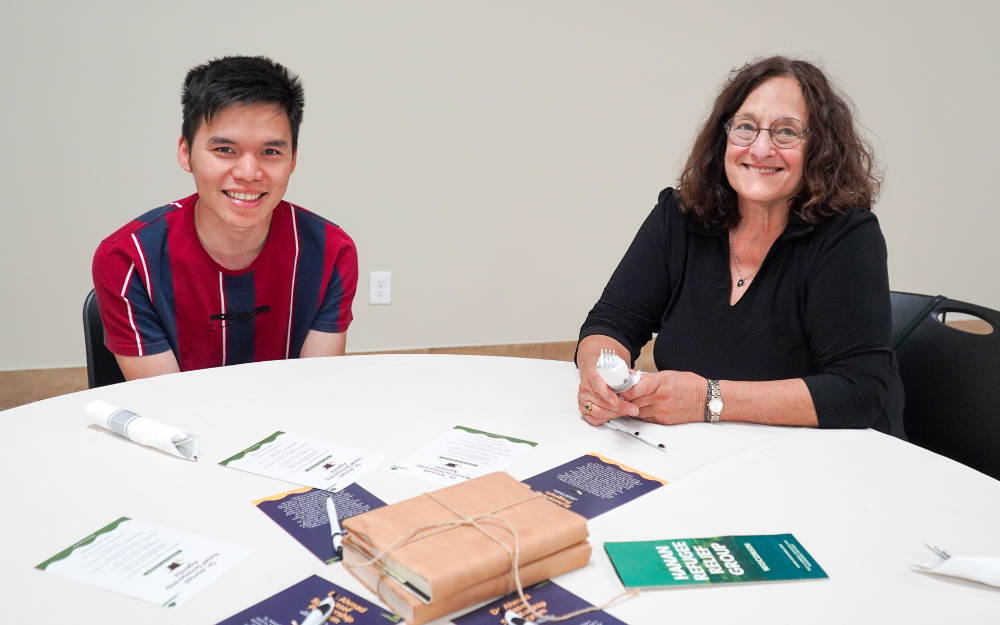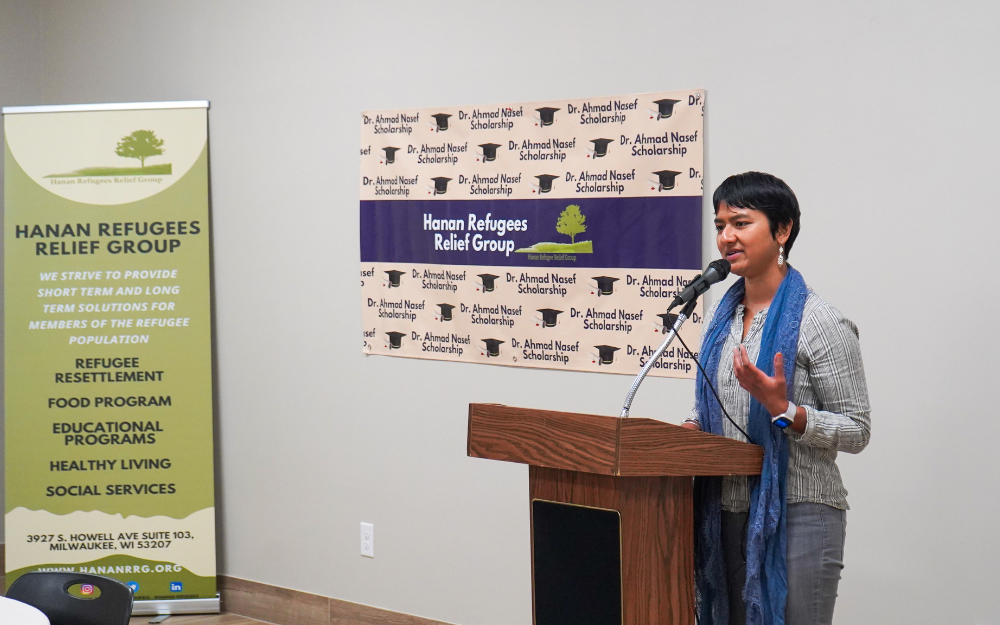 (Top left) ISM president Saleh Sarsour delivers opening remarks; (top right) Scholarship winner Mular Say Chris with Evelyn Price of SEA Literacy; (bottom left) SEA Literacy Executive Director Anne Bingham and HRRG executive director Sheila Badwan; (bottom right) Kim Khaira, coordinator of the HOME Program at Lynden Sculpture Garden
Nasef's life—a model of generosity
In Sarsour's opening remarks at the scholarship awards banquet, the friend of the late Ahmad Nasef described him as not only generous, helping others with material needs, but as someone who directly engaged with others, providing guidance, direction and support. 
Sarsour shared the story of a young woman he met in Minneapolis who told him how, when she was a newly arrived refugee, Dr. Nasef advised her to study to be an ultrasound technician. He supported her throughout her studies; today she is her family's main income earner.
"I've met so many new business people in Milwaukee whom Ahmad helped get started," he recalled. One told me Ahmad gave him money to start his business. Another said Ahmad paid the rent for him so he could open. He supported people without any conditions.
"Anyone who is working to spread goodness, working to do good things for their families, community and society at large, following such a life course, are creating lives like Ahmad's, lives that can motivate others to do good as well," Sarsour added.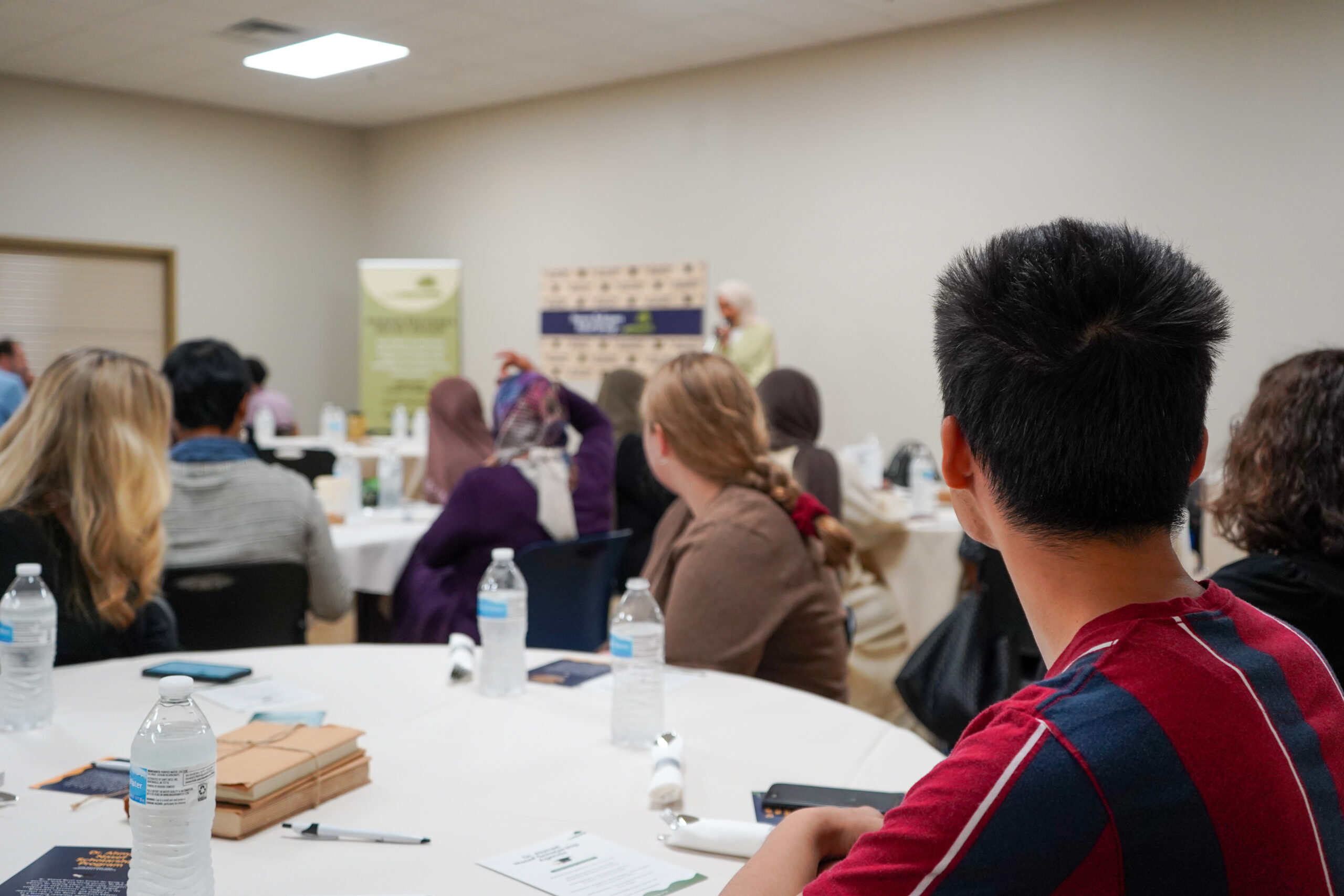 Exceptional awardees
Going to college is a stretch for these young people, said Evelyn Price, SEA Literacy director of educational development about refugees. SEA Literacy provides tutoring for refugee children and youth in the Milwaukee area, including help with homework and English as a Second Language. 
Price described the award winners as "very motivated." All are aware of their parents' sacrifices and determined to succeed, she said. The Nasef Scholarship will help them buy books and pay other educational expenses without them having to ask others for help, she noted.
Mular Say Chris, a Karen refugee from Myanmar, is double majoring in mathematics and math education at the University of Wisconsin-Milwaukee, where he currently has a 3.89 GPA (grade point average). He is expected to graduate in May. He was the valedictorian at Casimir Pulaski High School in 2018.
Chris has served as a tutor for other Southeast Asian refugees at SEA Literacy since 2014, an experience he said has strengthened his desire to become a teacher. In his essay, he recalled his first days as a high school freshman in the United States. 
"I did not know enough English to ask questions, do my homework or understand most of what the teachers were saying. Homework took a long time. I would look back at my notes and translate the homework by looking up words in a Karen/English dictionary. I was tempted to give up after not having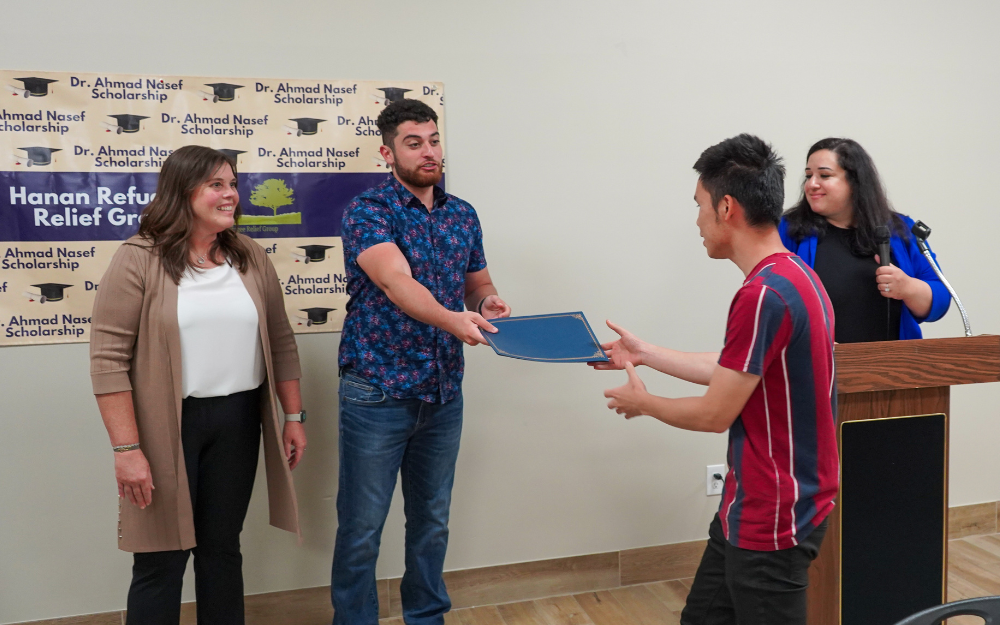 Charlotte and Mohamad Nasef present Mular Say Chris with his award certificate, as HRRG's executive director Sheila Badwan announces the award.
Asma Osman, 18, ranked third out of 199 students in her class at the Milwaukee High School of the Arts, where she was a member of the National Honor Society and the Girls Tennis Team. She graduated with a 3.89 GPA. She plans to study social work at the University of Wisconsin-Milwaukee. Her experiences as a Rohingya refugee inspired her to become a social worker who will work with refugees.
She began her life in a refugee camp in Myanmar where her family lived for five years. They fled due to increasing persecution of Rohingya to Thailand, then Malaysia before immigrating to the United States. 
Throughout her high school years in Milwaukee, Osman has served the refugee community as a volunteer. "These experiences have shaped me to be an empathetic and compassionate student, passionate about serving refugees," she wrote in her scholarship application. "Community service gives me a sense of purpose, pride and identity. By helping others, I feel personally rewarded as if it cleansed my soul."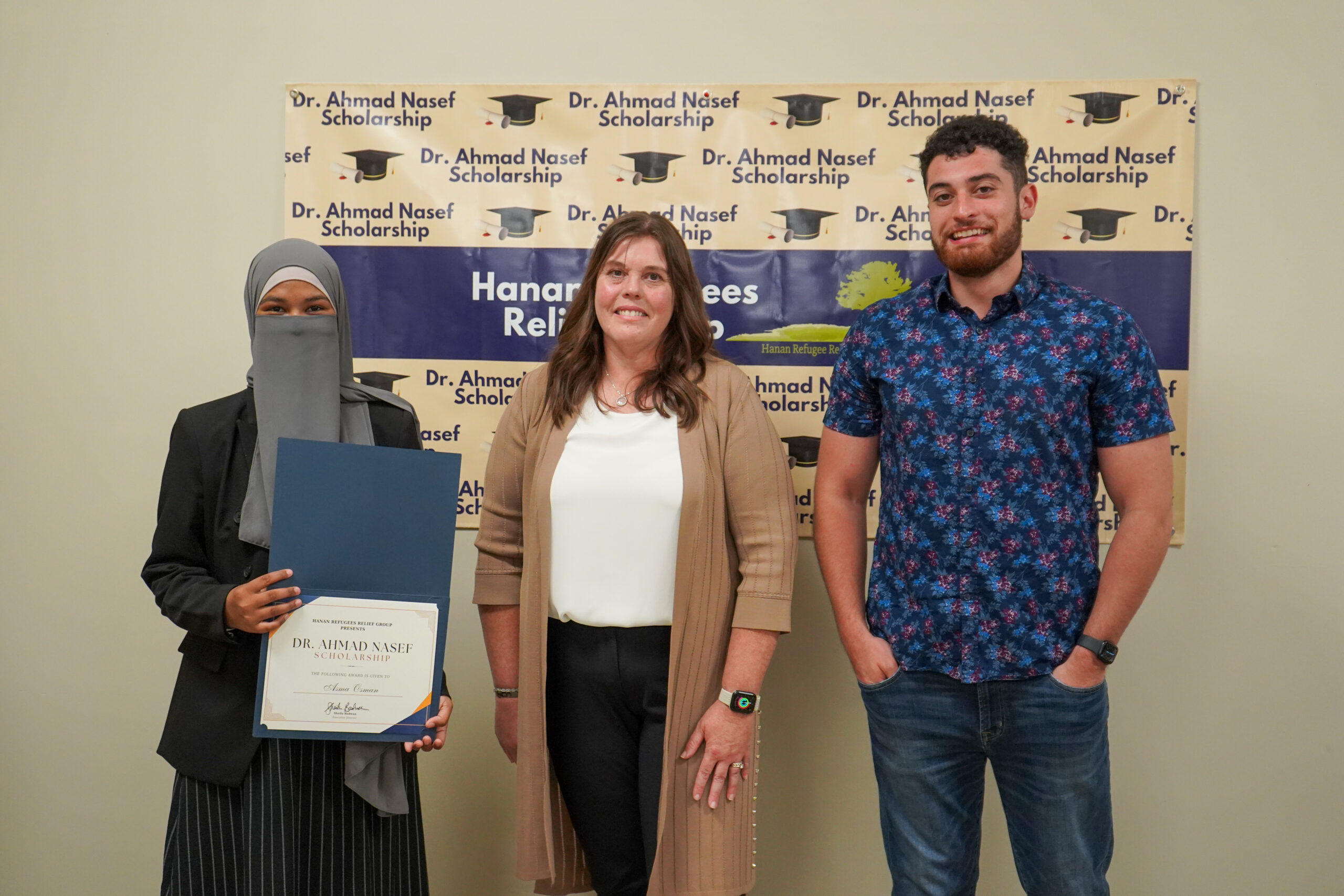 (Left to right) Award-winner Asma Osman with Charlotte and Mohamad Nasef 
Hasina Begum, 20, graduated with high honors from Sheboygan High School with a 3.7 GPA and is a member of the National Honor Society. She is a nursing student at Marquette University this fall.
A Rohingya refugee, her schooling began in 6th grade. She needed to learn how to read and write, she recalled in her essay. "Every day I worked hard in school and at home," she wrote.  
Like her fellow award recipients, she participated in community service, mainly helping other Rohingya refugees. Her goal is to become a registered nurse who serves refugees.
Volunteering "taught me there are many kind-hearted individuals volunteering their time to make communities better," she wrote. "Serving others means having the opportunity to do something truly special."
Additional reporting was contributed by Umalkhayr Abdi of Hanan Refugees Relief Group.