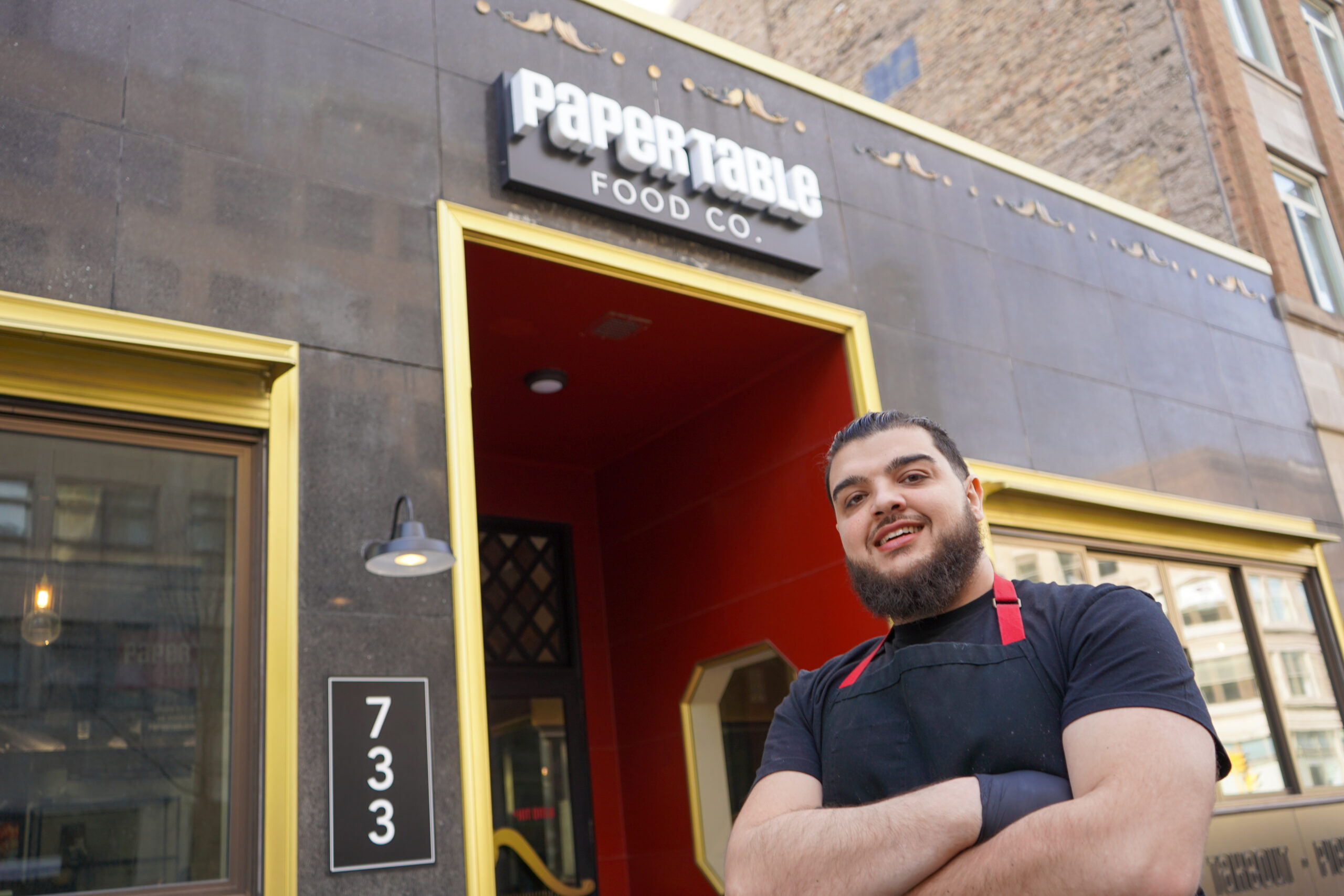 Photos by Kamal Shkoukani
Chef and entrepreneur Kamal Shkoukani opened a virtual restaurant in Milwaukee's first digital food court. 
Are you on your way to work in Downtown Milwaukee, and hungry for a quick alternative to an Egg McMuffin? Just visit papertablefoodco.com—or the company's digital kiosk at 733 N. Milwaukee Street—and place your order for a delicious breakfast of Halal chicken waffles, two big pieces of tender chicken and a pair of Belgian waffles, served with a handful of mini hashbrowns and accompanied by plastic cups of maple syrup and hot sauce for a pleasing mélange of sweet and spicy.
There is a pickup station at the building's front entrance, or you can have your order delivered through UberEATS, Grubhub, Doordash and all major delivery apps.
Chicken and waffles are only for starters. Paper Table Food Company is a digital food court with a physical location one block north of Wisconsin Avenue in the busy heart of Downtown. At present, the sprawling facility is occupied by 10 "ghost kitchens"—virtual restaurants filling meal orders through digital sales—seven of them operated by Kamal Shkoukani.
Shkoukani opened shop Nov. 3 and works inside Paper Table's maze of hallways and backrooms from a 250-square foot kitchen, smaller than many of today's home kitchens. He makes good use of every square inch in the compact facility. "When you only have so much room, you have to work within your means," he said.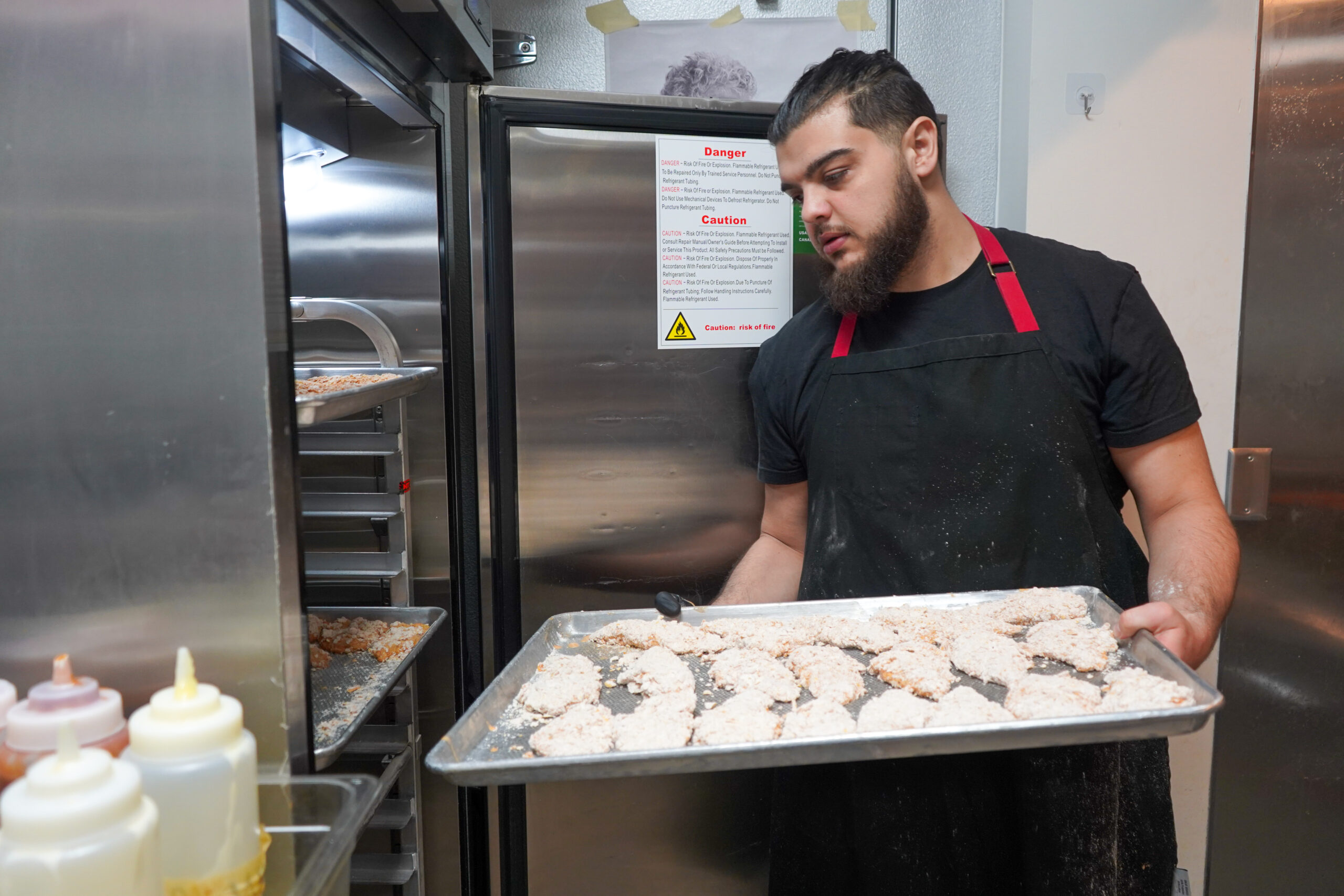 "I was always cooking—I'm a foodie," Shkoukani continued. His parents were Palestinian and Puerto Rican, "both mom and dad were amazing cooks," and as a result, "we had the best of both worlds" at supper time. After his parents' divorce when he was nine, Shkoukani assumed the role of cooking for his younger siblings "from whatever was in the refrigerator." A few of the recipes he developed from necessity have found their way onto his online menus.
Shkoukani was born and raised on Milwaukee's South Side, attended Bradley Tech but graduated from Greenfield High School. Despite his childhood stints in the kitchen, opening a restaurant, whether digital or brick-and-mortar, was not on his mind as he began to pursue his life's direction.
Shkoukani lived in Los Angeles for four years where he was a partner in a start-up, a music app called SideStream that gained 7,000 users before the pandemic and the shutdown of 2020 brought that dream to an end. He returned to his hometown with a food idea he discovered in LA—one that had yet to find an audience in Milwaukee, "hot chicken." The dish originated in Nashville but was popularized in LA by a pop-up called Dave's Hot Chicken, an Armenian American owned enterprise that has become an international franchise.
"It was very popular out there, people lined up for it on the streets—I loved it," he recalled. However, at the time he came home, no restaurants in Milwaukee focused on hot chicken, a situation that has changed as word of the tasty dish spread. Seeing a vacuum, Shkoukani rushed to fill the gap.
"I started making it from my house and selling it," he said. "Hot chicken looks good—if you post, people will come!" He had his eye on his own storefront in Bay View, but finding the building to be problematic, he opted to rent space inside Cloud Kitchen's Paper Table storefront.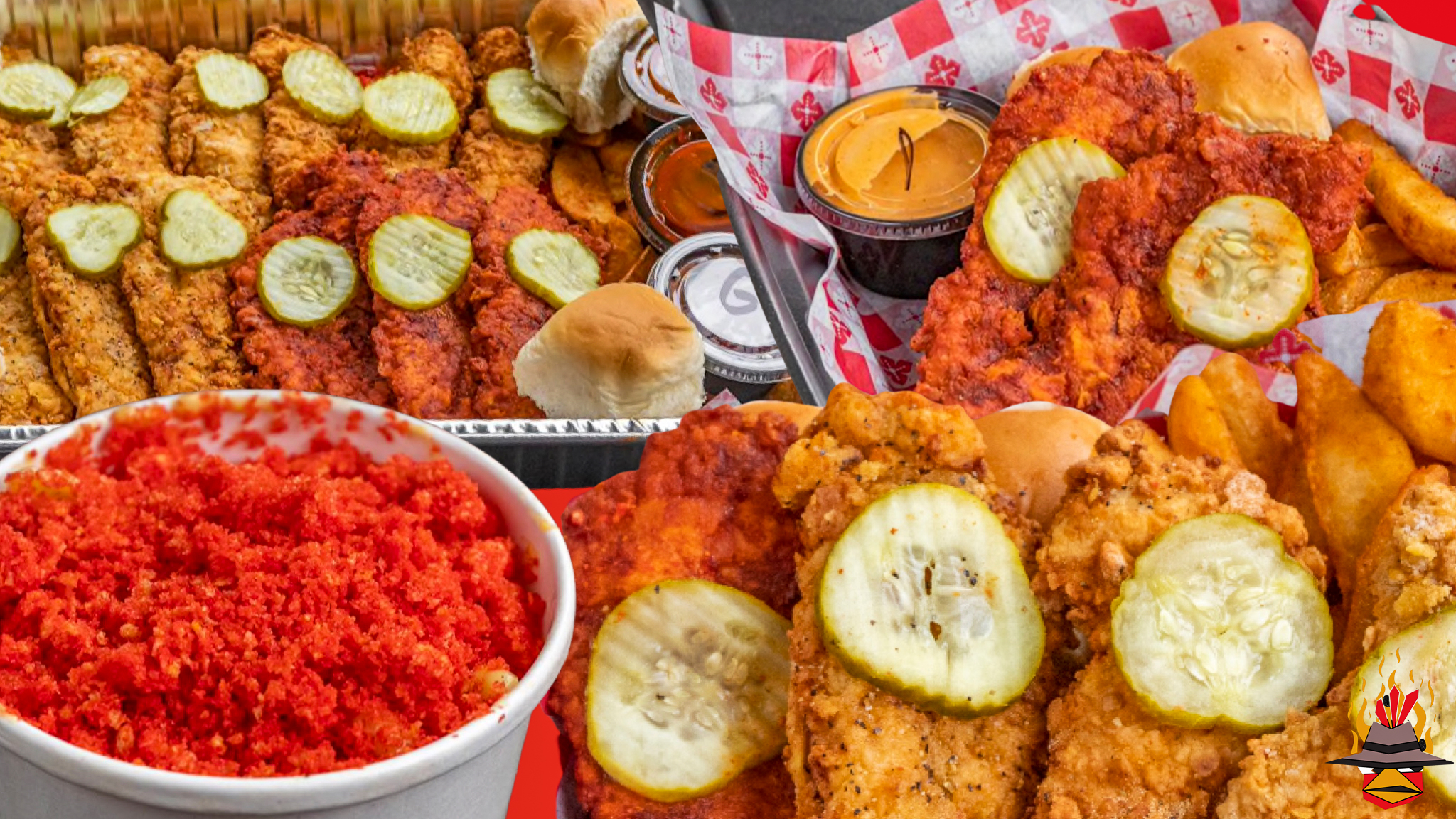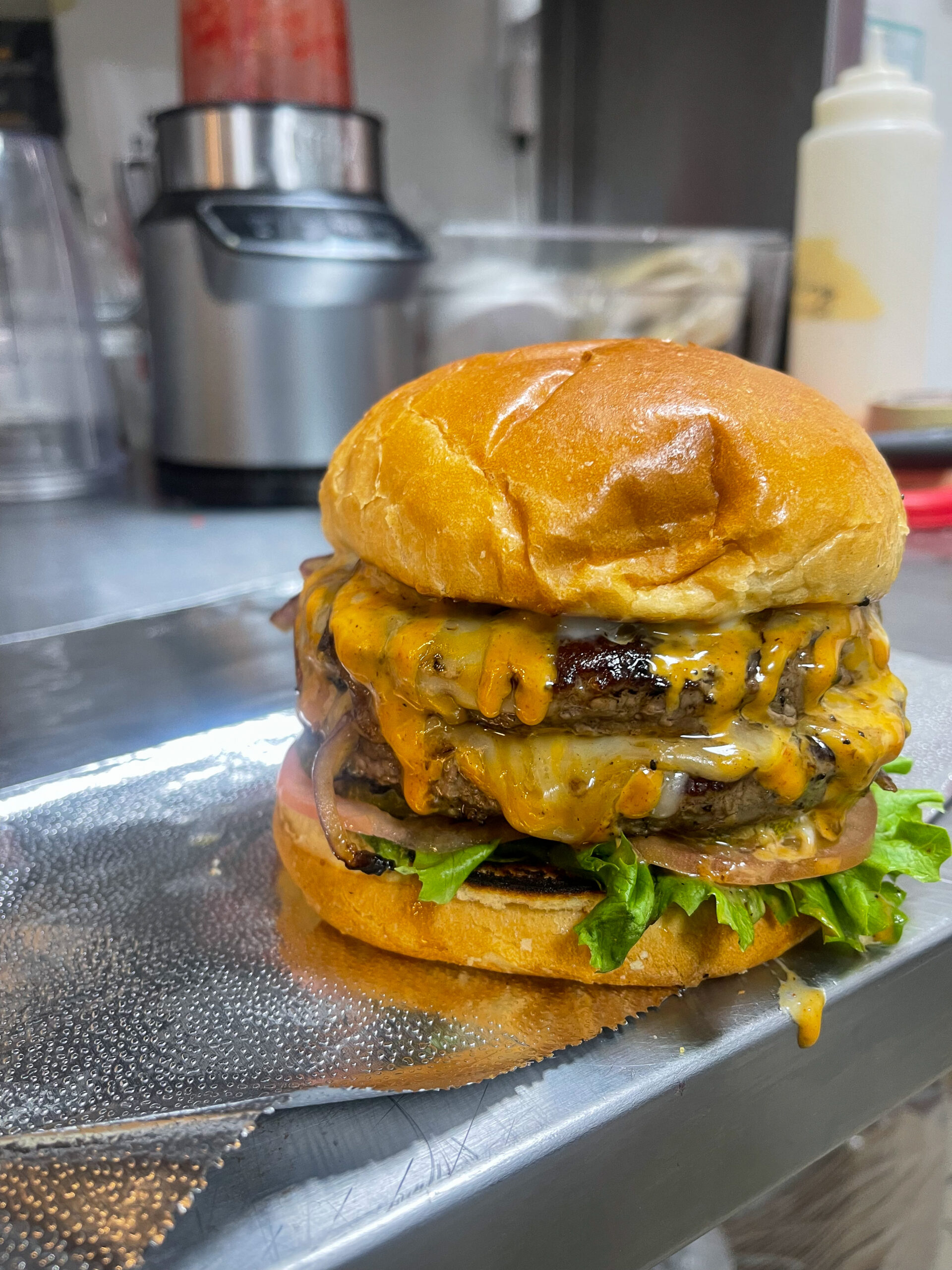 Hot chicken is fried chicken dipped in hot oil and dry rubbed with a variety of seasonings that could include Cayenne pepper, paprika and brown sugar to help form a tasty red batter. Secret Hot Chicken is Shkoukani's flagship brand, launched with social media buzz behind it. 
"I got off to a strong start with lots of love from the community and lots of support," he said. "But I learned the hard way that the weeks between Thanksgiving and Christmas are not the best time for a new business! I had a slow time, but it gave me time to experiment with the menu. Since January 9 I've seen growth every single day. I think I will see a break-even point in six months—amazing for a new restaurant."
Since opening day, he inaugurated six other brands with their own windows on the Paper Table website, including Moon Burger, Gym Bae, Evil Slice, Crooks Chicken & Waffles, Space Chix and Habib Teas.
Secret Hot Chicken offers chicken tenders and sliders in many flavors and garnishes. 
Moon Burger (pictured above) features quarter-pound Halal burgers served with various cheeses, toppings and sides.
Gym Bae is health conscious with servings that include a Middle Eastern bowl with grilled chicken and all-natural quinoa, rice, couscous and veggies with a side of grapes and cucumber salad.
Crooks Chicken and Waffles is focused on that Southern breakfast specialty. Space Chix includes jalapeno chicken and mushroom-and-Swiss cheese melts.
Habib Teas puts a contemporary spin on Middle Eastern delights.
Evil Slice offers four-layer cakes in partnership with Milwaukee Public Market's C. Adam's Bakery.
Shkoukani makes efficient use of ingredients, especially chicken, cross-referencing them from one menu to another. His ghost kitchens operate from 8 a.m. to midnight, although, as he said, "there have been days when I've disappointed people because we sold out of chicken."
Lunch hours are especially busy for Shkoukani, who receives many return customers from nearby offices, and late nights bring orders from nearby apartments and condos. He also finds that tourists from Downtown hotels locate him by googling for nearby food outlets.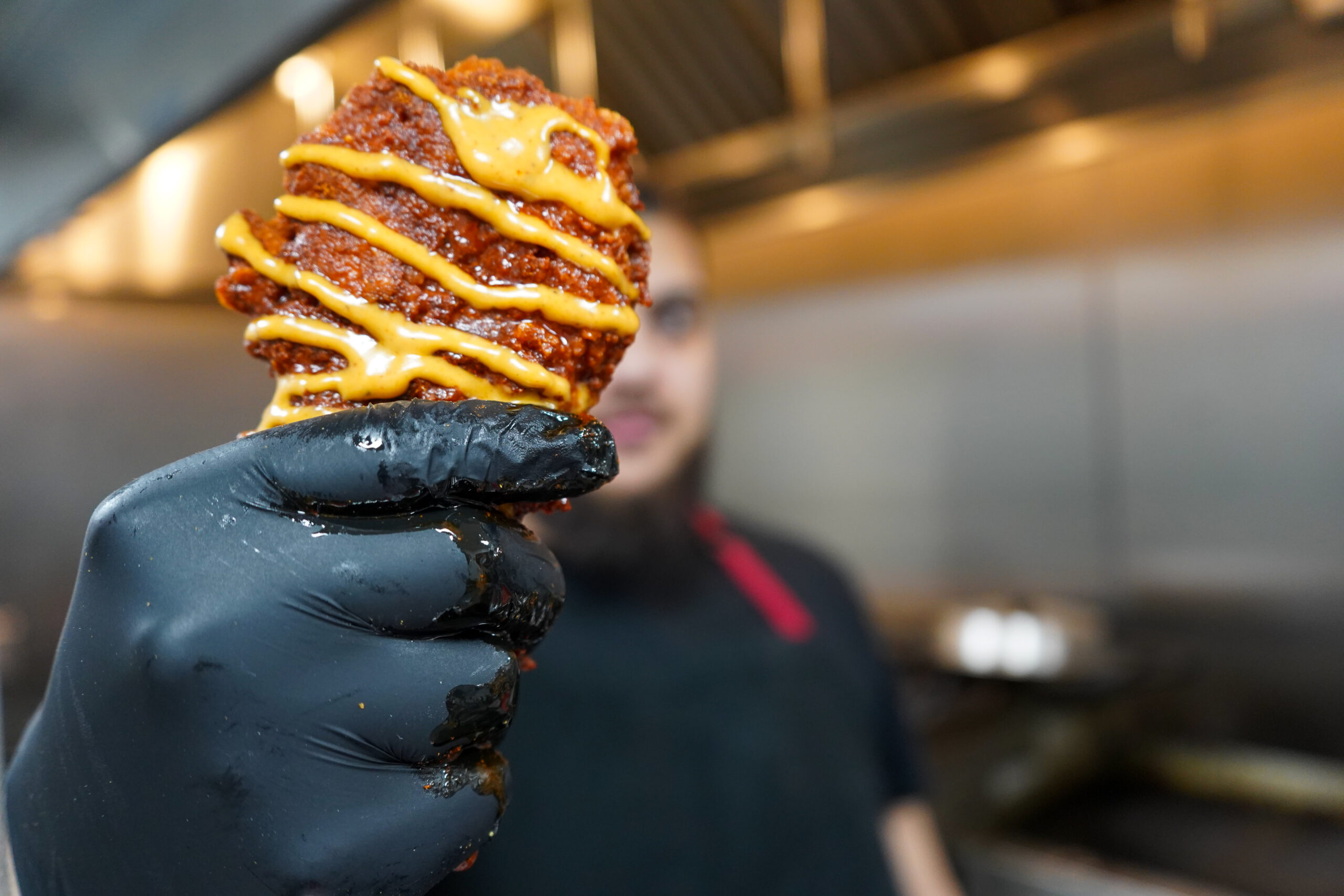 Speaking of Paper Table, Shkoukani said that the operation gives "new entrepreneurs a chance to get up and running—they help you get up and get started. It's almost a talent incubator—a benefit to the community."
There is a small seating area in Paper Table's lobby with highchairs facing a countertop that runs along the windows overlooking Milwaukee Street. Shkoukani hopes that come summertime, the windows will be open, and people will choose to eat their take outs there. Plans are being floated for outdoor seating.
"In general, I'm a businessman, an entrepreneur," he concluded. "I may not have said this a year ago, but now I've definitely become a chef." Shkoukani also works as a photographer for the Wisconsin Muslim Journal.