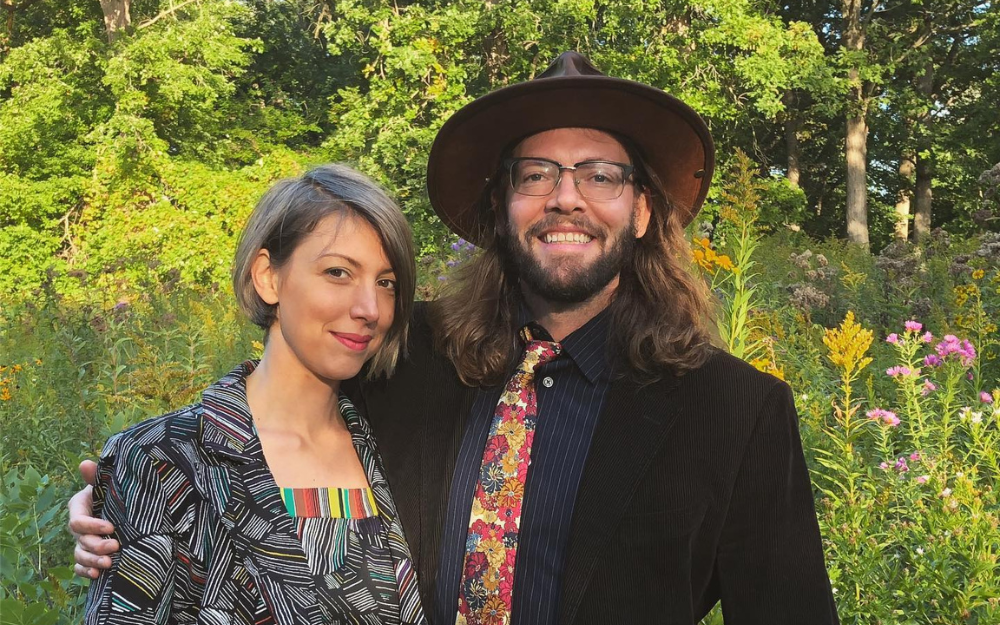 Herbalists and co-owners of Tippecanoe Herbs & Apothecary Kyle Denton and Serena Marinelli will discuss the health benefits of Mediterranean herbs at the Milwaukee Muslim Women's Coalition's Networking Brunch 
Many Wisconsin Muslims, eager to create dishes from their ancestral homelands, keep their kitchens stocked with spices and ingredients of the Mediterranean.  Two Milwaukee experts say many of those flavorful herbs provide important health benefits.
Kyle Denton and Serena Marinelli, the husband-and-wife co-owners of Tippecanoe Herbs & Apothecary, 2235 S. Kinnickinnic in Bay View, will share their knowledge of how to use Mediterranean herbs to enhance your health at Milwaukee Muslim Women's Coalition's Networking Brunch this Friday. MMWC's Networking Brunch is Friday from 10 a.m. to 12 p.m. A Middle Eastern lunch buffet and desserts from Taqwa Bakery & Restaurant will be served at the Islamic Resource Center, 5235 S 27th St, Greenfield. The fee is $15. Registration is required.
A few definitions are in order here. "Herbalists" are practitioners who use plants for healing. They use "powdered supplements, teas, tinctures (plant extracts dissolved in ethanol) and skin creams to help treat everything from skin rashes to mild depression," according to Web MD's A-to-Z Guide. The herbal supplements they use, also known as "botanicals," are made from the leaves, flowers, roots and bark of plants.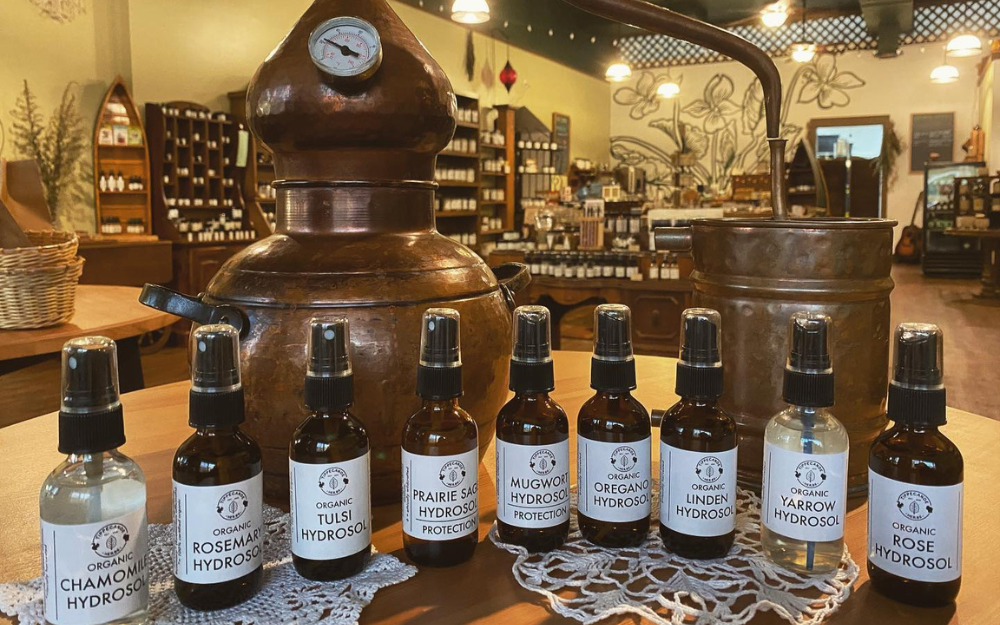 Tippeanoe sells hydrosols, used as aromatic, antiseptic toner or room spray, in their store and online shop. 
Denton and Marinelli are "community herbalists," meaning they focus on traditional and historical uses of herbs to enhance health. Those uses are also supported by scientific research.
Denton studied Ayurveda, ancient alternative medicine practiced in India and Nepal, at the now-closed Kanyakumari Ayurveda & Yoga Wellness Center that was in Glendale. He studied traditional Western herbalism with renowned herbalists Mathew Wood, Paul Bergner, Jim McDonald and others. Marinelli grew up in Italy, where using herbs to treat ailments is common practice. She also trained in panchakarma, a Ayurvedic tool used to restore balance in the body through oil message, steam therapy and other techniques, according to an article on the U.S. National Library of Medicine website.
Another important definition to mention is "apothecary." It refers to a person with the ability to make medicine. Denton studied apothecarist medicine (medicine-making) at the Human Path School in San Antonio, Texas. Visitors to Tippecanoe Apothecary receive customized medicines and treatments, tailored to their specific needs, Denton said in an interview last week with Wisconsin Muslim Journal. 
An interview with apothecary Kyle Denton
Wisconsin Muslim Journal interviewed Kyle Denton, 41, Friday to learn more about the Tippecanoe Herbs & Apothecary and his life as an herbalist and apothecary. Here are the highlights:
There are many herb shops these days. What's special about Tippecanoe Herbs & Apothecary?
There are many herb shops in America. A lot of them get their medicines or remedies from the same bulk wholesalers. You can find the same two or three brands in just about any herb shop. What makes us unique is that we process our own medicine. There are only a handful of shops like ours that process all their own medicine in the whole country.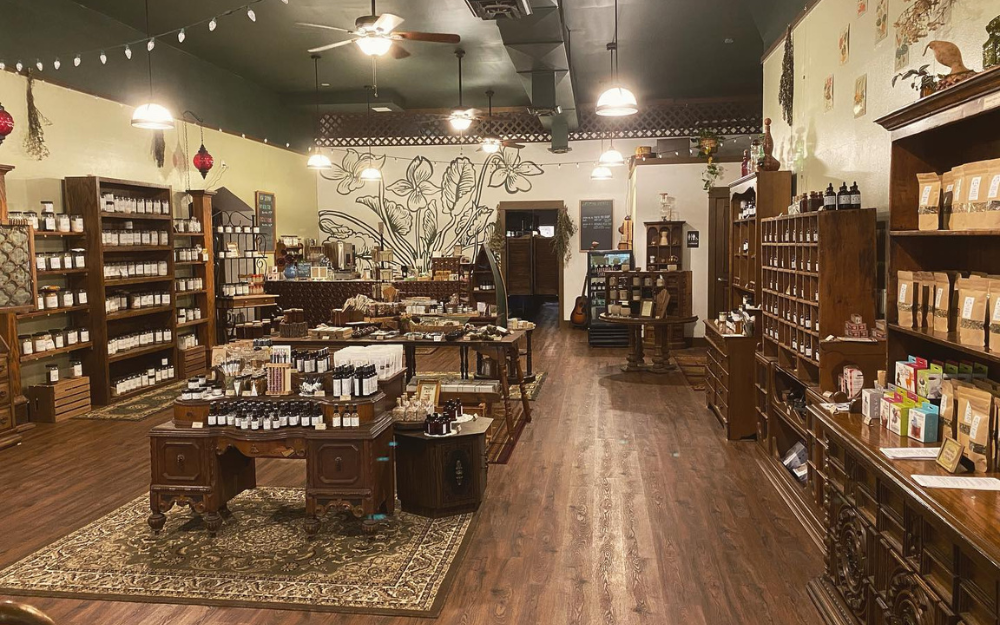 Tippecanoe Herbs and Apothecary, 2235 S. Kinnickinnic, Bay View, has a variety of herbal supplements, tinctures, skincare, hand-rolled incense, teas and a beverage bar where they make unique versions of herbal coffee and tea drinks. 
Something else that's unique is our clinical approach to herbalism. When you come in, you are not meeting a clerk who is selling products to you. You meet an herbalist who can guide you and answer your questions. We help you find what you need for what you are experiencing.
What is involved in processing your own medicine?
We forage the medicine ourselves. We get it from farmers or from our garden, from local sources. Then we make it ourselves. We put our intention in it from the time we are growing the seed all the way to the bottle. It is something we make ourselves for somebody who needs it. 
What will you discuss at the networking brunch?
The broad topic is herbs of the Mediterranean. We will go into depth about the medicinal qualities of some of the more common plants of the Mediterranean region, plants many in the audience will be familiar with. We want to provide a deeper understanding of the virtues of these plants, when they'd be most beneficial and what we can make with them.
How did you decide to pursue herbalism?
I was called in that direction. There were a lot of synchronicities that led me and my wife to study panchakarma, a form of orthopedic body work that predates Chinese medicine. That was my introduction to Vedic medicine.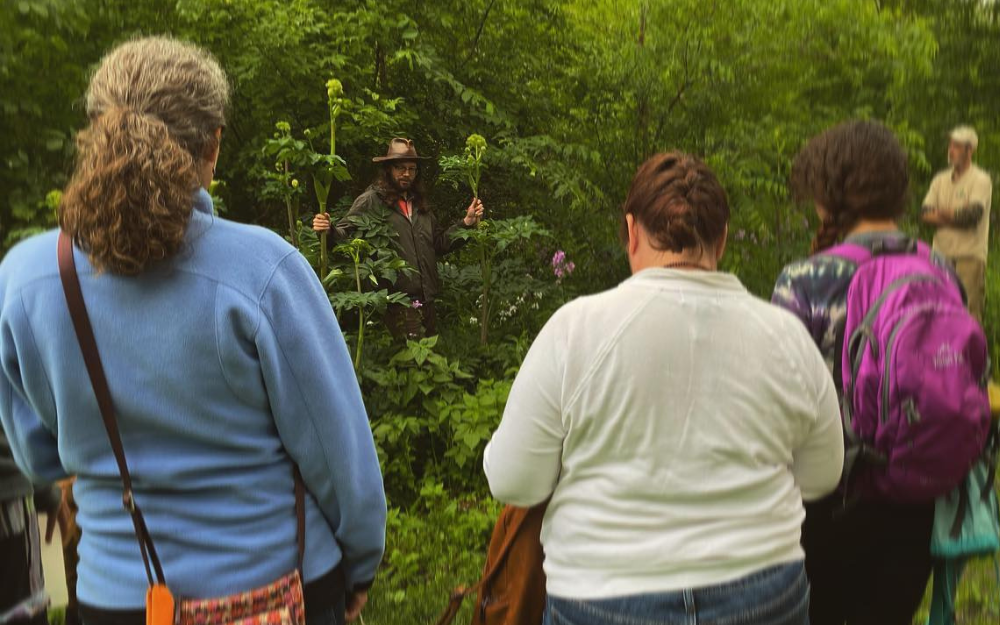 Kyle Denton (center) leads an herb walk in Kishwauketoe Nature Preserve in Williams Bay, Wisconsin. 
I was in my early 30s, working as a dental assistant, but I was ready to help and heal people in a better way. There was a school in Milwaukee that was famous in the Vedic community, where I studied Ayurveda, which means the "science of life" in the ancient Vedic language. I completed my Ayurveda training in 2012. Then I supplemented my studies with Western herbalism to learn about herbs in our bio region. It was an amalgamation of many things Western, Greek and European, Appalachian and Native American.
You use the word "calling." Is there a religious connection to your work?
Oh, yeah. It's very spiritual because it's a science of life. It is a sacred path that, in my view, our creator gives us. We are given opportunities to follow and that's exactly what we did.
I consider myself a Christian and I think about the monks, like St. Francis, who lived on the land and were very in touch with nature. His gift was healing.
No matter what faith tradition we have, we can pray for understanding, knowledge and discernment. If you are humble and you have eyes to see and ears to hear, you see these connections, coincidences that are two good to be true. They are like signals, like a post on a tree deep into the woods. You just keep looking for these little posts and keep moving. It is not just a calling; it is a call to action. When we are in line with where our gifts are, the world opens up and then we are able to share them.
I felt very rewarded during my studies. I feel very energized by learning new things and by new people coming into my life. Our business is extremely meaningful. We could have expanded and become big-time producers but it's not what we want. What is wealth to us is the meaning, the connections and the spiritual calling that comes with it.
What is it like being business partners with your spouse?
I regard myself as the builder and Serena is more of the nurturer. She's more linear; I'm more non-linear, so we complement each other. She comes from another country where, especially in the Mediterranean countries, they have a really rich history of working with plants for medicine. They've never lost that faith. They've never lost that wisdom.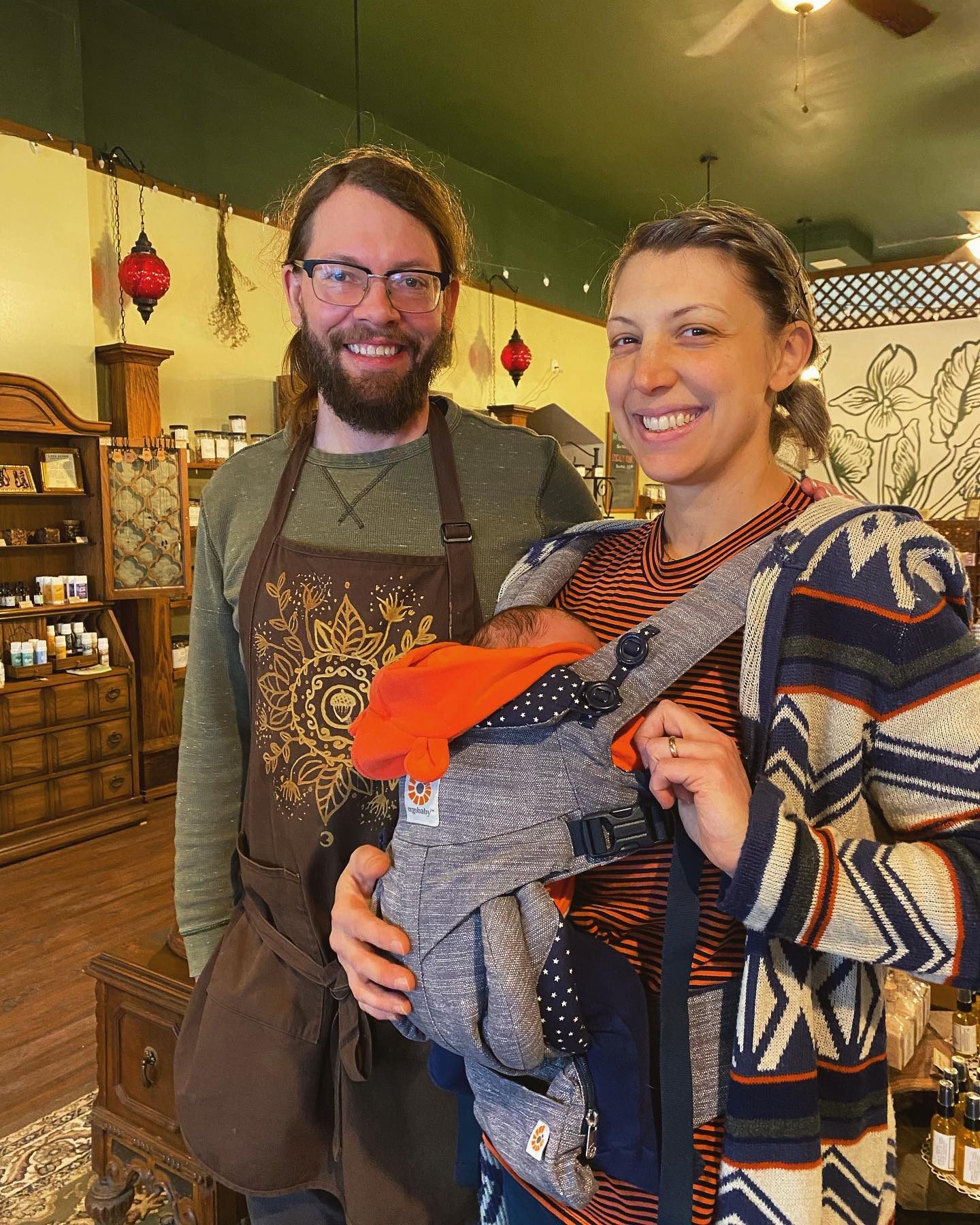 Kyle Denton and Serena Marinelli, with baby Davide, who was born in February, balance life and work as owners of Tippecanoe Herbs & Apothecary.
 What is your philosophy about creating a healthy lifestyle?
When it comes to the science of life and the balance of life, it's many little things. It's not one pill, one silver bullet. It's just like an instrument. You have to keep tuning it over and over and over. When you get it tuned, you can play for a while but then you have to retune it. That's a daily thing.
It's not one treatment plan. It's multifaceted. You always have to work on it. So it's always about finding routine, finding balance. You start with what you can do now, then move on to the next step. That's really the best approach to healing. 
What did we not discuss that you would like others to know?
As community herbalists serving Milwaukee, we not only offer herbal remedies and consultation, but also lessons, workshops and herb walks, where we go out into the field and talk about medicinal plants as we see them. Classes include incense making and the foundations of herbalism, where participants learn about herbs and their energetic properties, and some medicine making.
Those classes are one of my favorite ways of working with people and sharing information. Please check our website for upcoming events and classes.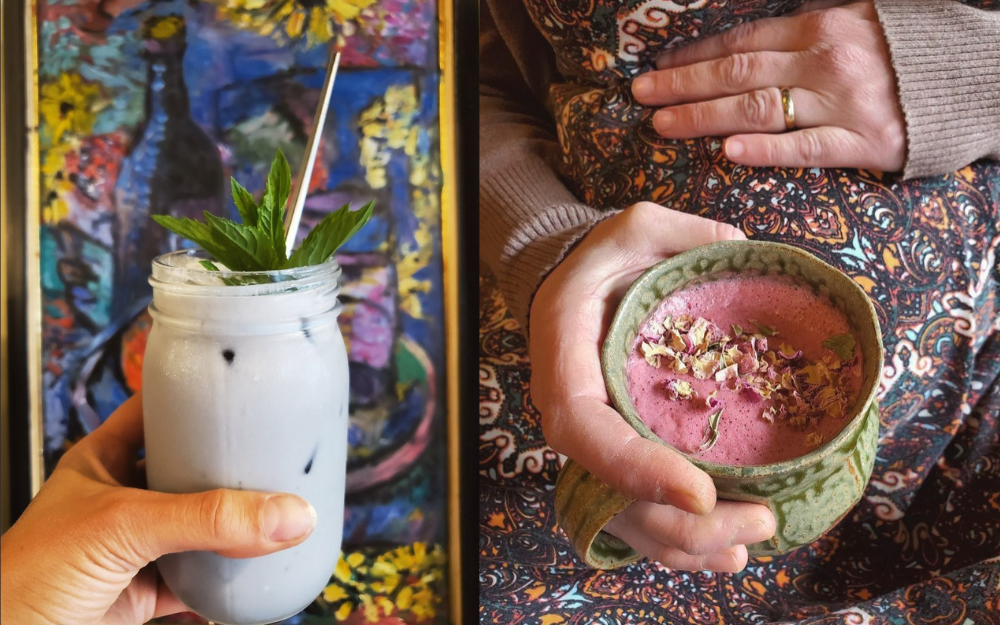 Photos by Jennifer Sai
Blue Moon Coconut Mojito with Coconut Cream (left) and Rosy Cozy Cocoa (right) are among the featured beverages at Tippecanoe Herbs & Apothecary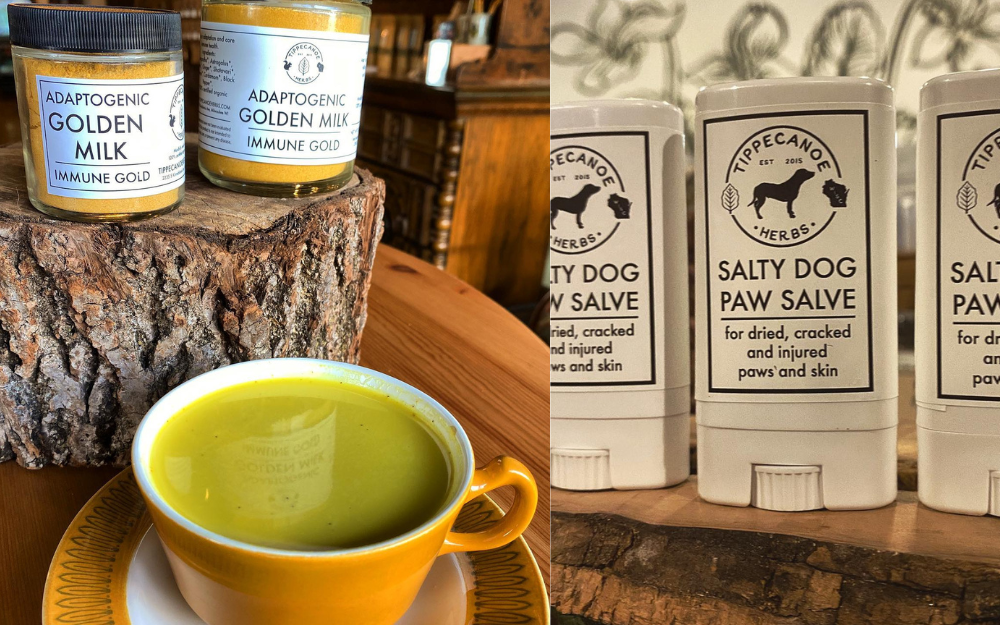 Photos by Jennifer Sai
 (Left:) Golden Milk is made with adaptogens, herbal medicines considered to help the body adapt to stress. (Right:) A profile of the Denton and Marinelli family's dog Diddley is featured on the label of their canine paw salve.