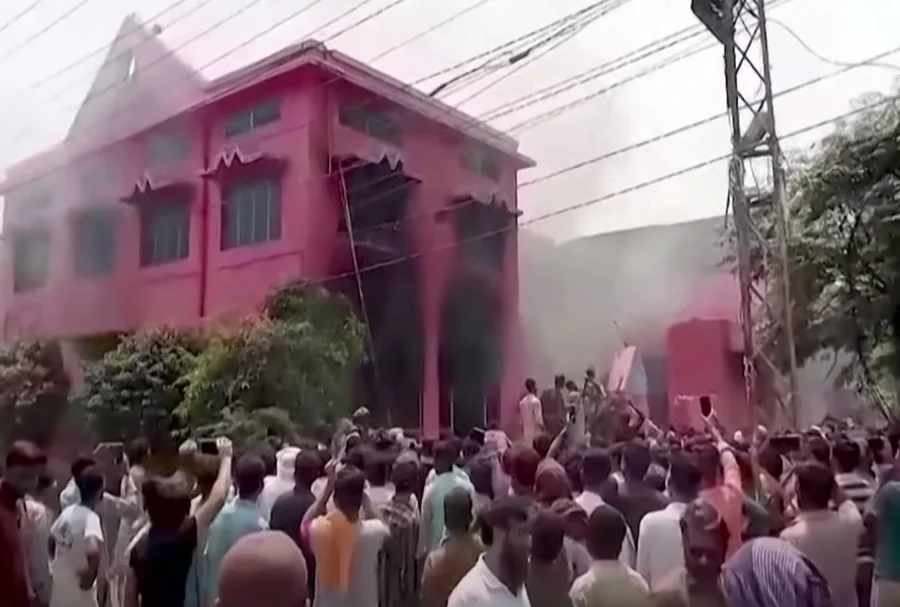 Had God not decreed to repel some people by means of others
demolition would certainly have come
to many hermitages, and churches, and synagogues, and mosques
in which the name of God is much mentioned in praise.
Nor shall you spread corruption in the earth
after it has been set aright by God.
—The Quran, 22:40
(Washington, D.C.; 8/16/2023) – The U.S. Council of Muslim Organizations (USCMO), the nation's umbrella group of national, regional, and local Muslim associations, condemns the armed mob attacks on two Christian churches in Jaranwala, Pakistan, and Christian residents based on unverified accusations of Quran desecration.
We also call for the authorities to investigate those who exhorted protest (after the unverified claim that torn pages of the Quran with blasphemous comment inscribed on them were found near the Christian colony).
"Pakistan's officials must quell lawless mob action and ensure blasphemy laws do not excuse vigilante attacks on religious minorities and their places of worship," said Oussama Jammal, USCMO's secretary general.
"Islam forbids all such action as a grave sin and empowers Muslim authorities to punish its instigation," he said.
The Faisalabad district mob violence against the churches and Christian residents, with reports of Bible desecrations, comes in the wake of the recent rash of high-profile, government licensed and police-protected Quran burnings in Sweden and Denmark, and spreading in Europe.
We call on Pakistan's government officials to reign in public abuse of its blasphemy laws.
Historically, Muslim scholars and authorities only reluctantly applied blasphemy laws in rare cases, owing to their potential for abuse against vulnerable populations, and because, uncontrolled, they can be used by political operators, within and without, to incite sectarian division in society.
We urge Pakistan's Islamic scholars to condemn blasphemy vigilante actions and educate people on its abuse.
We sincerely condole the victims of these un-Islamic mob actions.
Damaged institutions and property owners should receive proper compensation and vulnerable protection.
Muslims well understand the frightening injustice and escalating traumas and violence that such bigotry unleashed inflict on vulnerable people, and we must stand firmly against it.