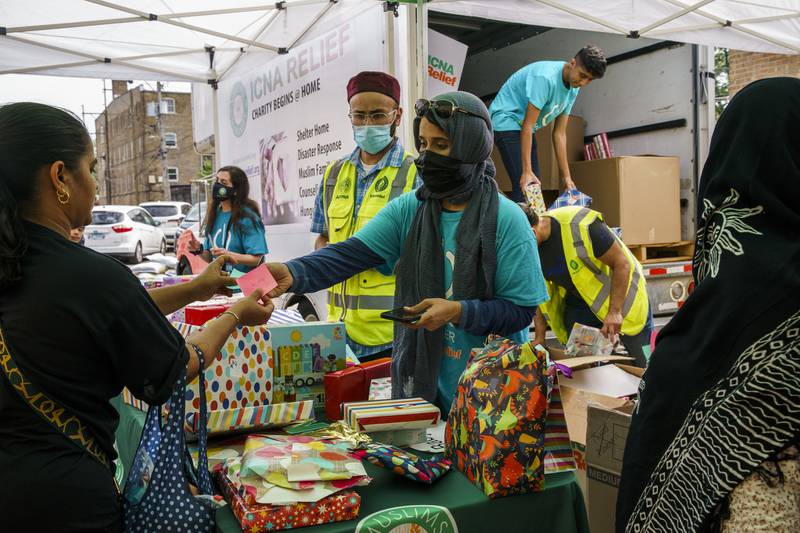 Fatina Khan hands out toys at an Eid holiday toy giveaway event at the Islamic Circle of North America Relief Refugee Resource Center and Food Pantry on July 7, 2022, in Chicago. (Armando L. Sanchez / Chicago Tribune)
Muslims living in Illinois said they are feeling optimistic about their future after a report released Thursday showed that the state's Muslims are the most diverse and one of the fastest-growing faith communities in the country, with more Muslims per capita now in Illinois than any other state.
The Illinois Muslim Civic Coalition, Institute for Social Policy and Understanding and the University of Illinois at Chicago's Institute of Policy and Civic Engagement partnered to put out the first Illinois Muslims: Needs, Assets, and Opportunities report, a project that took three years to complete and was unveiled at the university Thursday.
Dilara Sayeed, president of the Illinois Muslim Civic Coalition, said the impetus for the report was in part a personal experience for her. She said that a few years ago she went through things of her father in-law, who had recently died, and she found a little pamphlet that said, "Muslims in Illinois: A demographic study." Sayeed said her interest was "piqued" but she felt that the information available was "very brief." She wanted to do more.
"I realized everybody else was asking the same questions I was asking about who we are and why there isn't data to support our stories," Sayeed said about growing up in Illinois and watching firsthand how the Muslim population has grown and evolved. "Then four years ago, we all came together and said it's time to do something."
The report found that 75% of Muslims in Illinois are registered to vote, 83% donated to organizations or causes associated with their faith community and 12% of Muslim respondents in Illinois identified as self-employed or running their own businesses, creating more than 350,000 jobs, or nearly 6% of all jobs in Illinois.
The report also shows that 40% of Muslims in Illinois have a college degree or higher, compared with 28% of the state's general public. Responses showed that Illinois Muslims are the youngest in the state and in the country, and the Illinois Muslim sample was on average younger than the state's general public, with 50% of the Muslim sample between 18 and 35, compared with 42% of the general public, according to the report.
"What these numbers say is that we have a growing, civically engaged population that wants and needs to be represented," said state Rep. Theresa Mah, a Democrat who represents Chinatown. "In order for us to do that well, we need the type of detailed, high-quality data in this report that makes it possible."
Mah, who said she was the only Asian American in the Illinois General Assembly during her first term before "our numbers doubled, actually tripled," said she is "proud to serve in the legislature" of a diverse state and "even prouder" to see the diversity and representation in Illinois growing exponentially. She said she wants to help this growing population feel heard and reflected in state policy.
Some of the community needs identified in the report are increased access to culturally appropriate mental health services, solutions to a "distressing" level of religious discrimination and a desire for more affordable halal food options.
"We need our government and law enforcement on our side to help us with discrimination and hate," Sayeed said. "Here are great opportunities that the report says our public officials, our corporate businesses and our philanthropic organizations can help us address."
Illinois is home to a Muslim population representative of many races, ethnicities and other demographics, according to the report, which makes understanding the community here reflective of understanding Muslims in America, Sayeed said.
The coalition and its partners hosted an event Thursday at the university to discuss the findings of the report as well as what can be learned from the data about the Muslim community. Elected officials, community leaders and more were part of the discussion, including Mah, Illinois Attorney General Kwame Raoul and state Sen. Ram Villivalam, a Chicago Democrat.
Wafa Mohamad, who watched Thursday's event via Zoom, is a native Chicagoan who now lives in the south suburbs. He said the report presents "quantifiable numbers that cannot be ignored" and should be used as a building block for providing the resources to help the Muslim community in the public arena, particularly in public schools.
"There is a lot of misinformation put out there about Muslims," Mohamad said. "It is refreshing to have an up-to-date resource that can be used to combat that misinformation with quantifiable data, not just observations or anecdotes. It renews my hope in the future of Illinois and the prosperity of Muslims in this state."
Villivalam said he is "honored" to represent a district that is roughly 15% Muslim American. He said Thursday this report is a step in the right direction but there's still more to do.
"We will work together, you have our commitment," he said. "We will do the roundtables, we will work hand in hand in Springfield. We will use this data and use this report to educate our colleagues and inform our policy."
Sayeed said a report like this is a "big task" and involves a lot of time planning, reaching out to the community and more. She said it took "several months" of the three years just to get nearly 2,000 responses to a 10-to-15-minute survey. It was also important, she said, to make sure the responses were coming from across the state and from people of diverse backgrounds.
Specific goals Sayeed said she would like to see achieved in the near future as a result of the report are more training on cultural competency, supporting communities "that are often invisible and marginalized" within the education and law enforcement systems, more philanthropic dollars for Muslim nonprofits doing social service or civic engagement work across the state, and to have elected officials engage Muslim community leaders throughout the process of policy and legislation.
Lincolnwood resident Muqtadar Ahmed said the first-of-its-kind report is "crucial" to start unpacking the state's Muslim community and make clear what its strengths are and contributions have been. He said the report will help the Muslim community "fully achieve its potential."
"My hope is that this report serves as a foundation for the leaders in our state to drive data-driven and thoughtful policymaking, while also encouraging our business leaders the need to broaden the lens through which they view their diversity, equity and inclusion efforts, which are often myopic and focused on one or a few diversity dimensions," Ahmed said. "The Muslim community brings a unique and diverse perspective that can strengthen the fabric of the communities and businesses in our state."