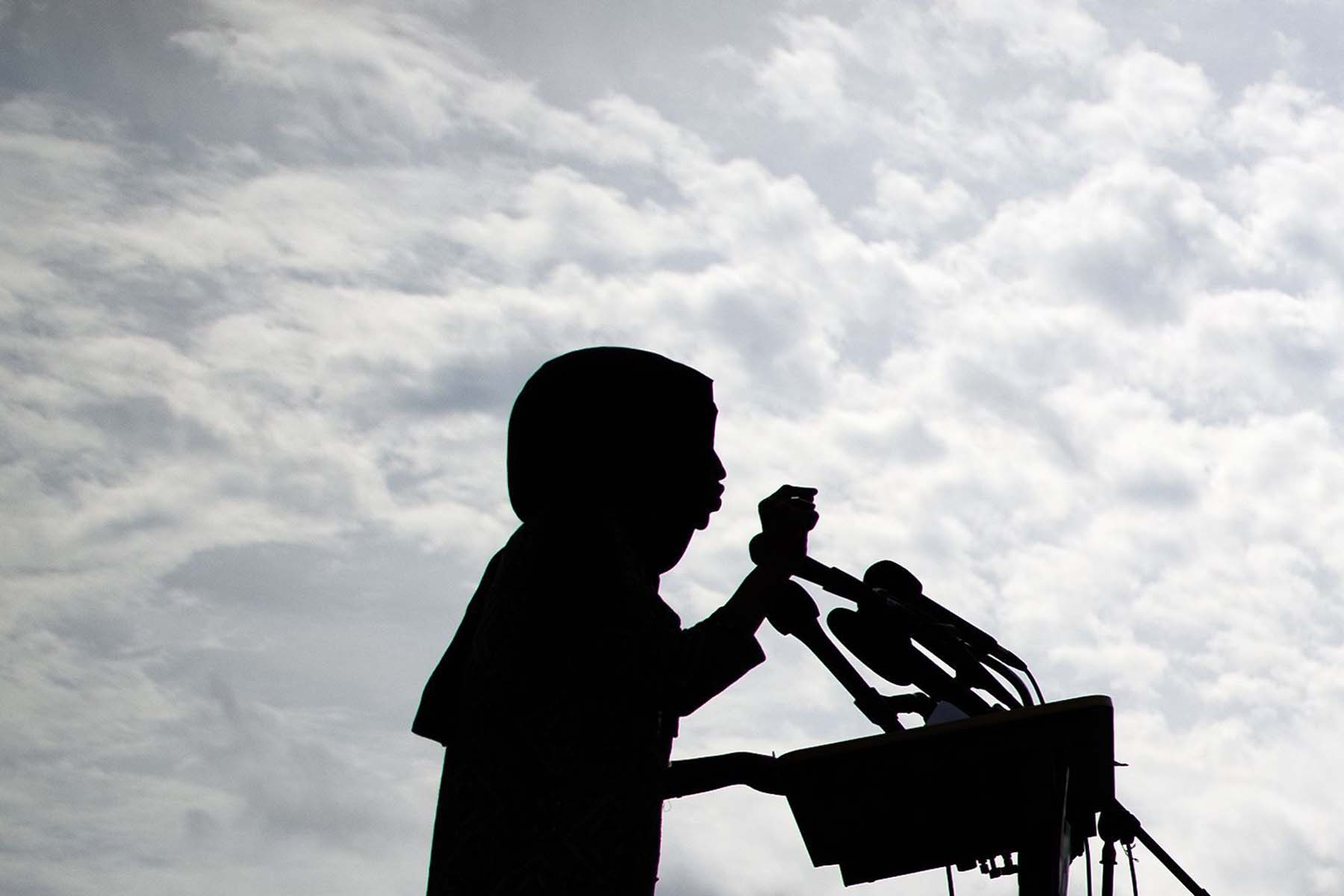 Vanessa Taylor as "Hyde Makes Navigating Reproductive Health Care Even Harder for Black Muslims" for Rewire News
Tom Brenner / Getty Images
Navigating reproductive health services as a Black Muslim often means confronting Islamophobia, xenophobia, and class discrimination within the medical system—problems only amplified by the Hyde Amendment's ban on federal funding for abortion. Yet little attention has been paid to how Black Muslims are disproportionately affected by the anti-choice policy and their erasure from conversations about health-care access.
First passed on September 30, 1976, this year marks the Hyde Amendment's 43rd anniversary. Hyde is an appropriations rider passed annually by the U.S. Congress banning federal Medicaid funds from covering abortion except in cases of rape, incest, and life endangerment. A quote from Rep. Henry Hyde—the restriction's namesake—reveals that, by design, the amendment targets low-income people. "I certainly would like to prevent, if I could legally, anybody having an abortion …. Unfortunately, the only vehicle available is the … Medicaid bill."
In the ensuing fight for reproductive justice, it's important to remember that low-income encompasses diverse populations who navigate their own issues inside the medical system. For Black Muslims, the Hyde Amendment poses a distinct threat.
In the United States, one-third of Muslims live at or below the poverty line, according to the Institute for Social Policy and Understanding (ISPU). Given the history of racial capitalism, or the process of getting social or economic value from someone's racial identity, class is racialized—and that's true for Muslims, too. The ISPU found that Black Muslim households are more likely to earn less than $30,000 a year than other Muslim racial groups.
Though Black Muslims account for a fifth of all U.S. Muslims, conversations around Hyde and reproductive health-care access have failed to take their experiences into account. As Black Muslims navigate anti-Black Islamophobia in the medical industry, how these structural issues may present patients with unique barriers must be considered.
"A lot of people see [Black Muslims] as an oxymoron," Fatimah Roberts, a Milwaukee-based student midwife and volunteer doula, told Rewire.News. "We know there's already so much racism in the medical industry. We see this with the Black maternal death rate and the Black infant death rate. When you add an extra marginalized identity of being Muslim, doctors and other folks in the medical profession get confused."
Confusion around Black Muslim identity does not spare Black Muslims from dealing with the projections and stereotypes of medical workers. On the contrary, the social invisibility of Black Muslims and subsequent erasure from national conversations makes them increasingly vulnerable. Take for example countering violent extremism programs, which target Black and Muslim communities and use mental health to justify surveillance of youth as young as five.
When attempting to access reproductive health care specifically, issues can arise for Black Muslims long before they even make it into the office. Angelica Lindsey-Ali, program director of an HIV-outreach program for Phoenix-based nonprofit Ebony House, said in an interview with Rewire.News. "It begins with the microaggressions that you experience with accessing state-funded or state-sponsored health care."
"The majority of the women that I work with and that we see in our program have [our state Medicaid program]. They do not have private health insurance," Lindsey-Ali said. "As a result of that, they are subject to a system that immediately categorizes them from the minute they walk into the door."
Inside the office, if people accessing reproductive health care are visibly Muslim, such as wearing niqab or hijab, or have names that providers assume are Muslim, they may then also be subjected to invasive questions, Lindsey-Ali said. Health-care providers may start probing by asking, "Who lives in your home? Have you considered not having so many children? Does your faith allow you to access these services?"
Roberts noted that the stereotypes these questions stem from can affect the quality of care Black Muslims receive in other ways—especially for those who are pregnant or have given birth. "We have this stereotype that Black people have too many children, that Muslims have too many children," Roberts said. "And this translates into not giving the children the care that they need and not giving people giving birth the care that they need."
Immigration and documentation status can also drastically shape experiences with the medical industry, and that's a crucial component of the conversation for Black Muslims. The Pew Research Center found that since the 1980s, the Black immigrant population in the United States has jumped fivefold. There were over 600,000 undocumented Black immigrants in the United States in 2015, according to Pew.
Xenophobia drafted into official policy makes it increasingly difficult for undocumented Black immigrants to access reproductive health care. Undocumented immigrants have limited access to health insurance. Due to eligibility restrictions, undocumented immigrants are barred "from participating in Medicare, Medicaid, the Children's Health Insurance Program (CHIP), and the Affordable Care Act (ACA) Marketplaces," according to the Kaiser Family Foundation.
In addition to navigating state violence, Black Muslim immigrants may have to take on unnecessary labor just to get proper services. For example, children may need to translate medical documents for their parents because no one on the hospital staff speaks their language. Lindsey-Ali has seen the impact of language barriers on her clients.
"I have a client that speaks an East African language that has fewer than 100,000 speakers," Lindsey-Ali said. "To watch this woman attempt to communicate her requests and not undergo voluntary surgery and witnessing the verbal coercion from her case managers is proof that laws like Hyde are only going to further marginalize those in greatest need."
"Hyde will just magnify the hurdles that Black women face with navigating the health-care system. The language in a lot of these amendments attempt to appease members of faith-based communities with the focus on abortion when it goes so much deeper than that," Lindsey-Ali added. "Hyde and all of these other laws are really about the emphasis on state control of women's bodies."
Given the Trump administration's open hostility to reproductive rights, it is easy to forget that attacks on reproductive health care—especially for people with low incomes—are part of a long history of undermining access that is not limited to a single administration or political party. The experiences of Black Muslims may be complex due to sitting at the intersections of multiple marginalized identities, but they cannot be ignored in the fight for reproductive justice.