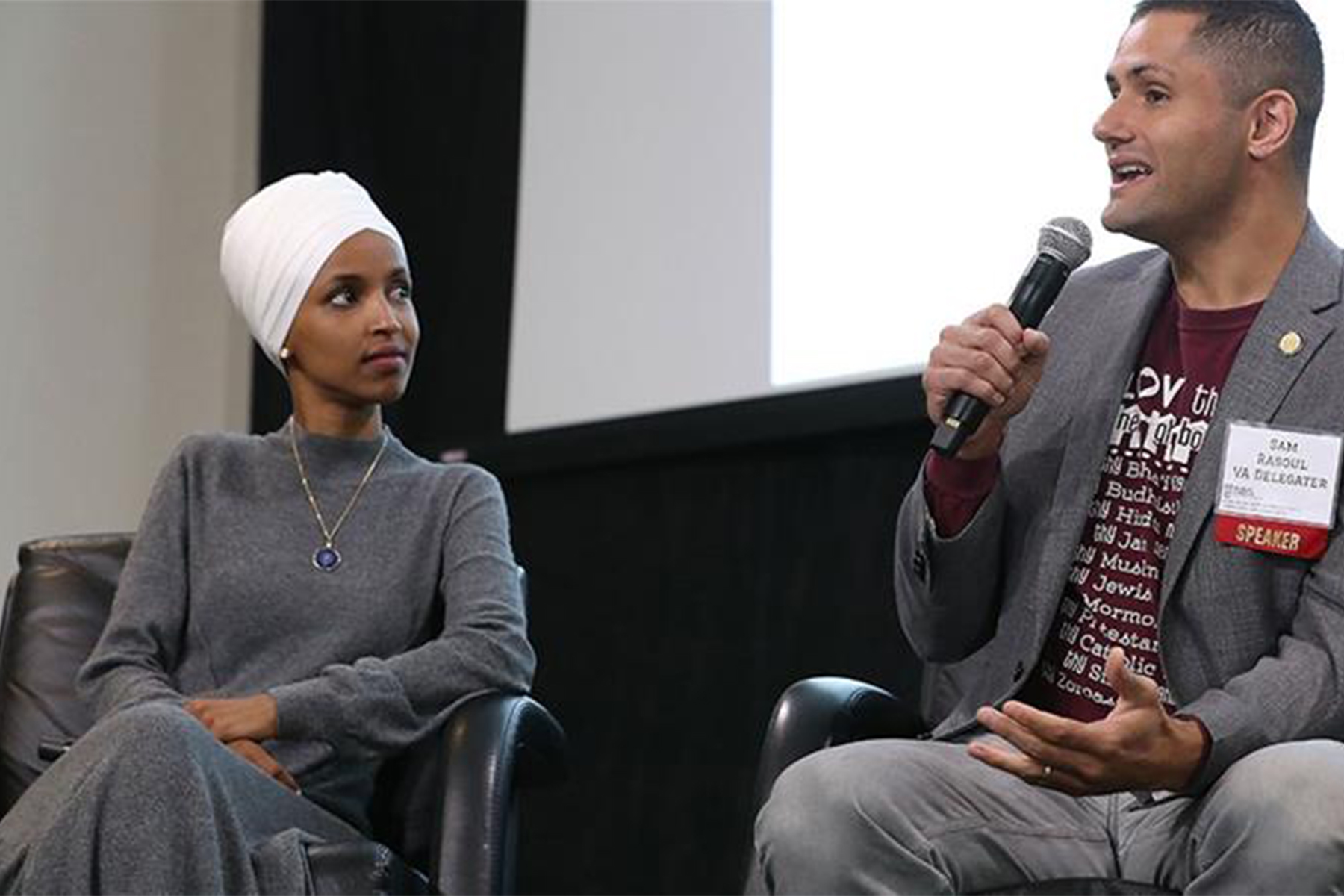 Martin de Bourmont as "Muslim Caucus highlights need for greater political engagement" for Al Jazeera
Ilhan Omar listens to Virginia Delegate Sam Rasoul as they participate in a panel discussion during the Muslim Collective For Equitable Democracy Conference and Presidential Forum [Chip Somodevilla/Getty Images/AFP]
Participants at the first national gathering of Muslims in politics in the United States spoke of the two-day event, which ended on Wednesday, as an opportunity move American Muslim communities beyond the defensive posture they have been forced to take in US media and politics for decades.
"This is 10 years late," said Mohammed Gula, executive director for Virginia of Emgage USA, an organisation seeking to encourage and assist Muslims who wish to enter politics.
"It's also important to recognise that we've never really felt that there was space for us to do that [before]," Gula told Al Jazeera, adding that the election of President Donald Trump, who campaigned on Islamophobic rhetoric and instituted a travel ban on a number of Muslim-majority countries upon taking office, lent a sense of urgency to Muslim political organising.
Moreover, Gula said, the example of US Representatives Ilhan Omar, who spoke on Tuesday, and Rashida Tlaib, who could not attend the conference due to flight delays, unapologetically identifying as Muslims while engaging in national politics has also inspired more interest in running for political office within the Muslim community.
"We recognise ourselves as being American, whereas 10 years ago that wasn't celebrated the way it is today," said Gula.
A major theme at the conference was how best to communicate that no Muslim politician should be reduced to their faith alone.
Speaking on Wednesday morning, Dalia Mogahed, the Director of Research at the Institute for Social Policy and Understanding, told audience members that Muslim Americans are the most diverse faith group in the country, and as such comprise a multitude of racial and economic categories. 
Beyond trolls and prejudice
Many of the questions posed to Elizabeth Warren shortly after, during her livestream talk with conference attendees, reflected the concerns of not just Muslims, but low-income and middle-class Americans at large.
"For me, the reason to run was the wealth gap and seeing how it's growing," said Sabina Taj, a member of Maryland's Howard County Board of Education, speaking of her decision to get involved in local politics.
Taj described being heartened by the opportunity to discuss the distractions Muslim candidates often face when trying to address community problems that have nothing to do with faith.
"Do I want equity in schools? Do I want teachers of colour entering the school system? I can't focus on changing policies and changing practices and spend too much time defending myself. I don't go down that road of engaging unless I feel it's absolutely necessary," Taj said, adding that she believes many of her fellow Muslim American politicians are reaching a consensus of restraint when it comes to answering trolls and other prejudicial attacks.
The conference came against the backdrop of recent racist attacks by Trump against four minority congresswomen in the US House of Representatives, including Omar and Tlaib.
Trump has repeatedly told the women to leave the US if they don't like it, and his tweets in which he told the four to "go back" to where they came from were condemned by the US House of Representatives last week. 
"Like Ilhan said yesterday, what am I supposed to do?" Taj said, referring to Omar's furious dismissal of a question asking her to condemn female genital mutilation as a Muslim public official. 
"All day long, say that I disagree with that, that I disagree with this? Or am I supposed to work on what I want?" she added.
Still, despite the attacks, the mere presence of the two congresswomen was a massive boost of confidence for a Muslim American community that is beginning to stake out bolder positions in American politics, Gula said. 
"Just the nature of seeing a Muslim woman in Congress that also wears the hijab, but also a Muslim woman that doesn't wear the hijab," Gula said, referring to Omar and Tlaib, respectively. "Being able to have that confidence, to define yourself, is the biggest change that we've seen."