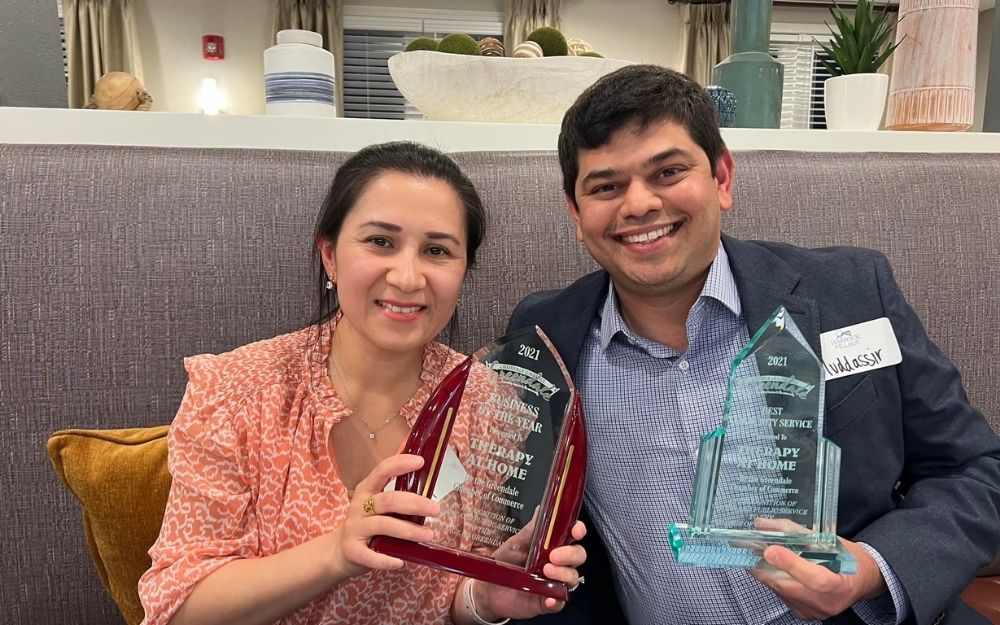 Parizat Aireti and Muddassir Mohiuddin, owners of Therapy at Home, hold awards they received from the Greendale Chamber of Commerce at its annual banquet.
"It's a 'coming to America' story for us," said Muddassir Mohiuddin, 39, who with his wife Parizat Aireti, 34, founded Therapy at Home, a comprehensive therapy private practice based in Greendale that serves the Greater Milwaukee area with in-home physical, occupational and speech therapy. 
The up-by-the-bootstraps couple, both immigrants, achieved advanced degrees, married, had two children and eventually established a business that has become an integral part of the Greendale community. The Greendale Chamber of Commerce recognized their practice, Therapy at Home, with two awards March 31 at its annual banquet, the 2021 Community Service Award and Greendale's 2021 Business of the Year. 
The couple told the Wisconsin Muslim Journal this week about creating a life in a new country and expressed gratitude for the opportunity they have found to create a successful business in a meaningful field. Receiving recognition and appreciation from the community has been "the cherry on top." 
Coming to America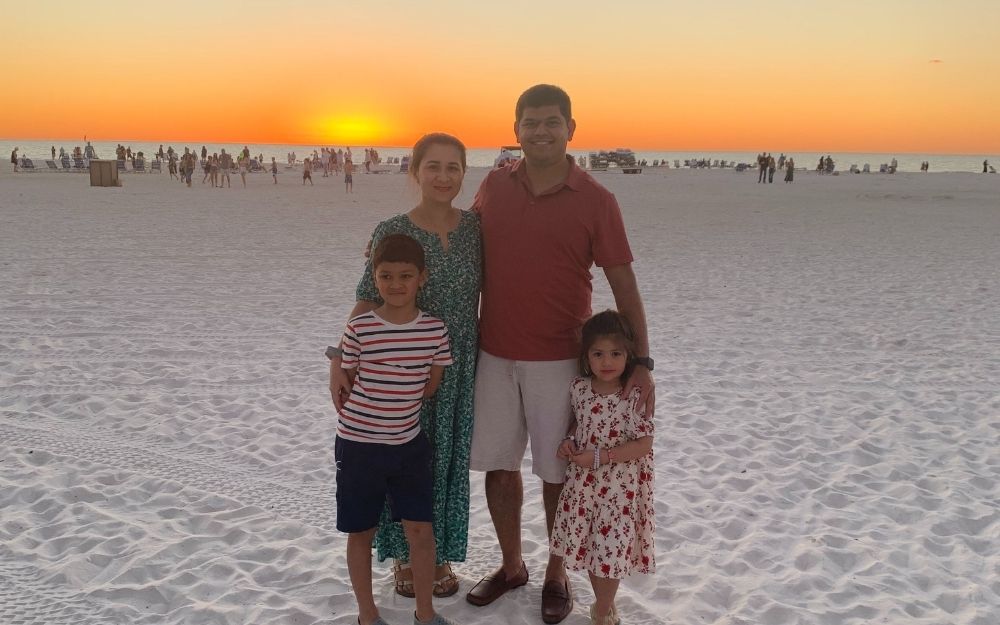 Parizat Aireti and Muddassir Mohiuddin say they are grateful for the work-life balance their business gives them.
Both immigrants, Mohiuddin came to the U.S. from India and Aireti from China. As Muslims, both had been in populations that suffered discrimination in their homelands.
Mohiuddin's family moved from south central India to north Chicago when he was 16. He was the youngest of six children and, by then, his parents had retired.
"My first year in Chicagoland was culture shock," he recalled. "Going to high school, I felt like I was going to prison. There was a lot of security, fights, seeing somebody thrown on the floor, blood—it was traumatizing. I worked overnight while going to high school. We always worked period," he said about himself and his siblings.
As he pursued his education and career, Mohiuddin lived with one of his brothers, paying their own living expenses. "Our parents were there to support us but they knew we could figure it out," he said.
Mohiuddin went to a small evangelical university in north Chicago where he studied biology. "I didn't have much guidance. I just applied to the school in the neighborhood," he explained. 
He supported himself through college. "I'd go to my manager and say, 'These are the windows I can work.' I'd get out of class, get on a bus and get to work." Mohiuddin graduated with a degree in biology but ended up working in banking for six years.
"I really love helping people. Where we lived there were a lot of immigrants from Ethiopia, Eritrea and other places, all new to the United States. They were just getting to know the financial system. I would sit down with them and let them know how it all worked, that they needed bank accounts and to establish some credit. 
"But, at the end of the day, I felt like I was just a sales number. I was done feeling like a salesperson and always thinking about numbers," he said. He decided to look for something else. 
In 2009, Mohiuddin had a shoulder dislocation and received some physical therapy. "That's when I said, 'Hey, this is what I want to do.'
"I like physical therapy because it is a mind, body and spirit experience. When you teach a patient how to take care of an injury, you are teaching them about their body and what they can do. There is a connection and education that empowers them."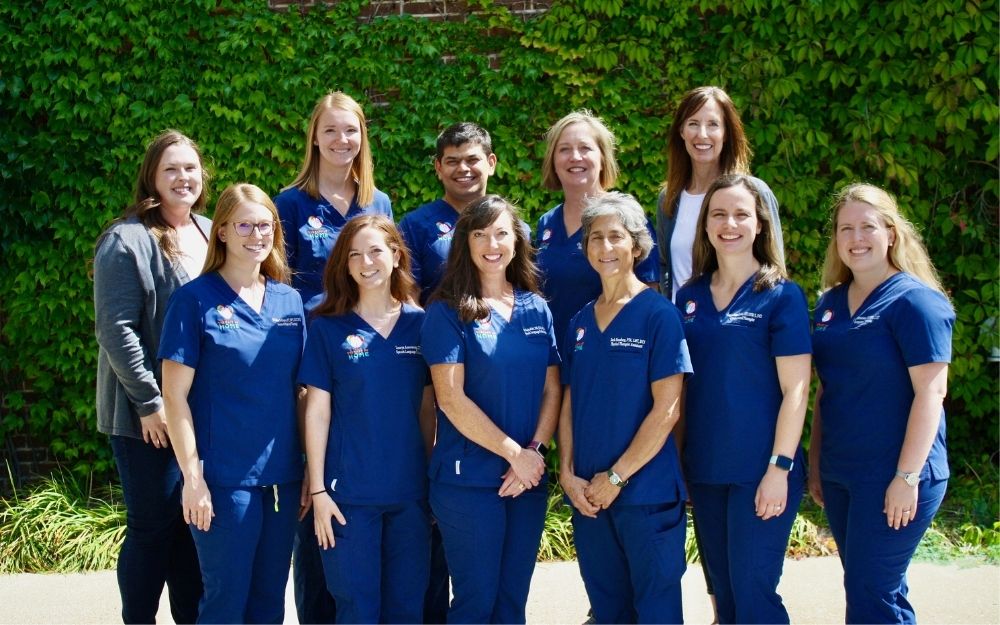 Therapy at Home team
He saw physical therapy as a way to make a real difference in people's lives, he said. "For some people, like factory workers and athletes, their livelihood depends on their bodies. For an older person, it can mean being able to live at home," he said.
With those thoughts in his head, he started taking pre-requisite courses he would need to get into a university program. "At one time, I was going to six community colleges in Chicago," he recalled. In 2011, he enrolled in a physical therapy program at Concordia University in Mequon.
Meanwhile, Aireti studied business at a university in China where her father taught advanced classes in Chinese Mandarin. Her university had an exchange program with Concordia University and she participated her senior year. After she graduated, she enrolled in Concordia's master's degree program in business administration.
Mohiuddin completed a doctor of physical therapy degree with honors and Aireti her MBA. They married soon after Mohiuddin graduated.
Challenging times
Mohiuddin worked as a therapist but did not always feel free to provide the time and attention he felt were needed when working for others. Therapy treatment was usually limited to what was covered by insurance, he said. When he wanted to go above and beyond for people who needed extra help, like transportation to therapy or finding financial assistance, but he was not allowed. Employers would say, "'Hey, that's not your problem.' And I'd respond, 'Well, it's somebody's problem. Why not help?'"
Those were difficult years personally as well, Mohiuddin recalled. "Pari was pregnant with our first child and she was about to be deported because her state-funded visa required her to go back to China despite the fact that I was a U.S. citizen." Also, she was not allowed to work in the United States. "I worked three jobs to pay the $50,000 in bills from our attorney," Mohiuddin said. Fortunately, they won their case, he said.
Mohiuddin also discovered it was difficult to take time off when their first child was born after a difficult birth. It made him realize the importance of treating not only patients, but also employees ethically and humanely, he said.
Starting their own business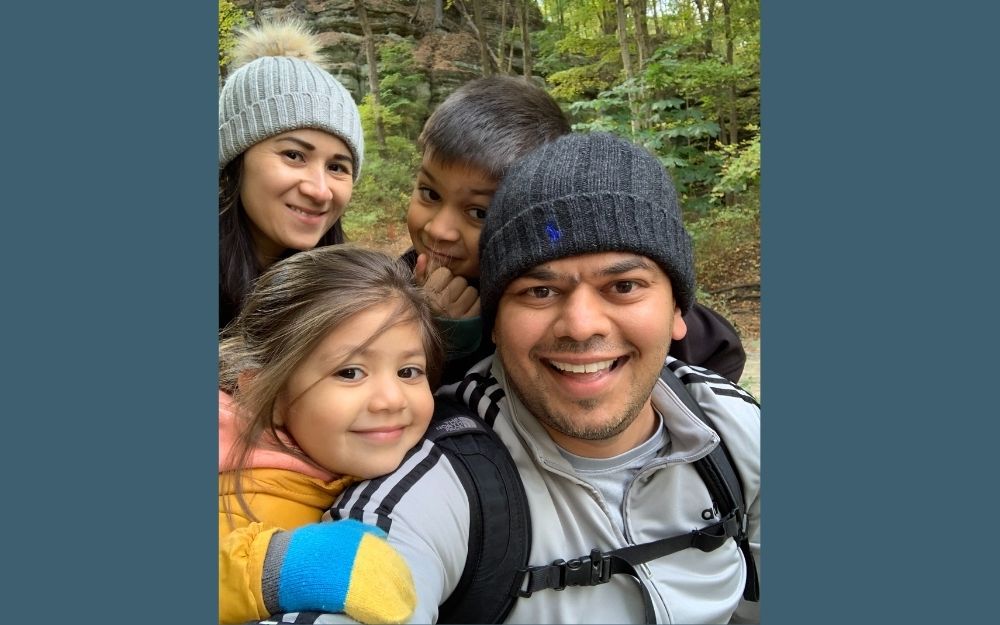 "We wanted to create a system that empowers people so they can take control of their health and wellness," Mohiuddin said. To do that, sometimes you have to go beyond the norm, he said.
"It's not like you can just take care of one part of a person's life and ignore everything else," he said. "That is the liberty of having your own practice."
In 2016, they launched Mohiuddin's solo practice. Starting their own business was scary, he added. "But I have the perfect partner. Pari always helped me manage the finances. Sometimes we lose money but we manage to stay on the positive side (of the ledger). 
Aireti added: "Neither of us have family in Wisconsin. Having our own business while raising kids allowed us to work and manage our time." Their son is 7 years old and daughter is 4. 
"They are also in the business," Mohiuddin said. "They participate when we have a booth or join the Alzheimer's Walk. They are happy to wear our logo. They know our brand colors. We always talk about the business at home and they pick it up."
"The flexibility has been important," Aireti said. "If I worked outside and my daughter was sick, it might be hard to take off work. When it's our business, if I can't do something today, I can do it another day."
Being in business together "is a perfect relationship," Mohiuddin said. "For example, now in Ramadan, I go to teraweeh prayer (special prayers at mosques every night during Ramadan), which is from about 9 p.m. until almost midnight. After the prayer, sometimes I work overnight. Pari says, 'Don't worry. I'll drop the kids to school.' Then I can sleep until maybe 10 a.m. Having a schedule that works for us, where we can support each other, is a blessing. We are grateful."
A key concept of the business is providing in-home care, the couple explained. "There is a misconception that in-home care is just for the elderly," said Mohiuddin. "That's not true. Others may not have transportation or find difficulty getting to appointments because of their injury or other reasons."
The ability to select their staff is another blessing," Mohiuddin said. At first, he was the only therapist but the business has now grown to 14. 
"We look for passion and empathy," Aireti said.  "It takes a special person to work for us. You have to care about people."
"That and a professional license is all it takes," Mohiuddin said. "We can teach you the rest. If they have passion and empathy, we want to make sure we create a system that supports them.
"When we hire someone, they have three interviews, one with the team. They will become an integral part of the business. Each person has an impact on the whole team."
Since the practice provides in-home care, they do not come together in a brick-and-mortar building. "We try to create a culture that is well connected," Mohiuddin said. "It's important for us to share celebrations and pain together, just like family. When someone has a loss, we recognize it, send flowers, ask what they need. It's all about treating people humanely.
"Going through the pandemic as a small business wasn't easy and we couldn't have done it without our team," he said. "We had employees say, 'Hey, I can give my hours if somebody needs the work. That means a lot."
Mohiuddin wanted to provide oxygen concentrators to a village in India. The Therapy at Home team donated more than $4,000, enough to send three, he said. 
Winning Business of the Year
In February, Therapy at Home received a letter from the Greendale Chamber of Commerce, congratulating the business for being the winner of the 2021 Community Service Award.
The Greendale Chamber of Commerce recognizes member businesses for excellence annually, said Chamber President Debra Barth, who is also executive director of Harbour Village, a senior living community. This year they added categories: Community Service, Employee Engagement and Innovation. Sixty nominations were received across the three categories.
The letter from the Chamber explained how Therapy at Home was chosen for the Community Service Award.
"Your business was nominated and chosen based on the following:
Despite owning a small business while challenged with the COVID-19 pandemic, Therapy at Home has continued to support Greendale and the greater Milwaukee area, as well as its own employees. Therapy at Home holds community service as a core value that owner, management and staff all support in a variety of ways. Therapy at Home (TAH) sponsored Greendale Village Days as a Greendale Entertainment Associate. Therapy at Home also sponsored the Step Up for Better Health Fun Run/Walk in 2021 and supports the Greendale Memory Cafe, a program that engages persons living with early-stage dementia and their care partners.
Therapy at Home staff actively joined in by volunteering extensively at the Greendale Village Days GEA tent and participated in the 2021 4th of July Parade. Staff worked at the Greendale Farmers Market promoting the CHIP group SAGE and participated in the Alzheimer's annual Walk to End Alzheimer's.
As a Board of Health Advisor to the Greendale Health Department, Founder and Physical Therapist Muddassir Mohiuddin shares his expertise and knowledge of issues that are important to the community and its members. Therapy at Home fills a great need for therapy at home for people unable to come to an office for therapy which has been especially critical during the pandemic. The team at Therapy at Home makes a huge impact in the community with a positive attitude and passion for people in every way they serve."
Later in February, Greendale Chamber of Commerce member businesses voted on one of the three category winners to be named "Business of the Year," explained Barth.
The results were announced at the Chamber's March 31 banquet, held at Harbour Village. 
And the winner is – Therapy at Home!