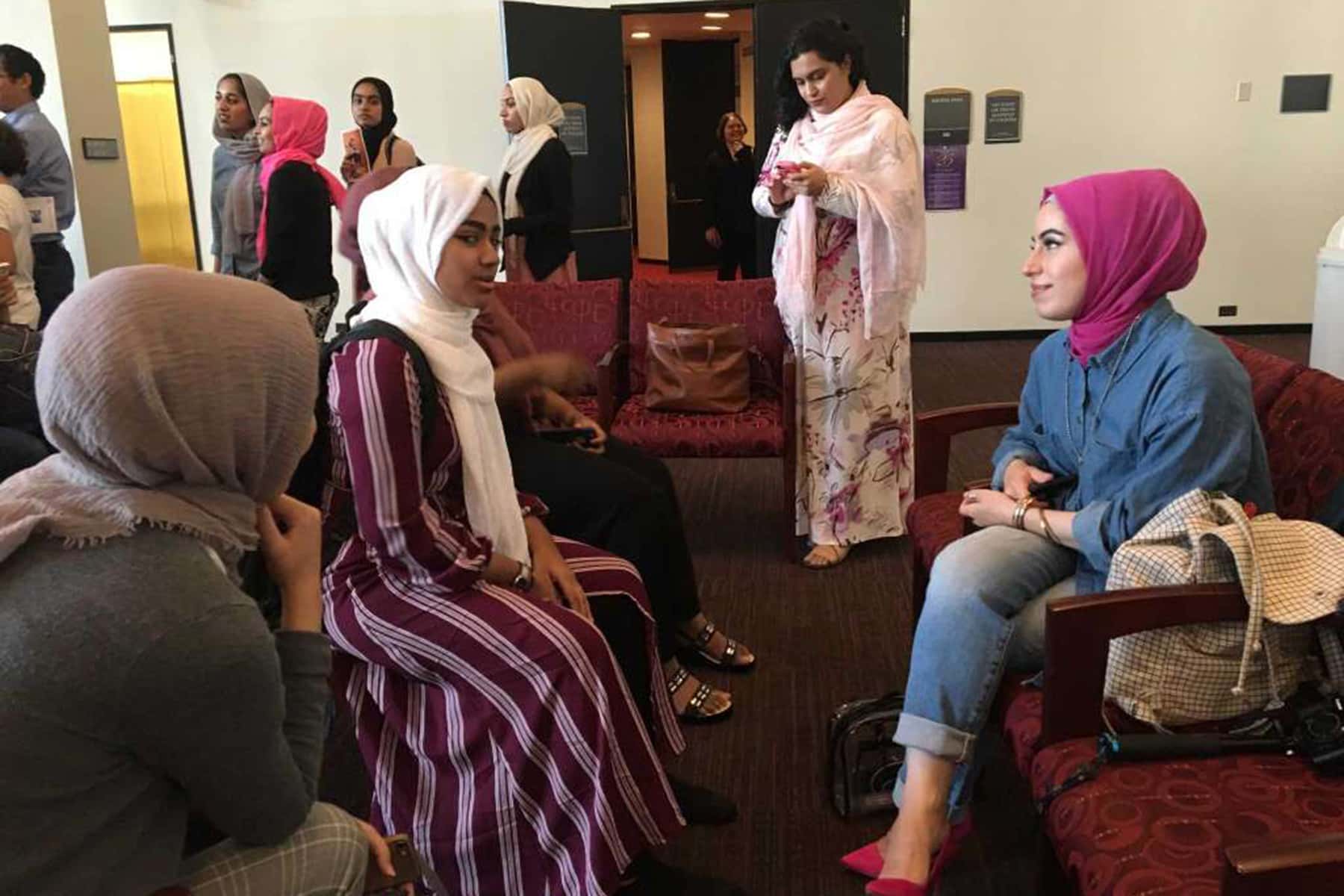 Nine-year-old Zainab Sharifa-Mukhtar, who started wearing a hijab to school this year, came to the University at Albany Wednesday to meet two examples of who she could be when she grows up: an Olympic fencer and a chart-topping rapper.
"My main thing was for her to come for her to see positive role models, for her to see that hijab is not an obstacle, your religion is not an obstacle for where you want to be in life," said her mother, Fatima Mukhtar from Clifton Park.
Olympic bronze-medal winning fencer Ibtihaj Muhammad and rapper Mona Haydar shared their experiences as Muslim-American women breaking barriers at the University at Albany Performing Arts Center Wednesday. The event, hosted by the New York State Writers Institute, included two conversations moderated by the institute's director Paul Grondahl and Times Union journalist Azra Haqqie.
The talks covered everything from poetry and sabers to toxic masculinity and white supremacy to spirituality and mental health. The women were honest and articulate, pushing back against societal norms while expressing deep respect for their faith.
"We've all seen the really tired story line of a Muslim terrorist or an objectified, oppressed Muslim woman," Muhammad told the crowd. "For me, to exist as I am and combat that narrative and show a different side of Islam just by existing as myself, the strongest things that I can do, that was my act of resistance — to be the best version of myself."
Sharifa-Mukhtar, the elementary school student from Clifton Park, asked Muhammad and Haydar whether they had been bullied for wearing a hijab, the head scarf worn by some Muslim women. It's something that she and her mom said hasn't happened in her school, where she was invited by her 4th grade teacher to share with her class why she covers her head — but it could.
Muhammad, who is African-American, shared her story about not fitting in on sports teams because of her hijab. Haydar, who is Syrian-American, said she was always considered not beautiful by her white high-school classmates. Both women shared what they considered Islamophobic microaggressions — getting asked "where they're from" when they grew up in the U.S. or called upon to interpret global politics.
But they said overt aggression has increased under the current administration in Washington, D.C.. Muhammad said she was followed and harassed by a man in midtown Manhattan who said she looked suspicious and asked her if she was carrying a bomb.
Off stage, Muhammad and Haydar burst into vivacious smiles when taking selfies with flocks of fans, many young women wearing hijabs. Muhammad signed copies of her memoir Proud: My Fight for an Unlikely American Dream. Haydar sold T-shirts to promote her song "Lifted," set for release on October 19, and her EP, "Barbarican," due out November 2.
The UAlbany Muslim American Students Association hosted a reception after the event. The organization has an email list of 500 and at least 50 active members, according to President Nussrat Bhuiyan and Vice-President Nana-Hawwa Abdul-Rahman.
They said Muhammad and Haydar's visit was refreshing.
"It's important because you don't often see Muslim women like that," Bhuiyan said. "In general, people see Muslim-American women as oppressed and voiceless. But we are really just like everyone else."
"I find it's very difficult to be a Muslim woman because Muslim men are not as easily identified," Abdul-Rahman said. "We are the targets of Islam."
"We are judged before you get to know us," Bhuiyan added.
Muhammad and Haydar are two women who've shattered these stereotypes in mainstream society.
Muhammad grew up in Maplewood, N.J. and took up fencing because she could compete while covering her body according to her religious beliefs. Not only was she an African-American in the white-dominated sport of fencing, but she became the first Muslim woman to compete in the Olympics for Team USA.
"I don't take no for an answer, I find it motivating when they say there's something I can't do, that was my motivation," Muhammad told the crowd. "I really wanted to see Team USA be as diverse as the America I know. Growing up I didn't have someone who wore hijab, I didn't know of any other black fencers. I wanted to show people a different side of Islam and show people this is what an Olympian looks like."
The first hijab-wearing Barbie was modeled after Muhammad, who splits her time between New Jersey and Los Angeles, where she started a fashion line of modest clothing.
Haydar, who was raised in Flint, Mich., skyrocketed to fame when her music video "Hijabi (Wrap my Hijab)" — featuring her rapping about feminism while eight months pregnant and surrounded by diverse women wearing hijab — went viral last year. Before that, she and her husband, who converted to Islam, attracted media attention for his idea to set up a booth "Talk to a Muslim" in Cambridge, Mass.
Haydar said she's received criticism from all sides for her work.
"I'm told that I'm too Muslim, that I'm not Muslim enough, that I'm too fair-skinned to be doing hip hop, that I'm too Arab, that I'm not Arab enough, that I'm too Syrian, that I'm not Syrian enough, that I'm too American," Haydar said. "Everybody wants me to be somebody that I'm not, all I can do is be the best Mona Haydar that I can be for the world and pray and hope that will be a guidance for people who are younger than me."
For Haydar, her music is about sharing love, promoting positive spirituality and pushing back against mainstream social norms.
"I believe in challenging traditional standards when they don't make sense, when they don't exist for reasons of great value of upholding goodness and beauty, when they just exist because that's how it's always been done. I believe in upholding generosity and love and kindness," Haydar told the crowd.
Haydar got her master's degree in Christian ethics to understand America's religious foundation and now works as a chaplain at New York University. She lives in Brooklyn with her husband and two sons.
"All of my work is about affirming and seeing you are an embodiment of love and no matter what you're going through and what you've seen or no matter what you've done, there is hope that you can move forward in a love-filled way," Haydar said. "Our culture is so focused on tearing everyone down. I want to start creating beauty and generosity."