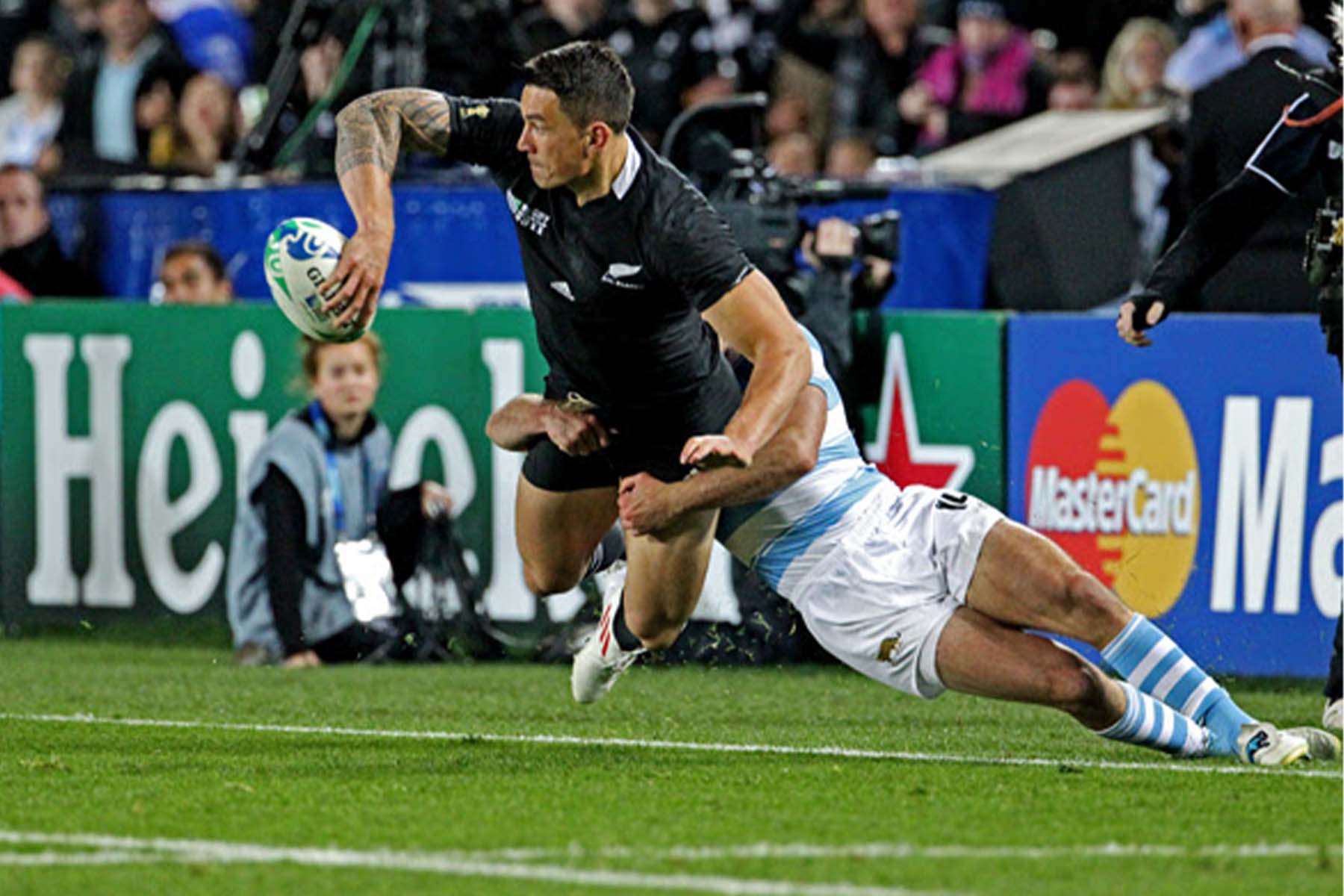 Ken Chitwood as "Rugby player carries the weight of New Zealand's Muslims at Rugby World Cup in Japan for Ken Chitwood
When the New Zealand national rugby team — the All Blacks — run onto the "pitch" for their matches at the Rugby World Cup in Japan, the weight of the nation will be on their shoulders.
The Rugby World Cup, like its soccer counterpart, is held every four years and is the premier international rugby tournament in the world. It started 20 September and will last until 2 November.
More than sport, rugby is nigh on national religion in New Zealand. Perhaps because of this high devotion, one of the most successful sports teams in the world, the All Blacks' every pass, tackle, and kick is scrutinized in detail by foe and friend alike. This is especially the case with one of the teams' premier midfielders, Sonny Bill Williams.
One of the best-known rugby players in the world, Williams has stirred up his fair share of controversy over the years playing rugby union, rugby league, and trying his hand at boxing. Known for some pretty wild escapades in his early years, he has now become a seasoned rugby player and leader in both sport and society. Still, he faces scrutiny in the press for his play and his personality.
This Rugby World Cup, Williams is also humbly aware of the responsibility he has representing the Muslim community of New Zealand. This is especially true in light of the 15th of March attacks that left 51 dead after a gunman opened fire in Masjid Al Noor and the Linwood Islamic Center.
The attacks spurred Williams into action on behalf of his fellow Muslims. In the days following he not only visited families who lost loved ones, but also took time to spend time with the injured and pray at Masjid Al Noor with survivors.
Dr. Anwar Ghani, spokesperson for the Federation of Islamic Associations in New Zealand (FIANZ) said that over the last four to five years, Williams had been speaking out about his religion and how this made him a better person.
"But after the 15th of March, he became more vocal, you could tell he was affected," Ghani said.
Indeed, in an emotional message on social media on the day of the attacks, Williams fought through tears to send duas — non-obligatory prayers of request — for the victims, their families, their friends, and all of New Zealand.
Williams said, "I'm just deeply, deeply saddened that this would happen in New Zealand."
Williams' words and actions were in keeping with the outpouring of support that the Muslim community received after the attacks, but his stood out.
"He showed he is a man of faith and a man who embraces humanity," Ghani said, "people were horrified with what happened at those two mosques, his coming out helped in the healing process as well. Especially as one of our sporting heroes."
Williams' actions not only inspired New Zealanders, but his own mother and best friend. Within two weeks after the attacks, both converted to Islam.
Mr. Abdullah Drury, a professor of Islamic Studies at Waikato University in Hamilton, New Zealand, said, "because Williams is a convert, I think he is seen more as a New Zealander, as a Cook Island New Zealander, than a Muslim. His Islam is not 'obvious.'"
Drury said, "easily, he is the most prominent New Zealand Muslim."
"When he turns up at mosques — and he does so fairly regularly — he is often mobbed by youth who take lots of selfies," said Drury. He continued, "in a secular country where most religious folk keep their faith to themselves in public, he has raised a positive profile for Islam in New Zealand."
Islam has a long history in New Zealand, according to Eva Nisa and Faried F. Saenong, researchers at Victoria University in Wellington. Writing for The Conversation, they reported that while Muslims make up just 1% of the population, "historical accounts document that Islam first arrived in New Zealand in 1769, with two Indian Muslims."
Largely still a "religion of immigrants and refugees" 26.9% of Muslims in New Zealand come from Asia, 23.3% from the Middle East and North Africa, and 21% from the Pacific Islands, including the Cook Islands where Williams claims his heritage.
Certainly, the Muslim community in New Zealand was shaken by the attacks six months ago. "We are broken-hearted but we are not broken," wrote Nisa and Saenong.
Despite the difficulties of healing, Ghani feels that Islam in New Zealand has a bright future and an important role to play in continuing to build the country's "peaceful" society. "While we have had a setback, we have seen lots of positives coming out of Christchurch," he said, "we hope that we would remember the day — as heinous as it was — as something that brings us together to make positive changes not only in New Zealand but around the world."
Ghani said that inter-religious engagement has been on the rise and multiple stakeholders have realized — regardless of religious or political leaning — that the vision of a multicultural New Zealand remain fluid. Fissures continue to exist.
As a Pacific Islander, a Muslim, and one of the most prominent Kiwis in the world, Williams is keenly aware of the tensions that run through the community and the part he plays as a role model in such a society.
Converting to Islam turned Williams' life around. He told the Daily Mail, "I did a lot of bad things and went off course but Allah was with me." In Islam, Williams said, he found "contentment and happiness that I don't know how to explain."
Along the way, Williams has wrestled with finding acceptance for Islam and Muslims among his countrymen. Williams told MSN Lifestyle that his message for non-Muslims is, "We love you. We just want to be accepted like you guys want to be accepted."
For his fellow Muslims, Williams bears a message of love, support, and peace. Regularly on social media, he posts about visiting mosques around the island (LINK) and posting messages of support for his "brothers and sisters around the world."
But he also uses his following of more than 778 thousand on Instagram to bring attention to critical issues. On Eid al-Adha, he posted "special duas for the people of Christchurch, Kashmir, Palestine, Syria, Yemen, Iraq and wherever people are suffering injustice and persecution."
The rugby in Japan has so far proved grueling and the pressure placed on the All Blacks — and on Williams — is extremely high. Yet, in either his pursuit of rugby glory or in representing the global Muslim community as a world-famous athlete, Williams regularly comments on how he draws his strength from Allah. As he does so, he might look to a saying of the Prophet Muhammad for motivation along the way: "The strong believer is better and more beloved to Allah than the weak believer, while there is good in both."