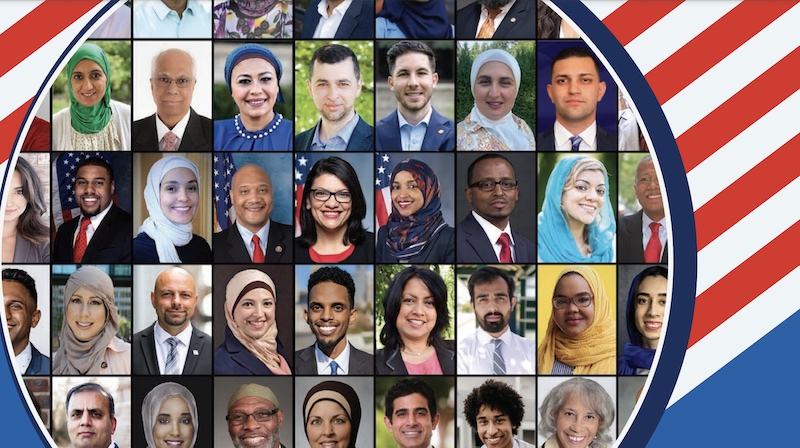 RITU JHA
A record number of American Muslims ran for public office in the 2020 United States general election and 84 percent of the community voted this year, according to a report published by the Council on American-Islamic Relations (CAIR), Jetpac and MPower.
CAIR is the nation's largest Muslim civil rights and advocacy organization, Jetpac is a representation-driven organization that trains American Muslims who want to run for office, and MPower Change is the largest Muslim-led social and racial justice organization in the United States.
The report said 170 candidates were on 2020 ballots across 28 states either for Congress, Assembly, Judiciary, state or city-level posts — the highest number since 2018, when the three organizations started mapping the electoral progress of American politicians who identify as Muslim.
Sixty-two Muslim candidates were elected to office this year, up from the 49 elected to public office in 2019, and the previous highest of 57 in 2018.
A total of 127 American Muslims have been elected or appointed to public office since the election of Donald Trump in 2016 and the subsequent rise in anti-Muslim bigotry, the organizations pointed out.
"We are incredibly proud of all of the Muslim women who have been elected," Zoha Raza, the Communications Coordinator for the San Francisco Bay Area office of CAIR, told indica News.
The report also states that this year had a high level of voter registration and get out the vote efforts being organized by Muslim-led groups and elected officials.
CAIR's most recent exit poll found that 84 percent of Muslims voted in the general election.
Muslim-led organizations did incredible work on voter registration, relational organizing, and election protection training in 2020 that could have decided close races in Arizona, Georgia, Michigan, Pennsylvania, and Wisconsin, the report said.
"We always try to build community awareness around the importance of voting and civic engagement. Since we are a 501c3 [nonprofit organization] we do not endorse specific candidates," Raza explained.
Below is a preliminary summary of Muslim electoral results from this year, as compiled by the report:
22 Muslims ran for Congress in 14 states.

5 made it to the general election with 3 winning re-elections.

Incumbents Ilhan Omar, Rashida Tlaib, and Andre Carson were all re-elected by their constituents to serve their districts.

13 Muslims won municipal seats.

48 ran for state legislature seats in 22 states, with 22 winning.

22 Muslims ran in California, 19 in Michigan, 27 in Minnesota, and 22 in New Jersey.

16 ran for county seats in 10 states; 6 won.

35 ran for school committee or board positions in 5 states, with 12 winning.

6 ran for judiciary positions with 4 winning.
"This report is a testament to the future of American Muslims in politics," CAIR national executive director Nihad Awad said in a statement.
"Candidates who ran for political office worked together with a diverse body of coalitions to instill political change in their communities and pursue justice for all.
"Our fight for a more inclusive America does not end here. We will continue to inspire more American Muslims to run for political office and ensure our voices are heard at all levels of government," Awad added.
Mpower executive director Linda Sarsour was quoted as saying: "The number of Muslim Americans running for office – from local school boards to Congress — is indicative of how our community is committed to building political power."
The report, said Jetpac executive director Mohammed Missouri, "shows the rapid growth of American Muslim political power across the country. When we run for office and organize in our communities, we simultaneously shatter stereotypes and combat violent Islamophobia."