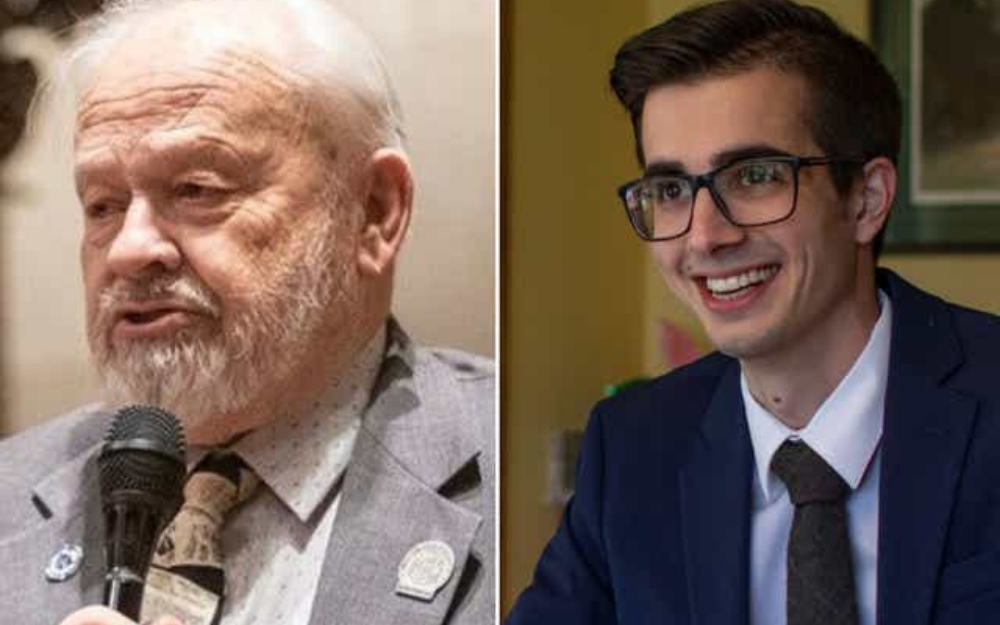 Republican Ken Skowronski (left), anti-Muslim bill co-sponsor, has an opponent in the 82nd District Assembly race, Democrat Jacob Malinowski. (photo © Milwaukee Journal  Sentinel)
Voters in the 82nd Assembly District (Franklin, Greendale, Greenfield) have a clear choice on November third, between Ken Skowronski, a Republican Party loyalist who makes little effort to respond to the concerns of voters, and "people first" Jacob Malinowski, a Democrat who has been endorsed by the Wisconsin Muslim Civic Alliance.
The Muslim community in Wisconsin may remember Skowronski as one of the co-sponsors in 2017 of AB 401, also known as the "anti-Muslim bill." While the bill failed to pass, it was seen as an example of anti-Muslim bigotry.
Today, Skowronski says he doesn't remember that bill. However, he also seems to have no idea that his district contains Muslim voters and their families.
Malinowski says he hears "countless stories about people who email [Skowronski's] office and get no response." Malinowski believes that "both quantitatively and qualitatively" Skowronski is "just not interested in responding" to the concerns of his constituents.
One such constituent is Andy Pelkey. "I've reached out to Ken Skowronski on numerous occasions on issues I consider important," Pelkey said. "It's met with dead silence. His ability to take a concern from a constituent and do anything about it is disappointing."
Pelkey asserts that Skowronski has designed his legislative office to be deliberately remote from voters. "Ken only has one assistant right now," Pelkey said. "He can have more . . . He just chooses to have one. If you call their office right now, they will not answer the phone."
WMJ asked Skowronski, who lives in Franklin, about his relationship with his constituents, of where he connects with them, and how he responds to their concerns. "I go to the door and go meet the constituents in my territory and talk to them," Skowronski said. "I sit down and have a cup of coffee with them and meet them at social meetings. I talk to the people all the time, all the time I've been elected."
When asked how he addressed the concerns of Muslim voters in the district, Skowronski at first said, "What?" But when pressed he added, "All of my constituents are the same as far as I'm concerned. I talk to all my community."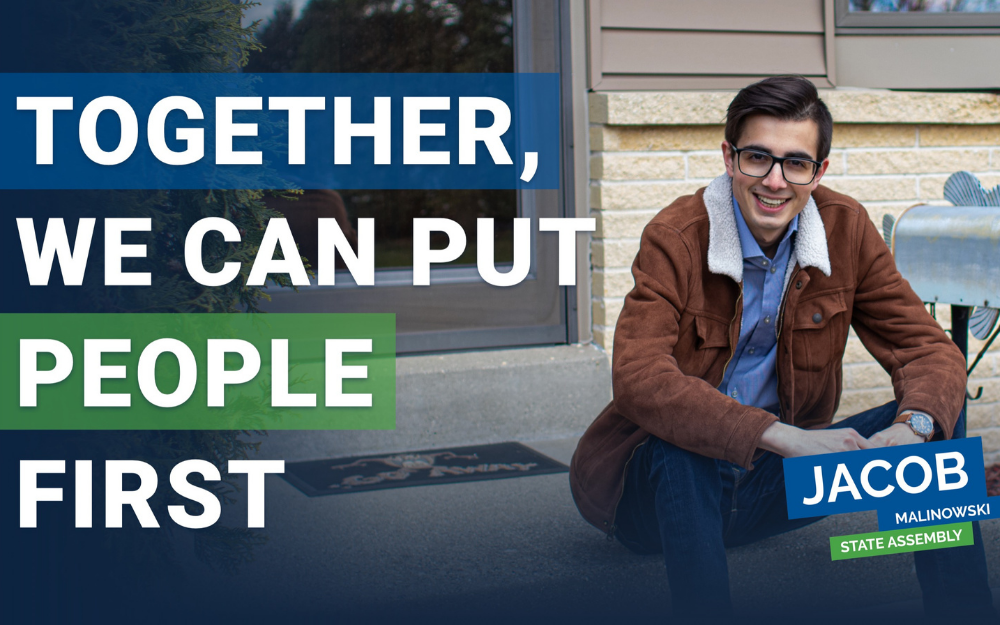 However, when WMJ reached out to Muslim voters in Skowronski's district, none of them could provide an example of an interaction they had with him. Or as one Muslim voter, Ayman Alamy, said, "I never heard from Ken Skowronski nor had any contact with him. He is not my representative. Anyone who stands against Muslims is not my representative."
Since he was first elected to the Wisconsin Assembly in 2014, Rep. Skowronski has been a reliable vote for the Republicans who now control both houses of the Wisconsin legislature. He stands for election for the fourth time this November. But 2020 is the first time he has ever had a Democratic opponent.
So far, Skowronski hardly seems aware of Jacob Malinowski's existence, though the Democrat had made several attempts to reach out to schedule debates. After the primary, he sent Skowronski a letter suggesting "three debates with no notes, no props, and no fluff – folks around here are sick of that stuff. Just both of us and a moderator for time-keeping." Malinowski even suggested "live-streaming the debates as well as inviting local reporters (including our rising journalists at area high schools)."
In addition to the letter, Malinowski attempted to contact the Republican directly. Either way, he got no response. Others in the district have also tried to organize a debate but were equally unsuccessful, Malinowski says. Skowronski "is hesitant to share a space with me," the Democrat said.
Wisconsin Muslim Civic Alliance also reached out to Skowronski with a questionnaire that was sent out to both candidates. WMCA asked candidates where they stood on Trump's 2017 Muslim ban, DACA, Islamophobia, police reform, and religion in the workplace. Skowronski failed to reply to the questionnaire.
Gabriella Suliga, WMCA's voter outreach coordinator, said Skowronski is "very disengaged with voters." She added, "Ken has never done an event with WMCA or ISM despite being invited. He tends not to show up for town halls."
Suliga said that the 82nd Assembly District is WMCA's "first tier district because of how many Muslims are living in the district." She said that polling and other data on the number of mosques in the 82nd indicate that there are "at least 2,000 Muslims in the district."
WMCA, said Suliga, is backing Jacob Malinowski on November 3. She said Malinowski has a "people first" attitude. "He is a candidate that we are fully supportive of," Suliga said.
As a politician, Skowronski is an excellent lesson for voters in why it's important to pay close attention to state and local races. After serving as a co-sponsor in 2017 of AB 401, considered an anti-Muslim bill, Skowronski was re-elected in 2018.
The so-called anti-Muslim bill (AB 401) was written by Rep. Thomas Weatherstone (AD 62), a Republican from the Village of Caledonia in Racine County. The writer Michael Leon on his blog MAL Contends calls Weatherstone a "white supremacist Republican legislator."
Its sponsors called AB 401 the "Wisconsin Law for Wisconsin Courts" bill. It aimed to prevent judges from using the laws of other countries if "doing so would violate fundamental human rights protected by the U.S. and Wisconsin constitutions," wrote Annysa Johnson in the Milwaukee Journal-Sentinel.
Critics, including UW-Madison law professor Asifa Quraishi-Landes, who specializes in comparative Islamic and U.S. constitutional law, said the bill was unnecessary and that it represented a fear of '"Sharia creep' and Muslims taking over" — one that continues today among Q-anon conspiracy fans.
The bill failed to pass in the State Senate.
Today, Skowronski, one of 11 co-sponsors in the Assembly, says he remembers nothing about the bill. Asked why he sponsored the bill and if he still thinks "Sharia creep" is a problem, Skowronski said, "I don't remember that. I don't have it right here in front of me. We have the constitution of the United States, and that's the law I abide by."
Malinowski said he's not surprised that Skowronski says he knows nothing about AB 401. Skowronski, he said, is simply "someone who votes party line all the time." Skowronski, said his opponent, votes with Assembly Speaker Robin Vos, "99 percent" of the time.
In June, Skowronski was one of ten Republican co-signers on a letter to the Wisconsin Elections Commission objecting to the State's plan to send absentee ballot requests to 2.7 million registered voters in Wisconsin, aimed at facilitating voter turn-out during the pandemic.
In 2018, after Tony Evers' election as governor, Skowronski voted with Republicans on the "Lame Duck" legislation that stripped the governor of many of his powers.
Malinowski contends that 246 people called Skowronski's office about the Lame Duck bill and that "242 were opposed. Four people were in favor, and [Skowronski] still voted for it."
Malinowski won the Democratic primary in August with more than 65% of the vote. Skowronski garnered nearly 85% of the Republican vote in the 82nd district. However, more votes overall were cast in the Democratic than the Republican primary – by a 19-vote margin.
Malinowski, 22, who lives in Greendale, is a 2020 graduate of Yale University. He admits that the 82nd has traditionally been known as "a very red district," but he believes that is changing. "If you look at maps, the rural areas of my district" which traditionally vote Republican, "are slowly being developed." Malinowski believes those demographic shifts work in his favor. "Folks around here just want someone who's going to vote for good ideas," he said.