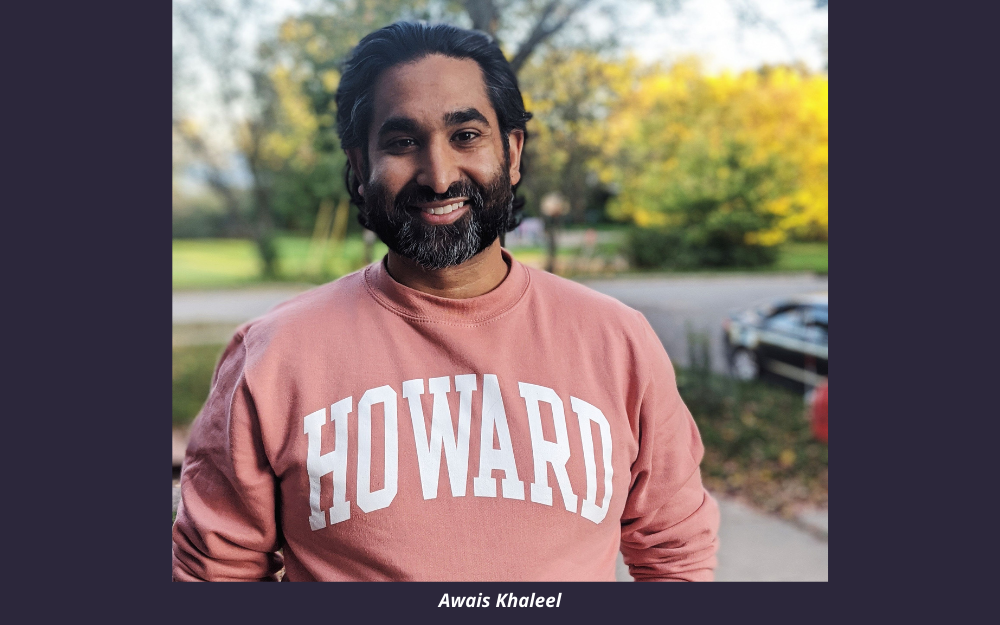 Photo©:
Spectrum News 1 & Awais Khaleel
Awais Khaleel never really envisioned himself as a prosecutor.
Like many young lawyers who came of age amid the rising Islamophobia following 9-11, Khaleel aspired to be a civil rights attorney whose work might help reshape laws to create a more just society.
And he was, for a while. But civil rights law, he learned, "moves at a glacial pace," and he began pursuing other opportunities.
Today, Khaleel serves as an assistant district attorney in Dane County where he is, he believes, the only Muslim prosecutor in Wisconsin. Khaleel, 36, joined the staff in 2016 — as Wisconsin and the nation had begun to reckon with their dark histories of mass incarceration — believing he could still pursue justice, but see the impacts in more immediate ways.
"People were talking about the unfairness of the criminal justice system and the excesses historically that resulted in mass incarceration. And prosecutors played as much of a role in that as police and judges and politicians," he said.
"I felt, if I had an opportunity to be a progressive prosecutor, I'd want to jump at that. Wisconsin has always been home to me. And I knew Dane County was a place where I could do that."
In DA Ismael Ozanne's office, Khaleel works on various types of cases, though he specializes in felony level sensitive crimes, such as domestic violence, sexual assaults and crimes against children. While public safety and state law require prison time for certain crimes, many defendants, Khaleel said, can be referred to alternative programs, such as treatment courts that aim to reduce recidivism by addressing the underlying issues that may have contributed to their crimes.
"The vast majority of people who come through the system, regardless of what they're here for, it's rooted in some combination of alcohol or drug abuse, indigency and mental health issues, as well as historic trauma. That doesn't excuse the behavior," he said.
"Our responsibility, first and foremost, is public safety. … But incarceration should be a last resort," said Khaleel.
"We can throw people in jail or we can try to address what's causing this behavior and, to the extent possible, make sure it doesn't happen again."
That philosophy is in keeping with his spiritual beliefs as a Muslim, Khaleel said, and his faith, in turn, motivates his work.
"What my faith has done more than anything else is really highlight the value of human life," he said, citing the verse from the Qur'an that teaches that when one saves a single life, it is as if he saved all of humanity.
"If I can try to help one person at a time, there's real value in that," he said.
"If I can try to divert one person from hurting another person, or show humanity to someone who didn't expect to see it at that moment… If I can talk to a victim so they understand they're being heard and respected, I've seen that make a real difference."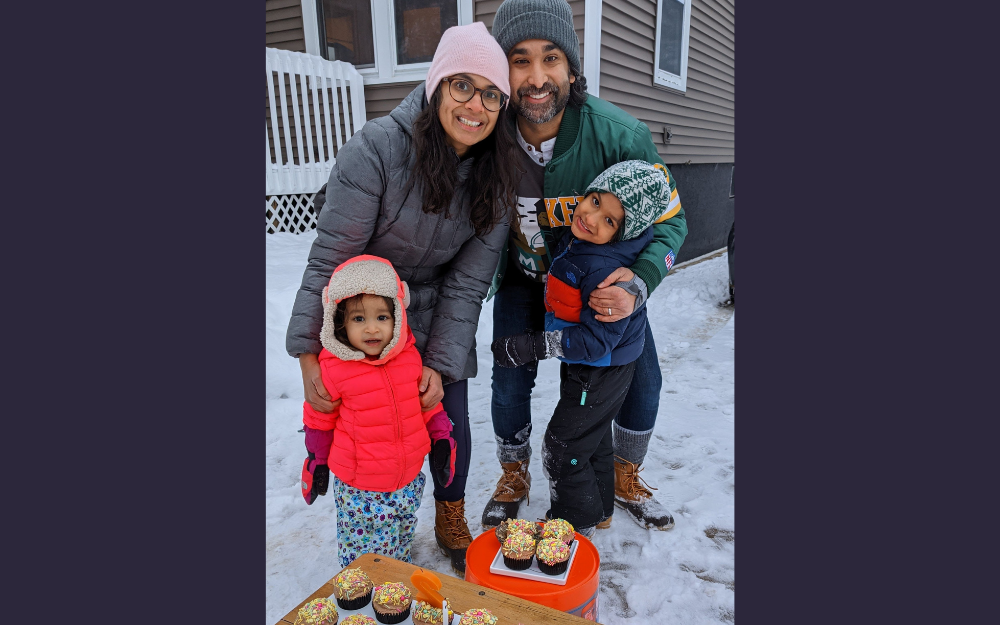 Awais Khaleel with His wife Wajiha Akhtar Khaleel, Son Idris Khaleel, 5 and Daughter Hafsa Khaleel, 2.
I'VE GOT YOUR BACK
Khaleel was born in Milwaukee, the oldest of four boys whose parents had immigrated from India in the early 1980s in search of a better life and greater opportunities for the children they hoped would come. The family moved often for his father's work in industrial sales and purchasing, but he spent most of his teenage years in Kenosha, where he graduated from Bradford High School.
The itinerant childhood served him well, he said, forcing him to "put myself out there and connect with people."
"It made me more social and fearless in my interactions and my willingness to talk to people I didn't know — because I had to. It was a survival instinct."
Within three weeks of arriving in Kenosha for middle school, he was talked into running for class president, which he won, an experience that laid the foundation for his later interests in politics and political activism.
"It sounds silly to say, but that was a transformational experience. I learned a lot about myself," he said. "People saw things in me that I didn't see in myself. … And I was pushed to seek opportunities that I never would have thought I was good enough for before."
In many ways, his teenage years were typical. He played sports and was active in theater and student government. He was one of just a few Muslim kids in his school, but he felt accepted. He remembers the moment that September morning in 2001, just two weeks shy of his 17th birthday when he feared that might all change.
He recalls the conflicting emotions, the fear and anger that terrorists would attack his country, the sorrow that the faith he knew taught love and compassion and peace could be distorted to defend such violence, and the worry that many of his friends and teachers might now look at him and people he loved with suspicion.
One memory stands out as a defining moment. He was in the hall at Bradford High when one of the football players cornered him. He was a big kid, 6-feet, towering over Khaleel's slight frame.
Khaleel looked at him, unsure where this was going. And the boy leaned in, telling him, "Awais, if anybody messes with you, I've got your back."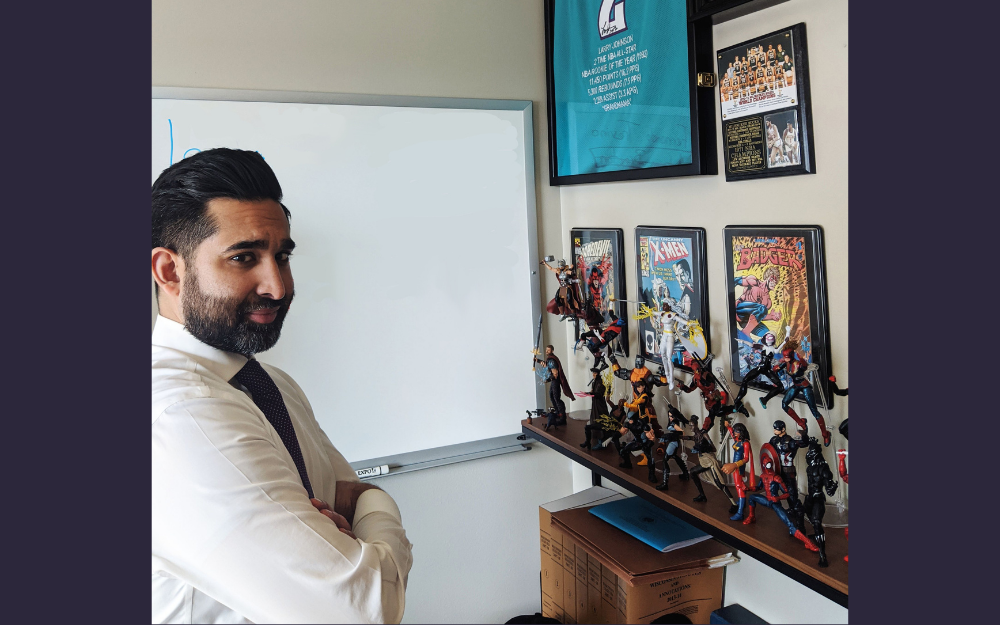 "That was arguably one of the most important inflection moments in my life," Khaleel said. "It was at that moment I really saw how good people could be in very difficult moments when I believed at their core that people are good. … It was at that point, I committed to a life of public service."
What that would look like, he wasn't sure. Khaleel went on to study political science at the University of Wisconsin-Madison, where he nurtured his interest in Democratic politics. He took a break to run the Kenosha field office for the 2004 Kerry-Edwards ticket, and two years later worked on Gov. Jim Doyle's re-election campaign.
At Madison, he was the first Muslim-American student to chair the College Democrats of Wisconsin and serve as vice president of the College Democrats of America. The latter earned him a seat on the Democratic National Committee — making him one of the youngest people to hold that post after Milwaukee's Jason Rae.
Burned out after the 2008 elections — when he worked as a deputy state field director for the advocacy group Advancing Wisconsin — Khaleel began to question whether political organizing was what he wanted to do for the rest of his life. He left for Washington where he spent the first year at the Roosevelt Institute, a progressive think tank, before enrolling at Howard University Law School.
"I loved politics, but I realized, while I was involved in getting people elected, I had no real voice or say in the direction of governance."
In his second year in Washington, Khaleel married Wajiha Akhtar-Khaleel, now an epidemiologist at the University of Wisconsin-Madison. They now have two children, a son, 5, and a daughter, 2. Khaleel eshews the term "wife," preferring the more egalitarian "partner," calling Akhtar-Khaleel, "easily, the most important person in our household."
After law school, he spent a year with the nonprofit Karamah Muslim Woman Lawyers for Human Rights. He would go on to work as corporate counsel for a friend's renewable energy private equity firm and as an employment attorney before leaving for the DA's office in Madison.
GETTING OUT THE MUSLIM VOTE
These days, Khaleel channels his political energies through the nonprofit Wisconsin Muslim Civic Alliance and as a board member for the Dane County Democratic Party.
He is a founding member and secretary of the Alliance, a 501(c)4 created last year to advocate for issues of importance to Muslim Americans and encourage greater participation by Muslims in the Democratic process. Its work paid off, he said, in the 2020 election that tipped Wisconsin for Joe Biden.
"We had a much higher Muslim American turnout … A lot of that was motivated by (President Donald) Trump. But the relational organizing played a role," he said.
Khaleel said he harbors no personal political ambitions, at least for now, adding, "I don't know what the future holds."
Today, he is content to seek justice one person at a time and to support progressive criminal justice reforms.
Last month, Khaleel was appointed by Gov. Tony Evers to the Department of Corrections' Council on Offender Reentry. He called it an "incredible opportunity" to move Wisconsin, which incarcerates more Black men per capita than any state in the country, in a new direction.
"I want to continue to find opportunities to make the system work more holistically — reducing recidivism, respecting victims' rights, providing resources where possible to address the trauma in people's lives," he said.