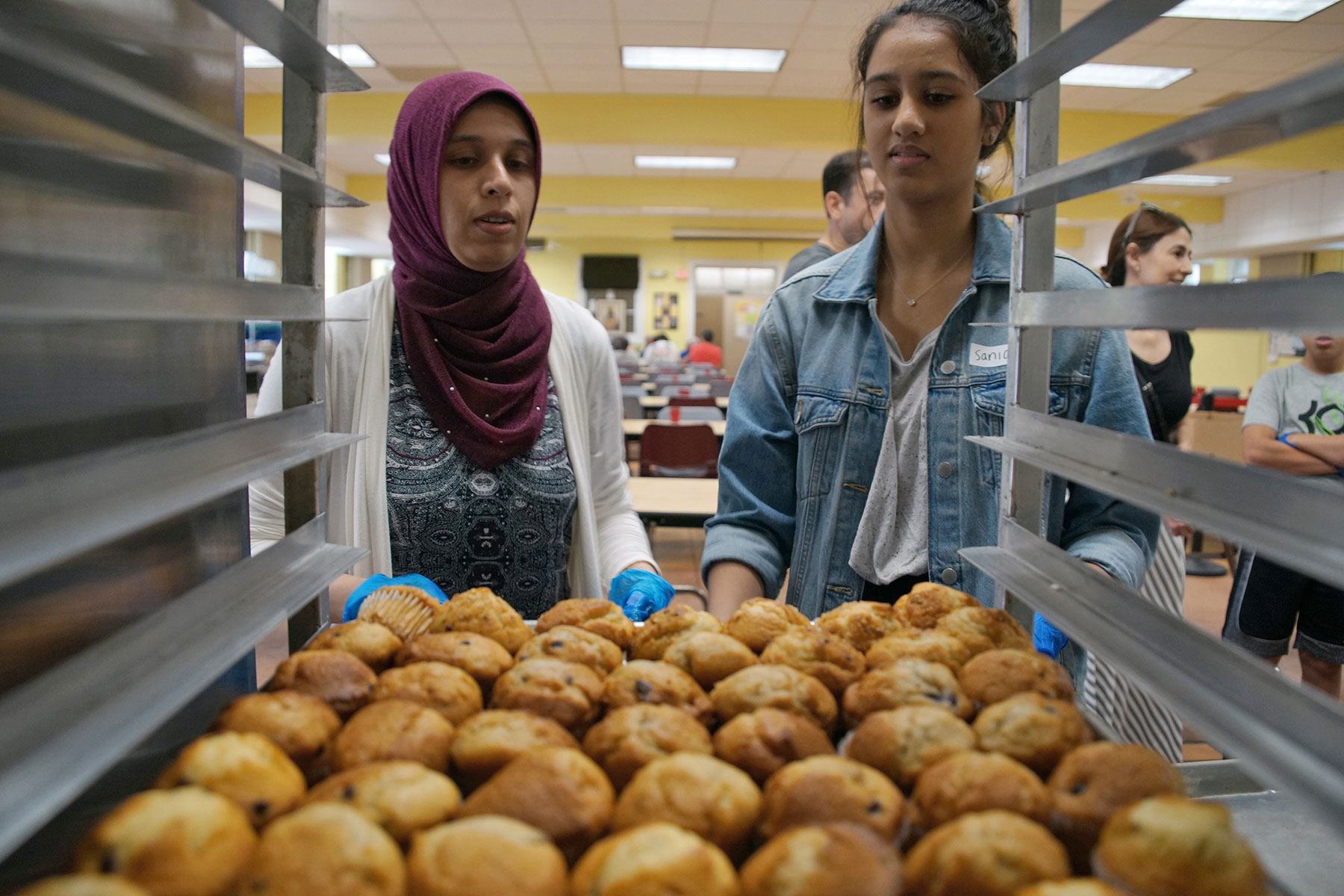 Members of the Islamic Center of Milwaukee have been providing quarterly meals for the hungry and homeless of metro Milwaukee for the past fifteen years, and find the experience rewarding both personally and as an expression of faith.
Referred to as Milwaukee's largest regular potluck dinner, the St. Ben's Community Meal is served six nights a week, Sunday to Friday, at the meal hall on 924 W. State Street. It is open to everyone, and provides 90,000 home-made meals per year in a safe and family-based environment.
"We've been serving and cooking for St. Ben's for a long time, probably fifteen years. It's always been very satisfying to give back, and we feel very blessed and very fortunate to do so," said Tahseen Hussaini, a longtime participant and organizer. "It's nice to meet different people here, interact with new people, and come out from beyond our comfort zone. It's very rewarding."
Hussaini said she is constantly amazed by the staff of St. Ben's. Along with the volunteers, they are on site serving meals year round. Her group is scheduled to come every quarter, or four times a year, and their spirit of volunteerism is reflected in their long standing commitment.
"Everyone is very open, very warm hearts. So I love coming, and I loved bringing my kids because the experience taught them a lot of valuable lessons," Hussaini added. "I try to get our community to bring our children out, so they can see that not everything is like the little bubble that we live in."
The Muslim group is well known at St. Ben's because of their years of cooking. When guests see a woman wearing a hijab, they have come to expect a ground beef and potato dish. Members of the group fluctuate, but represent the diversity of Milwaukee's Islamic community, with volunteers from Palestine, Egypt, India, Morocco, and Malaysia.
One of the core principles of Islam is to help those in need, and the group's volunteerism at St. Ben's accomplishes a lot of good for the broader community. The Capuchin Community Services has been serving the poor, hungry, and homeless since 1968 at St. Benedict the Moor church.
The images presented here offer a glimpse of the meal program at St. Ben's, when Hussaini's group served the community over the summer. Due to privacy concerns with many of the meal guests, those images were not included.