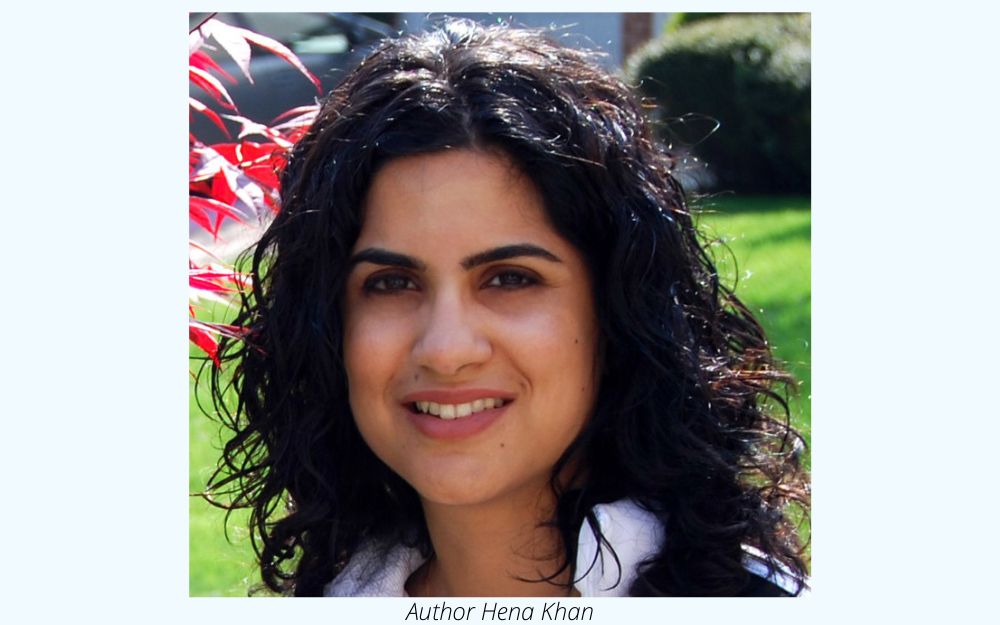 Photo ©:
Henakhan.com & Simonandschuster.com
"When writing all these books I really thought about how to create unapologetically Muslim characters," award-winning author Hena Khan said during a talk Sunday hosted by the Milwaukee Muslim Women's Coalition. "None of my characters are struggling because of their Muslim identity."
Khan's picture books and novels are included in the children's section of the Islamic Resource Center, 5235 S. 27th St., Greenfield, which features books "Muslim children can identify with," said MMWC president Janan Najeeb. "That's why we are really excited to have author Hena Khan as our very special guest."
Khan's novel Amina's Voice was named a "Best Book of 2017" by The Washington Post, National Public Radio, Kirkus Reviews and others. Simon & Schuster just published its sequel, Amina's Song, earlier this month. Amina's Song is one of several of Khan's books set in Milwaukee.
Khan was commissioned to write for the Curious George series. An article in Publisher's Weekly quoted a British publisher calling the publication in 2016 of It's Ramadan, Curious George by H.A. Rey and Hena Khan "a turning point. Not only did it sell well but retailers saw the potential of drawing new customers and are now more receptive to children's books on Islam."
Najeeb and Leeann Abdelhalim, a 6th grader at Oak Creek Middle School and "a big Hena Khan fan," co-hosted the event in which Khan shared her thoughts about the importance of strong Muslim characters in children's literature, becoming a writer and her Milwaukee ties.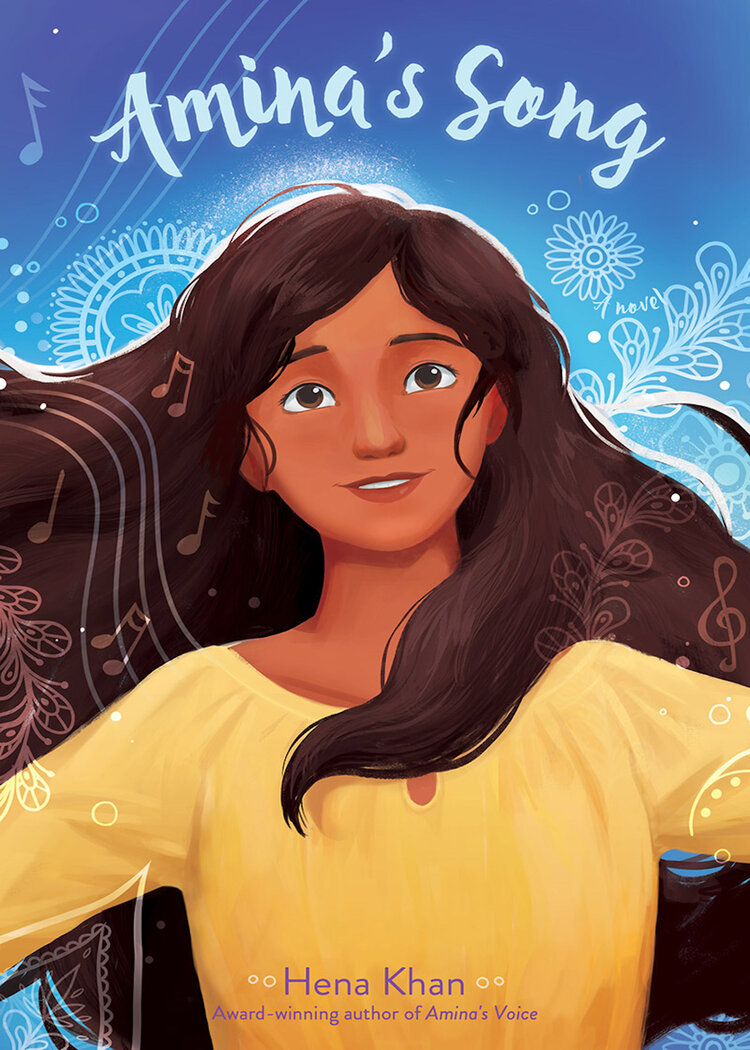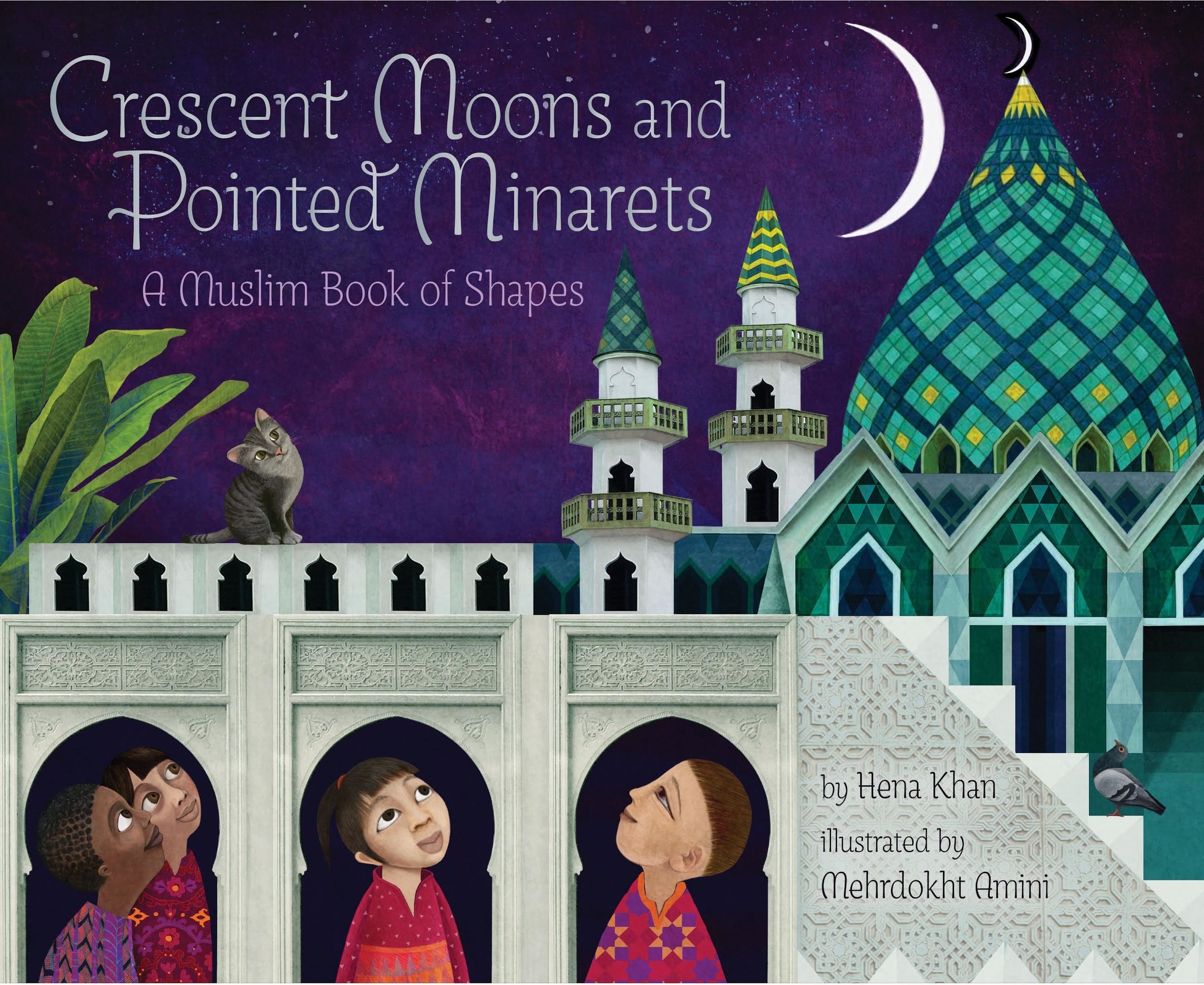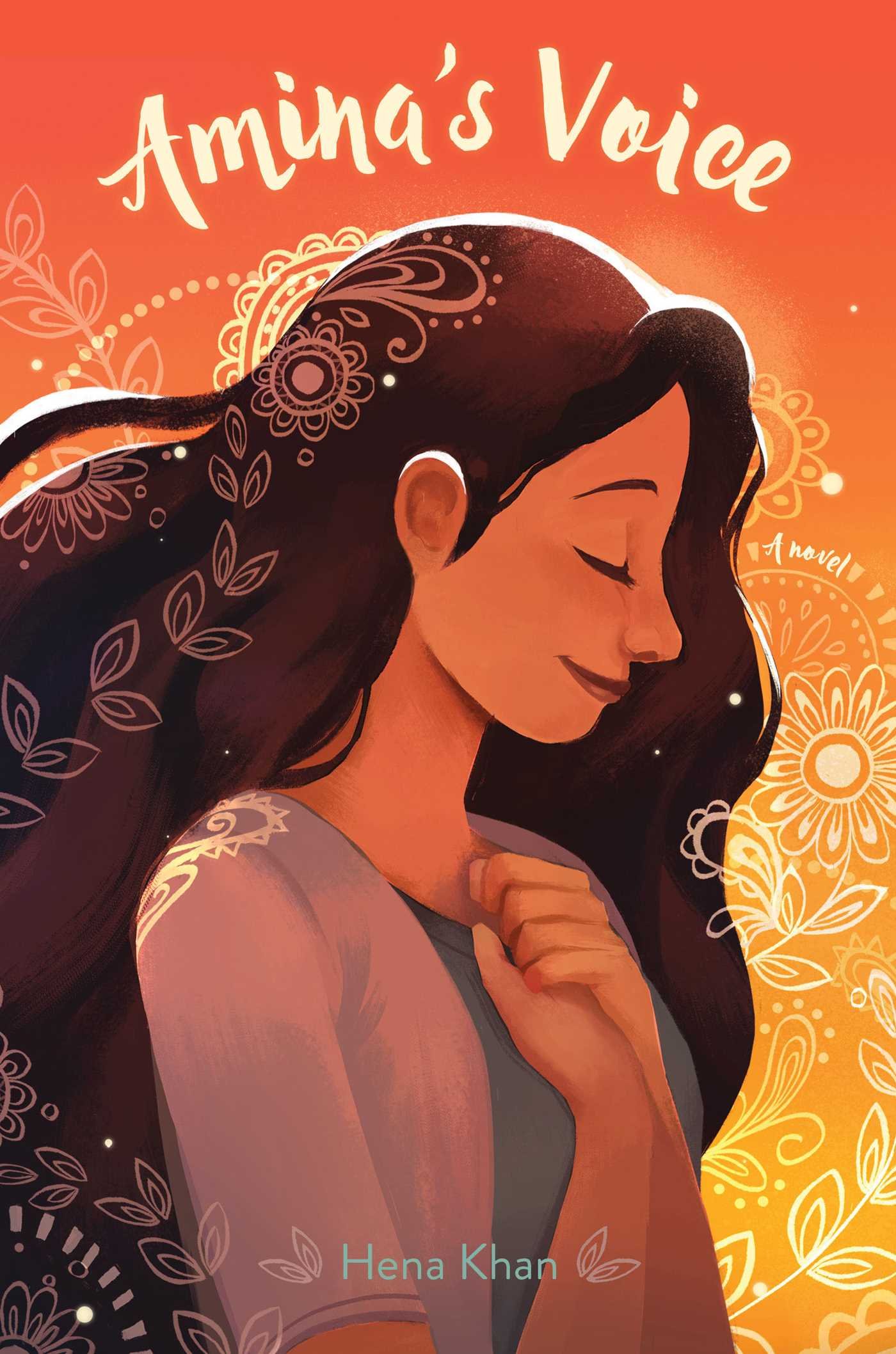 Hena Khan's books present Muslim themes and characters.
Creating strong Muslim characters
In her latest book, Amina's Song, Khan brings back Amina (now a 7th grader) from the award-winning Amina's Voice. Amina's struggle in both stories is about finding the courage to use her voice for good.
Like other characters Khan has created—4th grader Zayd Salem, a scrawny, nervous kid who dreams of being a basketball star in Chasing the Dream, a series of sports-themed stories, and four sisters in More to the Story, loosely based on Louisa May Alcott's Little Women, with the same struggles from the classic novel – a father called away, an illness in the family and finding one's path in life—"the characters face struggles that are the outside challenges, personal struggles and dilemmas that are parts of life for every middle schooler, for everyone.
"I didn't want identity to be their primary challenge, that they are harassed for being Muslim or wish they weren't brown, resenting their culture or the things that made them different from their peers. Even if at the end of the book they come to accept themselves, that is not the story I wanted to tell.
"Muslim kids deserve to be the center of stories where they are the heroes, where they are fully realized characters, dealing with real-life issues." Khan said her characters "are not ashamed of who they are in any way."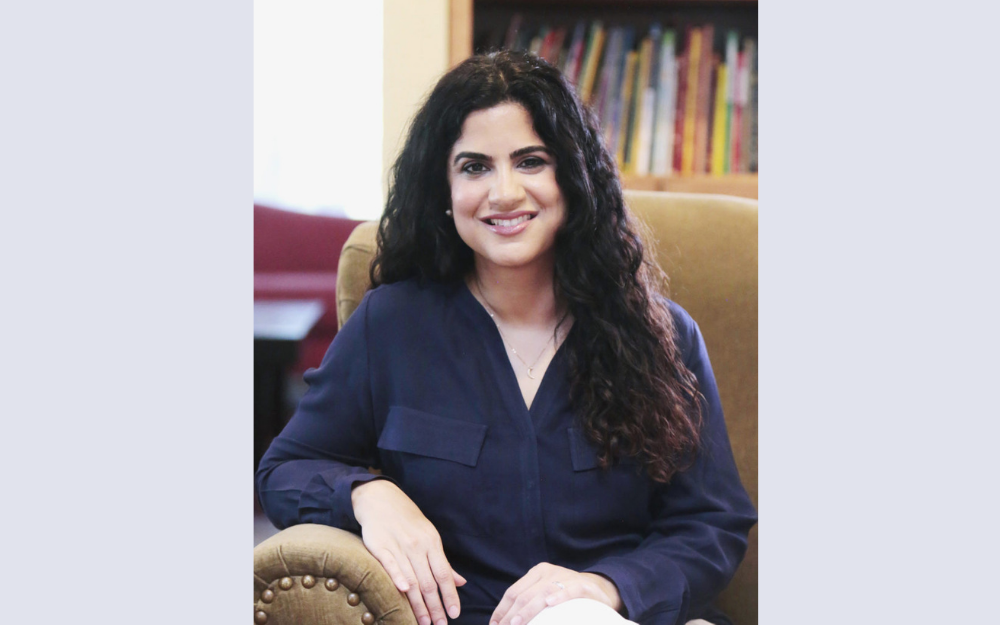 Breaking in
"I wanted to write what I would have wanted to read as a young girl," Khan said. "When I was growing up, Islam was something people really didn't know that much about. I went to my local public school and a lot of times when people heard I was Muslim, they really didn't know what it meant. I would get confused looks. When people asked me where I was from and I mentioned Pakistan, they had not heard of it.
"I never saw a little Pakistani American Muslim girl in any of the literature I picked up. I never once saw a little girl or a teenager who looked like me, had a background like mind, a culture like mine, a Muslim family – never in my entire childhood."
Even when her first son (who is now in college) was born, Khan still did not see books about Muslims in school or local libraries. When he was a baby, the opportunity to write books "fell in my lap," Khan said. A longtime friend who wrote books for Scholastic Book Club series recruited Khan. "That is how I realized writing for kids is something I could do," she said.
That was in 2001, when the "tragic events of Sept. 11 meant now Muslims were in the news all the time but not for the right reasons," Khan said. She thought about the rising curiosity about Muslim people and the misinformation being shared and realized "the power of stories to help open up hearts and minds." She wanted to write stories to help "people see how much we all have in common with each other, to help Muslim kids finally feel included and for others to read about us and respect us and value our traditions."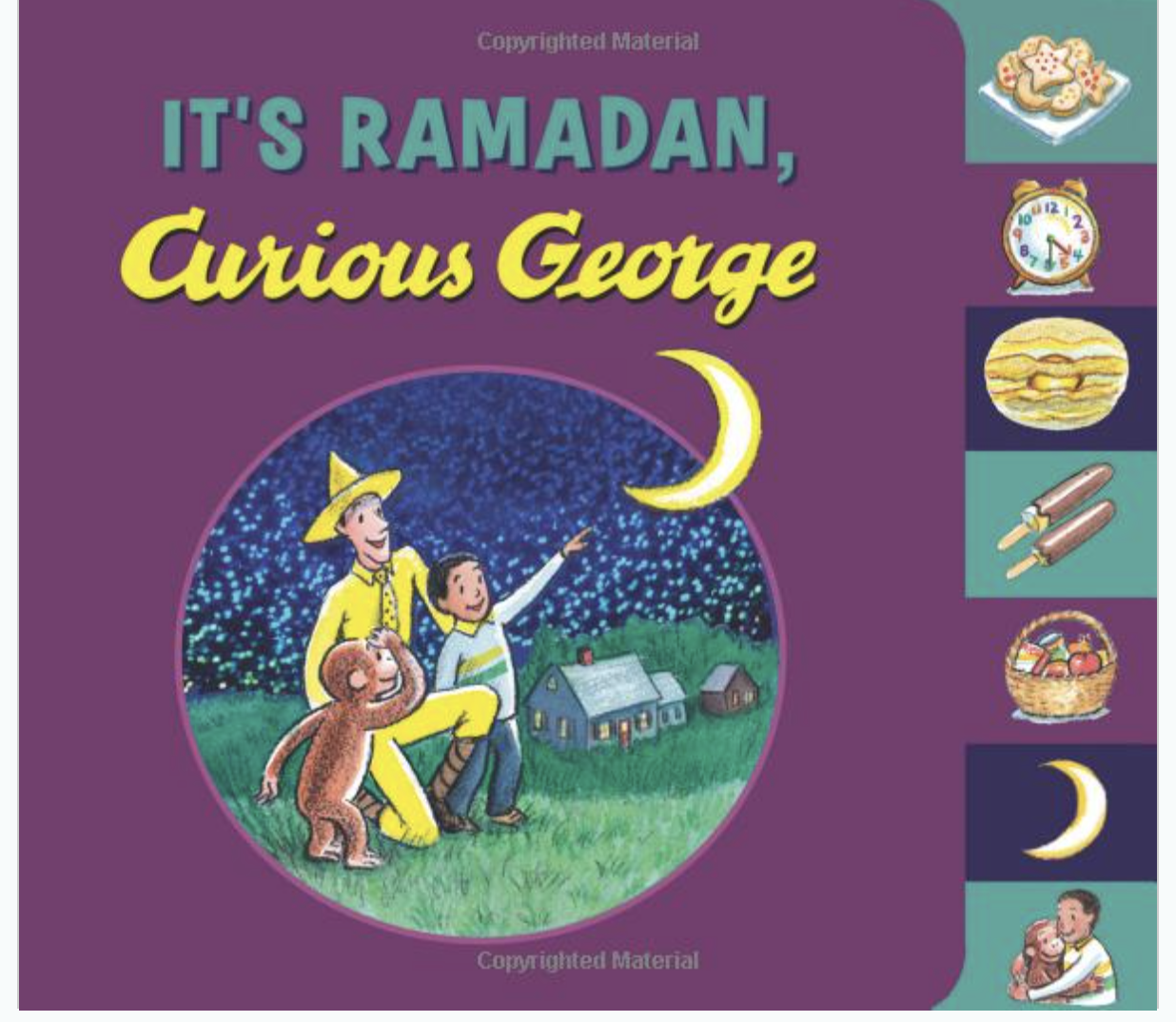 She started with picture books, the first being Night of the Moon in 2008 about Ramadan.  She followed with concept books that introduced colors and shapes, along with Muslim traditions and holidays. Golden Domes and Silver Lanterns features colors and introduces people to concepts and objects special to Muslims.
Its sequel, Crescent Moons and Minarets, is about shapes. A third book in this series is scheduled for Ramadan 2022. These types of books more easily find their way into school and public libraries, she explained. "I felt like I was trying to convince people that we need this. I tried to tie in the lunar calendar and other information that would make it useful to educators."
When the opportunity to write for the Curious George series, Khan said she was "overjoyed. I thought people would love it but we did not expect the success this book had. I think it blew everyone away. It just proved how hungry everyone was for representation, to be included, to have a beloved character like Curious George to have Muslim friends and to celebrate Ramadan meant so much to so many people."
See more of Khan's picture books and her novels on her website.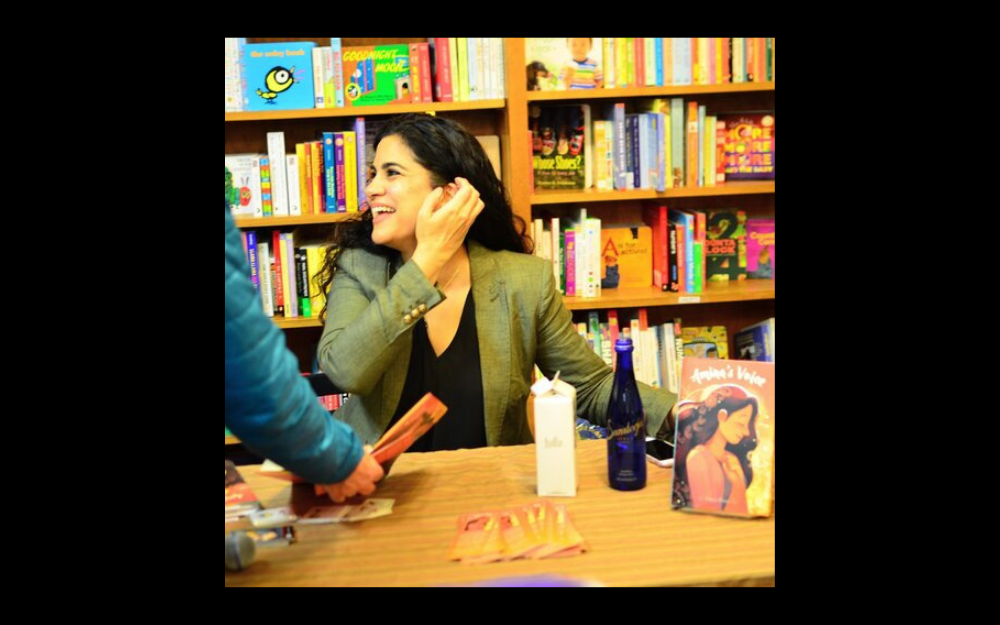 The Islamic Resource Center, 5235 S. 27th St., Greenfield, offers a wide range of books for all ages.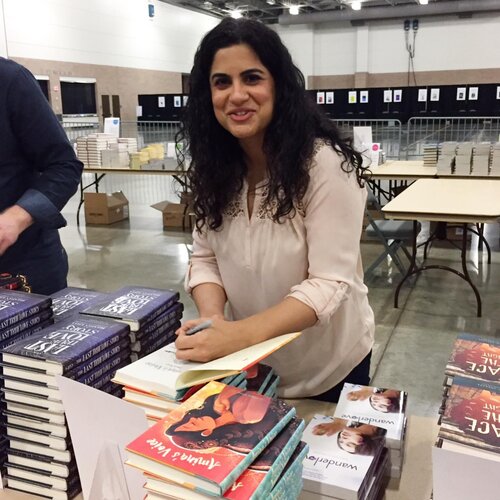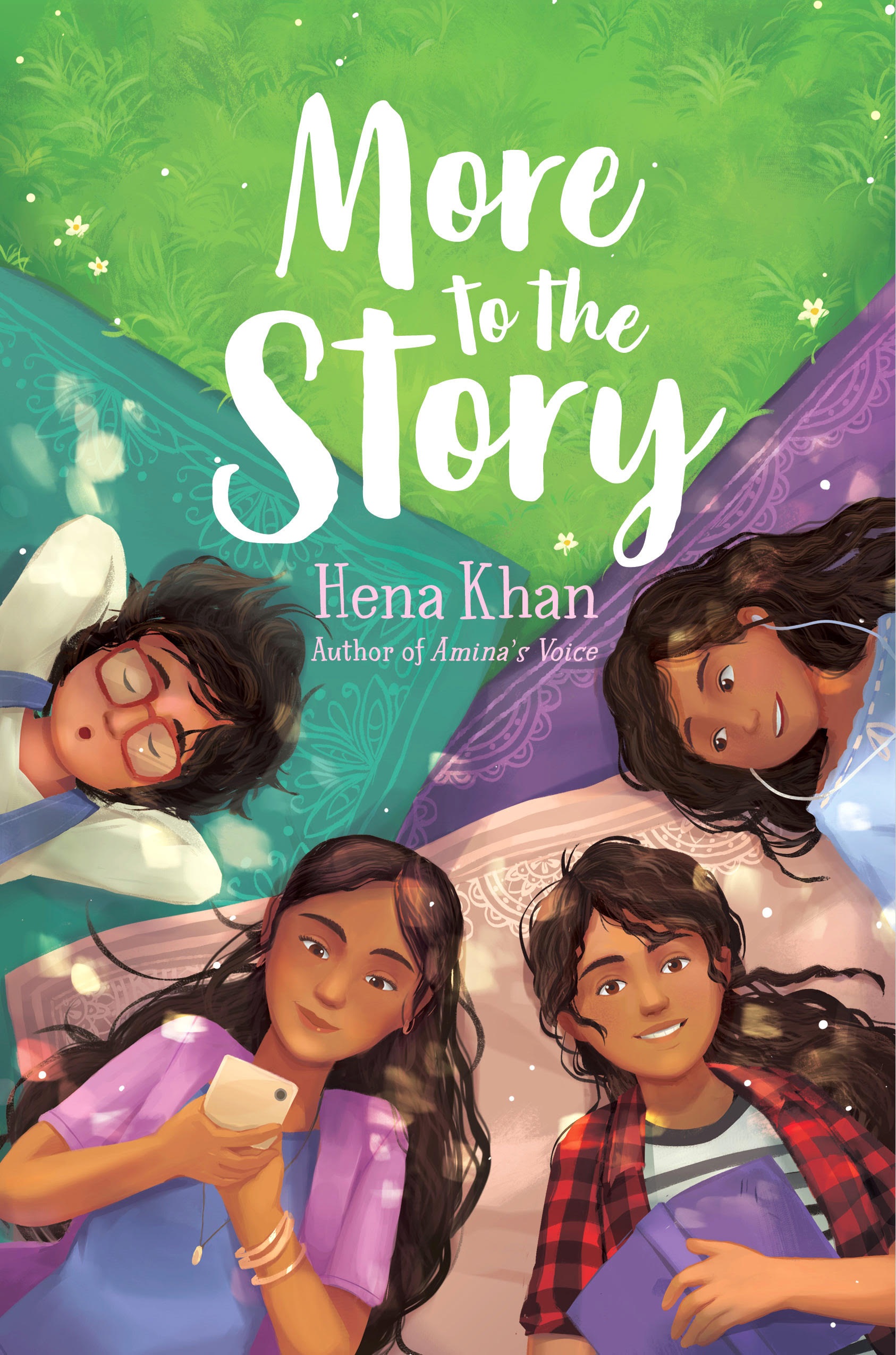 Drawing from life
To develop characters for her novels, Khan drew from her own life experiences and those of her family.
Amina's Voice was inspired by her own life. "It is about a child of Pakistani immigrants, but she is growing up today, not when I was, and she is also living in Milwaukee, Wisconsin," said Khan. Khan grew up near Washington, D.C., in Rockville, Maryland.
Next came Chasing the Dream, "which is very much inspired by my husband and his stories of growing up in Milwaukee. He told me a hilarious story about how he played the violin at school. His mother would bundle up and drive him to practice before school." He discovered the gym was opened for basketball at the same time. Without telling his mother, he ditched his violin lessons and played basketball instead until forgetting his violin in the car one day led his mother to discover his trick.
Chasing the Dream series created the chance "to highlight a Pakistani American family in a very fun way." She draws the story from her own children's perspectives. "My kids are third-generation; their grandparents were immigrants. They are not trying to balance cultures the same way we did." The stories show a three-generational family and Zayd's grandparents have their own ways to help him realize his dream.
Khan's Milwaukee ties
Khan bases two of her characters in Milwaukee, Zayd Saleem and Amina. She also revealed that she is working on a graphic novel set in Milwaukee.
"With my husband's family being there, I had the pleasure of visiting many times and saw what a wonderful community it is," she said.
"When I thought about Amina's Voice, I knew the Islamic Center was going to be a big part of her story and I knew that the Islamic Center is tragically vandalized during the story.
'When I wrote the book in 2013 (four years before it was published in 2017), there were a lot of suspicions about what happens in a mosque.
"I wanted them to get to know this community and love it and see that it is so familiar – we've got pizza fundraisers and Sunday School. We've got competitions, celebrations, worship and congregations, everything that feels very safe and warm and comforting and familiar. And when this beautiful place is under attack, how that would feel. I feel like books can create empathy and community., where people stand up to help each other."
When Khan was writing this story, she lived in Maryland, just outside of the nation's capital, in "a very diverse community. I couldn't imagine it happening here. I wouldn't let myself. But I had also heard of the tragic Sikh Temple attack in Wisconsin, and I had also heard there is a wonderful vibrant Muslim community in Wisconsin but maybe it is not as diverse an area."
Khan encouraged her audience to share and write their own stories. "We are now seeing more and more Muslims getting published. We are seeing a slow increase in the books that are out there. I felt so alone for so long."