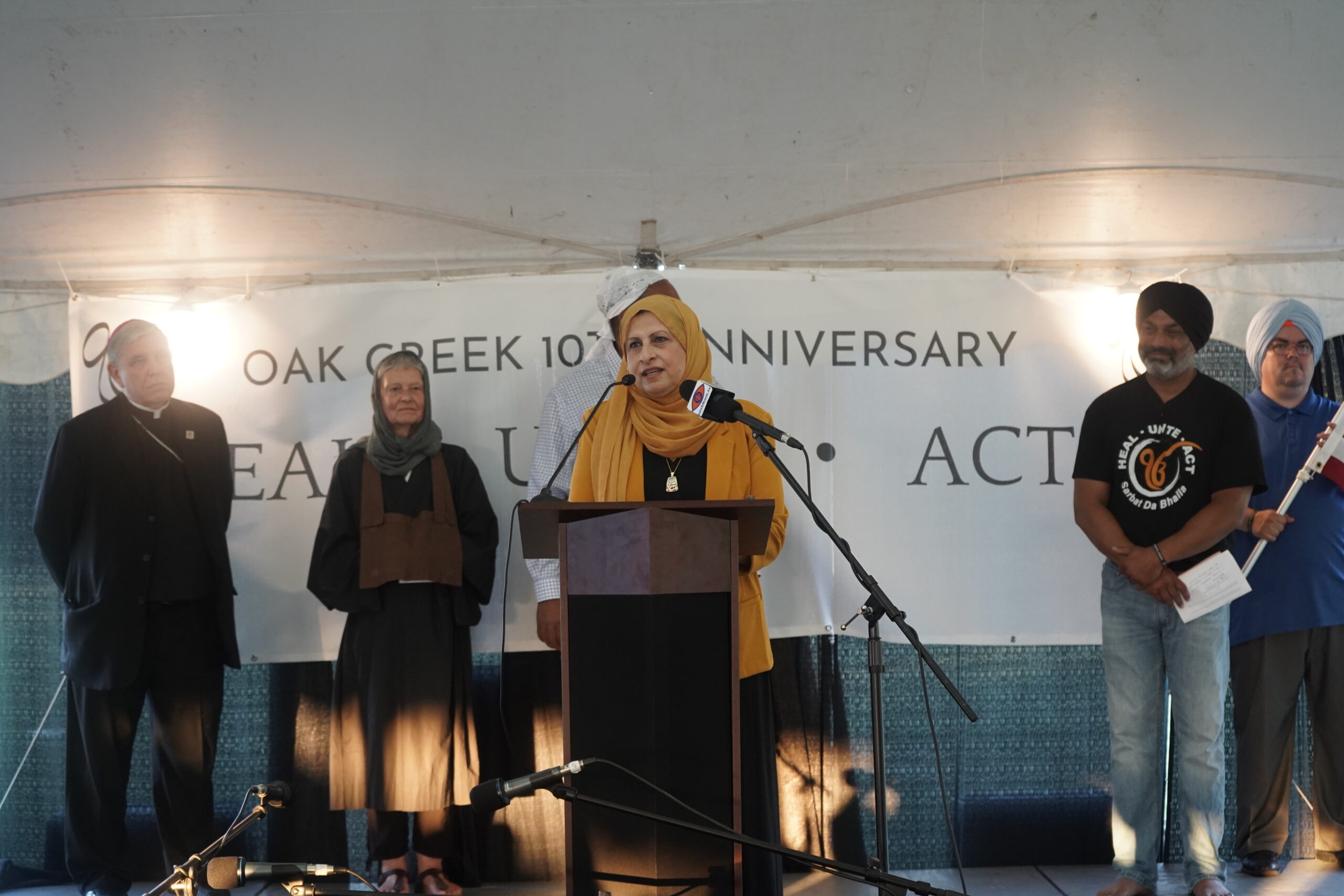 Photo by Kamal Shkoukani
Janan Najeeb, president of the Milwaukee Muslim Women's Coalition, offered the closing statement in an interfaith vigil for the 10th Oak Creek Sikh Memorial Anniversary at the Sikh Temple of Wisconsin.
The push and pull of love and hate in our times has been particularly evident this past week.
Just after the fourth ambush-style shooting* Monday, Aug. 1, of a Muslim in Albuquerque, New Mexico, put Muslims across the country on edge, a huge gathering of government officials, law enforcement officers, faith leaders, community members and Sikhs from around the nation convened for three days to commemorate the 10th anniversary of the Oak Creek Sikh temple shootings and to stand together against hate and racism.
With the theme "Heal, Unite, Act," the Interfaith Conference of Greater Milwaukee, local faith communities, the Sikh American Legal Defense and Education Fund (SALDEF), the Sikh Coalition, the City of Oak Creek and the Sikh Temple of Wisconsin held events Aug. 4-6 that honored the Sikhs who died in one of the deadliest mass shootings at a house of worship in U.S. history and addressed ways to prevent future violent acts against religious communities.
*It was reported at 5:15 p.m. CDT that a suspect in the shootings has been taken into custody.
Faith communities still face danger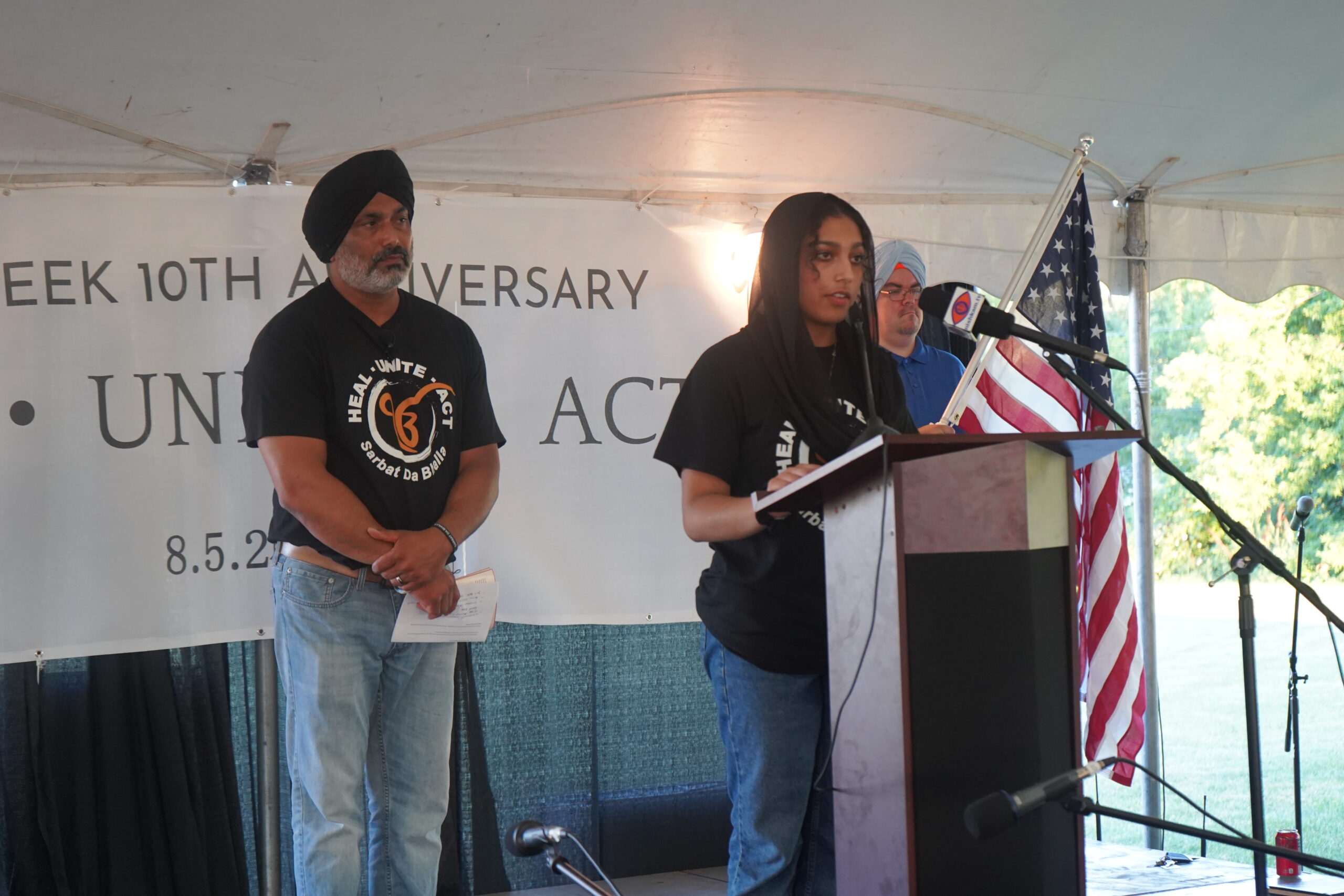 Photo by Kamal Shkoukani
Pardeep Singh Kaleka, son of Satwant Singh Kaleka who was murdered in 2012 in the Sikh Temple, listens has his daughter Amaris Kaur Kaleka shares memories of her grandfather and the great loss she feels because he was killed.
In the decade since a white supremacist entered the Sikh Temple of Wisconsin and opened fire, killing six at the scene and a seventh who died in 2020 from his wounds, mass shootings and hate crimes have been on the rise in Wisconsin and across the nation.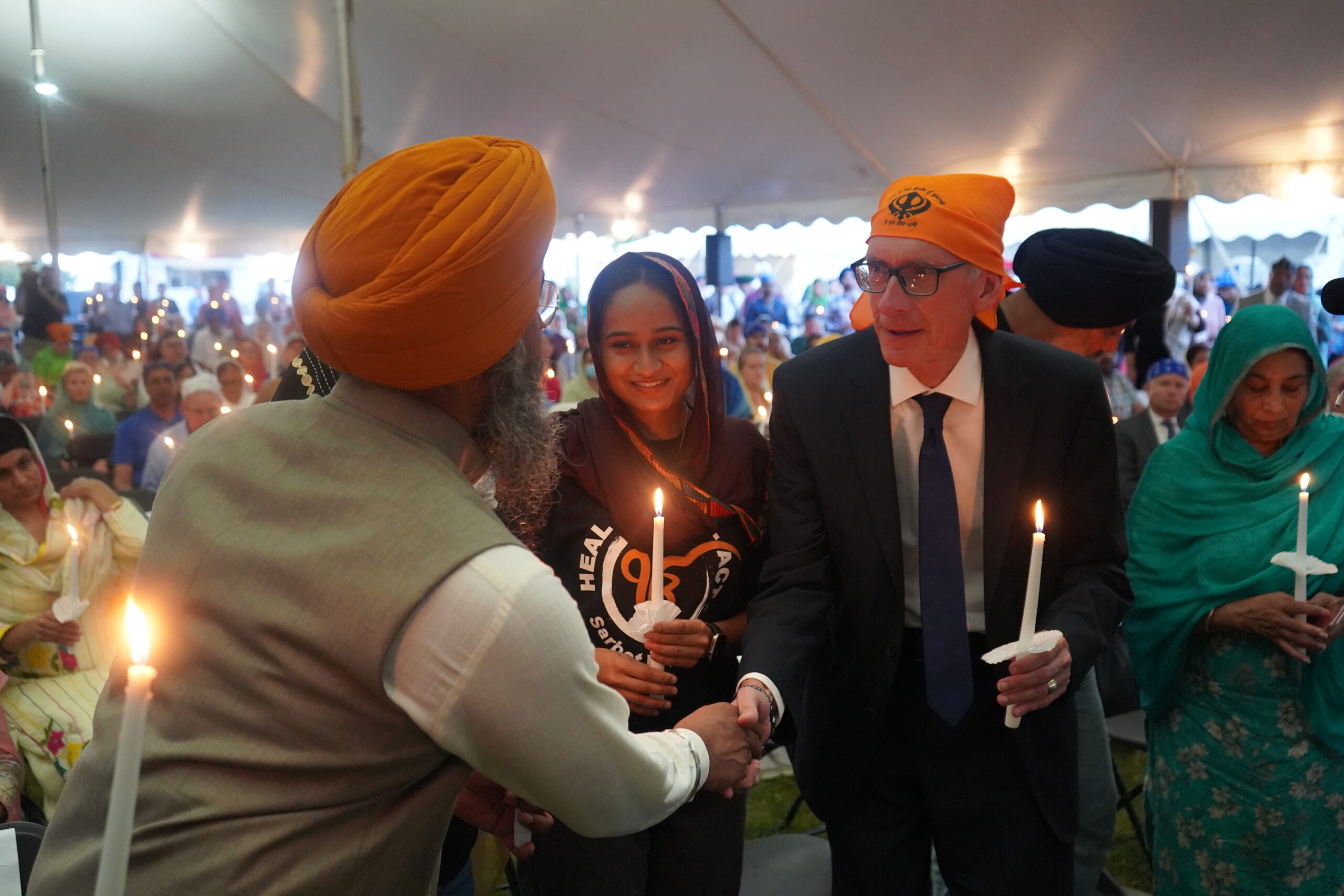 Photo by Kamal Shkoukani
Wisconsin Gov. Tony Evers pays respects Friday at the Sikh Memorial Candlelight Remembrance Vigil.
A Milwaukee Journal Sentinel article called the Aug. 5, 2012, murders in the gurdwara (Sikh house of worship) in Oak Creek "a harbinger" of things to come. Reporter Jovanny Hernandez described the quick rise of mass shootings in Wisconsin: 48 in the past decade, leaving 66 people dead and another 186 people injured. More than half have occurred in the past two and a half years, two-thirds of them in Milwaukee, he noted. Of these Wisconsin incidents, only the Sikh Temple shooting targeted a particular faith.
Nationwide mass shooters have attacked nearly every faith group, according to an NBC report. Eleven worshippers were killed in 2018 at the Tree of Life synagogue in Pittsburgh. Twenty-six people were killed in 2017 at Sutherland Springs Baptist Church in rural Texas. In 2015, nine members of a Bible study group at Mother Emanuel AME Church in Charleston, South Carolina, were gunned down. In 2017, one died and seven were injured by a gunman at the Burnette Chapel Church of Christ in Antioch, Tennessee. A former college student fired an assault rifle in 2019 at congregants at the Chabad of Poway Orthodox synagogue in Poway, killing one and injuring three. Three died in 2019 in shooting at West Freeway Church of Christ in Tarrant County, Texas. 
A shooter killed one person and wounded five in May, 2022, at the Irvine Taiwanese Presbyterian Church of Christ in Laguna Woods, California. Also this year, three died at a shooting at the Cornerstone Church in Ames, Iowa, in June. Three more people died in June when a gunman opened fire at a potluck supper at St. Stephens Episcopal Church in Vestavia Hills, Alabama.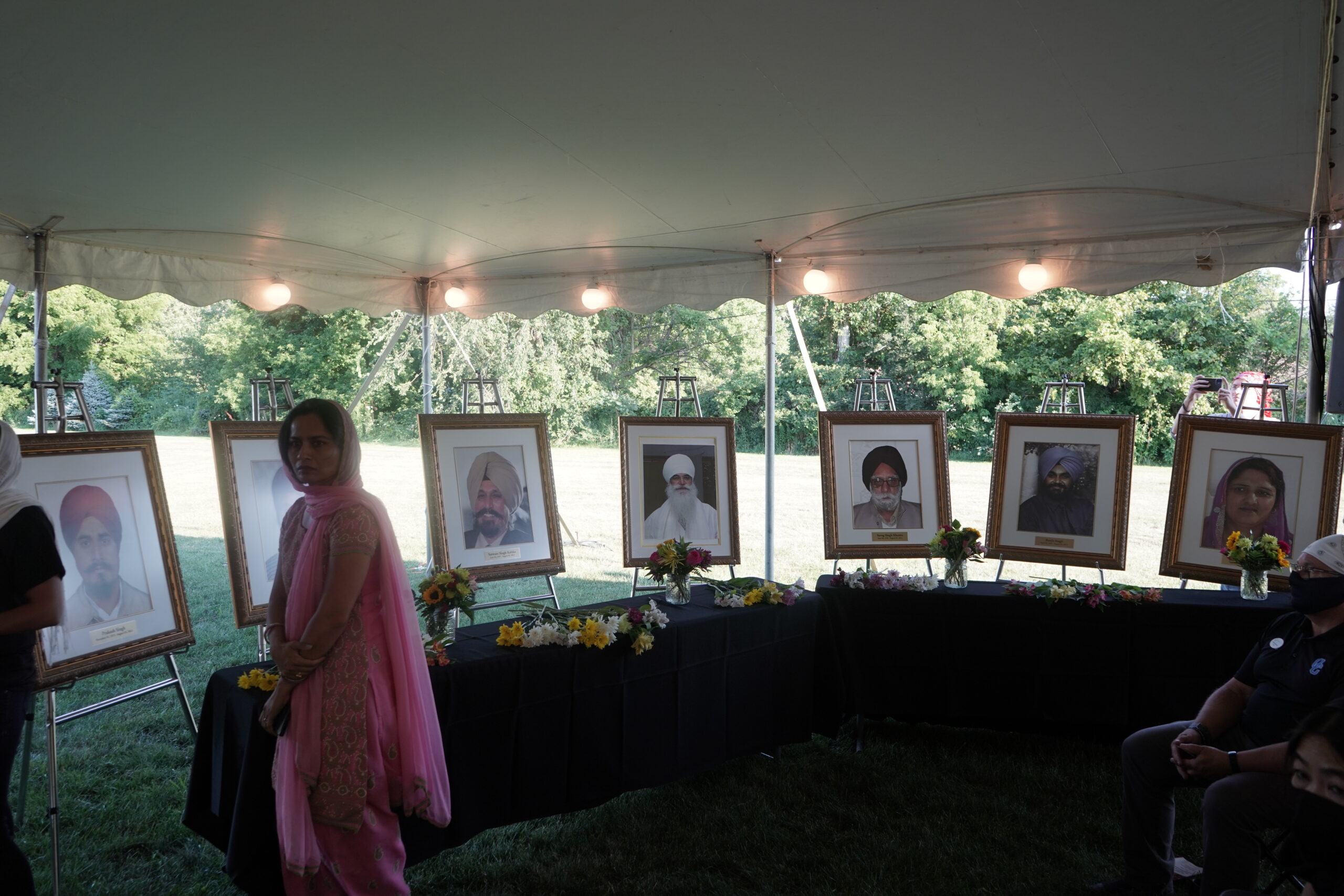 Photo by Kamal Shkoukani
Portraits of the seven victims of the 2012 mass shooting at the Sikh Temple of Wisconsin were displayed Friday at the 10th Anniversary Memorial ceremony and vigil.
In honor of the 10th anniversary of the shooting at the Sikh Temple of Wisconsin, the Biden-Harris Administration issued a statement Aug. 5, saying: "President Biden has pledged to do everything in his power to ensure that Americans can practice their faith without fear.
"We must be vigilant against the rising tide of targeted violence and hate at home and abroad, and work to ensure that no one feels afraid to attend a religious service, school, or community center, or walk down the street wearing the symbols of their faith." 
The statement continues: "To achieve these aims, President Biden signed, and his Administration is implementing, the Bipartisan Safer Communities Act and the COVID-19 Hate Crimes Act and the Jabara-Heyer NO HATE Act. The Administration is also taking executive actions to: reduce gun violence; prioritize efforts to combat hate crimes, including crimes committed on the basis of religious identity or affiliation; and implement the first-ever National Strategy for Countering Domestic Terrorism."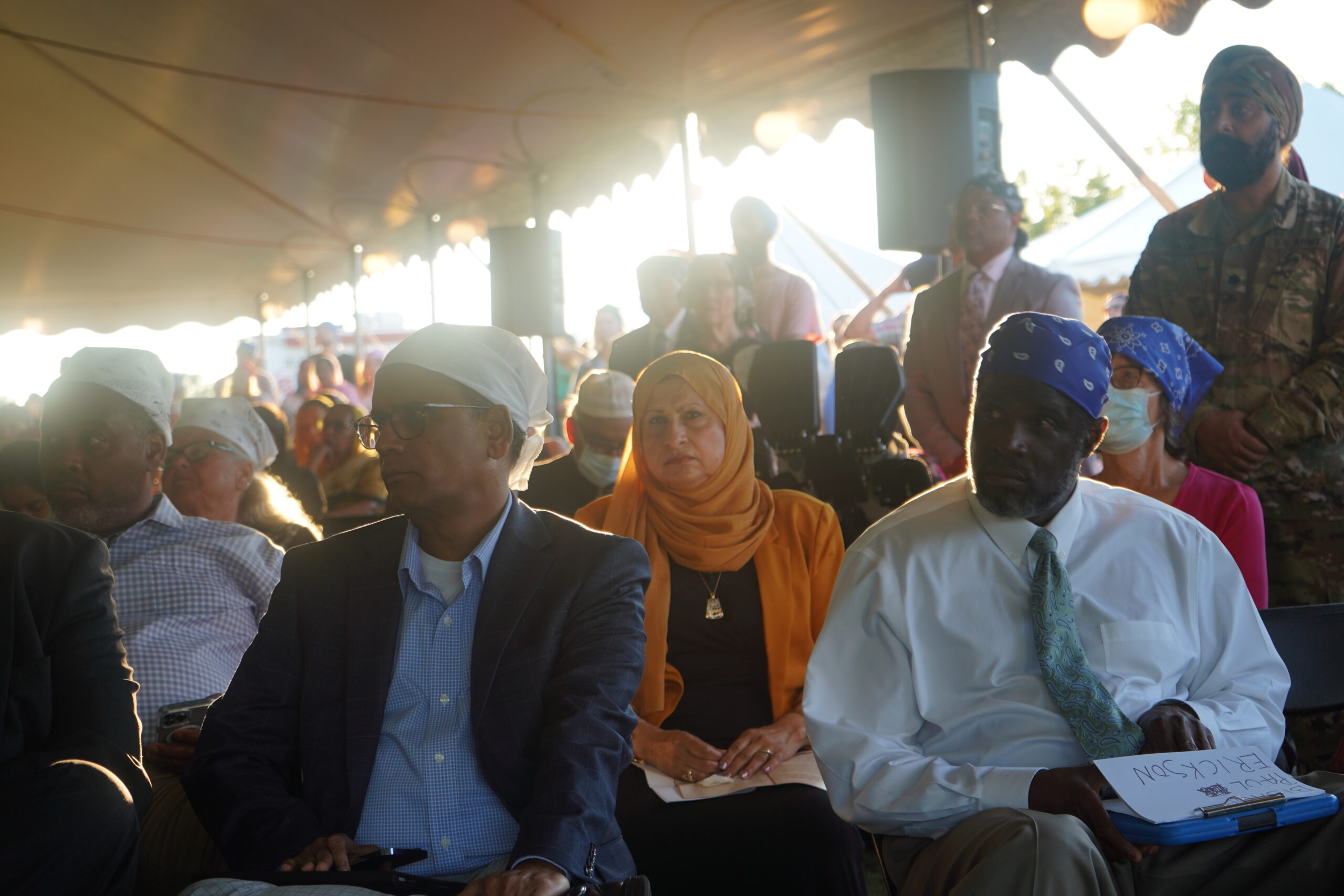 Photo by Kamal Shkoukani
Milwaukee Muslim Women's Coalition president Janan Najeeb joined faith leaders at the Sikh Anniversary Memorial service. 
Muslims on alert
Today Muslims around the country are on alert as four Muslims appear to have been targeted in what looks like related shootings in Albuquerque, New Mexico. Fear is strong in the city where a serial killer appears to have killed four men because of their race and religion, news reports say.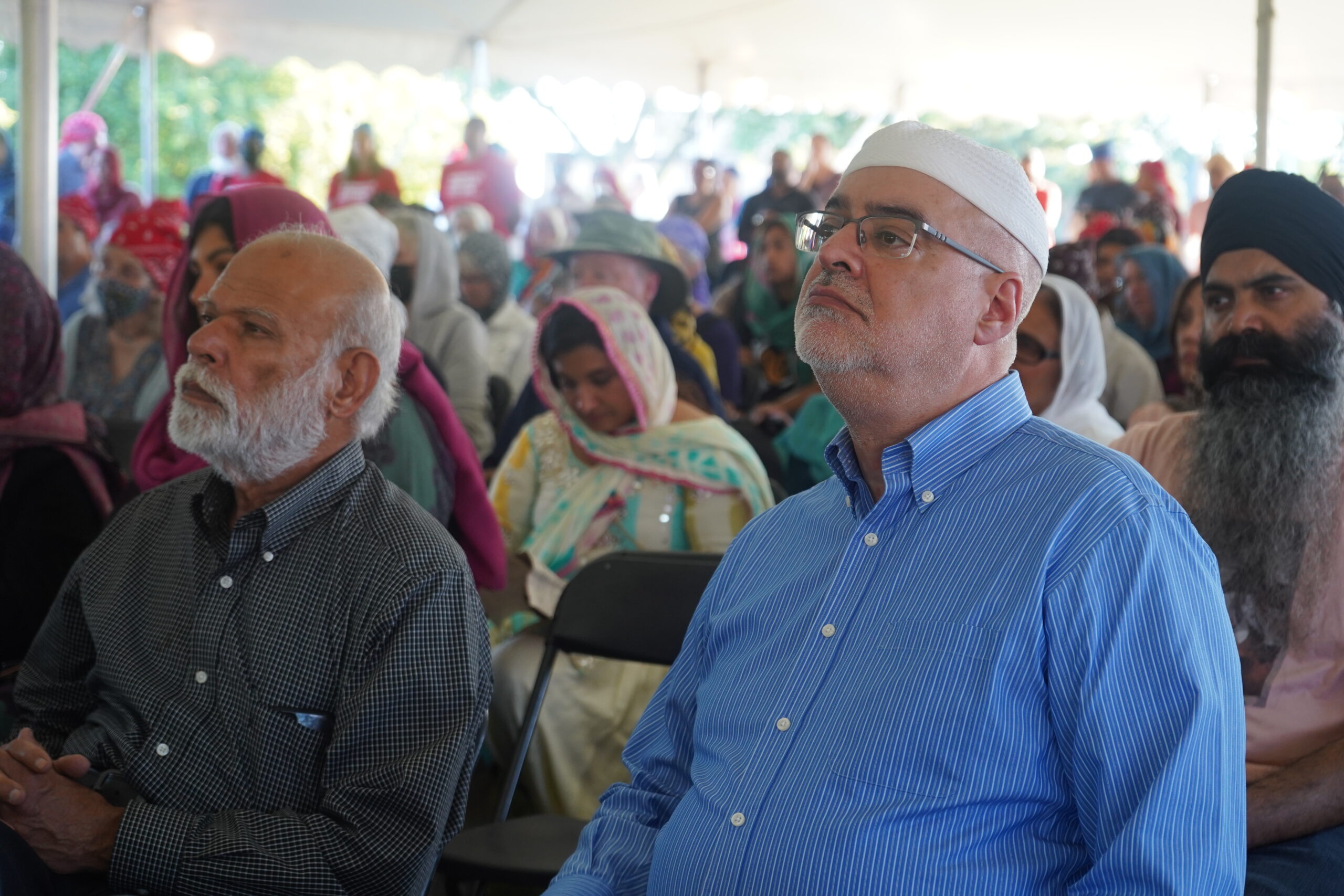 Photo by Kamal Shkoukani
Former presidents of the Islamic Society of Milwaukee Iftekhar Khan and Ahmed Quereshi listen as members of Oak Creek's Sikh community talked about the loss of their loved ones.
Council on American-Islamic Relations National Deputy Director Edward Ahmed Mitchell said in a statement, "The lives of Albuquerque Muslims are in danger. Whoever is responsible for this horrific, hateful shooting spree must be identified and stopped—now." CAIR is offering a $10,000 reward for information leading to the arrest of the shooter.*
*It was reported this afternoon, after publication, that 51-year-old Muhammad Syed was taken into custody last night as a suspect in the Albuquerque shootings. 
CAIR released a new statement Tuesday, thanking law enforcement for the arrest and wrote that it hopes "the news that this violence has been brought to an end will provide the New Mexico Muslim community some sense of relief and security.
"Although we are waiting to learn more about these crimes, we are disturbed by early indications that the alleged killer may have been targeting particular members of the Shia community," the statement read. "If this is true, it is completely unacceptable, and we encourage law enforcement to file any appropriate hate crime charges against the suspect."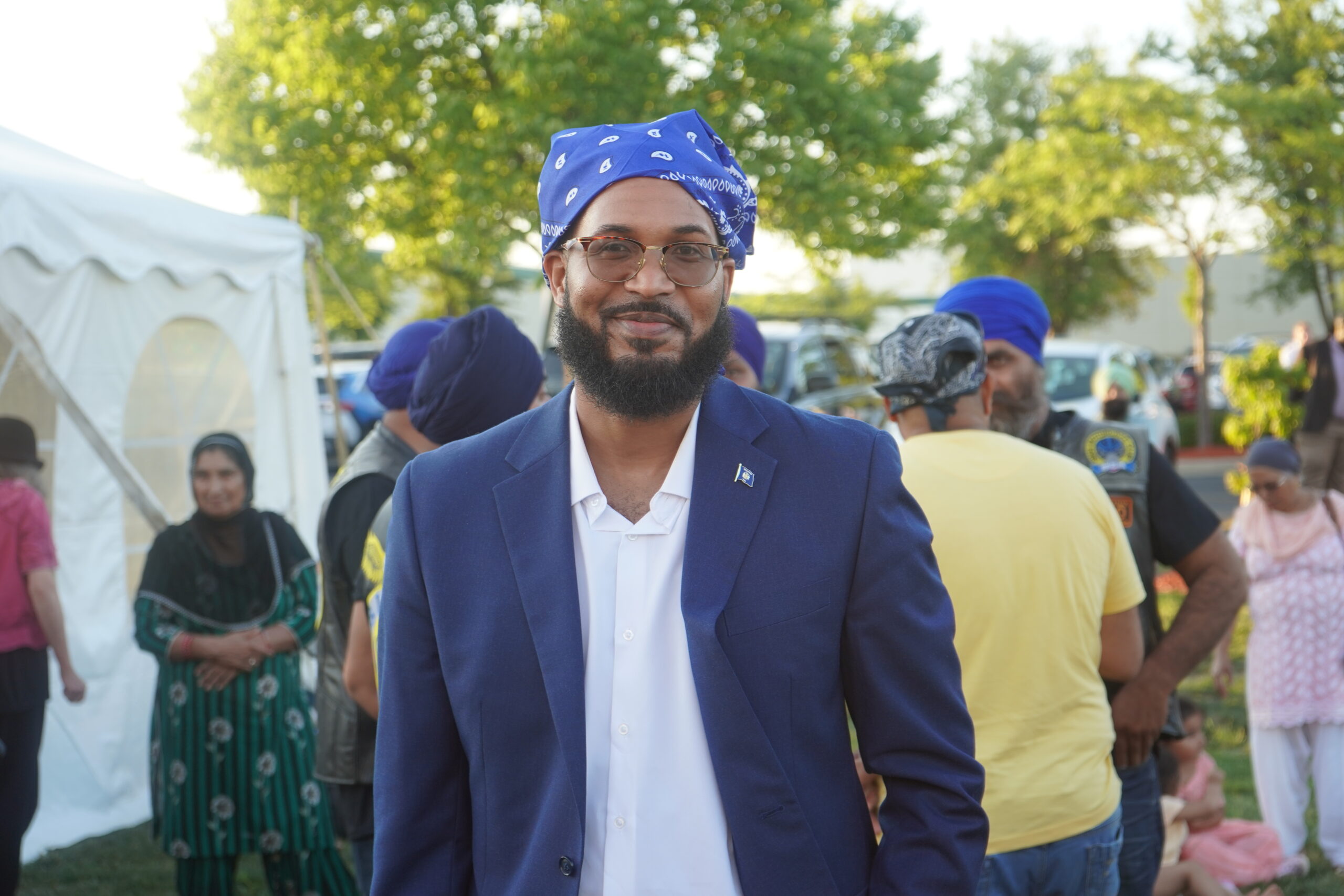 Photo by Kamal Shkoukani
Mohamed Awad, a candidate for Milwaukee County sheriff, attended the memorial service.
"This tragedy is impacting not only the Muslim community – but all Americans, said CAIR National Executive Director Nihad Awad. "We must be united against hate and violence regardless of race, faith or background of the victims or the perpetrators. We urge anyone with information about these crimes to come forward by contacting law enforcement."
Uniting against hate
In a unique panel presentation Thursday to an overflowing crowd at Oak Creek City Hall, two ex-extremists—Chris Buckley, an Afghanistan War veteran and former Ku Klux Klan leader, and Mubin Shaikh, a former Taliban supporter who later helped Canadian authorities infiltrate extremist groups—shared their personal stories.  
Both Buckley and Shaikh now work with Parents for Peace, a non-profit, non-governmental organization that helps families, friends and community members concerned about loved ones who are being radicalized, a growing issue in our increasingly polarized political environment. It was founded in 2015 by a father whose son became influenced by radicals as a college student.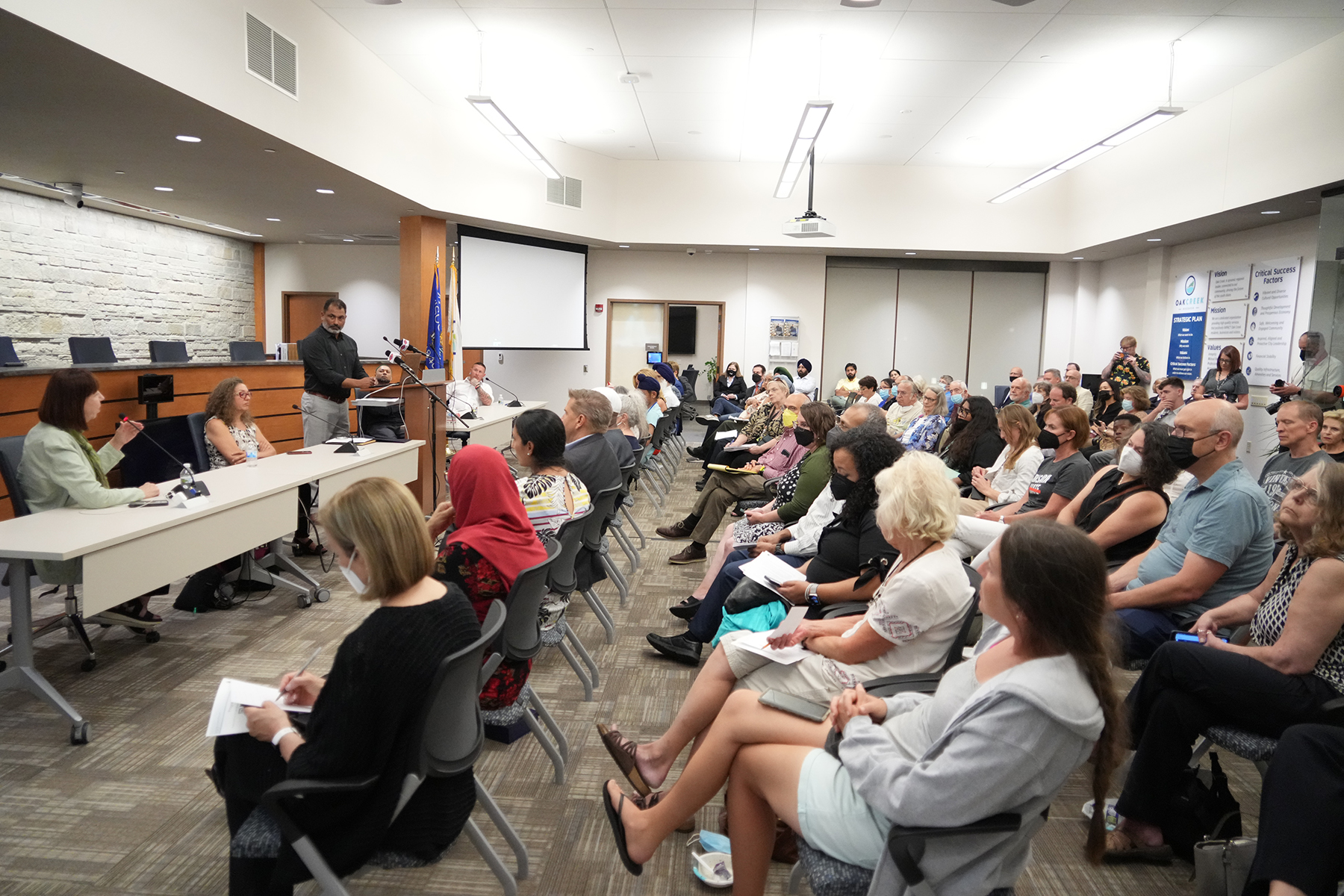 A former Muslim extremist and a former KKK leader who both now work to deradicalize extremists spoke Thursday night at the Protecting Places of Worship Forum at Oak Creek City Hall.
Also on the panel were Myrieme Nadri-Churchill, the current executive director of Parents for Peace and a first responder, and Patrice O'Neill, who leads Not in Our Town, a national movement of people across the country working to build safe, inclusive communities for all. O'Neill is also the producer of Stories from the Tree of Life, a documentary focused on Pittsburgh area community actions to counter hate and anti-Semitism in the aftermath of hate crime killing of 11 Jewish people at the Tree of Life Synagogue in October 2018. It premiered in May.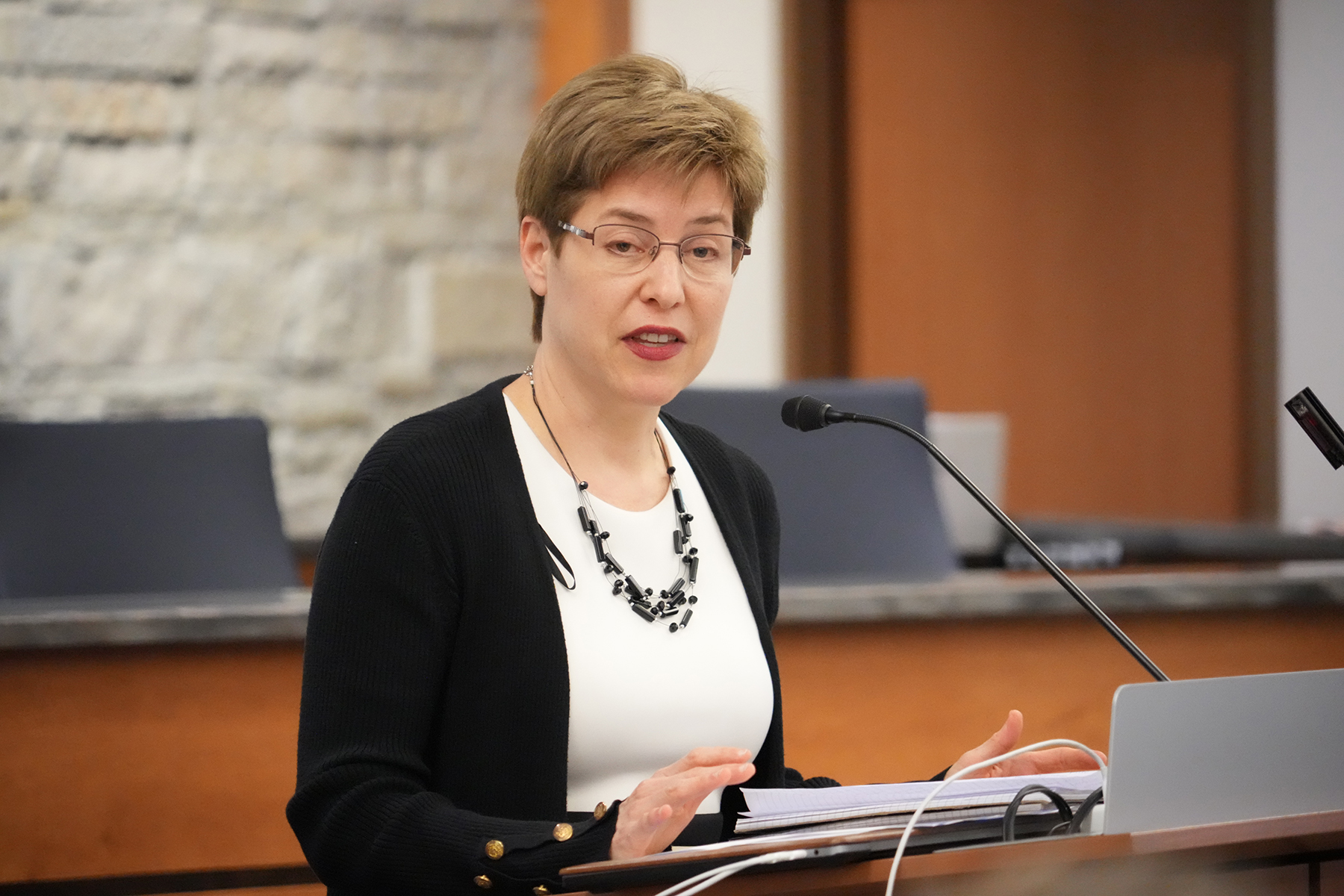 Melissa Rogers, Executive Director of the White House Office of Faith-based and Neighborhood Partnerships, delivered a message to Thursday night's forum from President Joe Biden.
As Shaikh explained, he grew up in the U.S. and, at 19, traveled to Pakistan, "near the federal-administered travel areas of Afghanistan where I met the Taliban and became enamored by them.
"From 1995 to the 9/11 attacks, I became increasingly radicalized. I didn't like Jews or other Muslims either," Shaikh said. He described the experience of being a zealot, then studying Islam more carefully with different teachers and gradually discovering the errors in his understanding. "I ended up working for the government to counter extremism, doing a lot of anti-ISIS activities from 2012 to 2018."
Shaikh recalled meeting Buckley and others who were working on themselves and with others to counter their own extremist tendencies. "Now we work together as brothers. We're doing direct interventions with young people. When we talk to them, we can say, you know I understand. I've been there."
Buckley's story starts on 9/11 when he watched footage of airplanes crashing into the World Trade Center. It picks up in Afghanistan, when he served in the U.S. military. "I lost a best friend and buddy in Afghanistan. I broke my back in a training accident and was honorably discharged. I had been a soldier for 13 years. I didn't know how to be a civilian. 
"They say when a warrior doesn't have a mission, he'll create one," he said. "My mission became to eradicate Islam from the face of this earth. There was a community that welcomed that hate and watered it. I became extremely radicalized."
Buckley met Arno Michaelis, a former white supremacist who works with Parents for Peace. "Through meeting Arno, I did pretty heavy work, battling with addiction and with hate. I had no idea how to fix myself but Arno did. I had to go into some dark places.
"The more work I did, the more I realized I didn't hate Muslims. I hated what happened on that day. I needed answers and interventions. I was allowing my son to inherit my hatred and I had to stop."
Michaelis introduced Buckley to Heval Kelli, a Muslim and medical doctor, "who became such a positive influence in my life," Buckley said. A documentary called "Refuge" was made about their friendship and Buckley's transformation.
"I'm still in the middle of my journey," Buckley said. "I'm still a broken individual, but I'm working on me.
"I started working with Parents for Peace. I needed my war and now this is it, to help the broken find a way to heal, to learn they no longer need extremism and no longer need to hate. They can learn to love themselves and everybody else in the process."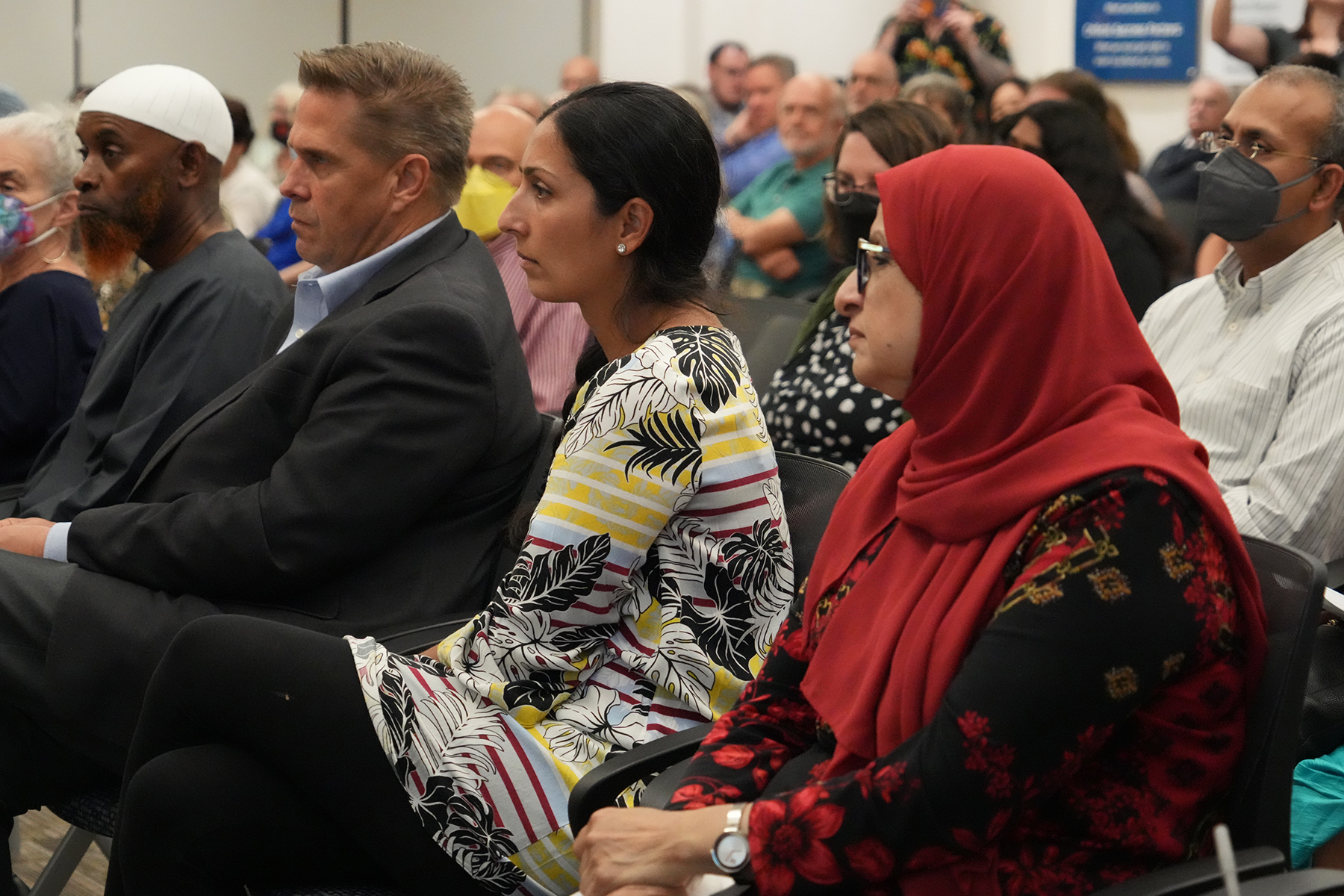 Thursday night's events also featured a forum on protecting places of worship. It included two panels, one with Department of Justice and local government officials, and law enforcement officers. In it were Oak Creek Mayor Dan Bukiewicz, Lt. Brian Murphy (who was injured as a first responder at the Sikh Temple shooting); and representatives from the White House, the FBI, FEMA and the Office of Homeland Security. The other panel brought together local faith leaders tasked with the security and safety of houses of worship.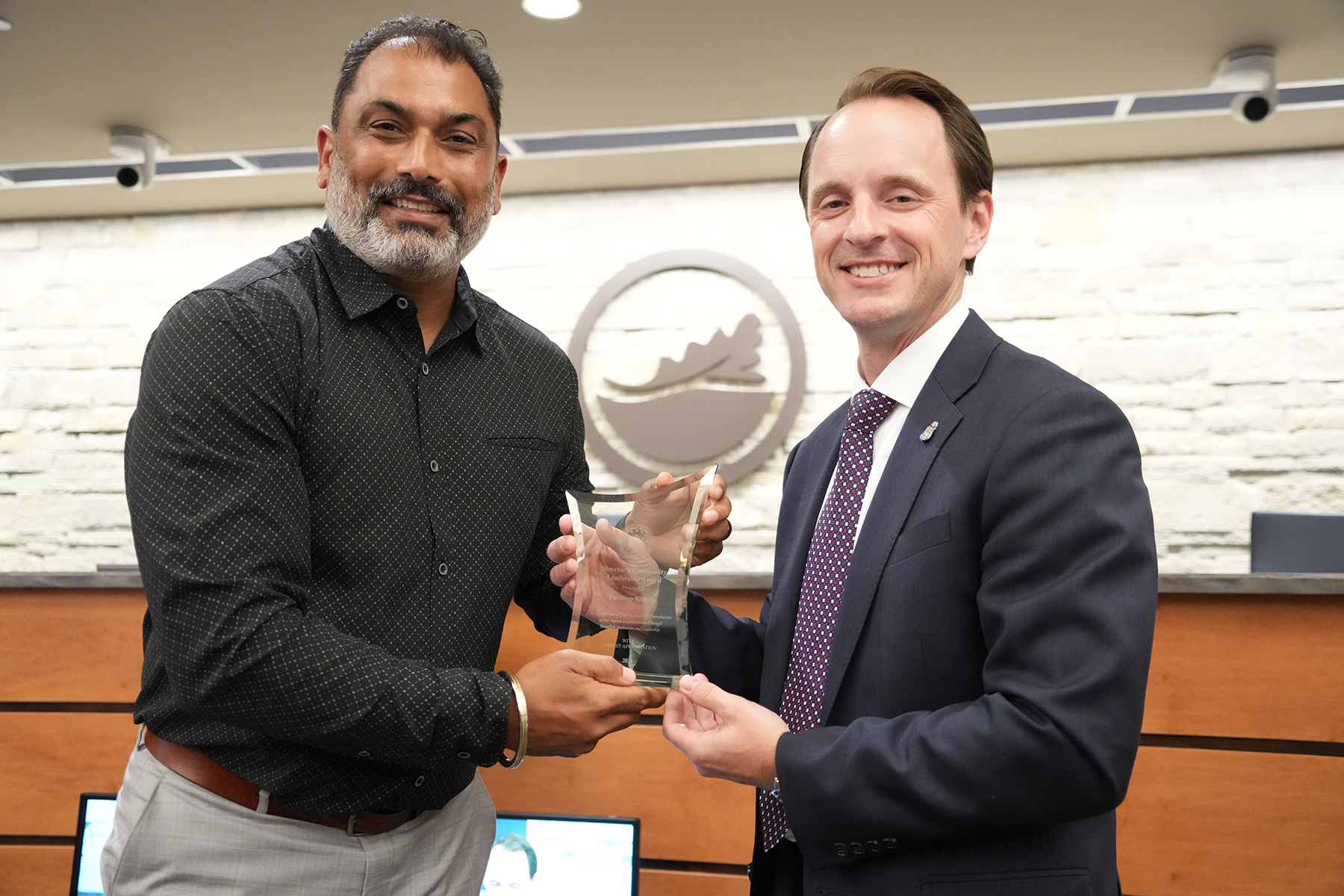 Pardeep Singh Kaleka (left) received the 2021 FBI Community Partner Award from Special Agent in Charge Michael E. Hensle (right) of the FBI's Milwaukee Field Office.
The interfaith panel was moderated by former U.S. Attorney James Santelle. It included the following faith leaders: Pardeep Singh Kaleka, executive director of the Interfaith Conference of Greater Milwaukee and a leading member of the Sikh Temple of Wisconsin; Rev. Walter Lanier, pastor of the Progressive Baptist Church, religious leader of MICAH, and president of the African American Leadership Alliance of Milwaukee; Ahmed Quereshi, past president of the Islamic Society of Milwaukee and a member of the executive committee of the Interfaith Conference; and Ari Friedman, long-time director of security and community properties of the Jewish Federation of Milwaukee.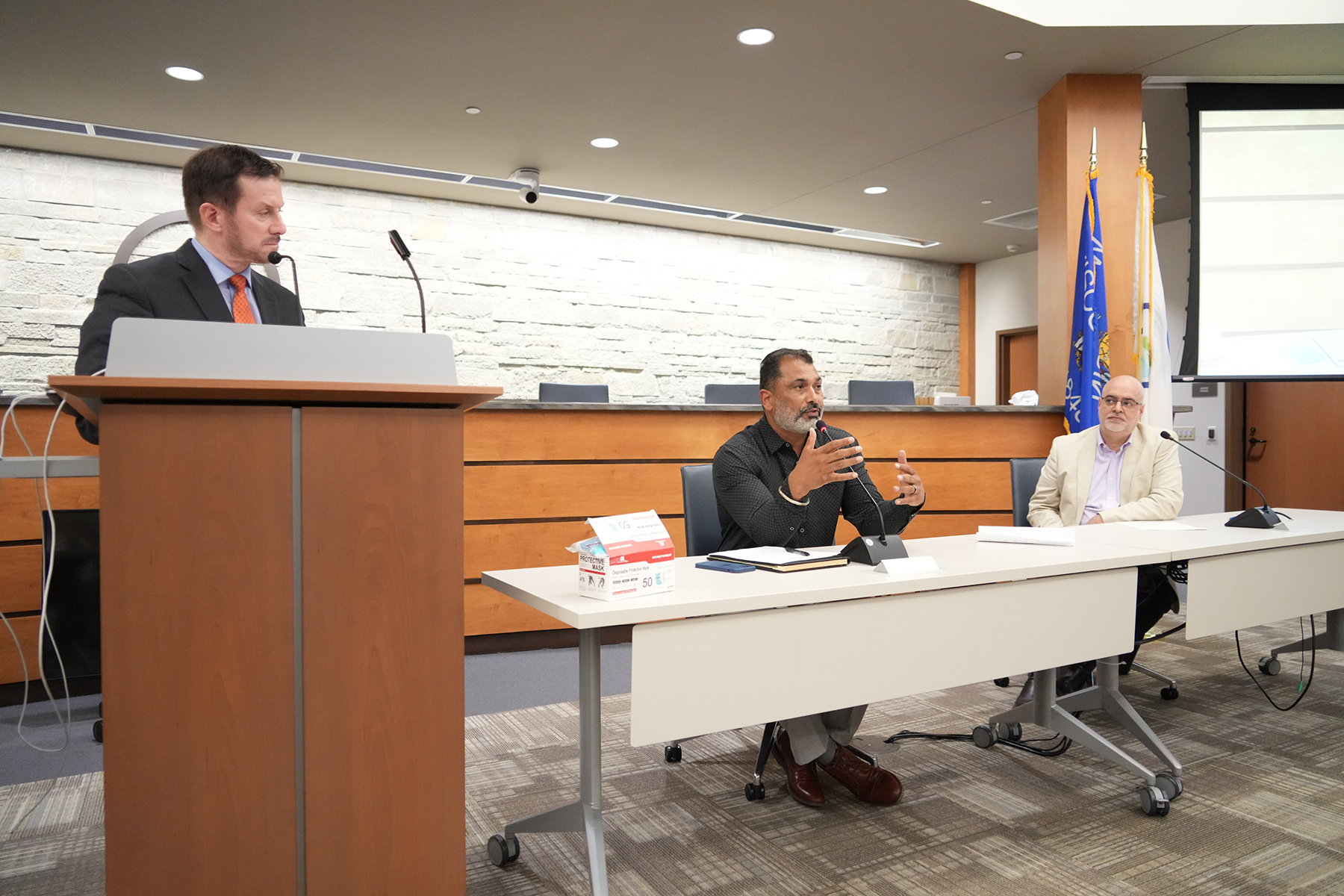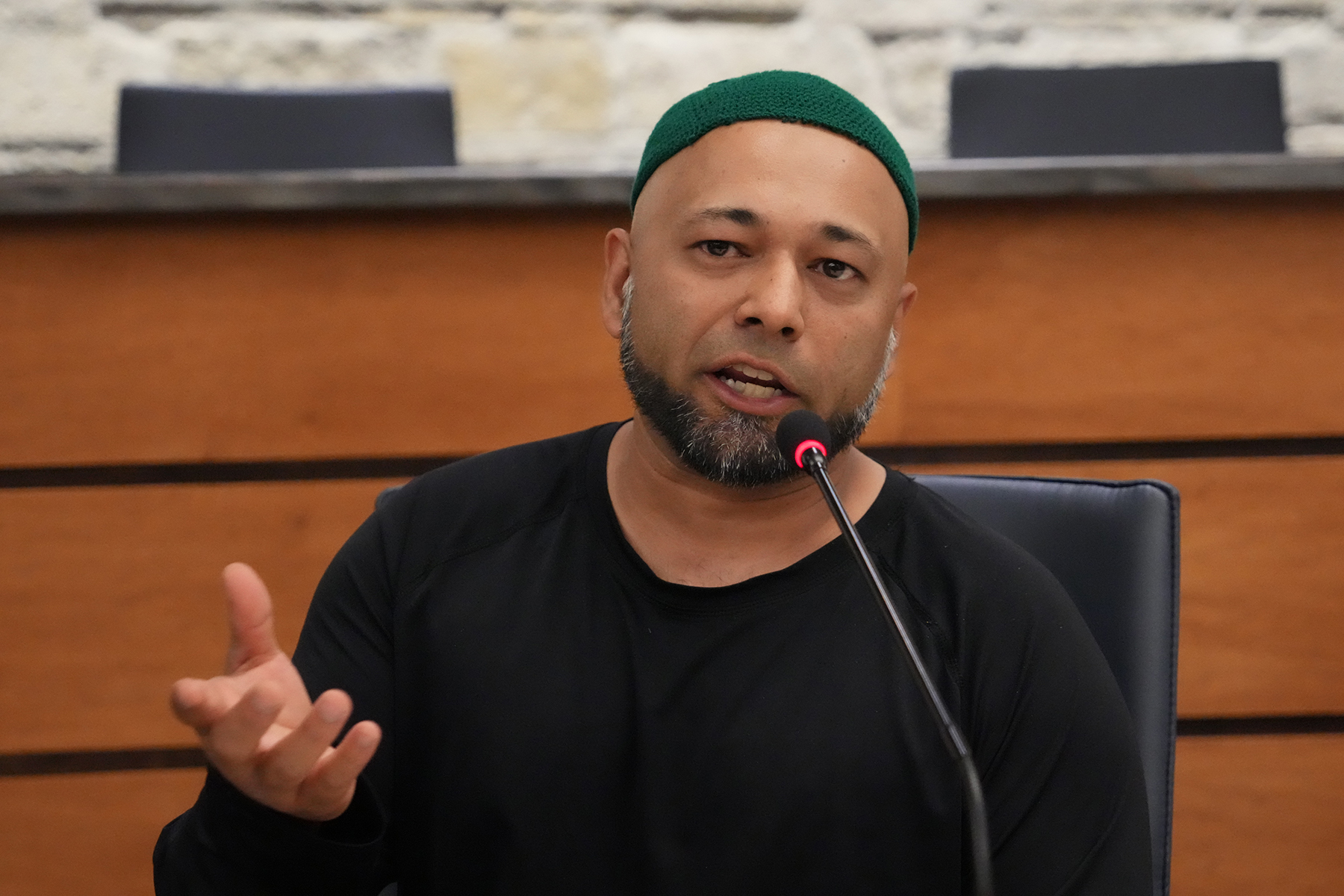 (Above) Former United States Attorney Jim Santelle (left) moderated the interfaith panel. Pardeep Singh Kaleka (center) represented the Sikh Temple of Wisconsin and Ahmed Quereshi (right) represented the Islamic Society of Milwaukee.
(Below) Mubin Shaikh, now a team member at Parents for Peace, shared his experiences with Islamic extremism and how he left it at the Protecting Places of Worship Forum, held Thursday at Oak Creek City Hall.
Both panels emphasized the importance of communication and the building of networks of relationships between faith groups, law enforcement and communities, where information can be shared and communities can support each other.
Muslims join in honoring the victims
Janan Najeeb, president of the Milwaukee Muslim Women's Coalition, joined other faith leaders in honoring the lives of seven worshippers from the Sikh Temple of Wisconsin who died at the hands of a mass shooter 10 years ago. She spoke Friday evening to a crowd of hundreds under tents of the Oak Creek Sikh Temple grounds.
Those who died in the temple on Aug. 5, 2012, include Paramjit Kaur Saini, Sita Singh, Ranjit Singh, Prakash Singh, Suveg Singh Khattra and Satwant Singh Kaleka. Baba Punjab Singh was severely paralyzed in the shooting and died in 2020 from complications related to his injuries.
"All of us were deeply moved by the youth and children in this community," Najeeb said about the children and grandchildren of the victims who spoke about how the loss of their loved ones has impacted their lives. "I want you to know you are the legacy of your parents and you will continue to be that legacy, not only for your parents, but for this community, the city and for the world. We are so proud of all of you."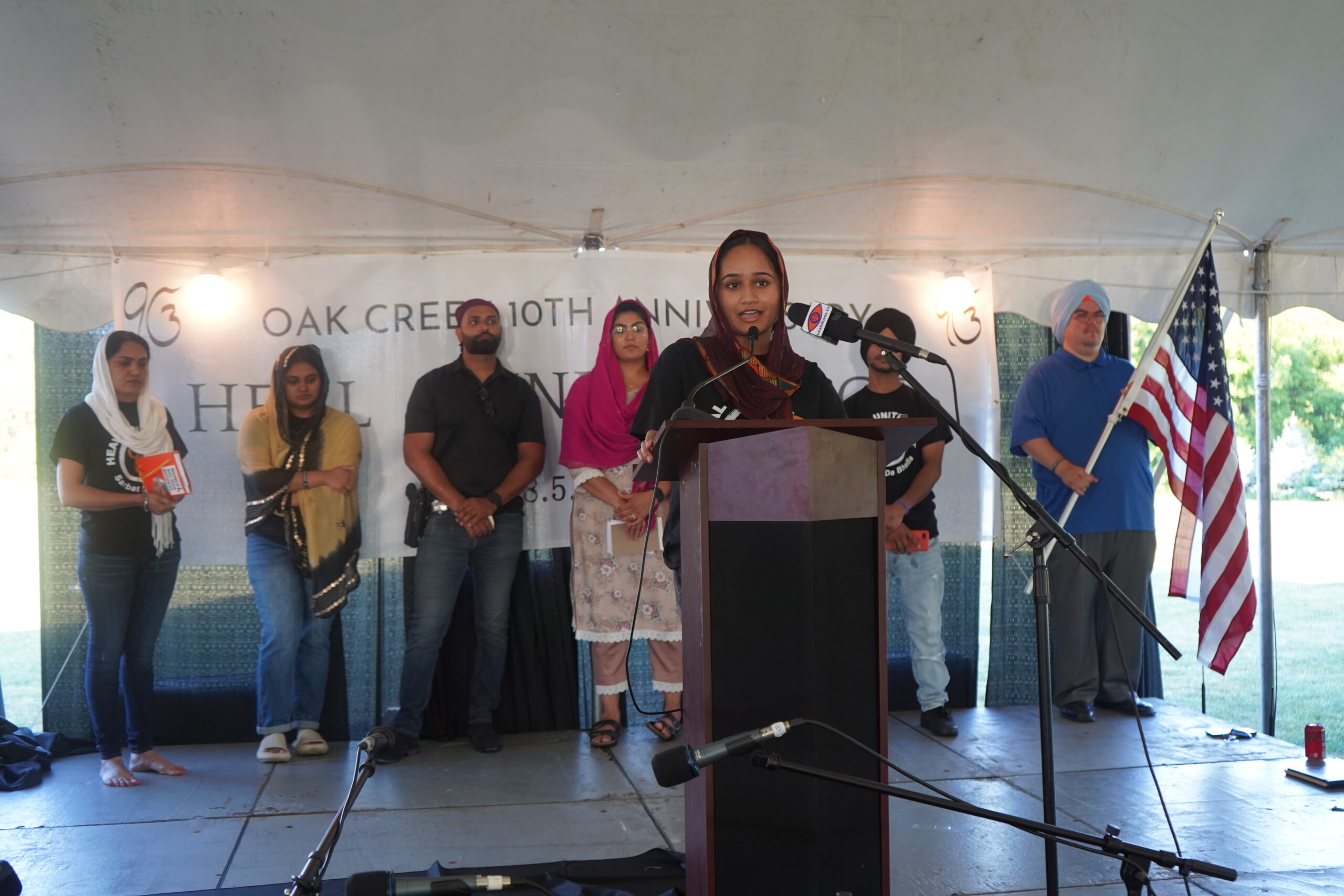 Photo by Kamal Shkoukani
Children and grandchildren of the victims of the 2012 mass shooting at the Sikh Temple of Wisconsin spoke of their losses.
"We continue to stand in solidarity and in support of all of our Sikh brothers and sisters," Najeeb said, "not only because of the immense pain that was and continues to be inflicted upon all of you, but because we as Muslims also know this type of hatred, because this hatred has not differentiated between Sikh and Muslims.
"We were asked to talk about reviving hope as communities of faith. Hope is the most beautiful choice we have because hope is inextricably linked to belief in an almighty creator, a creator that is far greater than ourselves. And we know that the opposite of hope is despair and despair is non-existent in the dictionary of the faithful.
"Many times, hope and relief come as a renewed understanding of almighty God and our purpose in this universe," she continued. "It comes in the form of an inner strength you didn't even know existed within you. It may come in the form of a loving community that rallies around you and a renewed effort to bring love, compassion and justice."
Najeeb, the final speaker, closed the memorial saying, "Let's be very clear though. Hope is not passive. It is not indifferent, nor is it unconcerned. Hope is not quiet. Hope is restless. It is a call to action, but it is guided by honesty, justice and law. Can we commit tonight to rise up together to reject the hatreds and polarization that is gripping our country and our world? Can we commit to upholding the dignity of every human being?"
She invited the audience to join her in a closing prayer: "We pray today for wise leaders who uphold honesty, equity, compassion and justice. We pray for strength, courage and wisdom, the determination to act, instead of just complain. 
"We pray for healing in our fractured world. We pray for humble and compassionate hearts, the strength to forgive, the patience to understand and the inspiration to do what is right. 
"We pray for the ability to use good to overcome evil and the ability to use love to overcome hate. We pray that during our limited time on this earth is spent building a world that values all people, unites all nations, a world full of beauty, love, justice and hope." 
Photos below by Kamal Shkoukani