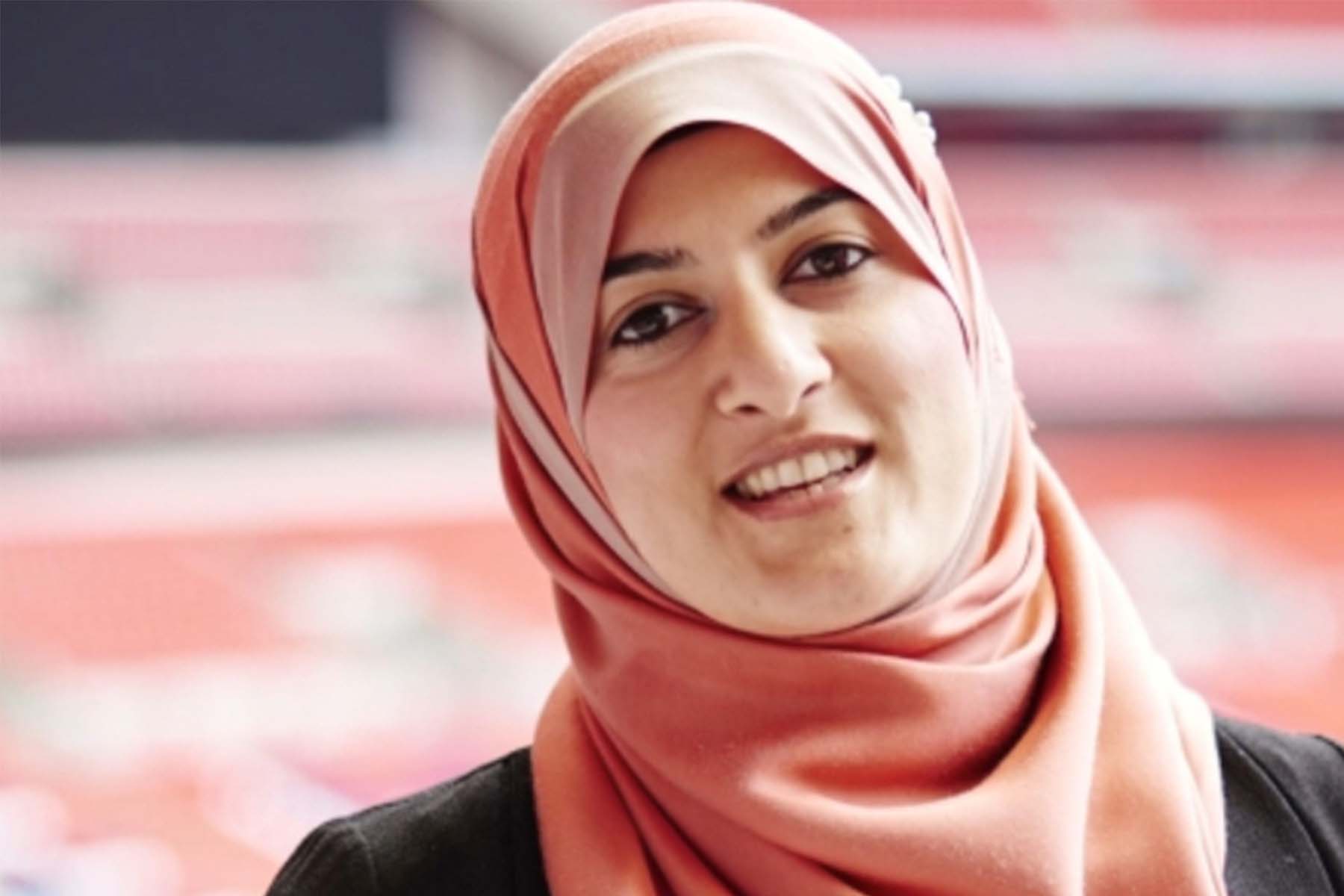 Rimla Akhtar as "Football's Muslim Role Models on the increase says FA Councillor Rimla Akhtar" for The FA
There are around three million Muslims in the United Kingdom. That's about five per cent of the population.
Yet when I first started playing football when I was seven there weren't many people who looked or felt like me. But when I began wearing the hijab, thankfully my team-mates cared more about my football skills than what I was wearing.
Football was my vocation and my family really supported me. I played in a five-a-side team at school and I felt that I was so lucky to be a part of the game. Not everyone has the same positive story.
From a very early age I realised there weren't many role models out there. I actually never felt or realised that I was one myself until young (and even older) girls and boys told me so.
I went on to captain the British Muslim Women's Futsal Team and play in the Women's Islamic Games in Iran, and as I grew older I began working with The FA to promote inclusion for not just Muslims but people of all backgrounds, especially those who are traditionally excluded.
One of my proudest moments was working with Prince Ali bin Al Hussein of Jordan to help lift the hijab ban in football in 2007. This was a campaign supported by The FA, too. It took almost a decade to achieve and it sent a message to young Muslim girls, and I would say the industry at large, that football is for everyone.
The FA have pledged to create more Muslim and BAME role models from both sexes and progress is certainly being made. There are probably as many as there have ever been, but more can always be done.
As former chair of the Muslim Women's Sport Foundation (MWSF), I have always seen an appetite to play football from Muslim girls and if we can bring through more people who look like them and understand how to work with them, the numbers will continue to swell.
But we must also strive to ensure the industry provides an environment that doesn't discriminate either structurally or overtly.
As a massive Liverpool fan, I have certainly seen the impact in the Muslim community of Mo Salah, Sadio Mane and many more. It's amazing that all football fans have posters of them on their walls. Growing up, I had one of John Barnes!
The next step is to find and train more Muslim players, coaches and ultimately role models in the women's game.
Muslim girls come from a variety of cultural backgrounds and a minority have some complex cultural barriers to overcome. That's why the work of the MWSF since 2001 has been so pioneering. Having helped set up the Muslimah Sports Association through the MWSF, it is great to see the important work they're now doing and I am so glad The FA supports them.
The work being done by Lipa Nessa and Fadumo Olow is also helping others and inspiring. I actually brought them together and they now have a popular podcast called I Think She's Offside. It's a must-listen!
Of course, it's a shame the Lionesses couldn't win the FIFA Women's World Cup this summer, but the exposure they received will help attract new players. I have no doubt that the women's game is going to soar. Hosting matches at UEFA Euro 2020 as well as UEFA Women's Euro 2021 will also keep momentum going.
The main thing for young Muslims to know is that they can play football in a safe and inclusive environment in England. It's a way they can express themselves.
Whether you watch a Mo at your local five-a-side centre, Mo playing for Liverpool or maybe even a Maryam perhaps one day even playing for England, you'll see they express themselves beautifully at all levels of the game.