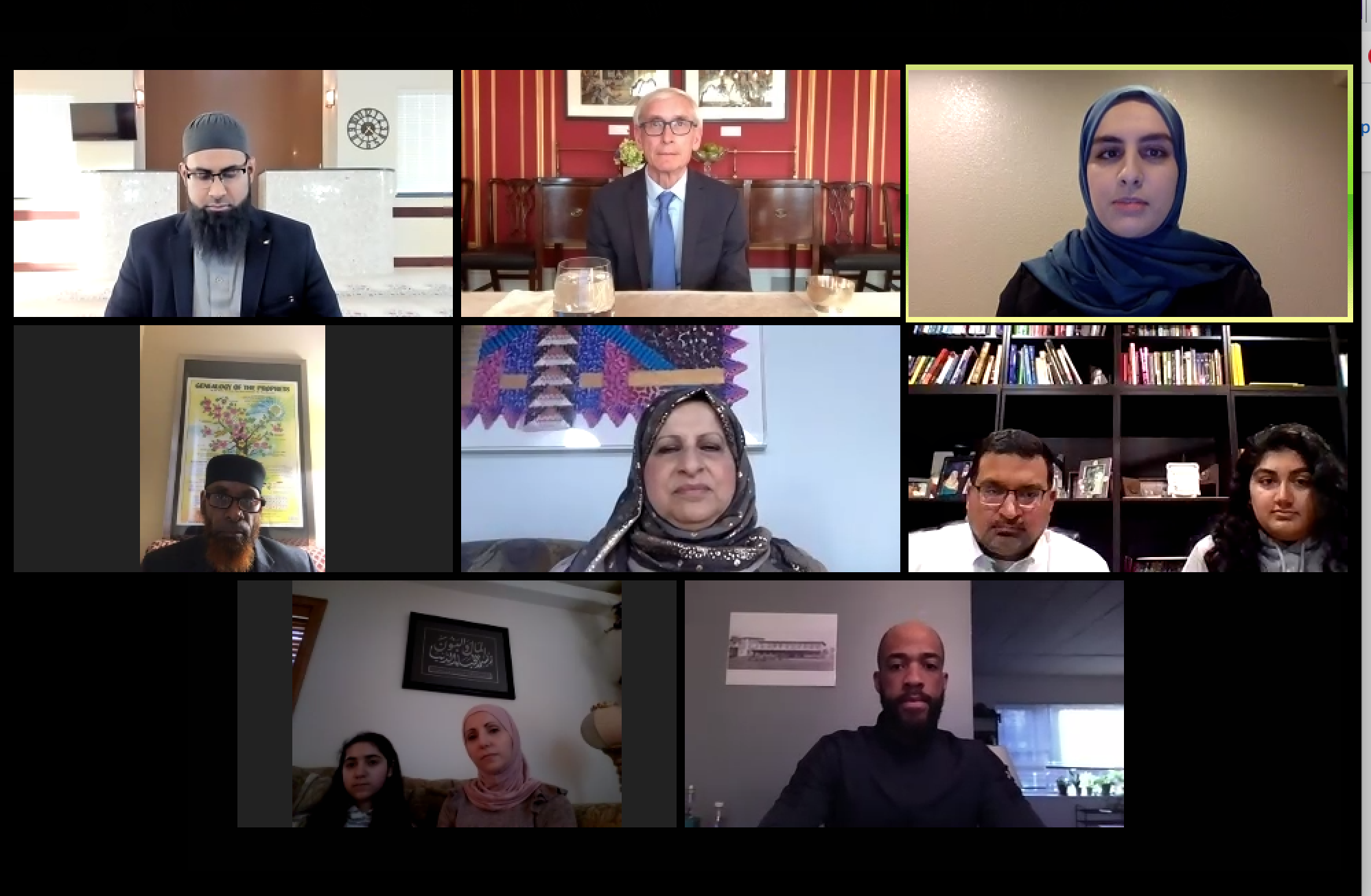 During Ramadan, when Wisconsin Muslims are fasting from predawn to sunset, striving to feel closer to God and serve the less fortunate, daytime often feels lonely. Many Wisconsin Muslims are the only ones fasting in their workplaces or schools. But at night there's a big celebration.
In a normal year, Wisconsin Muslims gather by the dozens to the hundreds in mosques, community centers or the homes of friends to break their fast together. But this is not a normal year.
Covid-19 put a stop to large gatherings. Yet, the pandemic didn't stop Wisconsin Muslims from uniting for iftar, at least virtually, thanks to an invitation from the governor.
Gov. Tony Evers and Lt. Gov. Mandela Barnes hosted Wisconsin's first virtual Ramadan iftar last week from the governor's mansion in Madison, bringing together more than 200 families. The May 12th event was organized by the Wisconsin Muslim Civic Alliance in collaboration with the governor's office.
Three days later, Evers officially recognized the observance of Ramadan and Eid al-Fitr in a Certificate of Recognition issued May 15.
In his announcement, Evers said, "The Muslim community's diverse cultural background adds vibrancy to Wisconsin. It is an honor to celebrate their vital contributions as leaders, professionals, small business owners and engaged youth across Wisconsin." While no demographic studies indicate the number of Muslims in the state, estimates range from 40,000 to 50,000.
"Official actions like this certificate are important to building bridges, promoting religious tolerance, celebrating differences and honoring America's heritage of openness to foreigners," said Masood Akhtar, a Madison-area Muslim advocate, business owner and founder of We Are Many – United Against Hate.
Breaking fast together
Muslim families across the state attended the iftar on Zoom, joining Gov. Evers and Lt. Gov. Barnes in a warm, friendly gathering with a wide-ranging discussion. Through it all, the dominate theme was "we are in this together."
The governor and lieutenant governor were joined by a panel that included the founder and president of the Milwaukee Muslim Women's Coalition Janan Najeeb, Wisconsin Muslim Civic Alliance President Will Perry, WMCA Endorsements Chair Nisreen Atta and the resident scholar of the Islamic Society of Milwaukee-Brookfield Shaykh Noman Hussain.
"I really appreciate Gov. Evers and Lt. Gov. Barnes for taking the time to have a virtual iftar with our community and answer questions, knowing how busy they are during these tough times," said Dima Adl, M.D., a critical care physician in the Milwaukee area. She attended the iftar with her daughters Basma Daham, 17, and Sama Daham, 13. "I appreciated the honesty in their answers and how they understood what my community goes through during the election season. May Allah always bless America with honest leaders."
Likewise, Rayyana Hassan, 17, of Brookfield, said, "It was really nice to see our governor care about the Muslim community during these unprecedented times. The time and effort put into this event to build relations with the Muslim community is something that I never saw from our past governor. It really showed how much Gov. Evers cares about various communities across our state, even in the midst of a pandemic." Hassan attended the iftar with her father, Mushir Hassan, M.D., vice president of medical affairs at Ascension Elmbrook Hospital in Brookfield and a member of the Elmbrook School District Board.
A lively discussion
Conversations ran from light-hearted (Would the governor and lieutenant governor like to play cricket? They answered, "Sure.") to serious:  celebrating diversity, combating Islamophobia, battling Covid 19, reopening schools, making college affordable and preparing for the November elections. Here are some highlights:
Celebrating diversity
Gov. Evers: "Muslim-Americans are part of the fabric of this state. The contributions to our state's vibrant cultural heritage not only allows us to appreciate the important role prayer plays in our collective pursuit of a brighter tomorrow, but also builds bridges between and among neighbors."
Lt. Gov. Barnes: "It's easy for people to look at Wisconsin and think of it as a homogenous place but we know otherwise. It is the diversity that exists within our borders that makes us strong.
"Our elected leaders should not just promote diversity but they should challenge any assertion that goes against it."
WMCA President Will Perry: "The Muslim community has done extraordinary efforts in reaching out to other faith-based organizations. Some of them are here with us at this iftar."
Combatting Islamophobia
Gov. Evers: "We want to live in a state that is inclusive and welcoming and equitable. No matter where you are from, who you are or how you pray, as Wisconsinites, we value things like kindness, respect, empathy and compassion, especially during this time of divisiveness and fear. Now more than ever is the time for us to be good neighbors, to roll up our sleeves and take care of each other during these challenging times.
"It is incumbent on leaders, not just Lt. Barnes and myself, but also people who are running for office at the national and state level, to set the dialogue and create a place where we all feel safe and welcomed and are respected."
Lt. Gov. Barnes: "That's why we work to reach across every possible line we can reach across (to build mutual respect)."
Battling Covid 19
Gov. Evers: "We essentially created a public health system that didn't exist 5 weeks ago. I'll give you a small example. We have these folks we call contract tracers who not only contact the person who is ill, but find out where that person had been and what contacts they had. We were hoping to hire 1,000 contact tracers, and in my estimation, I thought we would be lucky to have about 500 apply, but we actually got 4,000 people.
"So instead of boxing in the whole state, we will be able to box in smaller and smaller numbers of people. We will have surges until we have a vaccine, but we can contain them and that is the important thing.
"If the Supreme Court cancels the Safer-at-Home order (which it did last week), "we are going to count on the goodwill of the people of Wisconsin to stay home as much as is humanly possible."
WMCA President Will Perry: "One tenant of Islam is to preserve life. So, it is really significant you are sticking to your intent on keeping families safe."
WMCA Leadership Council member Nisreen Atta, a Milwaukee Emergency Room nurse: "I am incredibly thankful to Gov. Evers and Lt. Gov. Barnes for your leadership and prioritizing the health and safety of our citizens.
"Healthcare professionals all over this state are sacrificing their health to care for patients. I would have never imagined wearing a N-95 mask for 12 hours would be my new reality. Or that the norm in hospitals across the nation would be re-using PPE including masks. It hasn't been easy for healthcare professionals to self-isolate from their families or even to be notified so frequently of an exposure. It hasn't been easy coming home after a 12-hour shift, wearing full ppe. And for many Muslim healthcare workers are also fasting 17 hours in Ramadan.
"All in all, these sacrifices have been exhausting, but the resilience of our healthcare team and the unity of our beautiful community continue to inspire and uplift us … And now more than ever, I depend on our community to wear masks when in contact with others and following the social distancing guidelines."
Dima Adl, M.D.: "Being on the frontline in critical care, we have seen the effect of the Safer-at-Home order with a slowdown to the admissions to the ICU. Patients with Covid-19 are having less exposures to physicians. I think we have done great here in Wisconsin compared to other states."
Reopening schools
Gov. Evers: "We will have to be flexible. As an educator, I believe we should be shooting to start school on time this fall and be as close to normal as possible, but we need to have plans A, B, C, and D in place. It will look different. Maybe one group of students coming Monday, Wednesday and Friday, and another on Tuesday and Thursday, or some combination of in-class and virtual learning … but we will need to address the inequitable circumstances of kids to make sure everyone can participate at the same level.
"The fact that we have lots more testing has been a significant improvement in making sure our public health system is ready. We will need to do a lot more testing before school starts to make sure people who enter the school buildings are healthy."
Lt. Gov. Barnes: "School administrators have talked for a long time about the need for reduced classroom sizes and now as it will also be a potential public health risk. I do hope we see smaller classroom sizes."
Making college affordable
Gov. Evers: "The state has to maintain its commitment to higher education … As the state's percentage of support drops, it makes tuition increase. We also have to ask universities to be as lean as possible and still provide a high quality of education. That is always difficult."
Preparing for the November elections
WMMC President Janan Najeeb: "The Wisconsin Muslim Civic Alliance is of critical importance, especially as we head to the November elections. I am hoping that everyone who is attending will get all our family and friends involved in the Alliance because this is probably one of the most critical elections in our lifetime."
Looking forward to next year
"The governor's staff were great to work with and genuinely moved by the iftar prayer (Shaykh Hussein included prayers for the governor and lieutenant governor) and everyone's excitement," said WMCA Executive Director Kristin Hansen, who was instrumental in organizing the event. "They are already talking about next year – in person, we hope!"
Lt. Gov. Barnes added: "And I am looking forward to the day we can do in person because not only is it an incredible celebration, but also because I enjoy the food!"