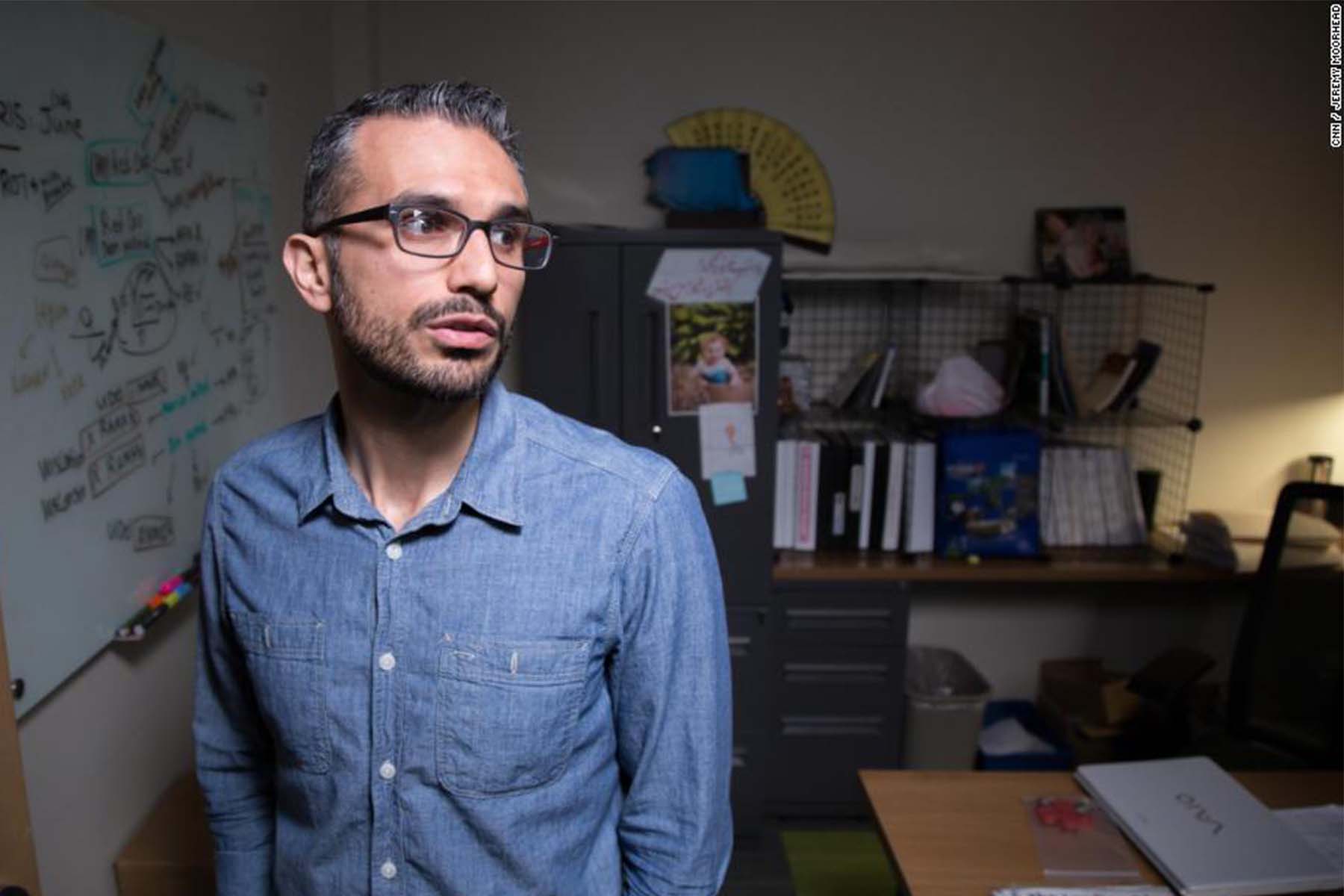 Daniel Burke as "He applied for a green card. Then the FBI came calling" for CNN.com Wire Service
Mehdi Ostadhassan was at an academic conference when he received a mysterious phone call from the FBI.
The Iranian native had moved to Grand Forks, North Dakota, in 2009 to study petroleum engineering. After marrying an American citizen and becoming an assistant professor at the University of North Dakota, Ostadhassan applied for a green card.
But his interview with an immigration officer in the spring 2014 was abruptly cancelled without explanation. And then, months later, came this call..
"This is Agent Richard from the FBI," said the voice on the line, Ostadhassan recalled. "I'd like to talk to you about your recent trip to Iran."
Five years later, Ostadhassan still has no green card. Instead, he is tangled in a web spun by forces larger than himself, including an obscure national security program, an ACLU lawsuit against the US government and escalating tensions between the United States and Iran.
There have been nights when Ostadhassan's frustrations overflowed and he's chucked his binder of immigration papers into the trash. But then he thinks of his thriving career, the American family he loves and his desire to raise his children in the country that has given him everything.
Or, almost everything.
"All I'm asking for is due process," Ostadhassan said. "If I have done something wrong, then kick me out or present my case to an immigration judge."
But the US government seems to be more interested in Ostadhassan's past than his future.
His instinct on that October day in 2014 was to meet with the agent. He had nothing to hide.
Then Ostadhassan started Googling. He didn't like what he found.
Living in Limbo
Ostadhassan and his family live in a small apartment near the outskirts of Grand Forks, where the strip malls meet the soybean fields. A toddler's toys lie in neat piles. College textbooks, bills and two big binders full of immigration documents cover the dining room table. 
Colored pins on a world map mark the places Ostadhassan and his family have visited. His pin hasn't left the United States since 2014, when he returned from his honeymoon in Iran.
Back then, Ostadhassan had been optimistic about his prospects in the United States. Now he swings on a pendulum of emotions: hope, despair, hope, despair.
"It's like living in limbo," Ostadhassan said. "You never know what's going to happen, or when."
The ACLU, which is representing Ostadhassan in a landmark legal case, says his uncertainty can be traced to an obscure national security program called CARRP, which stands for Controlled Application Review and Resolution Program.
The program, which began in 2008 under President George W. Bush, is used by US Citizenship and Immigration Services (USCIS) to vet immigrants it classifies as potential national security concerns before granting green cards, citizenship or asylum.
But not much is known about how CARRP actually works or who it selects for additional levels of scrutiny. USCIS told CNN they would not comment on questions about CARRP.
Immigrants and their lawyers are often kept in the dark about CARRP, according to court documents and depositions of USCIS officers. The program is not found in any public statutes or agency regulations. Even seasoned immigration experts told CNN they had no idea CARRP existed. 
The ACLU argues that CARRP is discriminatory and illegal. The Justice Department counters that CARRP is essential to maintaining national security.
Immigrants have yet to successfully challenge the program in court. Each time they've tried, USCIS has quickly resolved their complaints, leaving them without standing to sue.
Next March, CARRP will finally have its day in court, when a federal trial, Wagafe v. Trump, begins in Seattle. It's a class action suit, which means Ostadhassan's legal fight extends to thousands of immigrants who suspect CARRP has played a role in delaying or denying their applications to live and work in the United States.
Already, the lawsuit has cracked open a window into CARRP, which has been used to vet nearly 42,000 immigrants since 2008, according to documents obtained by CNN through a Freedom of Information Act (FOIA) request.
Outside the courtroom, the controversy over CARRP contains some of the most contentious issues of the Trump era, namely immigration, national security and allegations of anti-Muslim discrimination.
In North Dakota, Ostadhassan tries to follow the legal cat and mouse between the ACLU and Justice Department. 
But by the time his trial rolls around, he may have already left the country. 
Flirting about physics
Ostadhassan is laid-back and fit, a workaholic who feels antsy when he doesn't hit the gym. At 36, his black hair is graying at the temples. A petroleum engineer and devout Muslim, his personality mixes earthbound practicality with heaven-sighted certitude.
In his office at the University of North Dakota, among the complicated equations colorfully drawn on glass walls, hangs an Iranian poem reminding him that God's eyes see all.
"God has never stopped paying attention to me," Ostadhassan said on a warm day last year. "I have seen it, have felt it with every cell of my body and my soul."
Ostadhassan's wife, Bailey Bubach, can keep a close eye on him as well. Her office is across the hall, where she's a college administrator and professional adviser in the petroleum engineering department.
Ostadhassan met Bubach, who is friendly and forthright, at a university picnic when she asked him a question about physics.
"I was trying really hard to flirt with him," Bubach said with a laugh. "But he didn't pick up on it."
"I totally didn't get it," Ostadhassan agreed. "Who flirts about physics?" 
Raised Catholic, Bubach converted to Islam before she and Ostadhassan began dating. Like Ostadhassan, she's now a Shiite Muslim. A bright blue hijab matches her bright blue eyes.
In 2014, after Ostadhassan earned his doctorate in petroleum engineering, the couple married. A month later, he applied for a green card. 
The next step should have been an appointment with US Citizenship and Immigration Services in St. Paul, Minnesota, the closest field office to North Dakota.
But after waiting for two hours in the lobby, they were told the appointment had been canceled. They were not told why, the couple said.
Perplexed, the newlyweds drove back to North Dakota.
It's like the No Fly List
After five months passed with no word from USCIS, Ostadhassan and Bubach tried to schedule another appointment in St. Paul.
When they arrived at the field office, a clerk told them that a "third party" was investigating their applications. (Bubach had applied to have Ostadhassan recognized as her husband, a necessary step toward obtaining a family-based green card.)
The ACLU says the "third party" was likely the FBI. It was the first indication, they said, that Ostadhassan may have been ensnared by CARRP.
An FBI spokesperson declined to answer questions about Ostadhassan or comment about the agency's interactions with him. USCIS told CNN they would not comment on questions about Ostadhassan because of his court case.
In a statement, USCIS spokesman Daniel Hetlage said: "As part of our mission of safeguarding the integrity of the nation's lawful immigration system, securing the homeland and ensuring fair and proper adjudication, USCIS identifies, vets and adjudicates applications that present national security or egregious public safety concerns in accordance with the law."
The ACLU argues that CARRP is mostly used to prevent Muslims and immigrants from Muslim-majority countries from obtaining benefits open to others. 
Between April of 2008 and January 2016, USCIS opened nearly 42,000 CARRP cases, according to documents obtained by CNN through a FOIA request. The top five countries of origin all have large Muslim populations: Pakistan, Iraq, India, Iran and Yemen.
One USCIS document lists 20 countries from which immigrants were subjected to CARRP from 2009-2012. In all except one — Sri Lanka — Muslims form a majority of the population. In May of 2018, CNN asked USCIS for an updated list but has not received the information. 
As of April 2018, more than 4,800 immigrants were being investigated through CARRP, according to documents filed by the Justice Department in Ostadhassan's court case. USCIS has not responded to CNN's requests for more recent numbers.
Congressional guidelines instruct immigration officials to process most applications within 180 days of when they are filed. But for some immigrants the process can last for years, without their ever knowing why.
"We are not saying that the government can't investigate national security concerns," said Sameer Ahmed, a former ACLU attorney who worked on Ostadhassan's lawsuit. "But the individual should have the right to challenge that information and the right to be heard." 
Ahmed compared CARRP to the No Fly List, a program that prevents people suspected of presenting national security concerns from boarding commercial airplanes that enter US airspace. After extensive litigation, the government must now tell US citizens and permanent residents if they are on the list and give them an opportunity to respond.
When he drove home from the USCIS office in 2014, Ostadhassan had never heard of CARRP. But he knew his immigration status was in trouble.
Fallout from the FBI call
On that call in 2014, the FBI agent suggested they meet at a popular coffee shop in Grand Forks. Ostadhassan agreed. 
But after he hung up, Ostadhassan searched online, where he found reports accusing FBI agents of offering to help immigrants if they agreed to inform on fellow Muslims. An FBI spokesperson declined to comment on the accusations.
Worried that the FBI might ask the same of him, Ostadhassan started looking for a lawyer.
Through the University of North Dakota's website he found Sabrina Balgamwalla, who supervised its immigrants' rights clinic at the time. She now directs the Asylum and Immigration Law Clinic at Wayne State University in Detroit.
Balgamwalla promptly replied to Ostadhassan's email: Don't even think about meeting with the FBI — at least, not without a lawyer.
"Mehdi was very concerned about following the rules and doing the right thing," Balgamwalla said. "He felt like he had an obligation to meet with the FBI agent."
Balgamwalla returned the FBI agent's call on Ostadhassan's behalf, asking what the proposed meeting would be about.
"It's totally voluntary," she recalled the agent answering.
"Yeah, but what's it about?" she pressed. "I'm happy to help with any questions you may have."
The agent repeated that the meeting was voluntary, and that Ostadhassan was free to decline, Balgamwalla recalled.
"And that was the end of the call," she said.
The couple said they were willing to meet with the FBI if the agent had told them more about what he wanted.
"The weird thing here is that they wanted to meet with him alone," Bubach said. "If there were something they really wanted to ask him, why wouldn't they deal with his lawyer?"
The FBI declined to comment about this interaction.
After talking to the FBI agent, Balgamwalla was troubled. Though she had been practicing law for seven years and specializes in immigration, she had never heard of CARRP.
Balgamwalla wasn't alone. Even the ACLU discovered the program almost by accident.
Read the full article here.