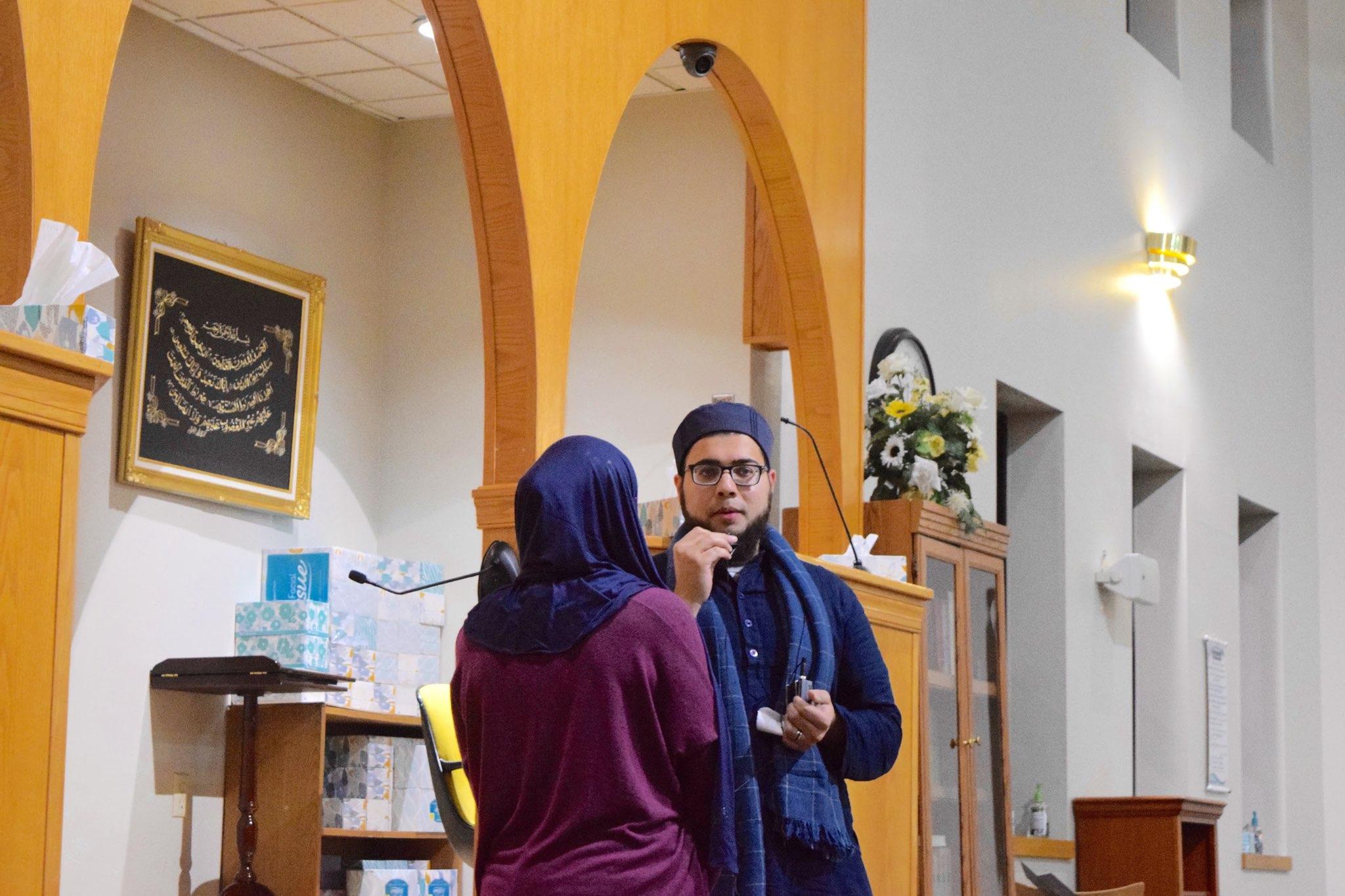 At last Saturday night's ISM Core program, Shaykh Ameer Hamza made a surprise announcement. The theme of this fall's program is "Untold Stories of Sacrifice: 5 weeks of inspiration where we reflect on the past to inspire change in the present." Each "episode" features talent performances, a speaker, food, and suhbah.
The November 2 session was the fourth in the series. The sessions are held on Saturday nights after maghrib prayer in the main prayer hall at ISM. Young women sit on the left side of a low green curtain that divides the prayer hall, young men on the right.
The room hummed with quiet excitement as people waited patiently for the program to begin. I asked one girl, Jouhara, 14, a student at Salam High School, what she liked about ISM Core. "We learn different aspects of our religion other than what we learn at school," she said, "It's nice to get together with our community."
Shaykh Hamza began the program by speaking about the importance of young people to Islam. "The majority of the companions of the Prophet accepted Islam in their teens or twenties," he said, adding that one of the Prophet's companions was only 10 when he became a Muslim.
"Islam has stood on the shoulders of young people," said Shaykh Hamza, who at the age of 15, was the youngest person ever to lead prayers at ISM. "This really inspires me a lot." Hamza, now 32, left a position as a financial analyst at Eaton Corp. and studied to become an imam at Qualam Institute in Arlington, Texas. His training was sponsored by the Islamic Society of Milwaukee because of the need to have younger imams who have grown up in the United States and can connect with the youth.
He told the Quranic story of Musa (Moses), who led his people into the desert and then "was stuck out there for 40 years." Hamza said this long sojourn in the desert proved necessary because, in that time, "a new generation came up" and through them, Musa was finally able to fulfill the word of God.
Then Shaykh Hamza made his surprise announcement, leading up to it with a relevant analogy. The ISM Core "off-season" would begin after the November 9 session, the last in the series. But, he said, "Superstars are made in the off-season, not in the ring. They're merely recognized there. Champions are made in the dark."
Hamza announced that in the "off-season," ISM Core would be dedicated to working with young people "who genuinely want to fall in love with their religion. Who genuinely want to be mentored" and who would be able to engage in "deep religious studies" through Core Academy.
This "groundbreaking, revolutionary next step," would be taken by "not 300 people" – the approximate number of those who attend the programs on Saturday nights – but 30. "We're looking for the committed 30," Shaykh Hamza said. "We'll hang out together, travel together." The "off-season" program would "funnel activists for the next generation."
Each of the imams at ISM works with a different demographic, Hamza said during a follow-up phone conversation. His demographic is teen-agers, college students, millennials, and young professionals. "My job is to provide really cool, neat programming that is inspirational and sophisticated," he said. Sophisticated because it is "intellectually satisfying, has intellectual depth," so that "when they go off to college and take Philosophy 101, their faith doesn't come crumbling down."
Hamza's strategy is to create a bottom-up organization, working with small groups who are then "unleashed" on the larger community, which includes providing youth programming at other mosques. That strategy was in evidence on Saturday night at ISM, where enthusiastic volunteers staff the meeting, doing check-in, taking videos and photos, working the projector, and keeping order in the crowded lobby outside the prayer room.
Saturday night's program was a demonstration, not merely a discussion, of commitment to Islam. Before things got underway, a sister and long-time community member said her shahada with Hamza and then spoke about her journey to Islam. Though she had been married to a Muslim for sixteen years, she was raised Catholic and "spent five years not believing what I had once believed but not accepting Islam." Then, she said, her search for information lead her to the Islamic Resource Center and its vast library. The sister now says she was a believer, "the moment I opened the Quran."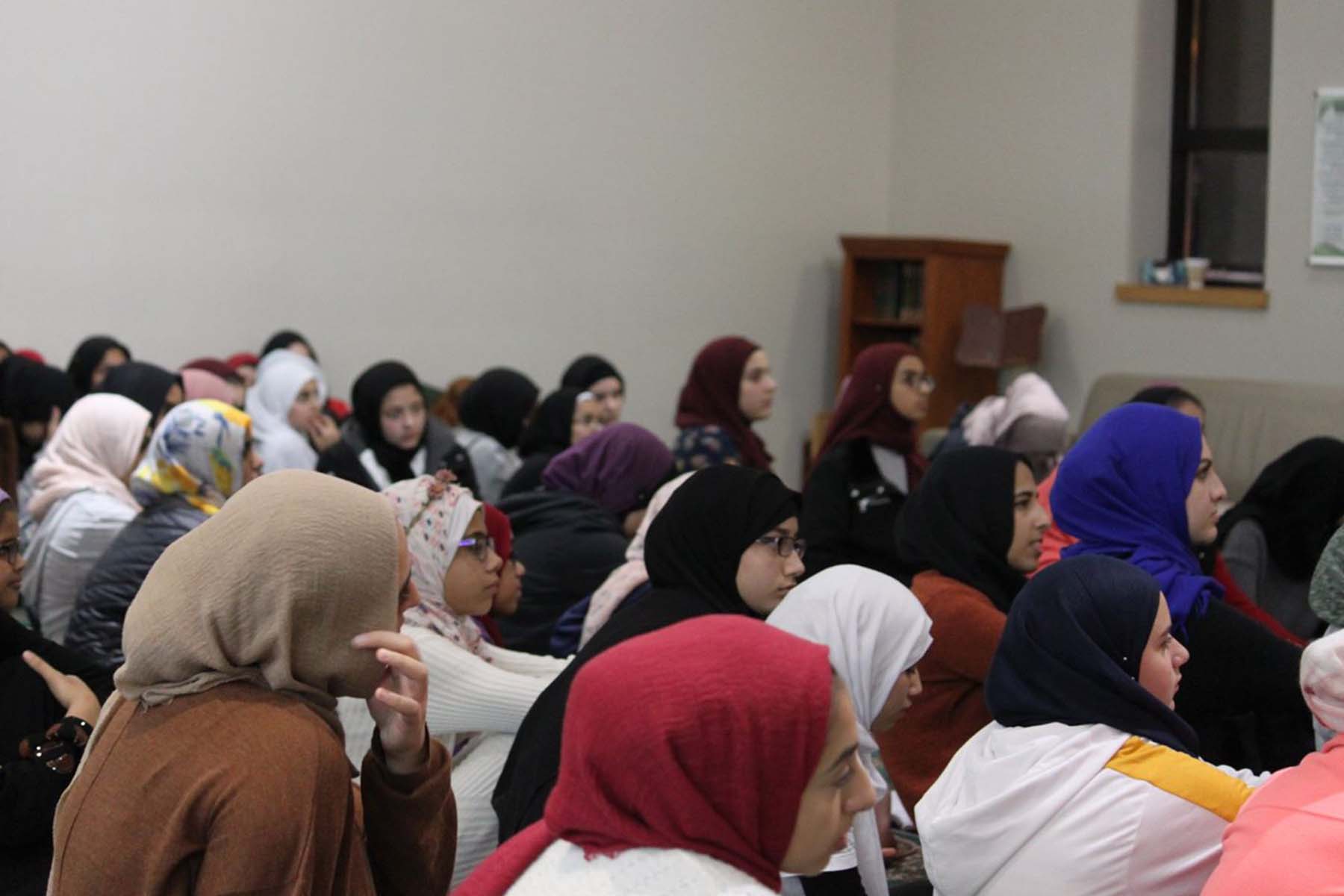 The reciter who opened the November 2 program was Fadli Abdirahman, a young woman whom Hamza described as an "outstanding student." She recited verses from the Quran first in Arabic and then in English.
The evening's talent segment consisted of spoken word performances by a brother and sister from Illinois, Sara and Hassan Hussein, who performed individually and then together. Before Sara began her performance, she said, "How focused the masjid is right now is amazing."
After the Husseins surrendered their mics, Habeeb Quadri, the superintendent of the Muslim Community Center Academy in Morton Grove, Illinois, took center stage. Quadri is the first principal from an Islamic school to receive the National Distinguished Principal award, and one of only five private school principals selected for the award in 2019.
He began his talk by zeroing in on "being Muslim and finding my identity." When he said, "On social media, you see other people and you want to be like them. But if you find your true self, it's easy," his audience responded with enthusiastic applause.
But Quadri was also tuned in to the program's theme of sacrifice. "When you want to really sacrifice, you have to do it for some purpose," he said, assuring the young audience that Allah, the provider and protector, would never desert them. "When we make mistakes, we may get mad, but Allah gives us chance after chance."
And he explained that those present had already made a sacrifice. "You did sacrifice your time," he told them. "You had other options to go anywhere else on a Saturday night, but you came here." He told the group, "Allah has given us free will. When you want something, sacrifices have to happen."
Quadri, a dynamic speaker who peppered his talk with jokes, told his audience that one of the major problems that confronts young people today is mental illness. "If you're going through those struggles, wanting to hurt yourself, you have to get help and support," he said. "Never lose hope in Allah."
Despite some serious subject matter, the evening's program was also about fun. After Quadri's talk, the young women went back upstairs to the balcony, and the barrier was removed in preparation for a jujitsu demonstration, to be followed by an air pod race.