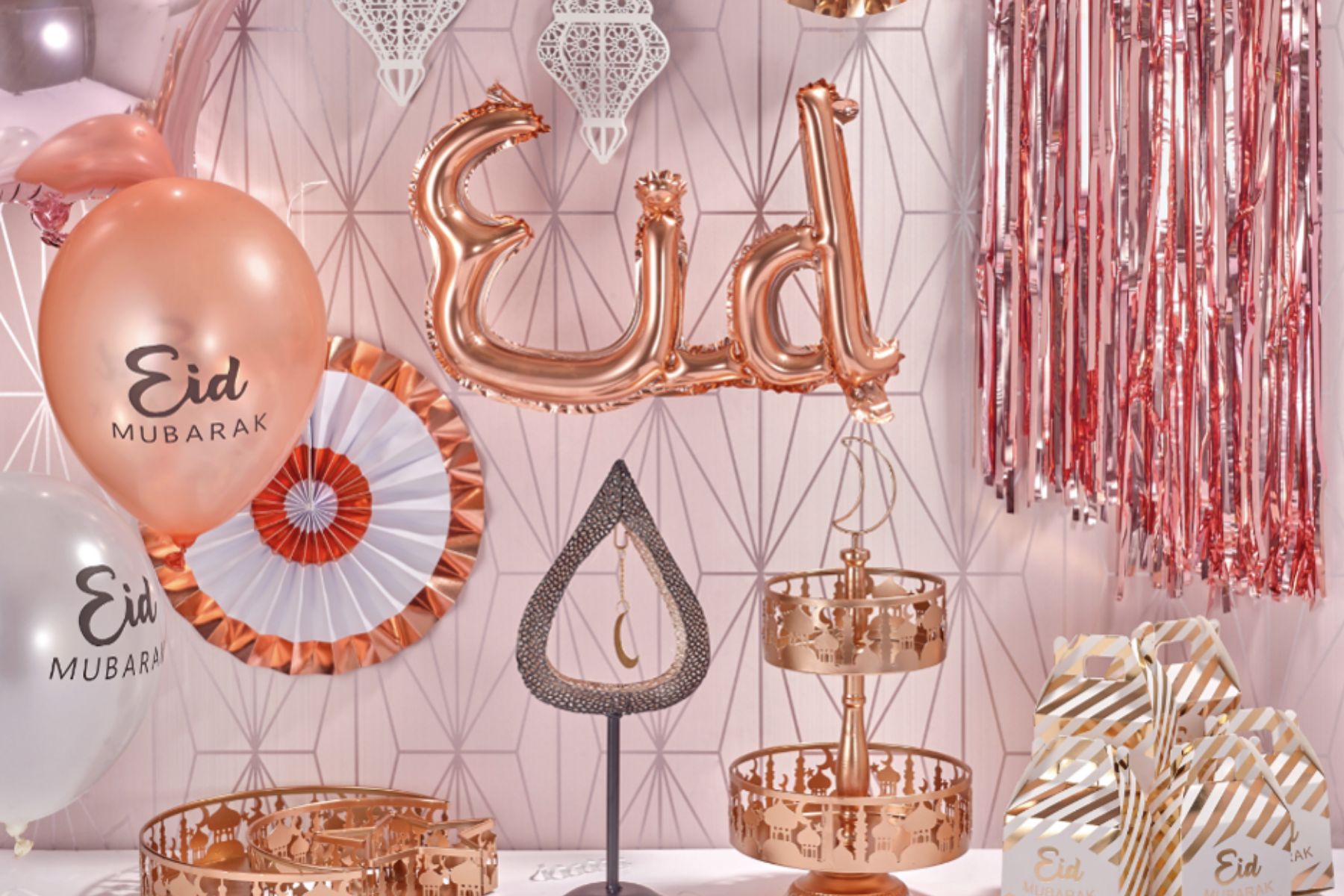 With Eid-ul-Adha coming up end of this month, Muslims all over the world look forward to this holiday. Many choose to decorate their homes to create a festive atmosphere for their families and loved ones. However, the options for Muslims to find Eid décor from existing retailers were few and far in between. While Party City has a Eid lineup, the options are still limited. It was about time this changed. One of the biggest Muslim celebration suppliers in the world include one that is a family business: Eid Party. Started by the brave Riz Kayaalp and her family who saw a major gap in the industry, she decided to take a stab in creating something magical in satisfying the changing and growing needs of the Muslim community.
Riz found out that hosting a stylish and affordable Eid celebration was a real challenge so she and her family decided to do it themselves. Dissatisfied with the alternatives out there, they began to design and manufacture a small line of Eid and Ramadan themed decorations to have full control of the design, quality and price of their products.
"The main reason we started Eid Party was because my children always wanted to celebrate Christmas due to all the glamorous lights that are put up during that time. The products to celebrate Eid were very limited. Even when looking for balloons, there was a limited range and they were so expensive. I used many DIY products. Three years ago, I realized that I can have some of it designed, sell it on a massive scale, and it can be cheaper than what's available. We started designing balloons," Riz says.
Within a few short years, Eid Party added more products since customers weren't just looking for balloons. They were also looking for a one-stop shop where they can find everything and needed to celebrate Ramadan and Eid without going to other shops or buy things on Amazon. "It was much easier to have a large product range and for the customers as well. Our product range over the years has gotten larger. Our vision is to pass on our enthusiasm for Eid and Ramadan and make the time special and enjoyable for Muslim children," Riz explains.
Compared to other companies trying to make a place in the Muslim world, Riz had a leg up since she had another business that helped to launch Eid Party. They have also invested a lot of time and money on brand awareness by working through social media, attending exhibitions, and creating digital pieces. In 2020, Eid Party went to Turkey and did a digital advertising campaign. "Customers value your brand as much as you do. I show my customers that I invest in my brand by showing my audience my products. Even though some people might still take digital videos for something like party items, despite only selling balloons, I can still create amazing videos in different locations where people will look at our products and remember it. They realize that the ad is linked to Eid Party and they realize that we put in a lot of effort in these videos or pictures, which they appreciate," Riz describes her methodology.
Today, Eid Party is internationally renowned and has changed the way Muslims celebrate their celebrations. Boasting 118K followers on Instagram alone, Riz happily declares how now she sees less of a comparison of Christmas to Eid because Eid can be just as glamorous and decorative while having its own unique identity. "Many Muslims remember growing up in the West seeing how festive Christmas was. Even though we got Eid money, good food, and festive events, there was no decorations. We want Eid Party to change the Muslim world when celebrating Eid or Ramadan by making children and adults happy," Riz adds.