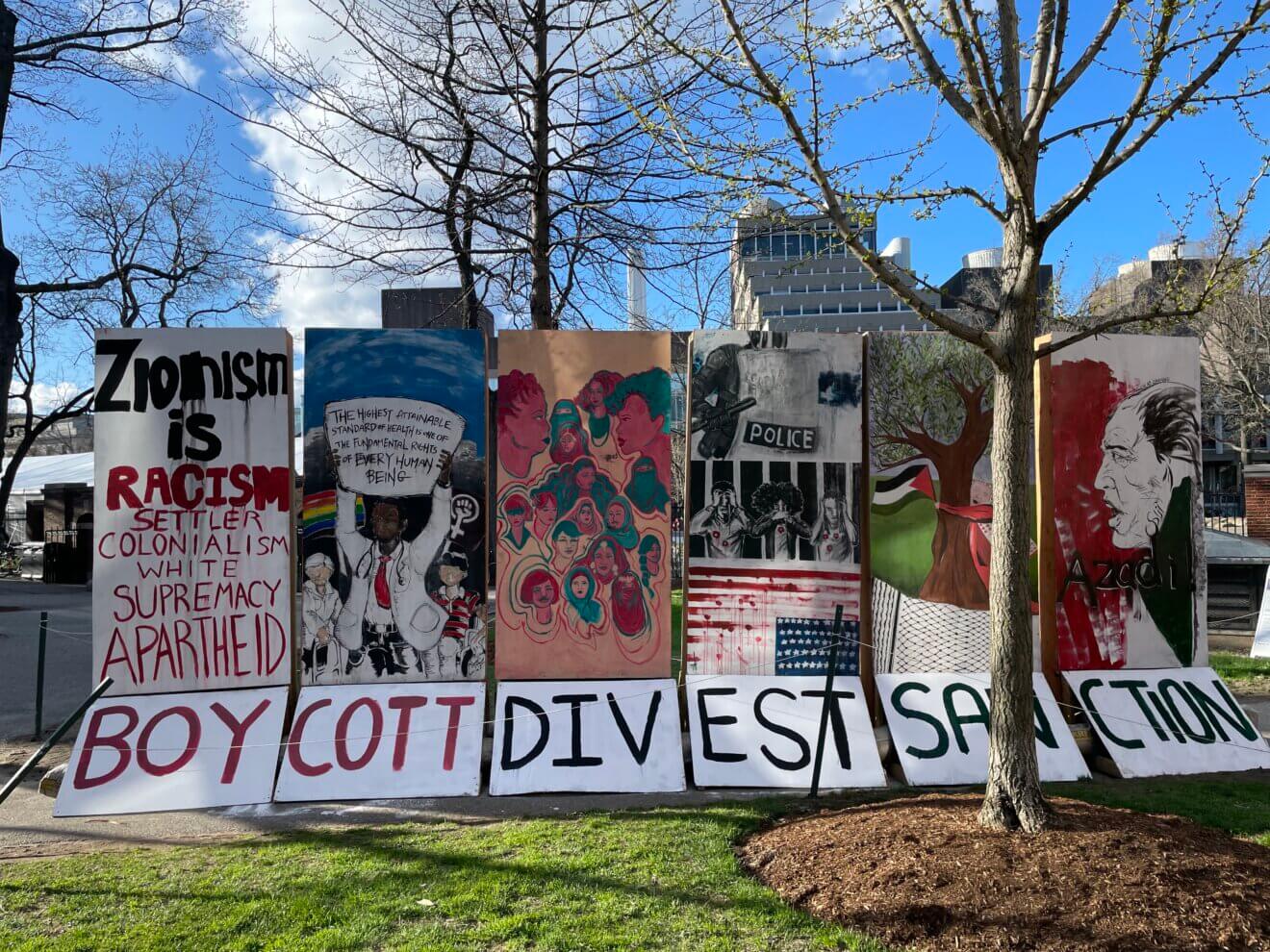 SC'S APARTHEID WALL ART INSTALLATION FEATURED IN HARVARD YARD DURING IAW 2022
For the past couple of weeks, The Harvard Crimson's "Opinion" section has been flooded with op-eds and letters on a single topic: BDS and Palestine. From angry alumni opinion pieces and letters signed by various Harvard affiliates, to Tweets from high-profile politicians like US Senator Ted Cruz, The Harvard Crimson's April 29, 2022 editorial "In Support of Boycott, Divest, Sanctions and a Free Palestine" has drawn incredible levels of backlash to organizers and student journalists alike. It has also been the start of an unprecedented conversation– one decades overdue– about the central role of Palestine in discourses about justice, and the changing way in which young people are engaging with the Palestinian cause on college campuses. 
For members of Harvard College Palestine Solidarity Committee (PSC), April 29th was a watershed movement. The day feels like a blur, marked by tears of joy as we read and re-read the Editorial Board's decisive words:
"PSC's spirited activism has proven successful: It has forced our campus — and our editorial board — to once again wrestle with what both Human Rights Watch and Amnesty International have called Israel's 'crimes against humanity' in the region."
And while this endorsement of our work feels isolated with the backdrop of constant backlash and criticism, it is a real testament to a shift in rhetoric on Harvard's campus, fueled by generations of student activists and organizers.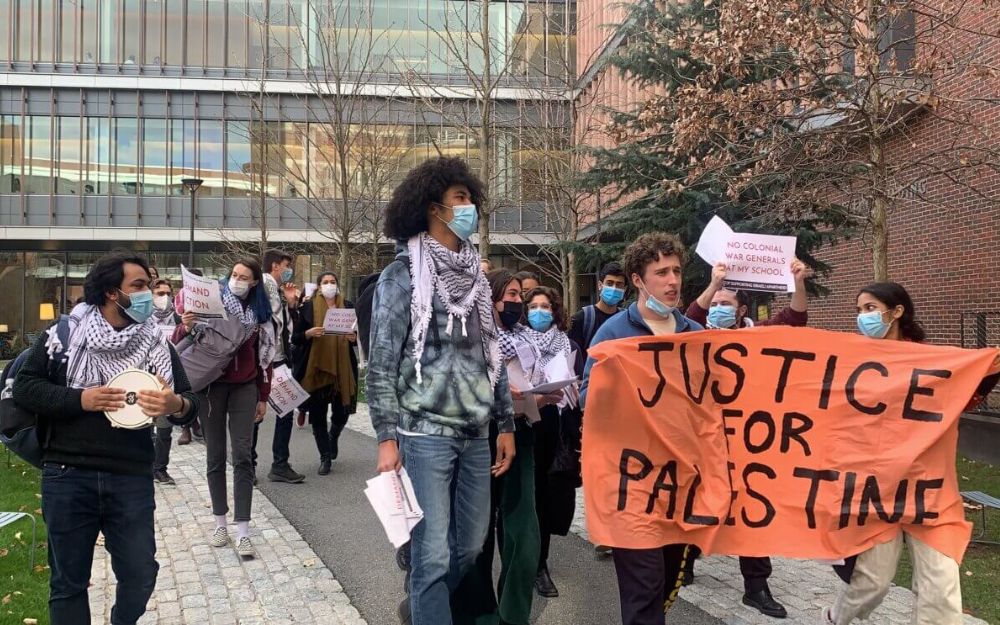 PSC STUDENTS LEAD A DEMONSTRATION PROTESTING RET. IDF GENERAL AMOS YADLIN'S STUDY GROUP AT HARVARD KENNEDY SCHOOL
Harvard PSC has campaigned for decades, working to bring conversations about justice in Palestine onto Harvard's campus, via guest lectures, cultural events, film screenings, and more. After a year of virtual advocacy during the pandemic, we kicked off our in-person programming this year by hosting author and activist Mohammed el-Kurd, in an exciting event that attracted hundreds of attendees from Harvard and the Greater Boston Area. Most recently, in mid-April, we hosted a week of programming for our annual Israeli Apartheid Week (IAW), PSC's largest and most visible campaigns throughout the year. In addition to speaker events about Black-Palestinian solidarity, Queer Palestinians and pinkwashing, and various human rights-related conversations with experts, IAW also featured an eight-foot "apartheid wall" art installation which, inspired by the protest artwork on the apartheid wall in the occupied West Bank, included murals in solidarity with various social justice causes across the world.
In 2020, we launched the Harvard Out of Occupied Palestine (HOOP) campaign, our BDS-inspired initiative that calls on Harvard to disclose and end its investments in companies that contribute to human rights violations by operating in illegal settlements, and seeks to address the various ways in which Harvard is complicit in apartheid. This year, we focused our efforts on boycott campaigns targeting the presence of Sabra food products in Harvard's dining halls and the Hillel-funded Israel Trek, and also protested a recurring study group at Harvard Kennedy School led by a retired Israeli war general. 
The backlash has been constant and strong, and our detractors often hold significant positions of power, meaning that student advocacy is met with actions and rhetoric from individuals with significant political and institutional platforms. During our last in-person IAW– back in 2019– the Undergraduate Council had to undergo a special vote to determine whether or not to fund PSC programming for the week, due to lobbying from Zionist students. "Student organizations at Harvard like PSC have limited funding resources and often rely on the Undergraduate Council grants to put on events," said Nadine Bahour, an organizer with PSC. "However, this very routine application and grant request turned into an unequal and targeted hours-long meeting where us, student organizers, were blamed and shamed for our work and organizing." Although they eventually voted in favor of PSC, the issue of funding is still recurring; most recently, PSC was denied a university grant for programming due to the fact that it was a "political" organization, although other organizations with political purposes had been funded.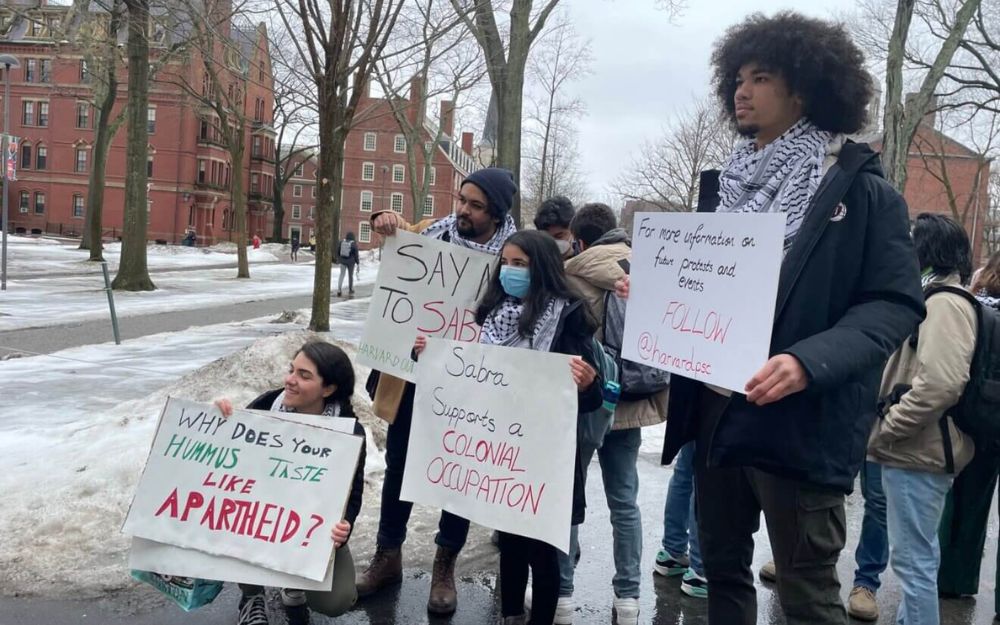 PSC STUDENTS LEAD A PROTEST CALLING FOR THE BOYCOTT OF SABRA FOOD PRODUCTS IN HARVARD'S DINING HALLS
Beyond funding, pushback against PSC has often come from people on Harvard's payroll. IAW 2022 was met with hatred spearheaded by Harvard-employed administrators of Harvard Hillel, a chapter of Hillel International which also runs the Harvard Israel Initiative (HII). From emails and social media posts that took issue with PSC's framing of Zionism as racism, to a postering campaign and counterprotest that included various non-Harvard affiliates, HII and leaders within Harvard Hillel have been vocal about their opposition to PSC's work and principles. 
The Crimson has traditionally been a vehicle for much of PSC's opposition, platforming Zionists, offering imbalanced narratives, or imposing a false symmetry. "Their [Crimson's] policy of not allowing Palestinian students and allies to publish anonymously effectively silences  pro-Palestinian voices, my own included," shared Hosam Nasr, a recent alum and organizer with PSC. Previous editorial board decisions have ranged from vehement condemnations of BDS, as in 2002, or lukewarm acknowledgements of human rights concerns that maintain the rejection of divestment, as in 2020. After a week of successful programming, The Crimson covered IAW with a front-page headline in print: "Apartheid Week Draws Backlash." 
It was thus unexpected that a week later, the Crimson Editorial Board would offer such a scathing criticism of Israel's human rights violations, calling issues like apartheid and colonialism by name, and fully endorsing the BDS campaign. Although the shift caught us by surprise, in reality, it goes hand in hand with small, but significant, successes we have seen throughout the year. As a result of conversations with PSC members, some residential house administrators decided to discontinue the serving of Sabra foods in their houses. After our campaign to boycott Israel Trek encouraged five students to give up their spot on the trip, and about ten other students attended our post-trek office hours to discuss how to move forward and educate themselves about the power imbalances perpetuated by the trip. Granted, these are small numbers, but they build on the tireless efforts of years past, and we are confident that upcoming years will yield greater results.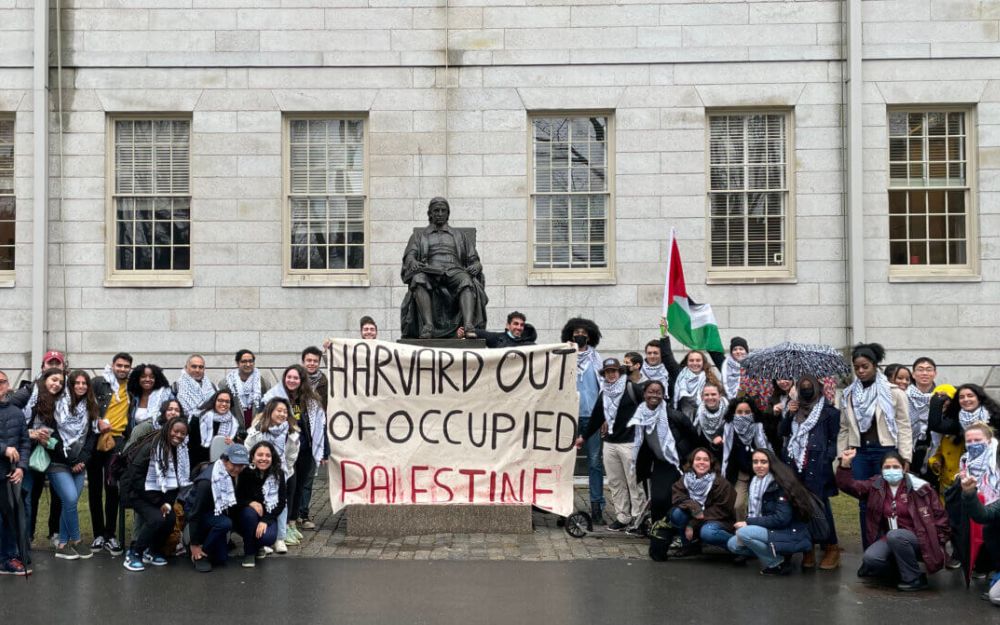 HARVARD STUDENTS POSE FOR KEFFIYEH THURSDAY, PSC'S WEEKLY VISIBILITY CAMPAIGN WHERE STUDENTS WEAR THE TRADITIONAL SCARF IN SOLIDARITY WITH THE PALESTINIAN CAUSE
The recent backlash against The Crimson and PSC has been immense, but all speaks to the impact of our work. When alumni from decades ago holding significant positions of power feel the need to write letters to a student newspaper denouncing its editorial, it becomes evident that we have accomplished something big. When politicians and international media seek to slander The Crimson and PSC, we realize how visible our movement is becoming. When university administrators must repeatedly relocate and restrict access to a study group led by a war general to prevent it from being discontinued because of student protests, it is clear that our voices have been effective and loud, and will remain as such. 
Institutional pushback is draining and frustrating, but as student activists, we have come to realize that our power lies in bringing attention to our cause amongst our peers. Rather than thinking about how to respond to Zionist alumni with big names and powerful positions, we seek power in galvanizing student support for Palestinian liberation. We seek to build solidarity with other social advocacy causes, pushing students who hide behind "neutrality" to engage with critical questions of oppression and inequality, and bringing conversations about justice to our friend circles, cultural spaces, and classrooms. 
The recent Crimson editorial goes to show that our approach is working. Students– those generally unengaged with PSC's work– are starting to listen and those are the audiences that matter. Faculty members are stepping in to lend a voice of support. We remain steadfast in our call for Palestinian liberation, inspired by decades of students before us– from PSC members to activists calling for divestment from the apartheid South Africa regime. This is just the beginning and our movement will only keep growing.