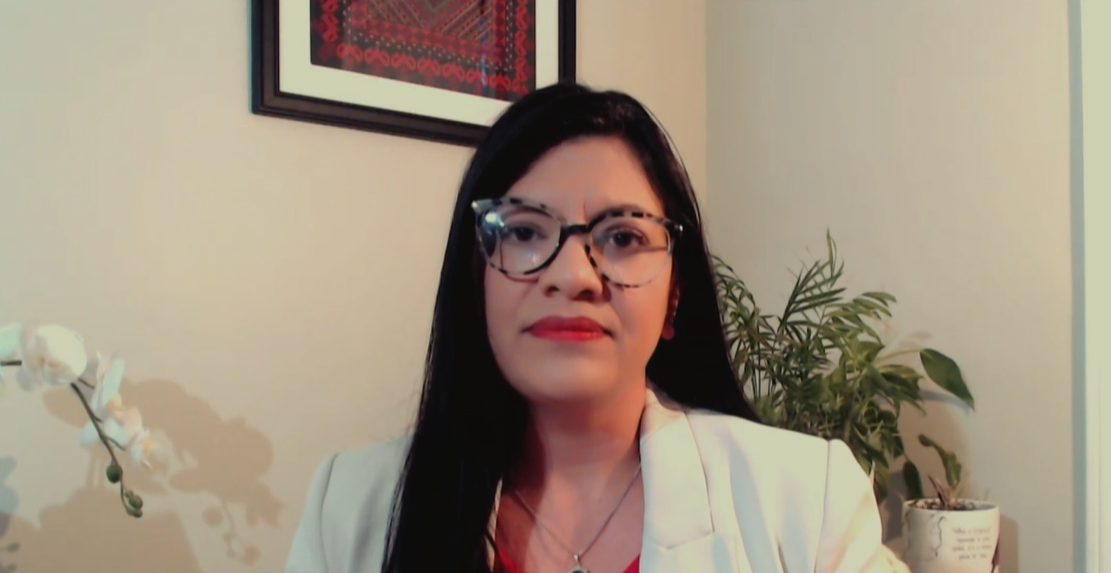 Rep. Rashida Tlaib speaks of Israeli Apartheid and he Nakba commemorations ceremony at the Capitol to Ayman Mohyeldin on MSNBC, May 13, 2023. Screenshot.
The 75th anniversary of the Nakba has brought unprecedented coverage in American media of the Palestinian experience. No, it doesn't yet rival commemorations of other historical events from that period. But in a new high-water mark, MSNBC and NPR both did very good Nakba pieces, with Ayman Mohyeldin speaking of the "ethnic cleansing" of Palestine; and Vox did a long explainer laying out the history of the Nakba.
This is a new mood on the left in U.S. media; and American Zionists are scrambling to keep up with the discourse.
NPR's Daniel Estrin today described Palestinian villages being "entirely depopulated and destroyed," and visited one: Yalu (near Ramle) which was erased after the 1967 war and replaced by an Israeli park. A Palestinian from the West Bank showed him around on what was once a road, and is now a trail, pointing out the sites of homes and a mosque.
"Wow. This is where your grandfather's house was," Estrin said. "There's a berry tree, there's a pomegranate tree, next to her grandfather's old house. What is no longer here is mapped out in her mind…. Today her extended family lives in a West Bank refugee camp. Many of them need a special Israeli permit to make this kind of visit to their ancestral village."
Estrin explained that "millions of Palestinians live stateless and under occupation," and the Palestinian right of return is core to their understanding.
"Today [Yalu is] a popular park with a forest planted over the ruins… Today the younger generation asks, why do I live in a crowded place in the West Bank when I have this land."
There is a new thinking that opposes the two-state solution, Estrin said.
"Many Palestinian writers today are imagining a one state future together with Israelis," he said.
On MSNBC on May 13, Ayman Mohyeldin dared to speak of "the ethnic cleansing of towns and villages" during the Nakba, then said that the Republican effort to block a commemoration of the Nakba at the Capitol is of a piece with efforts to suppress the history of American ethnic cleansing.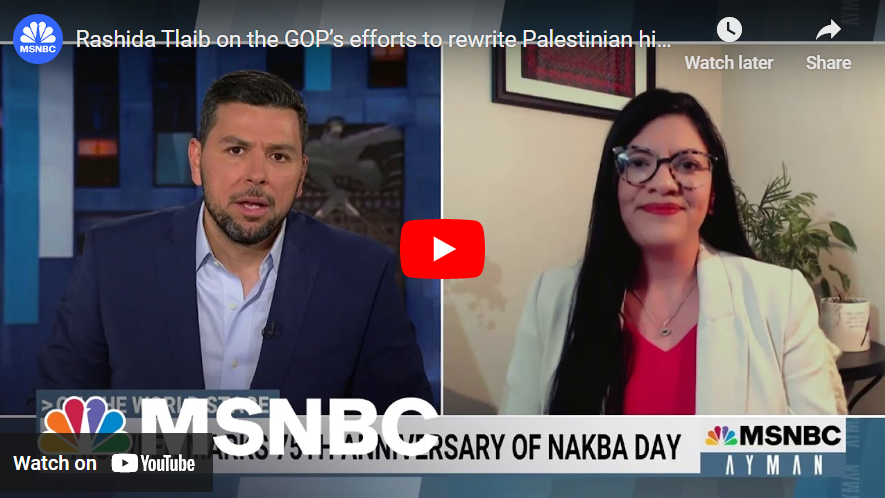 Mohyeldin then gave an extensive interview to Rashida Tlaib, the Michigan rep who pulled off that Nakba commemoration in Washington last week with the help of Sen. Bernie Sanders.
Tlaib explained she had to commemorate the event given her history– "growing up with two Palestinian immigrant parents, talking about not only the Nakba of 1948 and the experiences that they heard from their own parents but also the fact that the Nakba never ended for many Palestinians currently living again under what many… human rights organizations call the apartheid."
I'd note that the Israel lobby group ADL sought to shut down that Nakba commemoration by saying that Tlaib has used incendiary slander for Israel, "apartheid." "Apartheid" is a red line for the Israel lobby in D.C. But Tlaib refuses to be censored. (Liberal Zionists have stood up for her right to commemorate the Nakba.)
Tlaib described the event at the Capitol as triumphant. It included a statement by an 80-year-old Palestinian woman who told of carrying her 40-day-old sister away from a village being attacked "brutally" by a Zionist militia, the congressperson said.
"Over 400 Palestinian villages were erased," Tlaib said. "If we [the U.S.] are to be a true broker of peace, we have to recognize all the trauma and the pain and the history of the Palestinian people."
She said this story must find its "home" on Capitol Hill. While Mohyeldin observed that U.S. "public sentiment is changing on Israel," due in part to "the most extreme government in its [Israel's] history."
Finally, here is that Vox historical explainer, done skillfully by Ranjani Chakraborty.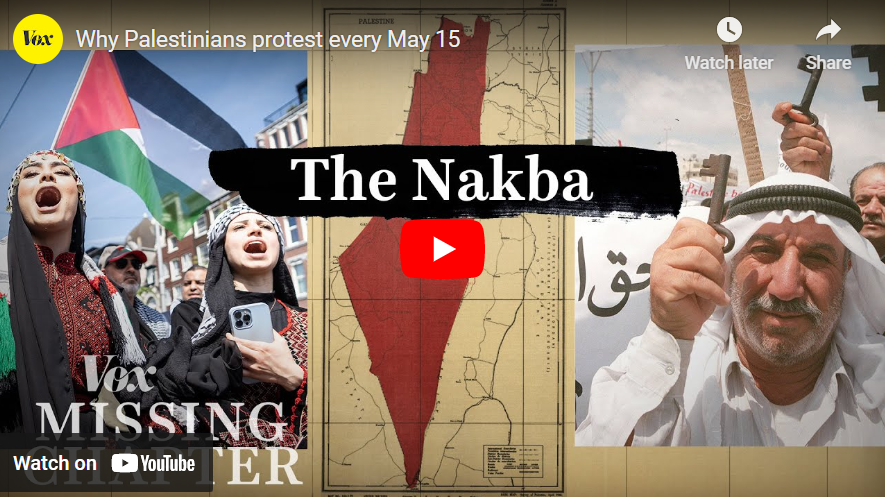 The piece begins dramatically with the memories of Dawud Assad, a survivor of the Deir Yassin massacre in April 1948, describing the murders of his family members.
The massacre in Deir Yassin was one of many in a series of catastrophic events, Chakraborty says, and then speaks of Nakba denial:
"That history has been carefully concealed, purposefully distorted, and in the west largely forgotten."
Chakraborty honors Palestinian history, noting that though its borders were often changed by force, Palestine was, for centuries, the Palestinian home. Hundreds of villages and cities thrived in Palestinian civilization, and Jerusalem under the Ottomans was a tolerant place for many cultures. Palestinians were then "displaced from their homeland in order to create the state of Israel…"