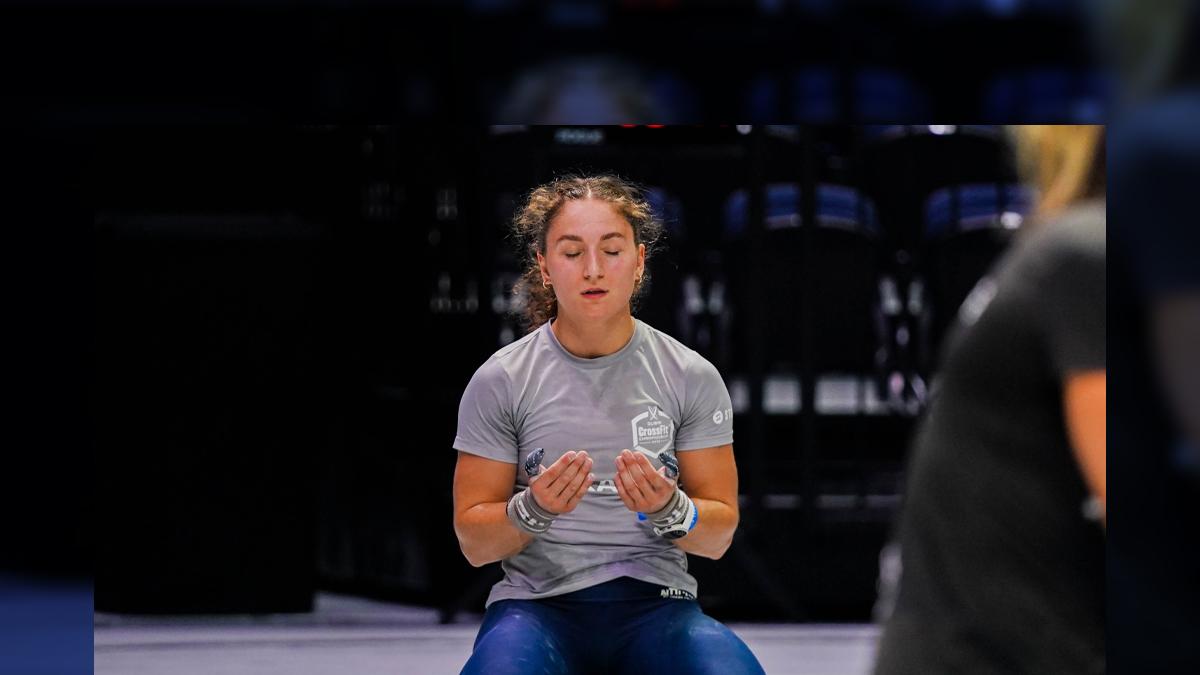 Photo Credit: PC (@ athleteseyephotography)
Like many CrossFit women, Seher Kaya has long battled people telling her she's too muscular.
The difference for 2022 CrossFit Games rookie, though, is that oftentimes these disapproving comments come from acquaintances, friends and even family members.
But the Turkish Muslim doesn't get offended. Instead, she listens to their thoughts with compassion and sees it as an opportunity to show other Muslim women another alternative to the traditional thinking that muscles are for men.
"They're not meaning anything wrong or to hurt me in any way (by their comments)…I think it's just unlikely for them to see someone like me," said 25-year-old Kaya, adding that it's just unusual for women in her family to be muscular.
"But I think it's just an important thing to show them (that I'm) a unique person."
Challenging the norm has become one of Kaya's overarching CrossFit goals.
"Of course, I see more and more women involved in fitness…(but) there aren't many Muslims in the Games, and especially women. So it's important for me to represent us. I want to show it's possible and to (give other women) someone to look up to and relate to," said Kaya, who trains at CrossFit Oslo in Norway.
So far, so good. Last year, Kaya snagged one of two Asian invites to the Games when she was second at the Far East Throwdown. She went on to place 29th in Madison, WI in her rookie season and heads into Semiinals this year the second ranked athlete in Asia from Quarterfinals, and is hoping to return to the Games again this summer.
Faith and CrossFit
Kaya's parents are both from Turkey, but when they got married they moved to Norway, where Kaya was born and raised, along with her four siblings.
Growing up in Norway made it easy for Kaya to access all kinds of sports at a young age—from handball to badminton to dancing and swimming—and although it wasn't her mother's cultural experience as a child, Kaya said her mother always approved of her interest in sports.
"My mother has always been very supportive. She's an unusual Turkish (woman)" Kaya said, adding that her mother always wanted to give her children access to opportunities she didn't have growing up.
 "She always told me, 'Whatever makes you happy, do it,'" Kaya added. 
The same was true when Kaya found and became hooked on CrossFit five years ago. No questions asked by her mother, growing muscles and all. 
"She loves when I have muscles. She admires them so much. And she also started to train just because I was into it," Kaya said. 
Despite Kaya and her family embracing the Norwegian way of life, maintaining their Muslim faith has also always been so important to them. Doing so means following Ramadan, the ninth month of the Islamic calendar dedicated to fasting, prayer, reflection and community. 
In the past, Kaya has committed herself to fasting from 8 PM until 4 AM for the entire month of Ramadan, however, this year, she made the difficult decision not to fast.
"I really wanted to fast and I think that would be inspiration for me to fast and will workout and perform as I usually do, but I talked to my team and they said it would be too risky (to fast) two months from the Semifinals," said Kaya, who speaks English, Norwegian and Turkish.
She took their advice, as she looked back to the last time she fasted during Ramadan—in 2020 in the middle of the first wave of the global pandemic—and remembered how challenging it was. 
That year, Kaya would fast from 4 a.m. until 8 p.m., and then would eat and hit her first workout of the day at 8. She'd have a little nap and wake up before 4 a.m. to workout and eat again.
"It was really hard, but I did it…but I don't know how it would be like going into the Semifinals," said Kaya, who admitted fasting in 2020 really affected her strength numbers.
Though she has chosen not to fast this year, Kaya will continue to do her daily prayers and go to Mosque, and will continue to honor what Ramadan is all about, which for her means "to feel how people that have nothing feel."
"It's (meant) to humble people and to be grateful for what you have," said Kaya, adding that honoring Ramadan, and her Muslim faith in general, has definitely contributed to her success in her sport."
"I think it has helped me a lot on the CrossFit performance side…When I'm praying I'm always thinking about what I'm grateful for, so all these things just make me open my eyes," she said. 
Looking Back, Looking Ahead  
Last year Kaya said she was just excited to qualify for the Games and her goal was simply to have fun and enjoy the experience.
But enjoying the ride in Madison proved a lot more difficult than she thought it would be, because as she explained, "I was so hard on myself."
The experience, though, only made her even more motivated to get back to the Games this summer, and with a new coach in her corner—eight-time Games athlete Kristin Holte's coach Joakim Rygh—Kaya said she "feels confident." Further, she has a secret weapon in her corner—the now retired and pregnant Holte—who has been helping Kaya with the mental side of the sport.
"I looked up to her ever since I started CrossFit, so it is just amazing having her on my team," Kaya said.
As confident as she is that she can return to the Games this season, Kaya also admits that having been there before she is feeling the heat.
"I didn't have expectations last season…so I think I'm more nervous this time around. I feel a little more pressure," she said. 
But as always, Kaya will turn to her Muslim faith when she flies to Korea for Semifinals to help remind her of the big picture: Be grateful for the opportunity.
"I know not a lot of people are able to train like I do…My worries are so small compared to what other people are worried about. I'm so lucky to have this as my job and that I can focus on training and performing," she said.
"That makes me grateful for what I can do…Grateful for the opportunity, and whatever happens I know it will be part of Allah's plan for me."