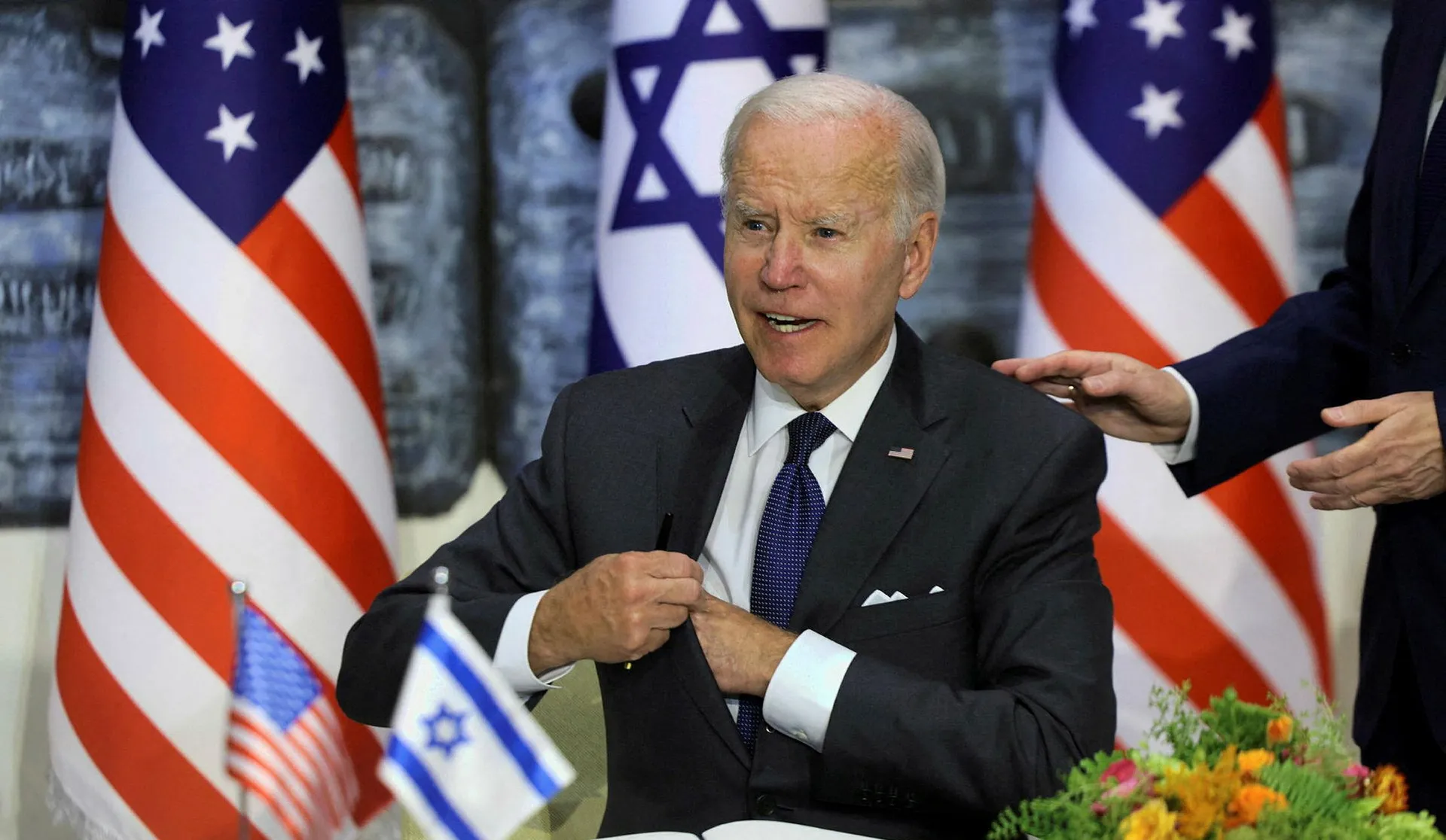 U.S. President Joe Biden signing a guestbook at the residence of Israel's president in Jerusalem, last year.Credit: EVELYN HOCKSTEIN/ REUTERS
WASHINGTON — Fourteen Democratic lawmakers on Thursday urged the Biden administration to undertake a foundational shift in its approach to the Israeli-Palestinian conflict in progressives' most significant missive to date against the Israeli government since Benjamin Netanyahu's far-right coalition assumed power.
Spearheaded by Rep. Jamaal Bowman and Sen. Bernie Sanders, the bicameral letter urges U.S. President Joe Biden and Secretary of State Antony Blinken to "undertake a shift in U.S. policy in recognition of the worsening violence, further annexation of land, and denial of Palestinian rights. Only by protecting democracy, human rights, and self-determination for all Palestinians and Israelis can we achieve a lasting peace."
The letter was additionally signed by co-lead by Reps. Cori Bush, Andre Carson, Summer Lee, Betty McCollum, Alexandria Ocasio-Cortez, Ilhan Omar, Ayanna Pressley, Rashida Tlaib, Raul Grijalva, Bonnie Watson Coleman, Jesus "Chuy" Garcia and Delia Ramirez.
The progressive lawmakers are further urging the Biden administration to ensure U.S. taxpayer funds are not supporting Israeli settlements projects, and to determine whether U.S. military aid is in violation of the Arms Export Control Act or the so-called "Leahy Law." The Arms Export and Controls Act stipulates that U.S. weapons are sold only for legitimate self-defense, while the Leahy Law prohibits U.S. funding from being used to equip or train foreign military forces suspected of human rights abuses or war crimes.
"Furthermore, we call on your administration to ensure that all future foreign assistance to Israel, including weapons and equipment, is not used in support of gross violations of human rights, including by strengthening end-use monitoring and financial tracking. We ask that you respond with a detailed plan as to how the administration plans to achieve that goal," they add.
The lawmakers emphasized that they are "deeply concerned by Israeli government moves that demonstrate that illegal de facto and de jure annexation of the occupied West Bank is well underway," stressing that "this Israeli government's anti-democratic mission to dismantle the rule of law is a threat to Israelis and Palestinians alike."
"We know your administration has met repeatedly with Israeli officials to reiterate U.S. support for 'equal measures of freedom, dignity, security and prosperity' for both Israelis and Palestinians. Unfortunately, these good faith entreaties have had no effect," they note.
They add that Israel's postponement of the planned judicial overhaul will fail to "lessen the systemic violence against Palestinians, including annexation of Palestinian land. The Israeli government's actions are in clear violation of international law and commitments made to the U.S.; its agenda will further devastate Palestinian communities and heighten tension with violent consequences for both Palestinians and Israelis. Only clear steps to change political conditions will pave the way for peace."
"My colleagues and I are making a simple request: Ensure the billions in U.S. funding to Israel's military isn't used to kill Palestinians, violate their human rights and freedoms, or steal their land. That's already U.S. law – we're asking [Biden] to make sure it's being followed," said Grijalva.
"Each year, the U.S. funnels billions of tax dollars to the Israeli government, funding obscene human rights violations. We must stop funding Israeli apartheid. I joined my colleagues in urging [Biden and Blinken] to ensure foreign aid to Israel isn't funding state violence," Bush added.
More than 145 progressive Jewish leaders lent their support to the Bowman-Sanders letter, stressing that "as Jews living in the U.S., we come from a range of histories, backgrounds, and relationships to Israel/Palestine. And all of us value justice and human rights. It is clear that the Israeli government's state violence, as well as settler violence, is worsening under Israel's current far-right government and is actively diminishing the possibility of a future of justice and liberation."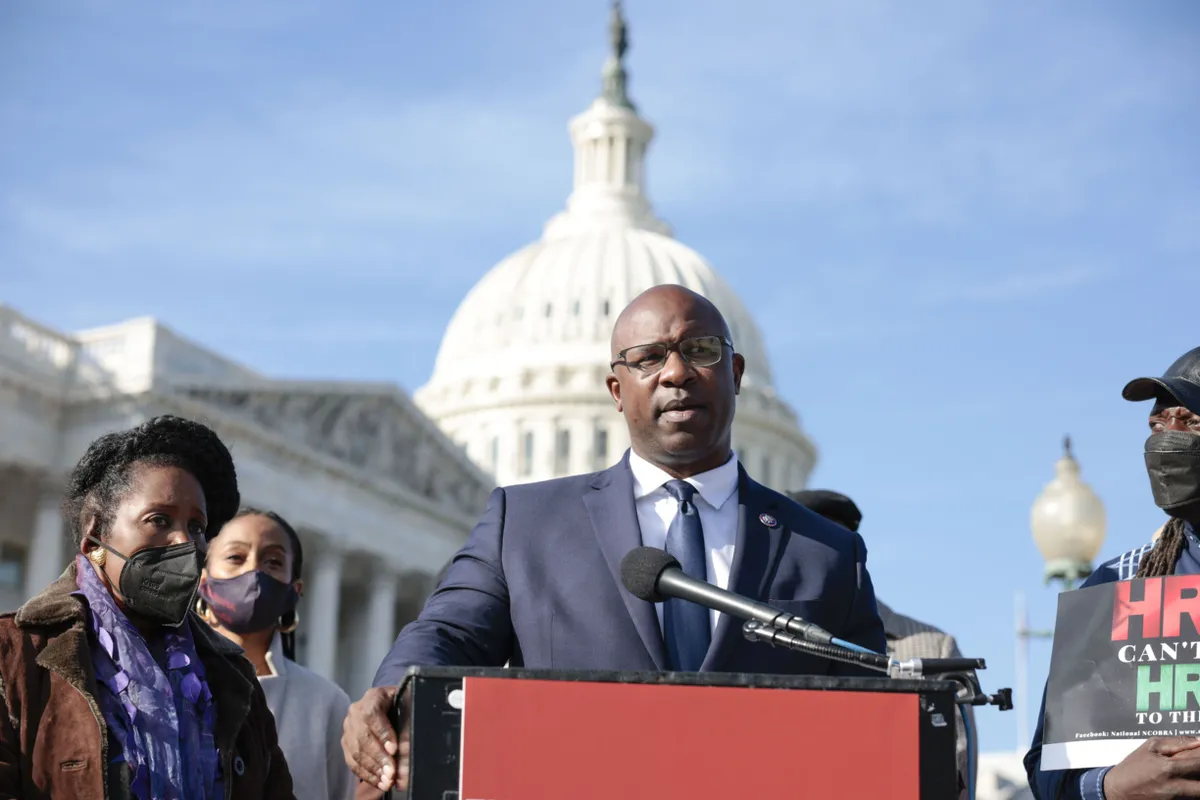 Rep. Jamaal Bowman speaking in front of the Capitol in Washington last month.Credit: Anna Moneymaker – AFP
The letter follows a different effort from more than 90 Democratic lawmakers last month urging Biden to pressure the Netanyahu government from further damaging Israel's standing as a democracy, while 16 Jewish House Democrats expressed "profound concern" that the judicial overhaul could "undermine Israeli democracy and the civil rights and religious freedoms it protects."
Other organizations that endorsed the efforts include Americans for Peace Now, Human Rights Watch, Jewish Voice for Peace Action, IfNotNow Movement, AJP Action, Jews for Racial and Economic Justice, Justice Democrats, Peace Action, Working Families Party, Defense for Children International – Palestine, American Friends Service Committee, Center for Jewish Nonviolence, Progressive Democrats of America, US Campaign for Palestinian Rights, Democracy for the Arab World Now (DAWN), Win Without War, Churches For Middle East Peace, Eko, Center for Constitutional Rights, Dream Defenders, Council on American-Islamic Relations, Arab American Institute, Adalah Justice Project, MPower Action Fund, Sunrise Movement.