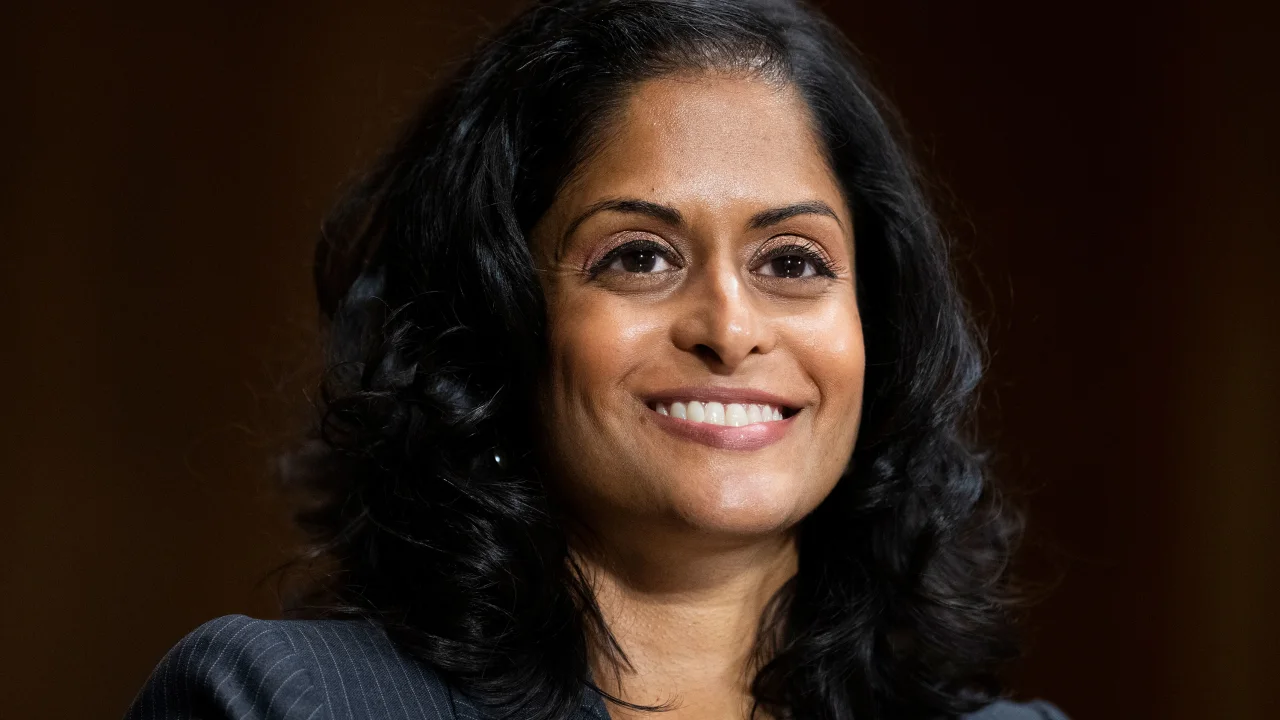 Tom Williams/CQ-Roll Call, Inc./Getty Images
Nusrat Jahan Choudhury testifies during her Senate Judiciary Committee confirmation hearing on judicial nominations in Dirksen Building on April 27, 2022.
Nusrat Choudhury was confirmed Thursday as a federal judge by the US Senate, making history as the first Muslim woman and the first Bangladeshi American to join the federal judicial bench.
The vote in the Democrat-led Senate narrowly passed along party lines.
President Joe Biden nominated the civil rights attorney in January 2022, along with seven other federal judicial nominees, who, the White House said, "continue to fulfill the President's promise to ensure that the nation's court reflects the diversity that is one of our greatest assets as a court – both in terms of personal and professional backgrounds." Zahid Quraishi, district judge for the District of New Jersey and the first Muslim American federal judge in US history, was also appointed by Biden and confirmed in 2021.
Choudhury will join the US District Court for the Eastern District of New York, which has handled notable cases including the recent indictment of New York GOP Rep. George Santos related to fraud and money laundering.
Choudhury currently serves as a legal director for the Illinois chapter of the American Civil Liberties Union, where she has pushed for police reform with a focus on litigating discriminatory practices. According to the ACLU, her work includes challenging the Milwaukee Police Department's stop-and-frisk policy and the New York Police Department's surveillance practices post 9/11, which have been criticized as discriminatory against Muslim Americans.
"Nusrat Choudhury is a trailblazing civil rights lawyer with a remarkable record of advancing equal justice for all in our nation," Anthony Romero, ACLU's executive director, said in a statement. He added that the confirmation is "an exclamation point on her long track record of protecting civil liberties and civil rights."
However, it was Choudhury's police reform work that prompted Democratic Sen. Joe Manchin to join Republicans in opposing her nomination.
"Law enforcement officers in West Virginia and across the country go above and beyond the call of duty to protect our communities, and I am incredibly grateful for their service," Manchin said in a statement Wednesday. "Some of Ms. Choudhury's previous statements call into question her ability to be unbiased towards the work of our brave law enforcement."
Choudhury is only the country's second Muslim American federal judge – following Quraishi's confirmation – and her historic confirmation highlights the lack of diversity among federal judges, by race and ethnicity, and gender.
A 2022 CNN review of data from the Federal Judicial Center revealed that while the bench of federal judges has steadily grown more diverse, it does not reflect the country's makeup and the majority of judges who are currently serving are White and male, while women and non-White groups remain underrepresented.