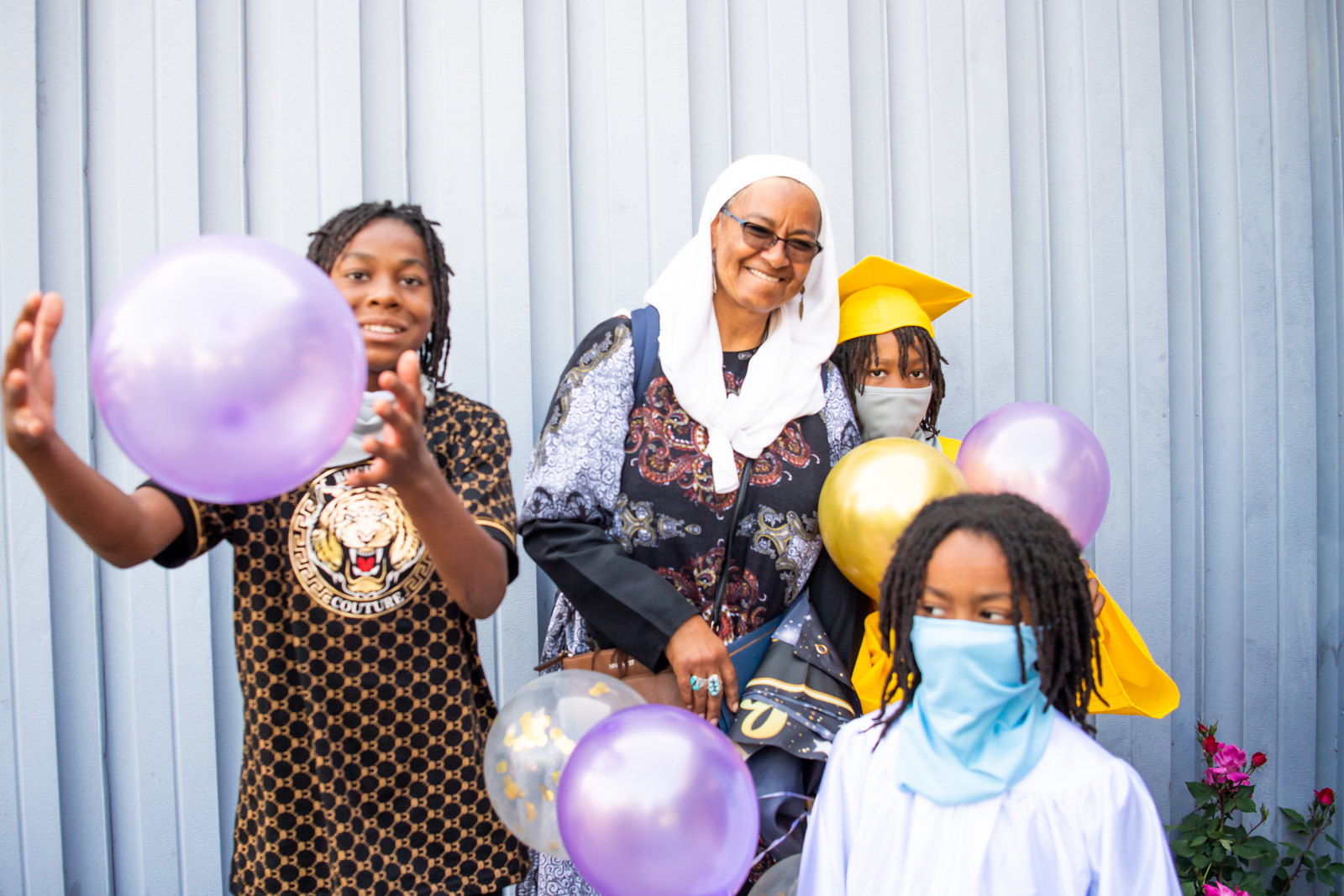 Clara Mohammed School principal Basimah Abdullah (center) celebrates graduation with the Baquet family children, left to right, new 7th grader LaMarcus; new 6th grader Lamarion and new 1st grader Lamario.
The Clara Mohammed School Graduation Ceremony Friday, June 9, lasted exactly 40 minutes, just the way principal Basimah Abdullah thought it should. 
"Families are here to see their child walk across the stage, then they are ready to go out to eat and celebrate," the no-nonsense, tell-it-like-it-is educator said to a Wisconsin Muslim Journal reporter at the end of her last graduation ceremony as principal of Wisconsin's oldest Islamic School. 
Milwaukee's Clara Mohammed School marks its 50th anniversary this year and Abdullah, wrapping up her 26th year as principal, is retiring.
CMS' graduation ceremony at the Wisconsin African American Women's Center, 3020 West Vliet, started right on time, at exactly 4:30 p.m. A dozen K-5 students wearing white caps and gowns sat in folded chairs in the first row. Ten fifth-graders in bright yellow caps and gowns filled the row behind them. Six eighth-graders in deep purple caps and gowns sat across the aisle in front of about 130 of the students' family members and teachers.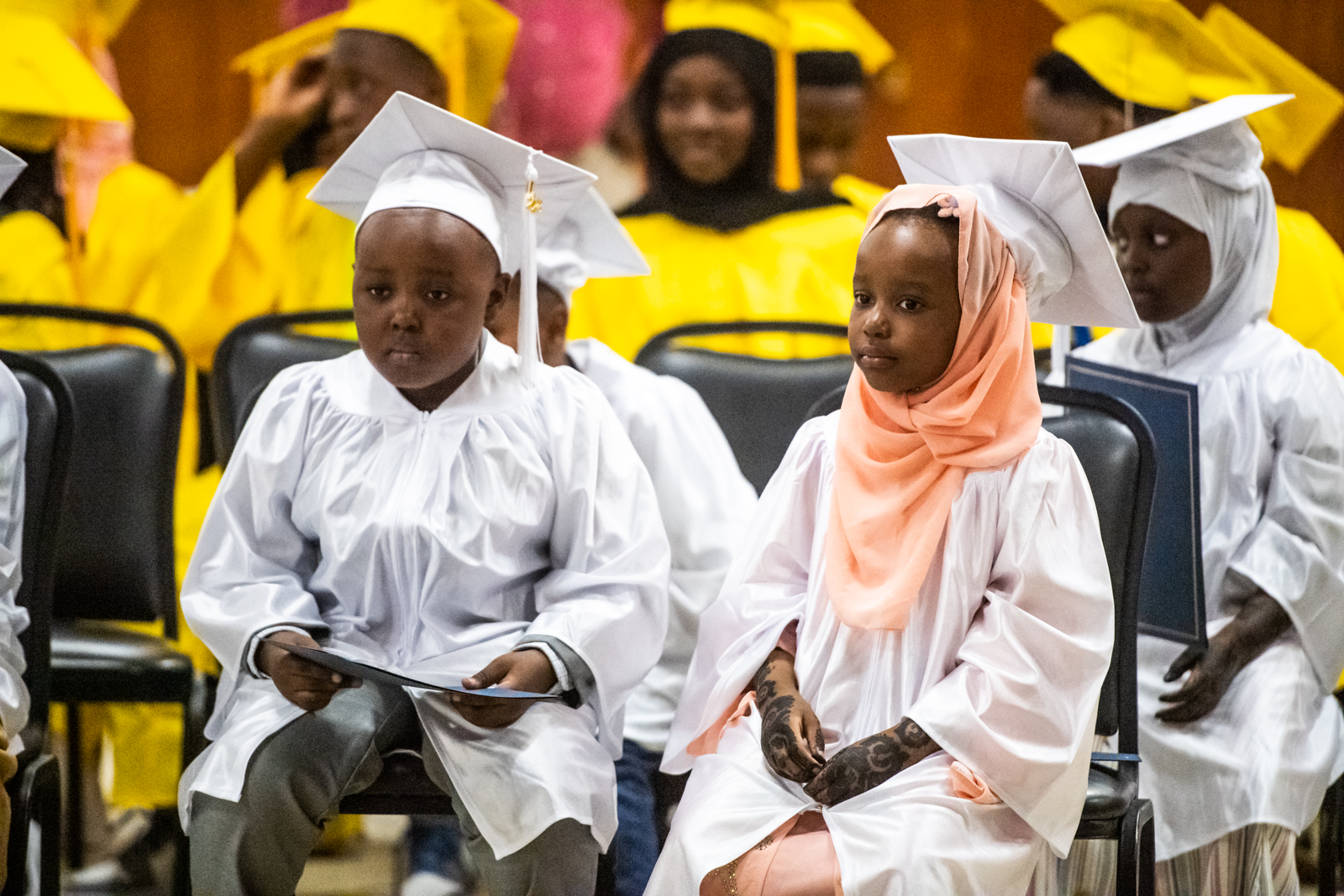 A small bunch of transparent balloons with golden flecks inside floated in front of the stage. Young children, many in traditional Islamic dress, sat close to their parents. Some men donned white kufis, the brimless Islamic prayer cap. Most women wore long gowns and hijabs covering their hair.  A few parents held bouquets of flowers to give their children after the ceremony. 
Loud cheers and applause punctuated the auditorium as awards for the spelling bee champion, perfect attendance, best handwriting, most improved behavior and more were announced. Some families rose to their feet, whooped and clapped when their K-5, fifth or eighth-grade student received a certificate for completing a level of their educational journey. 
No seniors were there. The three members of the 2023 senior class took extra credits along the way and graduated a year early, Abdullah explained. They are now students at Mount Mary and Marquette Universities, and Milwaukee Area Technical College.
After all awards and completion certificates were presented, Abdullah stepped up to the podium to offer her final remarks as principal. She looked across the wide auditorium and delivered a message to each group present. She admonished parents and teachers to never forget how important they are to the success of the students.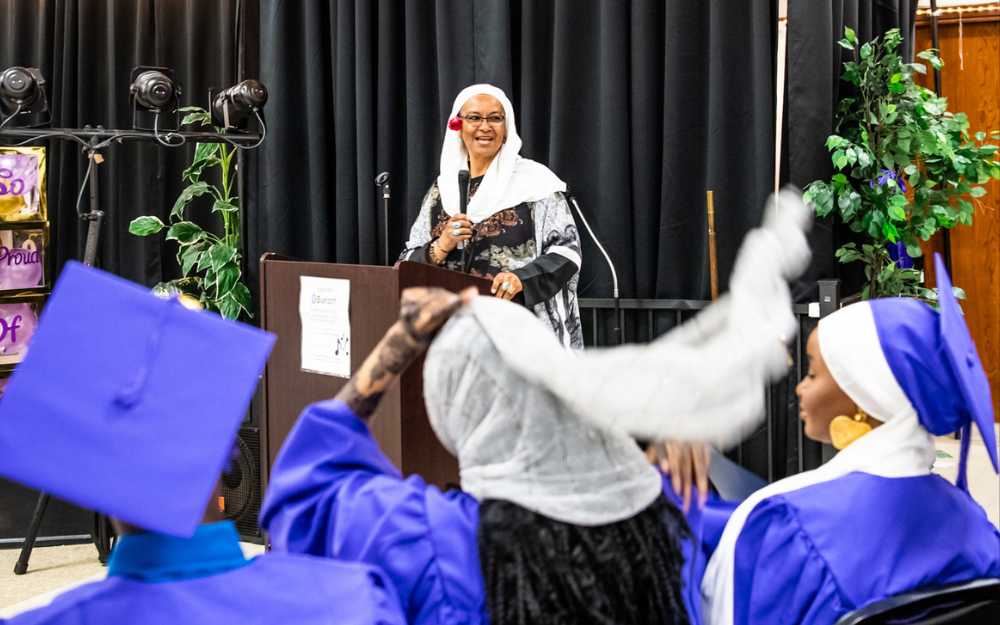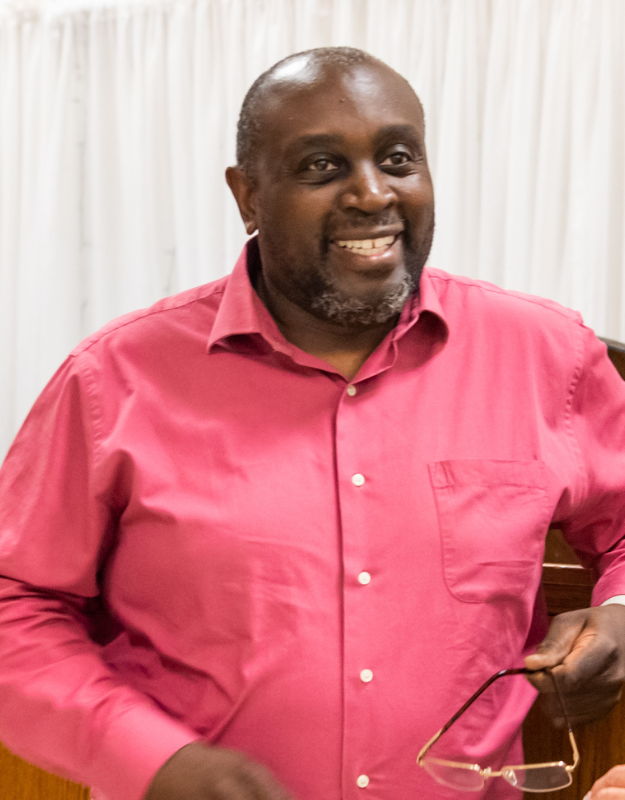 Imam Bramouse Fahad Muhammad
That Milwaukee's Clara Mohammed School made it to its 50-year milestone is because of Abdullah, said Bramouse Fahad Muhammad, imam of Sultan Muhammad Islamic Center in Milwaukee and educational director of the Clara Mohammed School. "The school wouldn't be here if not for Sister Basimah. We have weathered many storms because of her leadership."
The daily fight for resources
Clara Mohammad School rents a 1906 brick church and rectory at 2728 N. Martin Luther King Drive (that is currently for sale) after outgrowing its space in the Sultan Muhammad Islamic Center, down the block. Abdullah offered a tour of its three floors before settling into her office for an interview.
Down a wide, dark-wood staircase with oversized banisters, we entered the cafeteria, where first and second grades met in makeshift classrooms. This building was meant to accommodate middle and high school students but when the roof over younger student's classrooms in the other building collapsed two months ago, they moved in as well, Abdullah explained. 
Back up on the main floor, in what had been the church's chapel, teachers led students in physical education classes. Upstairs Abdullah pointed out the science lab, and a middle and high school Arabic class. 
Students and staff are not all Muslims. One teacher grew up Buddhist, another Seventh Day Adventist, she explained while walking down the hall. But many are Muslim, including a teacher from Egypt, another from Libya, and some African Americans she said.
State regulations require offering students and their parents the option of opting out of religious classes. Abdullah said she prefers to use Islamic principles to guide the curriculum rather than have Islamic class as a separate subject.  Islamic values such as doing your very best and being compassionate inform all subjects, she said.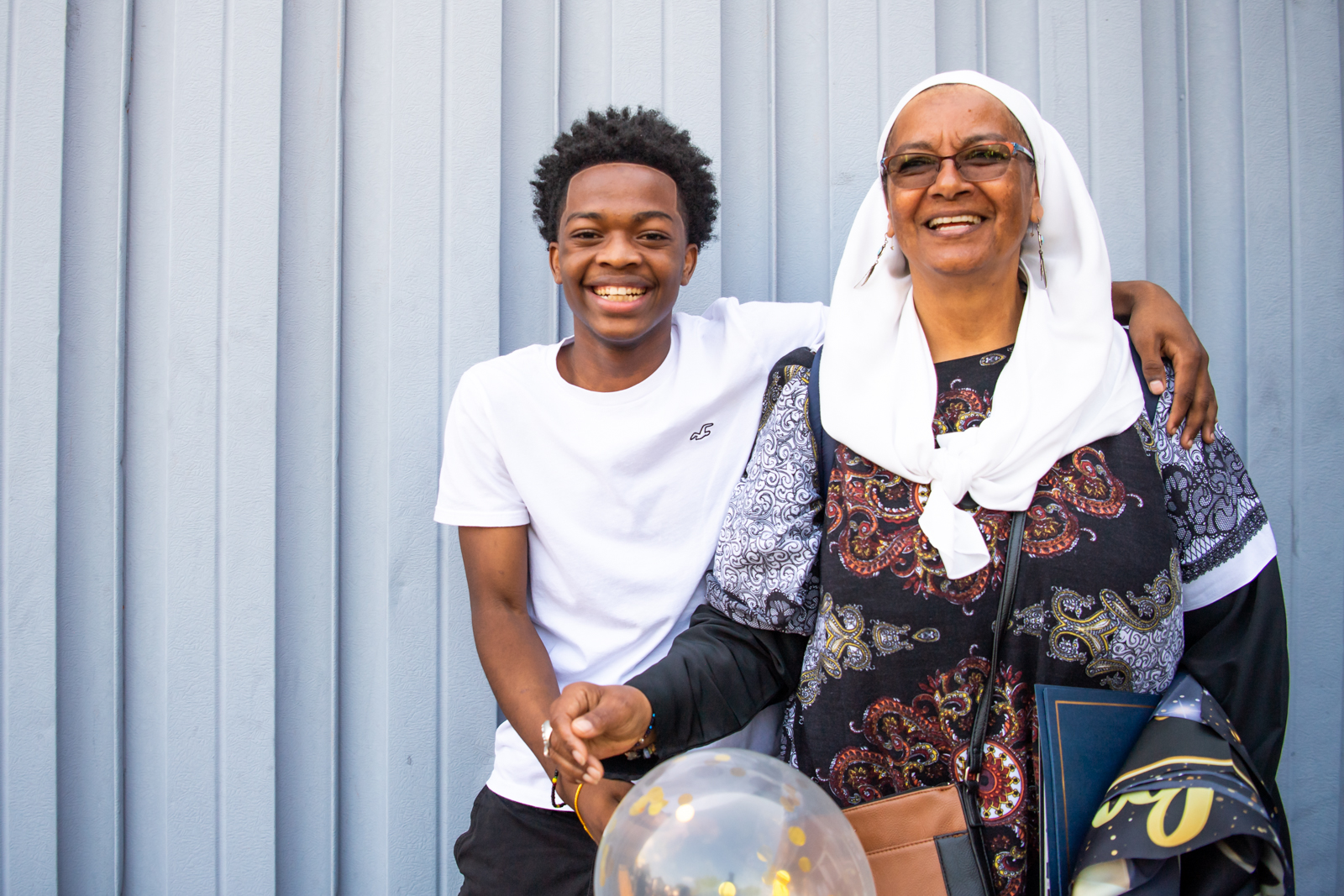 Enrollment dropped during the recent COVID-19 pandemic. "We have 105 students right now. We had 220 at our highest but it dropped way off during the COVID pandemic," she said. "It just shows how Allah takes care of you still. Without the emergency funding we got during COVID, we wouldn't have been able to rent this space. It's Allah's mercy."
Sitting in her room, a wide, colorful space with doors to other rooms in all directions, Abdullah offered her guest tea. She wore a maroon and black gown with a maroon hijab. "This is our uniform," she explained. Teachers and students may choose any solid color from those available. "I like having a uniform because I don't have time to think about what to wear." Students occasionally wandered in, looking for a charger for a computer or to pick up something they left during an earlier visit.
Back with the tea, Abdullah recalled the start of the COVID-19 pandemic. In late 2019, she read people were dying in China. In January 2020, she told the CMS staff to be ready to teach online. "When I heard it was a virus, I thought, 'People get on planes.' We need to be ready."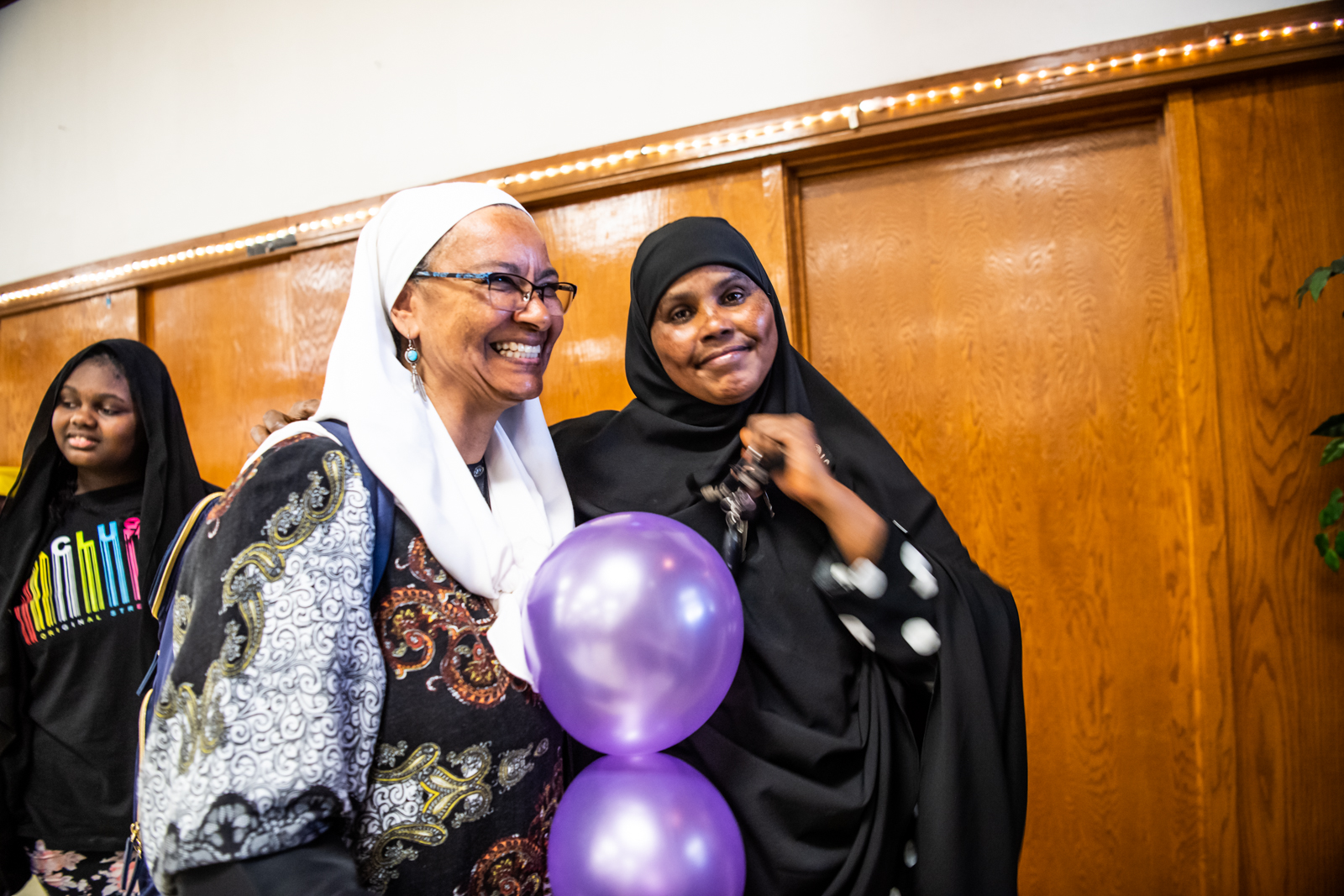 On March 16, 2020, after Gov. Tony Evers called for school closures, Milwaukee Public Schools stopped all in-person classes. "See how Allah works! Seven years ago, we bought Chromebooks and began buying textbooks online," she said. Books would get lost and textbooks are expensive, Abdullah explained. "Every time someone lost a book, it was $50 a pop.
"I got tired of people losing them or just not bringing them back. I figured if they are all online, you don't have an excuse. 'Lost your homework?' Nope, not if you do it on Google Docs," she said with a laugh. When the pandemic started, CMS students already had textbooks online and passwords." Parents had to sign out the Chromebooks and pay for them if they weren't returned, she said. 
It was difficult for many of our students to keep up with their work when everyone was remote, Abdullah said. Many students are children of immigrants. Parents will sometimes pull them out of school to translate for them at a doctor's appointment, or to do other business, she said. They also have them holding babies and doing chores at home, sometimes during class when school was online.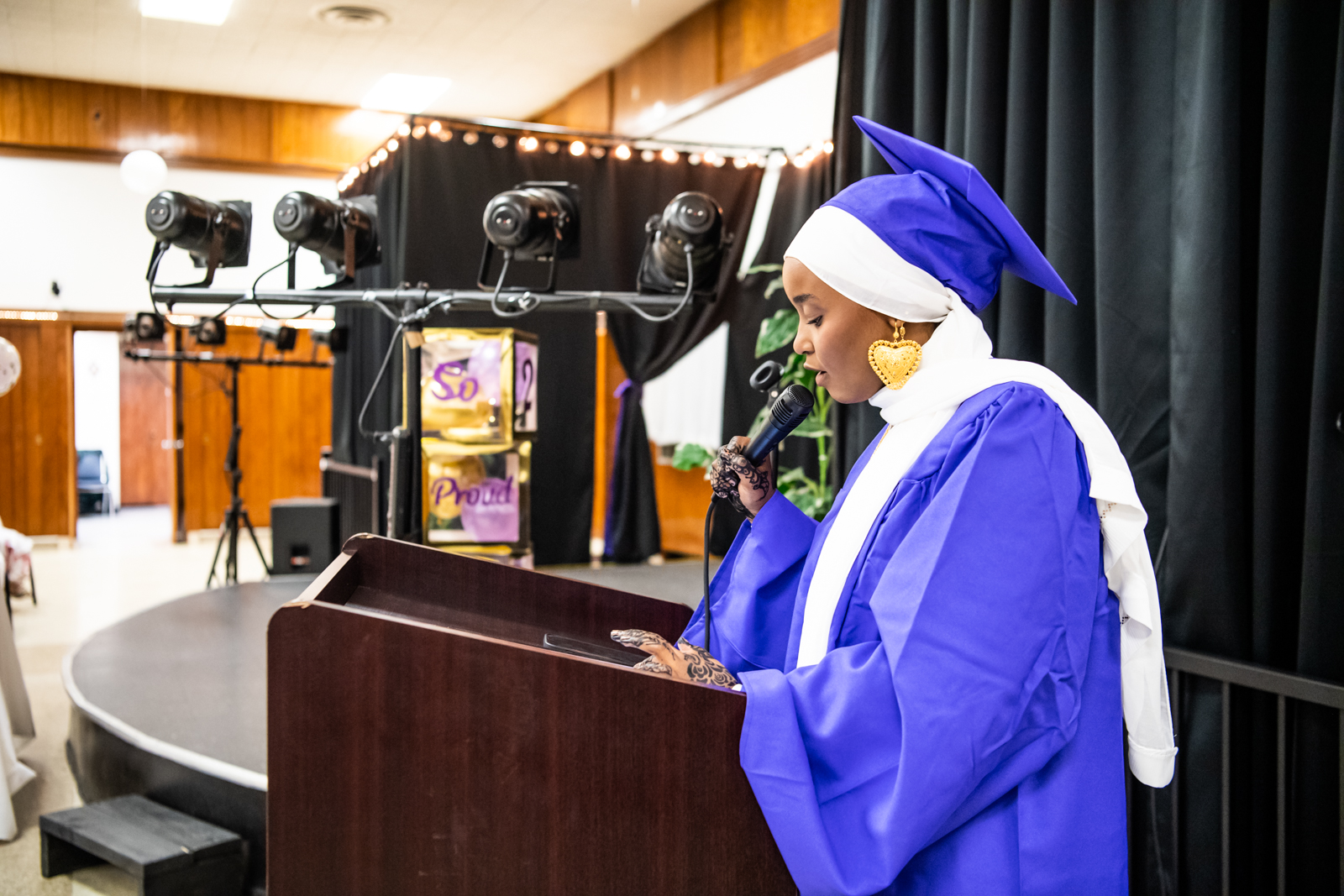 Weathering the storms
Lower enrollment as a result of the pandemic is just the latest storm CMS weathered with Abdullah at the helm. In an interview Tuesday over Zoom, she discussed the most challenging.
Abdullah became the CMS principal in the summer of 1997. CMS had about 40 students. Families paid tuition on a sliding scale, based on income and the number of children they had in school. "None of the parents ever paid the full tuition so I couldn't pay the staff," she recalled. "They told me on my first payday, we didn't have all the money for payroll. 
"'Why didn't you tell me earlier? I could have done something,' I told them."  She borrowed the money on her credit cards, she said. "There were only five employees."
Also, that first year, the bricks started falling off the building. "People would go by and say, 'When are you going to fix this eyesore?' It took 18 months to get a bank to give us a loan."
Whenever Abdullah moves to a new city, she makes it a point to get out into the community and meet people, she said. In her role as principal, she would need connections and information to hire good teachers, find funding and support policies that would benefit CMS. 
That's just what she did.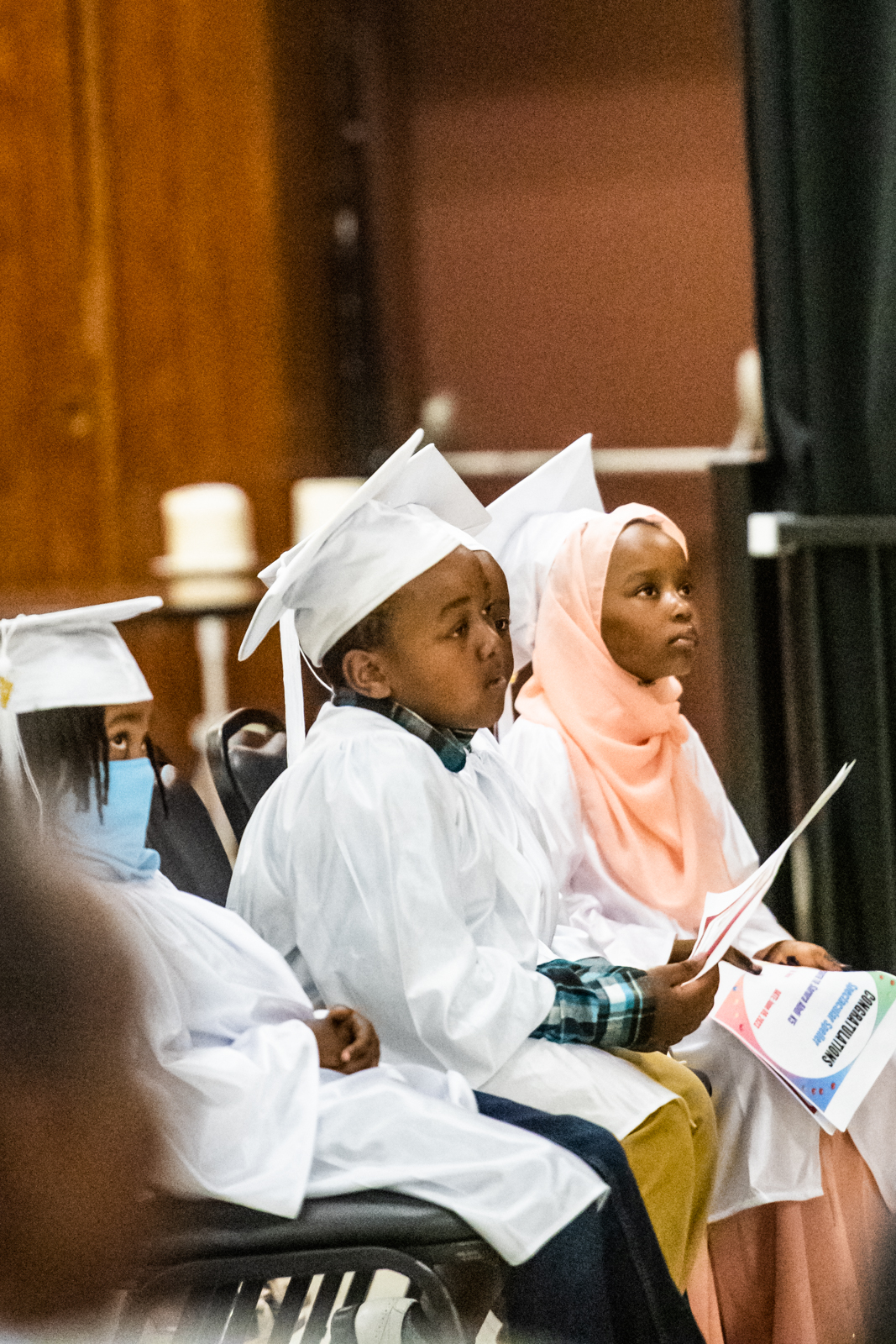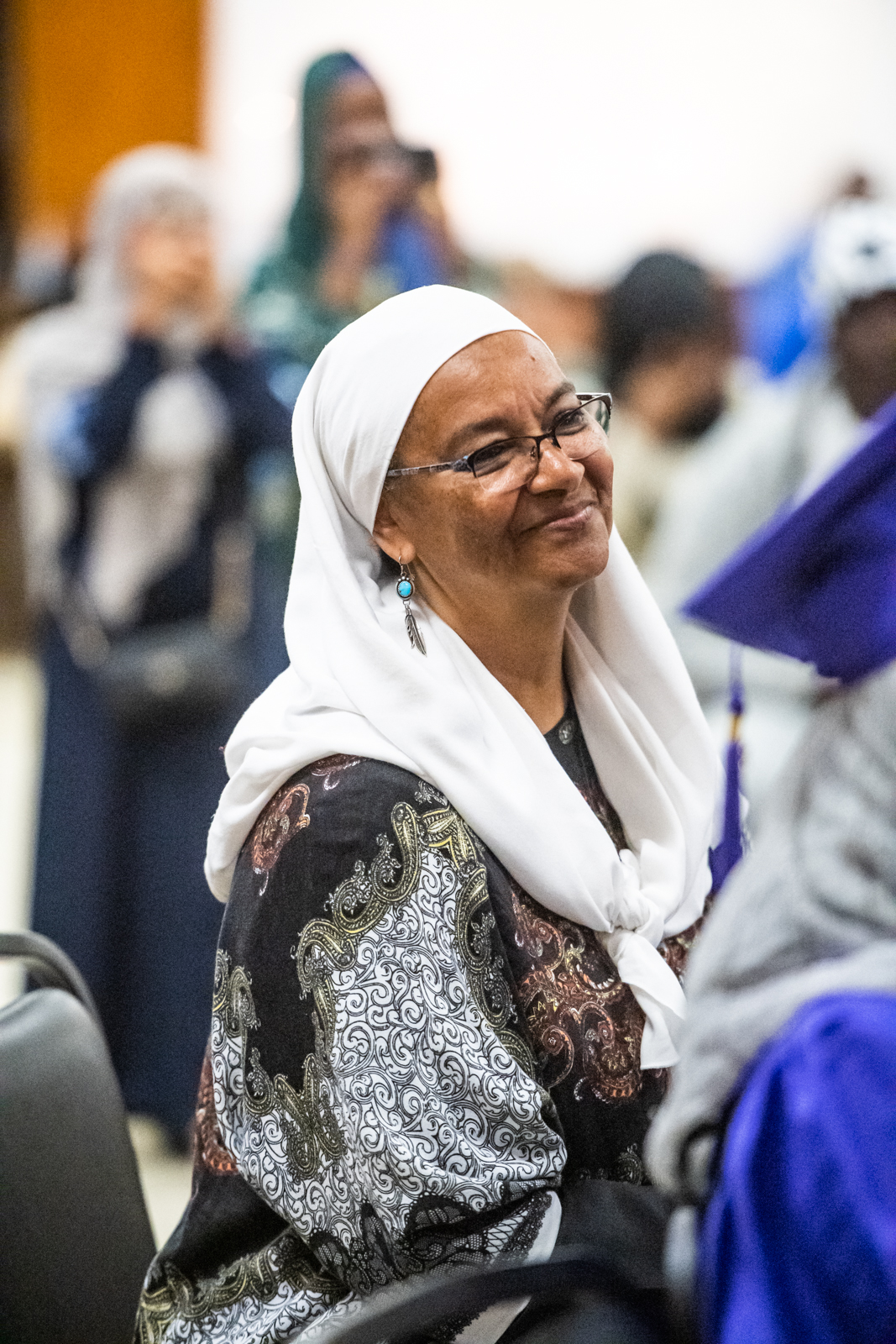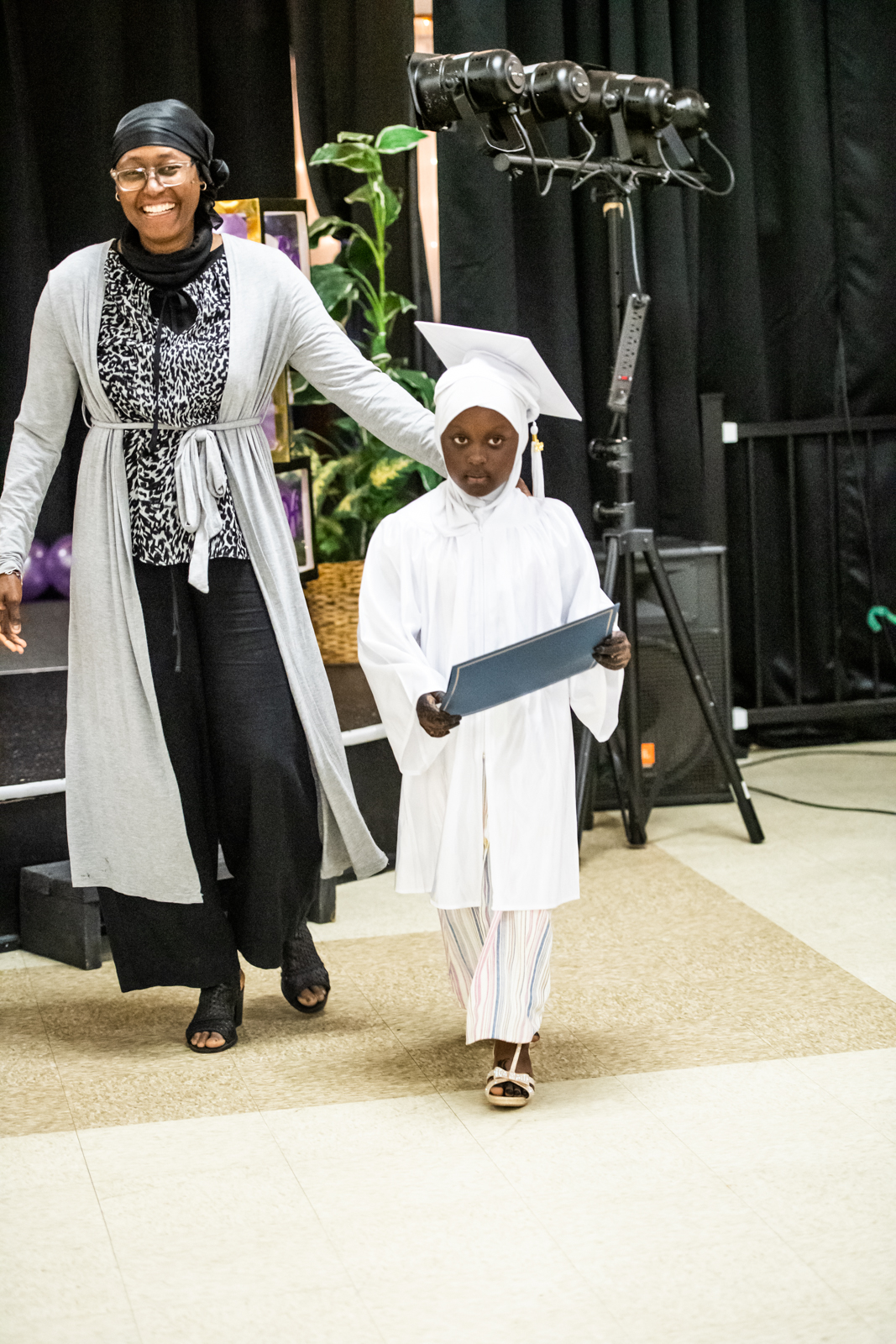 She soon learned about the Private School Choice Programs, launched in 1990. Schools participating in the program receive state aid payment for each eligible student. CMS could not participate because an injunction had been filed in 1995 to bar religious schools.
The case went to the Wisconsin Supreme Court in June 1998. The court found the inclusion of religious schools in the Choice Program did not violate state and federal constitutional bans against the establishment of religion. CMS began participating in it in the 1998-1999 school year. 
It was a game changer. "Now we've got a real steady income," she said.
Her next big break was discovering a new foundation that in Hartland whose mission is to offer educational opportunities for people who would otherwise not be able to afford them in the city of Milwaukee.
"I was fortunate enough to get a foundation to support us, the Fleck Foundation. I had never written a grant so I called the foundation. I didn't expect we'd get it so I said to the person who answered, 'Would you tell me what I did wrong when you don't give me the grant?' He laughed and told me to send the proposal in his care. I didn't know I was talking to the owner of the foundation. 
"See. It ain't me. It's God.
"Our students didn't have any books newer than 1978. They got discarded books from Milwaukee Public Schools or Catholic schools." 
Abdullah's first grant from the Fleck Foundation was for $5,000 to purchase new books. The second was for $20,000 to hire a secretary. It also funded a three-year training program at Marquette University's Institute for Transformational Learning to help Choice schools with administrative issues. 
One of the biggest challenges over the years has been to hire "a really good staff," she said. "It took a good 10 years," she said.
Abdullah thought seeking accreditation was a valuable exercise and pushed for it early in her tenure. "Some of my staff were fighting me on it. I told them it was all good. Just to go through the process helps you improve." Then, in 2006, it became a requirement for schools in the Choice Program.
It has to be done every seven years. "Our last visit from an accrediting team was 2017-2018. I was so proud. There are nine main standards and under each, there are a zillion sub-standards. We had three standards that had no recommendations at all. 
"And there's so much more we could do. We just never had the space. We never had a real building to make the school better. 
"As far as funding goes, we're independent. It's not like the Catholic schools with the archdiocese behind them. We have absolutely no backing, just tuition and what we pull in through grants.
"When we got into the voucher program, it was the first time we were able to even improve salaries. And still our salaries are probably about $10,000 less per each staff member (and I'm including benefits) than others offer. So, we can't compete."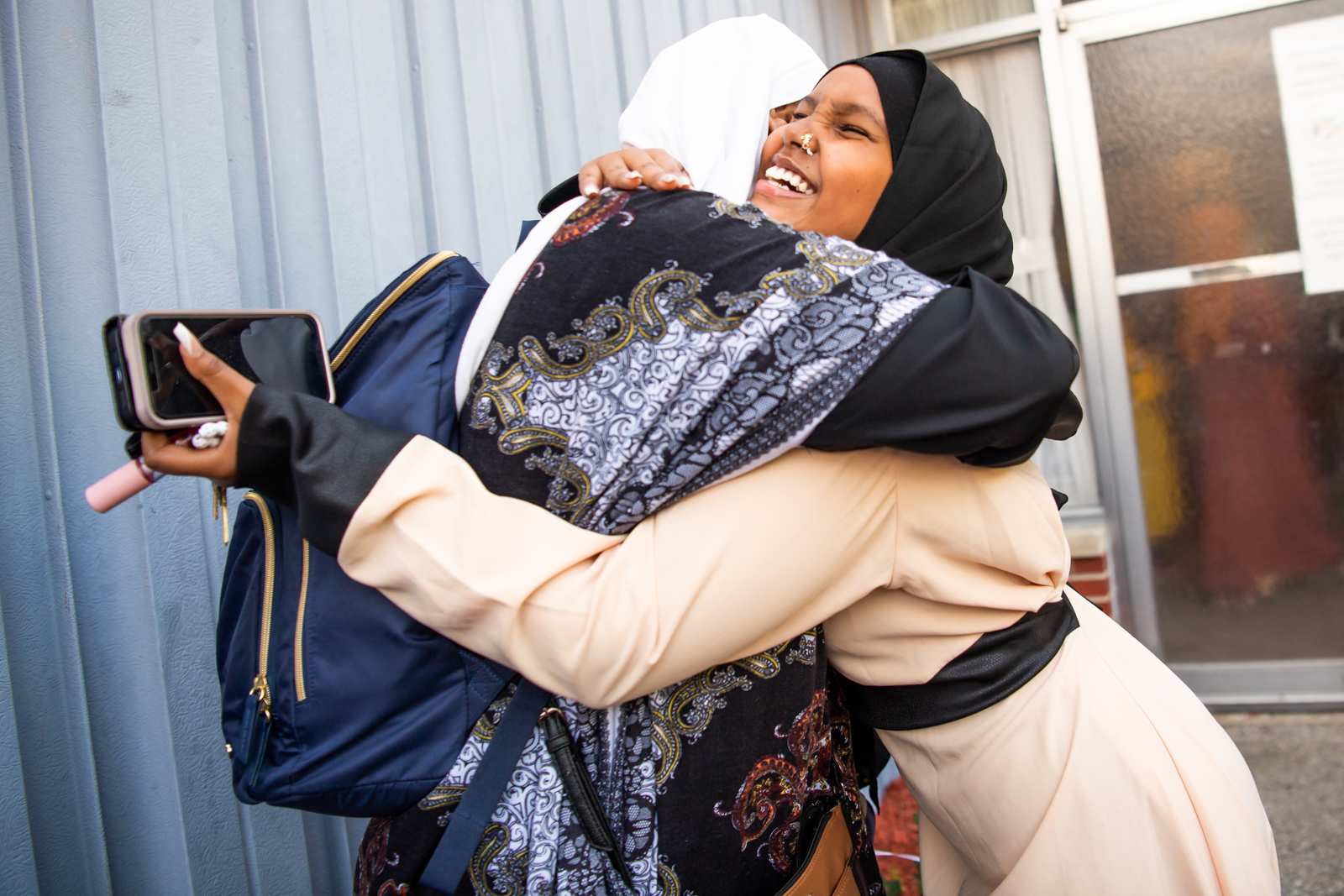 Does she have regrets?
"I never got my Ph.D. I might still do that. Also, we have been trying to build a strong Islamic vibe in the school. I don't think we are there yet. Just because times get tough, I believe in what we're doing. I'm not a quitter."
At the end of the graduation ceremony, Imam Fahad observed, "That's why we are still here."
Enrollments are inching up and he expects them to continue to rise. Abdullah will continue in her role through the summer session and help prepare the new principal, he said. "She definitely will be with us to help with students and get others on board. We're not intending to let her go."