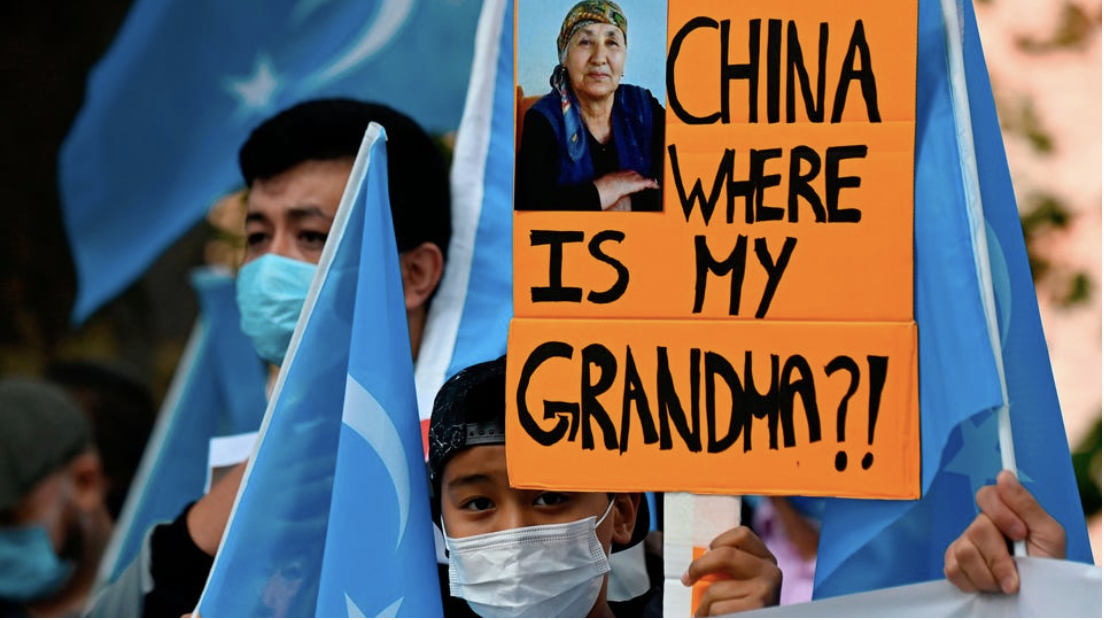 A young Uyghur activist holds up a poster that reads during a demonstration on Sept. 1, 2020 outside the Foreign Office in Berlin, where the Chinese Foreign Minister was expected to hold talks with his German counterpart. (Photo by TOBIAS SCHWARZ/AFP via Getty Images)
President Joe Biden signed a bill into law on Thursday that will ban the import of all goods produced by ethnic Uyghurs living in internment camps in China, in the latest move by the U.S. government to sanction China over its inhumane treatment of the Muslim minority population.
The bipartisan bill, called the "Uyghur Forced Labor Prevention Act," passed both the House and Senate unanimously last week.
More than 1 million Uyghurs are believed to be held in camps in the Xinjiang province of northwestern China, where they work as slave laborers and are forced to abandon their cultural practice.
The U.S. government has the authority to seize imports it suspects were produced by slave labor, but such goods have long made it to U.S. markets anyway due to trade law loopholes.
Under the new law, though, the U.S. will assume all goods imported from Xinjiang were produced by forced labor, leaving manufacturers responsible for proving any imported goods from the region didn't rely on slave labor.
"I guarantee, as I speak to you now, everyone in this building owns something that was made by a slave in Xinjiang and most people don't know that," Sen. Marco Rubio (R-Fla.), a proponent of the bill, said on the Senate floor earlier this month.
The Biden Administration announced earlier this month the U.S. would take part in a diplomatic boycott of the upcoming Beijing Winter Olympics, with countries like the U.K., Canada and Australia also among those boycotting. The countries will not send any government representatives to the games, though their athletes will still be able to participate. The Biden Administration and numerous human rights groups have labeled the Uyghur detention as a "genocide," in what's believed to be the biggest mass incarceration of a minority group since the Holocaust. The Commerce Department announced sanctions last week against China's Academy of Military Medical Sciences and 11 affiliated research institutes, which support China's military through the use of biotechnology. The sanctions ban American businesses from selling components to aid in research without first obtaining a license. 
The American technology company Intel is facing backlash in China after sending a letter to suppliers earlier this month saying it wanted to ensure its supply chain did not involve "any labor or source goods or services from the Xinjiang region."