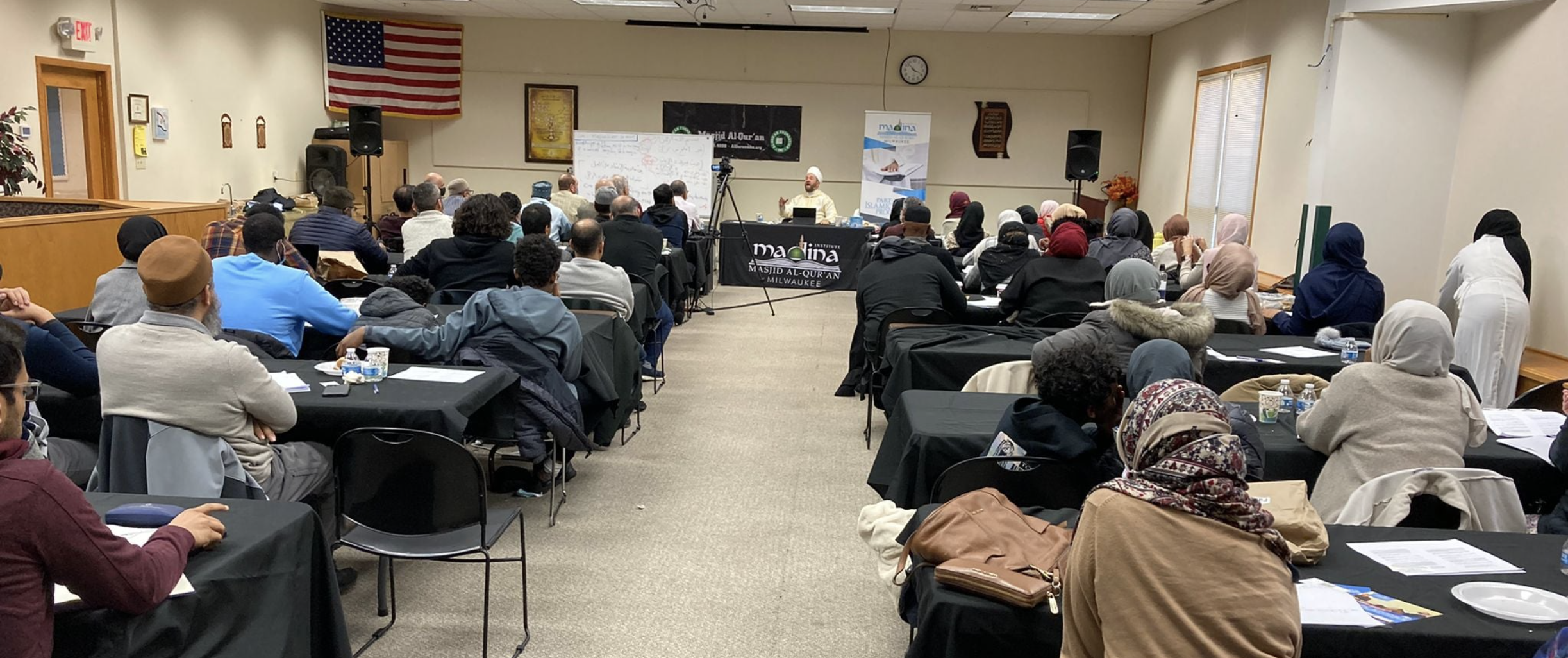 Milwaukee's Tazkiyyah Weekend to learn the process of self-purification was hosted by Masjid Al-Qur'an in December at the Insight Life Learning Insitute in Brookfield.
Driving from Chicago to Milwaukee one Saturday in December started with the unexpected blessing of soft falling snow, an appropriate metaphor for the gentle spiritual nourishment that would characterize the day. 
Madina Institute Milwaukee's Tazkiyyah Weekend, hosted by Masjid Al-Qur'an, Dec. 11 – Dec. 12, drew a  range of participants from youth to seniors to learn the process of self-purification. It was hosted by Masjid Al-Qur'an at the Insight Life Learning Institute, 13780 Hope St., Brookfield. 
The Madina Institute is an Islamic seminary headquartered in Atlanta, Georgia, with campuses in South Africa, the United Kingdom, Norway, Sudan and Malaysia. It focuses on "making traditional Islamic Sciences accessible to the next generation of … Muslim scholars … and calling Muslims to go back to the basics of the religion: the Qur'an and the Authentic Sunnah, as well as tolerance, peace and compassion," the institute's website states. 
As we arrived, our teacher, the gentle giant of a scholar, Shaykh Muhammad bin Yahya al-Ninowy, made his way into the building. Participants quickly settled in and the introduction to the classical text of Ihsan/Tazkiyyah, al-Ḥikam al-ʻAṭā'īyah, by Aḥmad ibn Muḥammad Ibn ʻAṭā' Allāh al-Iskandari began.
The Hikam is considered Ibn Abdul al-Iskandari's most important work, consisting of 264  spiritual aphorisms (observations of truth) that guide seekers on the spiritual path of self-purification and awakening.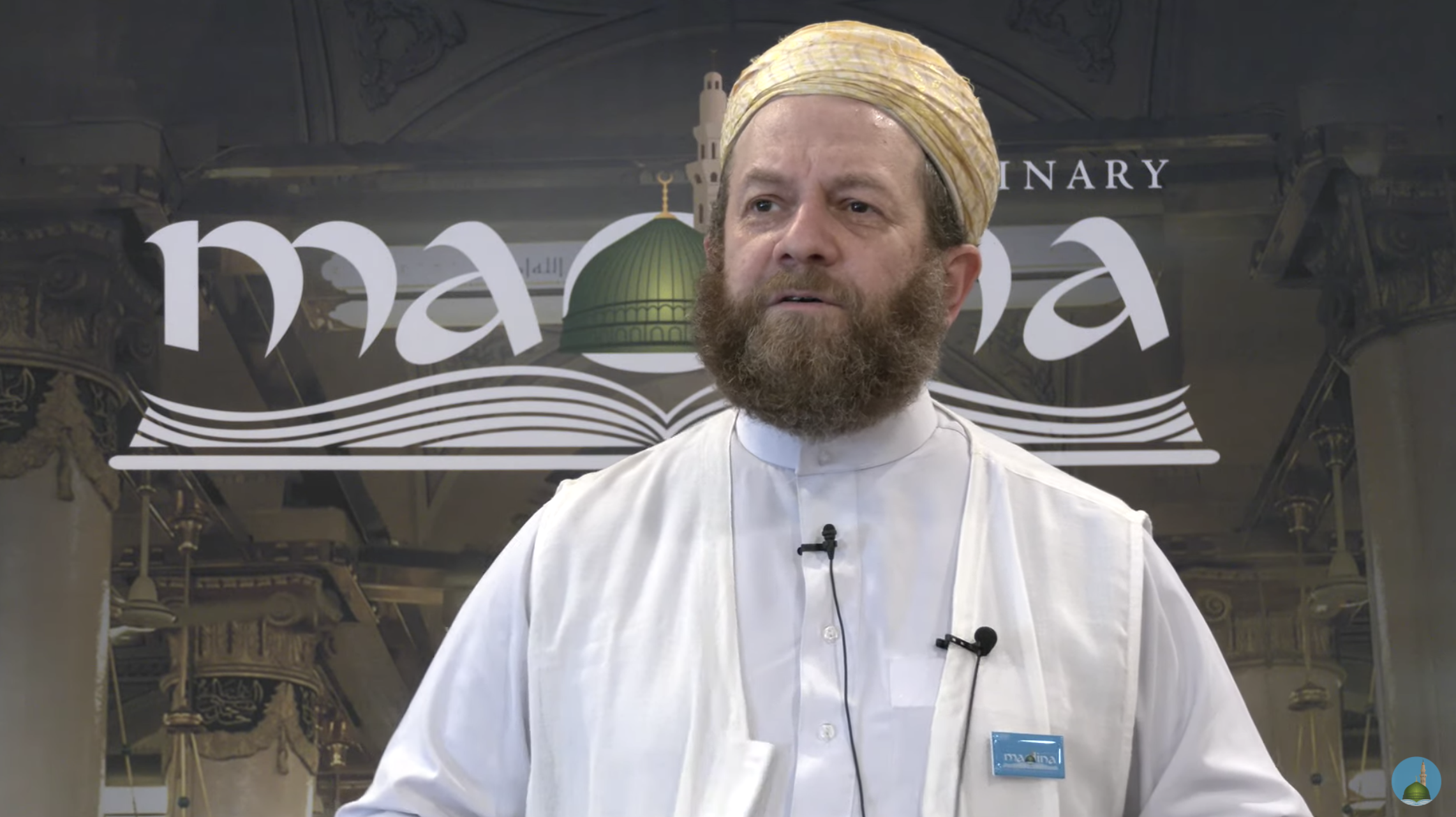 Syrian-American Islamic scholar Shaykh Muhammad bin Yahya al-Ninowy was the instructor for Milwaukee's Tazkiyyah Weekend.
Dr. al-Ninowy, a Syrian-American Islamic scholar and medical doctor, is the founding director of the Madina Institute. He is listed in The Muslim 500: The World's 500 Most Influential Muslims in the "preachers and spiritual guides" category.
Islam comprises dimensions of creed (Iman), law (Fiqh) and a spiritual/character-building  and ethical component often defined in Islam as "submission." It would be more accurate to  say that submission in Islam is "engaged surrender of the heart to God." 
Ihsan is defined as "worshipping God as though you see Him, for if you don't see Him, He sees you," implying an ever-present awareness of God's presence in our daily lives. 
The classical text of The Hikam journeys through the "Love of the Creator" and the  "Creator's Love for Us" in profound ways, always underpinned and framed through the lens of the Holy Quran and the prophetic Sunnah recorded in the authentic narrations (hadith). 
Soon after the class began, Shaykh al-Ninowy painted vivid images of Tazkiyyah as purifying the heart and wayfaring towards God; that is, to be in this world as if you are traveling through because the final destination is God. Themes of reaching, connecting and arrival provided rich imagery of one's movement towards God, like an ocean in which each wave and the gravitational force pushes us forward and pulls us back, as we ebb and flow closer to or further away from God. 
Throughout, the Tazkiyyah Weekend Course highlighted the centrality of love in Islam. The heart is the engine of good. When the heart is good, actions are good. 
The opposite is also true. Shaykh Al-Ninowy called our attention to verses from the Holy Quran which in English may mean: "Successful indeed are those who purify themselves" (qad aflaha man tazakkah) who "remember the Name of their Lord and pray" (Wa dhakarasma  rabbihi fasalla). These verses from Surah Al-'Ala, (verses 14 and 15) provide one of many evidential references for the importance of Tazkiyyah, through acts of presence with  God called "dhikr," of which there are a multitude of forms. We were reminded that the opposite of dhikr (presence) is ghafla (heedlessness). 
After some foundational principles were outlined, participants considered the first hikmah or aphorism. Aphorisms can be described as a brief saying or phrase embodying a general truth,  or astute observation. The hikam are like complex matrices of interwoven spirals without discrete starts and endings, as each hikmah reinforces and builds into each other, without a  singularity of conclusions. 
Little did participants realize that studying just one aphorism would bring cool breezes of mercy, restorative healing and hope to fill the receptive air.
"One of the signs of relying on deeds is loss of hope when a misstep occurs," the first hikmah tells us. It is difficult to share in this piece the deep layers of meanings unfolded during the unpacking of this aphorism.  
Suffice to say, in my unworthy attempt, it is God who enables us with choices and through these choices, our actions are facilitated. Relying on our good actions/deeds as a progression towards God means that we rely on ourselves and God's creation, instead of seeing the good deeds/actions as facilitated due to God's grace upon us. We are more comfortable with the cause (asbab) and effect, rather than seeing the Creator of the cause (Khaliqul asbab).  
Consequently, when we fall into bad deeds and actions, we may lose hope, losing sight that it is God to whom all belongs. The bad deed/action may be an impetus to recalibrate the heart to return to the Creator of the cause and effect. 
We studied two more hikmahs, each providing hope through Islamic spirituality. They guide us on a journey from the fractures of modern living without God to restoration, recovery and wholeness with God, akin to applied Tawhid.  
Interspersed throughout the lessons, Shaykh al-Ninowy offered the following thoughts: 
"God is the best company you can ever have." 
"Love God the way God wants you to Love Him, not the way you want to love Him."
"Connect yourself to the Creator of the cause and effect." 
A good deed is His Grace upon you." 
"Anything that veils you is closer to you than Him." 
"It is your life, your book – don't let interceptors come and rob you from your journey. Be  the custodian." 
"Hopelessness equals faithlessness." 
"No one loves you more. God is unconditionally loving and merciful." 
Shaykh al-Ninowy's "The Book of Love" was on sale at the event. It contains personal reflections. Each of its aphorisms is an opener to inner conversations about God's love.
In my experience, The Tazkiyyah Weekend Course was profoundly motivating for those present to recalibrate and strengthen connections with God, the Messenger and the Message through studying aphorisms. It was a mindful weekend for restorative healing of our human hearts. It brought illumination and love.  
For more information about the upcoming Madina Institute programs, email Sr. Shannon  Rodriguez – Kuhagen at admin.milwaukee@madinainstitute.org or contact the director of  Madina Institute Milwaukee, Imam Hafidth Shafiq at Masjid Al-Qur'an.