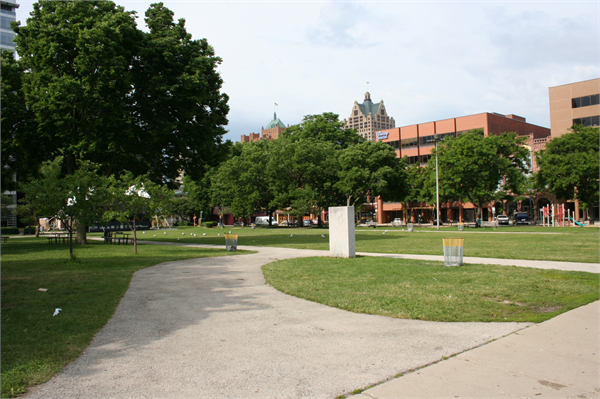 Photo courtesy of Wisconsin Historical Society
Cathedral Square Park is a small urban Milwaukee County Park located at 520 E Wells St.
Two women have been charged with hate crimes after allegedly punching and ripping off the hijabs of a group of Muslim women in an unprovoked attack at Cathedral Square Park on Sunday.
Together, Miracle Reed, 34, and Payton Smith, 30, face one felony and five misdemeanor charges in connection with the attack, five of which come with hate crime enhancements.
Janan Najeeb, the president of the Milwaukee Muslim Women's Coalition, said the attack is an example of ongoing Islamophobia locally and nationally, which is often unreported or ignored. She said her organization and other community members pressured the Milwaukee County District Attorney's Office to file the hate crime enhancers in the days after the attack.
"We said this is something that requires really serious attention," she said.
Reed and Smith are in Milwaukee County Jail and have yet to make their first court appearance. The Wisconsin State Public Defender's Office said an attorney hadn't yet been assigned to them.
Najeeb said the victims were minding their business with their out-of-state grandmother and their children in the park when the attack occurred. One of them suffered a broken nose and another was placed in a headlock and punched.
"They're really devastated," said Najeeb, who has met with the victims. "It was so unexpected, uncalled-for. They were basically enjoying themselves with their family and it came out of nowhere.
"For this to happen around kids, it's very traumatic."
It's the 10th time since 2010 that the District Attorney's Office has included a hate crime enhancer in its prosecutions, according to Kent Lovern, the office's chief deputy. The most recent was in 2019 against Clifton Blackwell in an acid attack, which was ultimately tried successfully before a jury.
Criminal complaint details attack of Muslim women
According to the complaint:
Four women, all wearing hijabs, were at the downtown park Sunday with several children when one of them noticed some other women giving them "dirty looks."
At one point, one of the four women began walking the park, with her prayer mat in tow, in search of a place to pray that was consistent with her religious practices. She returned and prayed near the women's picnic table.
The women then were approached by a woman who said, "We're Black, aggressive women, and we're going to defend our own kind," the complaint said.
The Muslim women ignored her. The woman then approached the table, sat down and said, "So, what's the problem?"
One of the victims said the attacker grabbed her neck, put her in a headlock and started punching her. The second attacker began punching another victim in back of the head. Both victims reported their hijabs had been removed from their heads.
At one point during the altercation, one of the victims tried to use pepper spray, but an attacker ripped it from her hand and disabled it.
An older man intervened and broke up the fight.
Some of the incident was captured on a cellphone and was aired on a CBS 58 TV news broadcast.
Reed later denied attacking the group and said she has postpartum depression, is subject to "black outs" and didn't remember the incident. Smith confessed to striking two victims twice each and admitted she was captured in the footage, the complaint said.
More:'We gotta call out racism': Milwaukee Muslim students lead march against police violence
Hate crimes against Muslim women too often taken 'lightly'
Najeeb said many times her organization has fielded complaints from Muslim women who are targeted for harassment because of their scarves or public prayers. At grocery stores, their carts will get rammed into or their scarves tugged on. As they walk down the street, drivers will yell slurs or throw things at them.
It often goes unreported because there's a long history of victims feeling like law enforcement takes the claims "lightly," Najeeb said.
She expressed mixed feelings about the circumstances of the attack and the fact that hate crime enhancers were filed. It was "especially upsetting" that Muslim women would face such abuse from two fellow women of color, she said.
But she also said it was her understanding the two women charged faced significant challenges of their own.
"As a faith community, we believe really that, as much as possible, you should forgive people, especially if it is something that is done out of ignorance," Najeeb said. "But I think the severity of this crime, and the fact that we don't even know the long-term effect and the trauma that comes from this sort of thing, I think at the end of the day, it was the right call."