Growing up in Canada as a child of immigrants, I and many others like me were expected to speak English as my native language. In my early years, I spoke the Urdu language – my mother tongue. However, since Kindergarten, I started to speak more English than Urdu at home and my parents let that happen. Over time, they started to speak to me and my siblings in English more often than Urdu to the point where English became my primary language. They believed it only made things easier for us as that was the language of the society we lived in. English meant more opportunities and integration into Canadian life. 
One day, my mother told me about an Urdu class being taught every Sunday through the Heritage Language Program offered by the provincial government of Ontario. (It is intriguing that this program was sponsored by the government and not a private initiative.) The program was established in 1977 to provide classes in the languages and cultures of "minority language children" for the purpose of promoting a sense of self-esteem and a fuller understanding of respective cultural backgrounds. This opportunity was attractive to me because I wanted to fully connect to my grandparents and elders in the family at the time. In addition, I was yearning to feel a connection to my homeland which stemmed from my teenage angst to belong somewhere.
I inquired about their class but learned I was past their age limit of 13 years – I was 15 years old at the time. Sensing my disappointment, they suggested I become their teacher assistant and gain some high school volunteer hours through their program, too. "But I don't even know how to read or write Urdu, let alone teach it!" I thought to myself. My mother still encouraged me to join anyway as I had my grandparents to teach me those skills. She proposed that I learn as I go. I took her proposal as a challenge and joined the program. 
Becoming a teacher was not a career path I had considered at that time, as I was interested in studying medicine. It was my positive experience teaching at that  program that spurred me to  pursue teaching as a career. This step changed my life in ways I could not imagine: Teaching became my main profession and I became invested in ensuring my children spoke Urdu as their first language. 
The Reigning Influence of My Grandparents 
How was I able to teach in this Urdu program as someone who primarily spoke English? I was able to do so because of my grandparents. They, particularly my Nani, maternal grandmother, and my Dada, paternal grandfather, are the ones who made the effort to teach me reading and writing in Urdu. 
My Nani used to live near our house so we would often go to her house after school or during the weekend. Among other life skills, she taught me how to cook, sew, and recite the Quran. Speaking to her in Urdu was one of the ways I kept my fluency in the language alive. In order to help me with teaching my Urdu class, she helped me read simple passages in Urdu books she had at her house. She also encouraged me to wear the shalwar kameez, the traditional dress of Pakistan, which I still wear to this day at home as they have become the clothes I feel most comfortable in. I consider her my closest connection to Pakistani culture and its main language, Urdu. 
My Dada, on the other hand, would often visit and stay at our house for several months at a time every year. He was a great storyteller. I intently listened to all the stories he shared about his youth, our extended family, and our ancestors. Through him, I learned about Pakistan's history from the time of the Partition – when the British Empire split the subcontinent into present day Pakistan and India in 1947. It was quite the tumultuous event. He also shared many Urdu poems with me that had an eloquence and depth of meaning. Overall, he shared a plethora of knowledge and wisdom with me. The summer before I began my volunteer work as an Urdu teacher assistant, he sat down on an almost daily basis to teach me reading and writing in Urdu. He would help me read the passage from a school text, then make me copy the passage down in a notebook, and then make me write it again while listening to him read it aloud. In that respect, he was quite thorough in developing my Urdu reading and writing skills. I owe it to him that I can now read Urdu stories to my children. 
I credit both my grandparents in helping me become fluent in the Urdu language. May Allah reward both my grandparents for the efforts they made in raising me!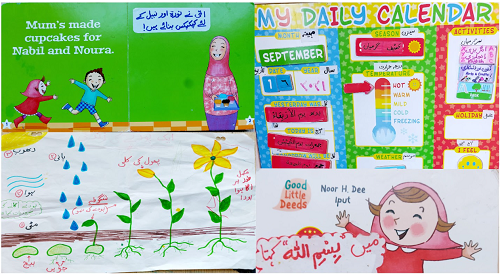 Coming Back Full Circle 
Experiencing the love for the Urdu language through my grandparents has inspired me to transfer that love to my children. Before my children were born, it was important to me that my husband valued it as much as me, if not more. Thankfully, he and his family are completely fluent in speaking, reading, and writing – enough that they think in this language, unlike me. My husband also has an appreciation for Urdu poetry, similar to my late Dada. I feel that he would have loved my husband's company. 
Due to these reasons, I was able to take on the initiative to talk to my own children in Urdu from birth. I had much help from my husband and his family, and my own parents who were thrilled to be on board with this initiative. For my children's home education, I teach all academic subjects in Urdu, and I also translate and add Urdu subtitles to English books. Moreover, I prepare their homeschool lessons, posters, and worksheets in Urdu. It is my hope that by constantly seeing material in Urdu, my children will read and write the language faster this way. I have stayed dedicated to this initiative for the past 4 years since my firstborn, and I hope to keep going until they reach adulthood, with Allah's permission.  
In order for my children to have a close relationship with their grandparents, I am pleased to see my children being able to communicate with them in Urdu with ease. It is the first language of my children – the language they think in.