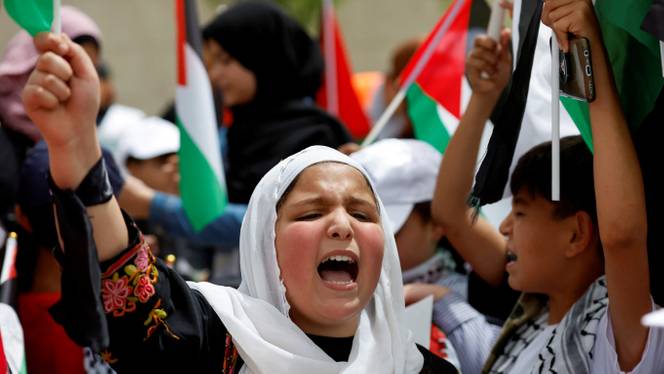 Reuters archive
Nakba Day is observed annually by Palestinians and human rights advocates across the world.
The UN will commemorate Nakba Day, which marks the creation of the state of Israel in historical Palestine, for the first time in 2023.
"The UN Committee on the Exercise of the Inalienable Rights of the Palestinian People [CEIRPP] will commemorate the 75th anniversary of the Nakba at UN Headquarters in New York," the UN said.
"For the first time in the history of the UN, this anniversary will be commemorated pursuant to the mandate by the General Assembly."
"Commemorations… will bring to life the Palestinian journey and will aim at creating an immersive experience of the Nakba through live music, photos, videos, and personal testimonies."
This year marks 75 years of Nakba, or catastrophe, when nearly 800,000 Palestinians were driven out of their homes by then Zionist Israeli paramilitaries in 1948 and onward.
"Commemorating the Nakba must be at the top of our priorities in order to preserve our narrative, which we must adhere to and convey to the whole world," the Palestinian WAFA news agency quoted Palestine's President Mahmoud Abbas on Saturday as saying.
Abbas urged all Palestinians to commemorate the Palestinian tragedy of 1948 "to confront all lies and false narratives that attempt to distort history and facts."
He said that Palestinians should commemorate this tragedy because "it is the first the global community doesn't deny it."
"On these blessed days, we call on all our people to stand together to face the challenges facing our cause, our land and our sanctities, and to focus our compass towards confronting the occupation and getting rid of it," he added.
READ MORE: Rashida Tlaib brings resolution in US House to recognise Palestinian Nakba
Annual reminder
Nakba, Arabic for Catastrophe, resulted from the first Arab-Israeli war in 1948.
Following the war, hundreds of thousands of Palestinians were forced out of their homes and areas, paving the way for the establishment of Israel.
It is observed annually by Palestinians and human rights advocates across the world.
Arabs in general and Palestinians in specific often mark May 15 as a reminder of their collective suffering, their ancestral home, the continued occupation of the West Bank and the blockaded Gaza.
Palestinians legally hold the "right of return" to their own lands, which are now considered Israeli territory, according to the UN General Assembly Resolution 194 of 1948.
Millions of Nakba survivors are living with their descendants in refugee camps in blockaded Gaza, occupied West Bank and other neighbouring countries.