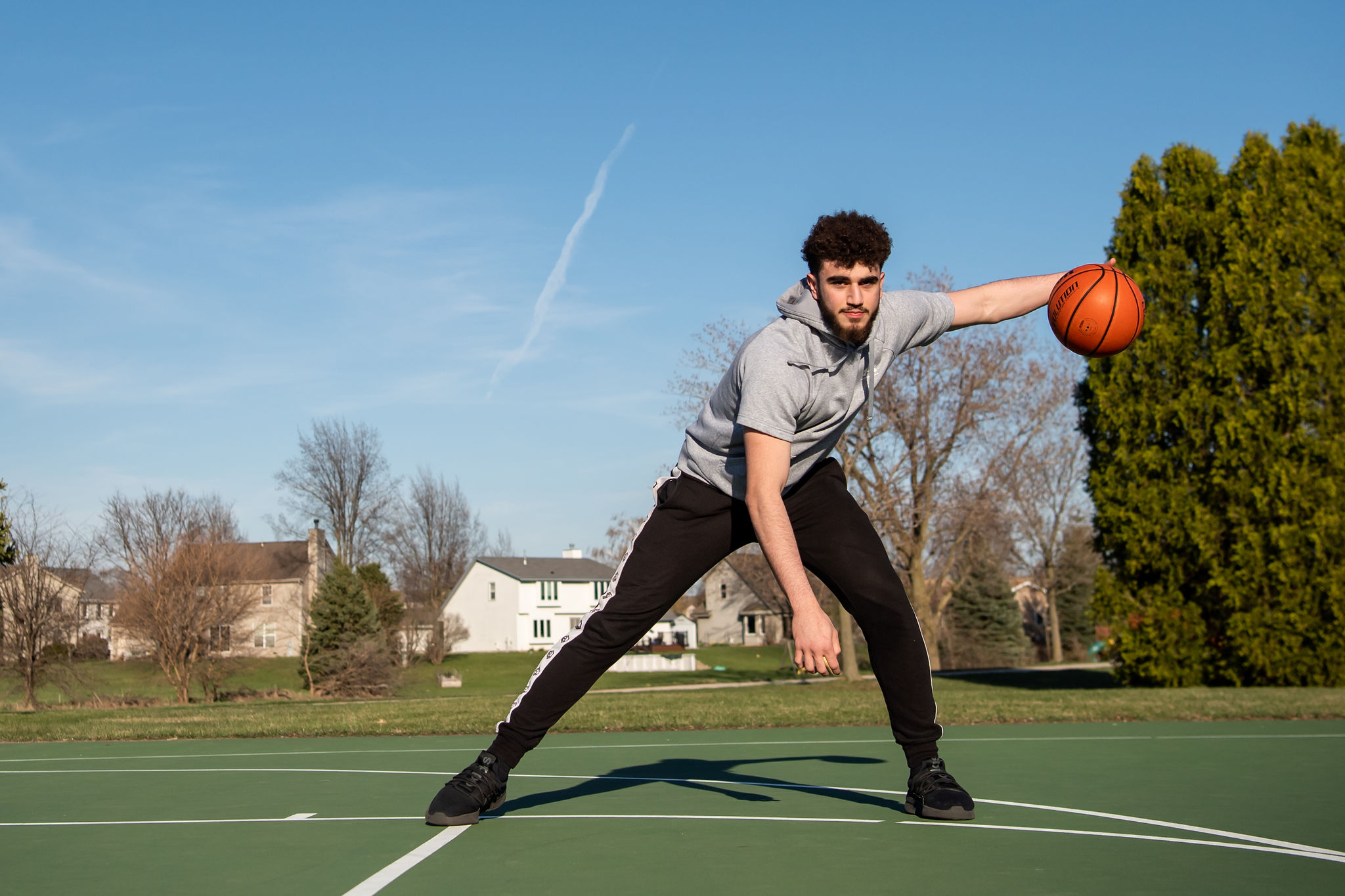 Photo by Mouna Photography
Lake City Conference 2023 Player of the Year Ahmad Badwan of Oak Creek led the state in scoring.
Salam High School Varsity Basketball Programs produced champions this year, both as teams and individuals. The Wisconsin Muslim Journal celebrates their impressive accomplishments in a two-part series. See Part One here. See Part 2 below.
Salam High School's Boys and Girls Basketball Programs have broken into the ranks of champions this year, with conference team and individual honors. Salam Girls and Boys Basketball Teams won the 2023 Lake City Conference championships. 
Two Salam varsity basketball players, Sana Abubaker and Ahmad Badwan, were named Lake City Conference Player of the Year for Girls and Boys Basketball respectively. In addition, Abubaker was one of 16 winners of the Wisconsin Basketball Coaches Association's prestigious Elite Individual Academic All-State Awards.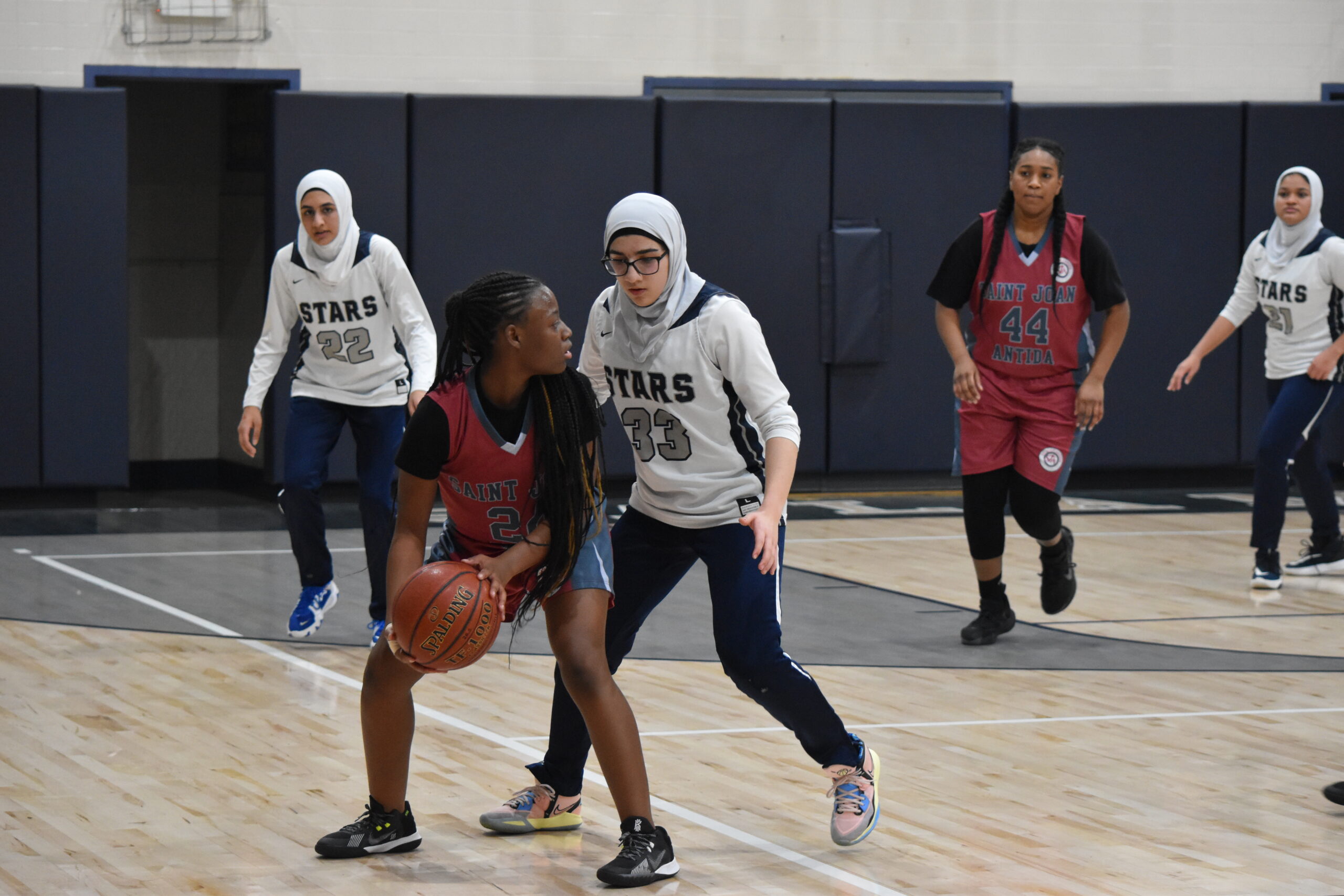 Photo courtesy of Salam School Girls Varsity Basketball
 Salam School Varsity Girls Basketball senior Sana Abubaker led the state in steals in 2023.
Wisconsin Muslim Journal focuses this week on the Boys' Varsity Basketball Team and standout Ahmad Badwan, 17, of Oak Creek.
Salam School Boys Varsity Basketball grows up
"We've been working on this boys' program for the better part of 20 years," noted Salam School Athletic Director David Petrick. Years of building have come to fruition and Salam School Boys Varsity Team is now a force to be reckoned with. It led the conference this year with 12 wins and two losses.
Lake City Conference Champions, with player Ahmad Badwan chosen Conference Player of the Year, "this team is amazing," said Boys Varsity Coach Abdallah Badwan, Ahmad's older brother. "All the accomplishments, individually and collectively, have been done because the team is unselfish. Ahmad's success couldn't have happened without the team.
"A lot of teams have some jealousy between teammates. It's not like that with us. Everyone wants to see everyone else grow. They want to see each other get better. They want to see each other accomplish their goal."
The team is also very hard-working, he added. "There was a lot going against us, including injuries. We had a lot of key players that went down during the season. We battled back and won our first playoff game.
"We've never won a playoff game until this season. It was the first team in our history to do that. They'll forever be remembered for it. They are a special team."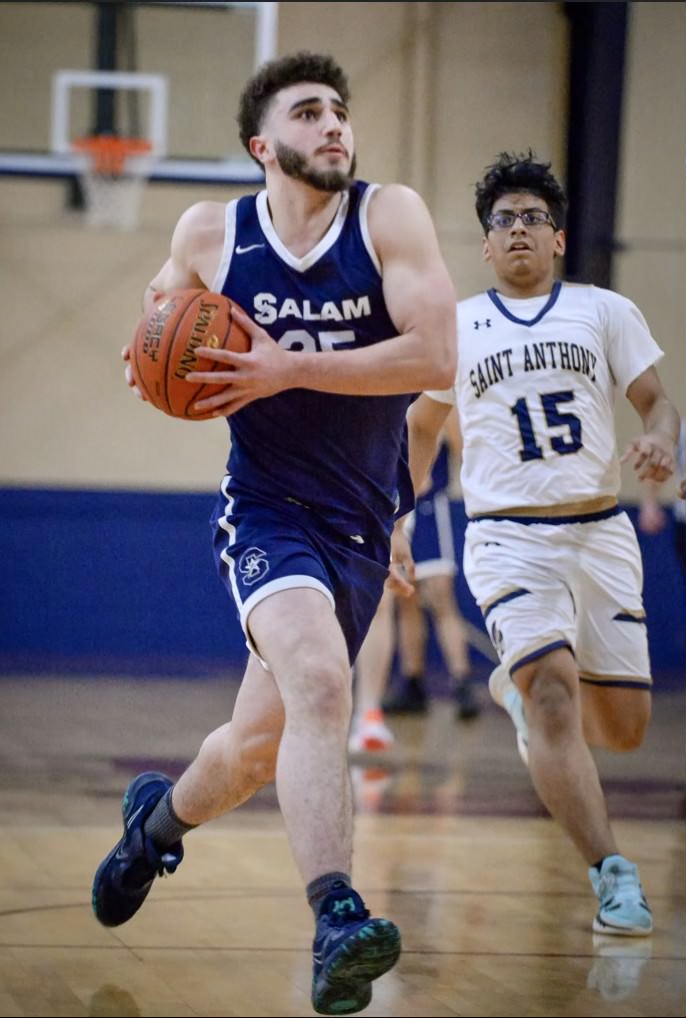 Photo courtesy of Salam School Girls Varsity Basketball
Ahmad Badwan is known as "an exceptionally productive wing player."
The closeness of the players is a big factor in their success, said junior Ahmad Badwan. "Other teams just see each other in practice or in school. For us, we see our teammates every day in the mosque and out in the community. We're not just friends at school. We're like family."
Next year Salam School will be a strong contender again, Coach Badwan added. "We should only be losing two seniors with eight returning, including Ahmad. Every year we are progressing. It's a great feeling seeing the program develop and knowing the sky's the limit to what we can do."
"Our future for the Boys Basketball Program looks very bright," Petrick agreed. "We're bringing back almost our entire team and this year we made it all the way to the regional finals. Now we can shoot for the stars—getting our Boys Team to sectionals and hopefully to state."
Hard work is behind Badwan's success
The Wisconsin Sports website describes Ahmad Badwan as "an exceptionally productive wing player." As a sophomore starter, he averaged 13.5 points a game, 7.3 rebounds and 2.8 assists.
This year he bumped up those stats impressively, leading the team state in scoring, Petrick said.  During his junior year, he had 35.4 points and 12 rebounds per game.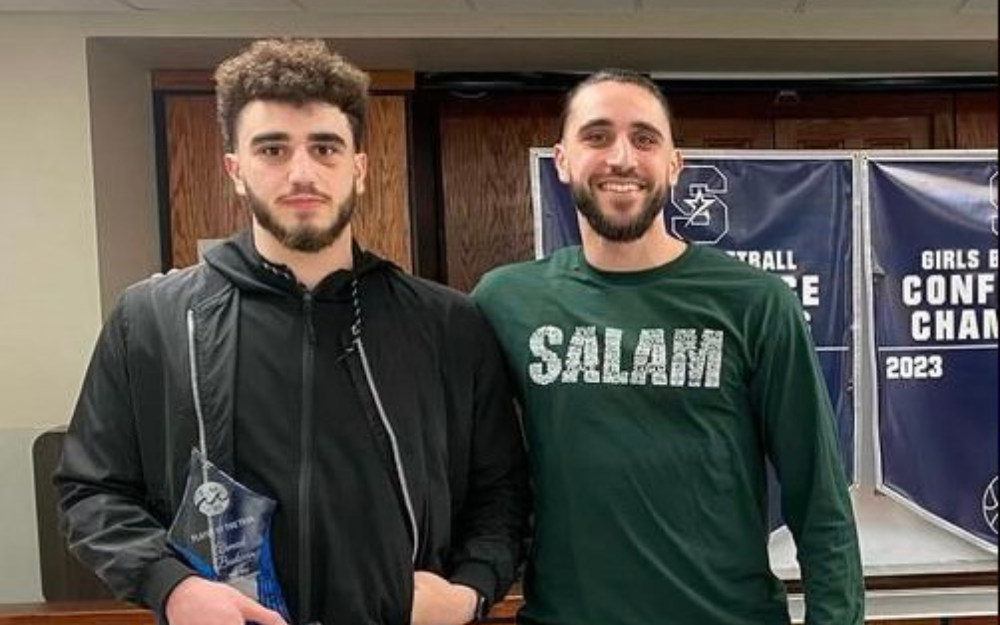 Photo courtesy of Salam School Boys Varsity Basketball
Ahmad Badwan (left) celebrating victory and hard work with his brother and Salam School Boys Varsity Coach Abdallah Badwan (right).
"He led the state from the get-go," Petrick said. "He was number one scorer in the state and ended up being Lake City Conference Player of the Year. That's the first time this has happened for us.
"Ahmad is a gifted scorer," Petrick added. "He is one of those people who is very crafty around the basket. And he has worked very hard on developing his outside game, his three-point shooting.
What "separated him from the rest was the work he put in during the summer," Coach Badwan said. "He would spend three hours a day in rigorous training when all his friends were hanging out. He was willing to sacrifice."
During basketball season, after the daily team practice of an hour and a half, Ahmad spent another hour training on his own. He'd work on strength or skills.
When he won Conference Player of the Year, "it was kind of shocking at first. But at the same time, I have been working for it," Ahmad said. "I put in a lot of hard work throughout the summer and during the season. It didn't come out of nowhere."
"I think the biggest thing is his confidence," Coach Badwan added. "Confidence comes from preparation. He's not the most athletic person but he has the mentality that he is not going to give up. I don't think there's anybody in the conference who can match him from a mentality standpoint."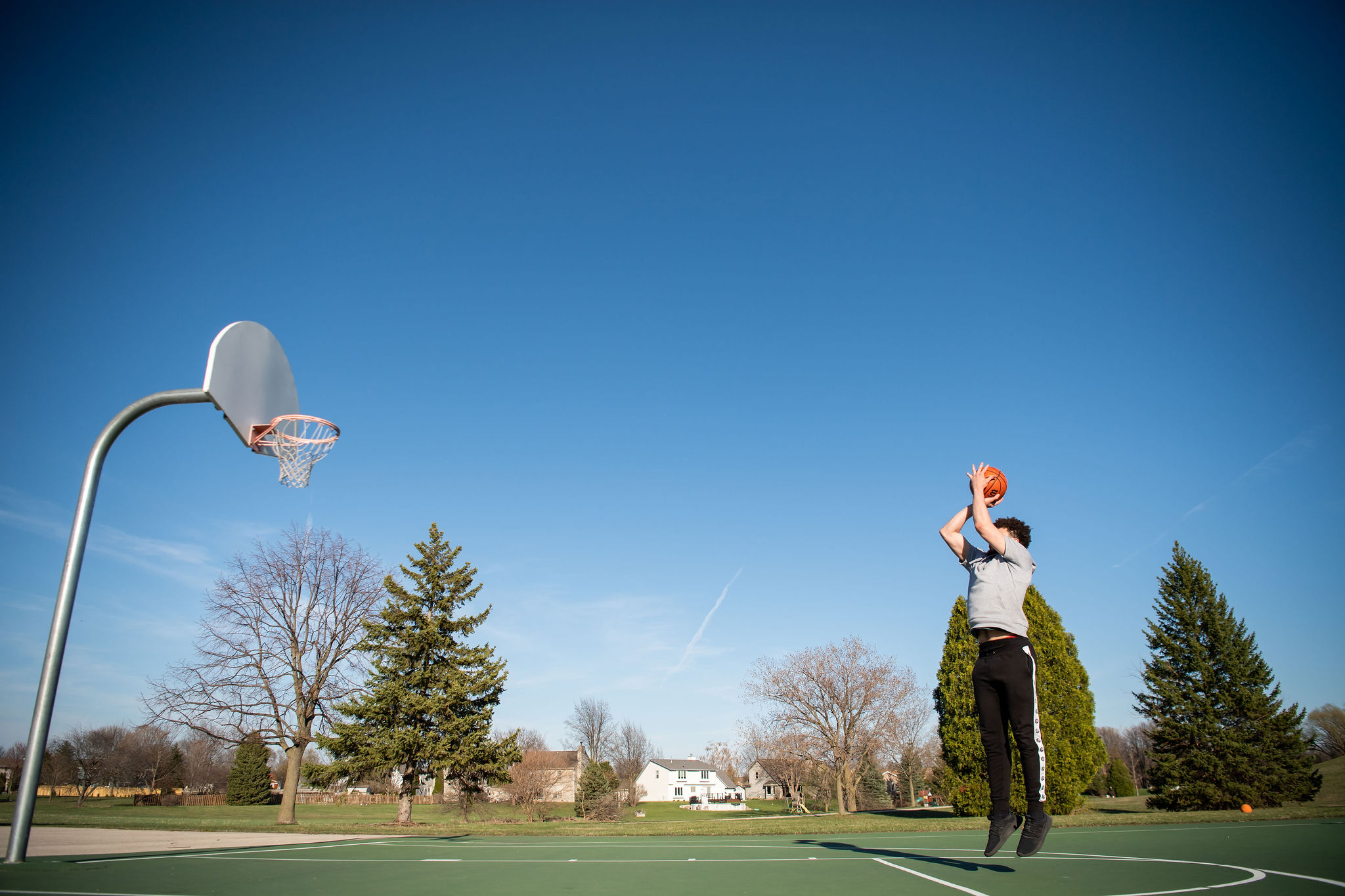 Photo by Mouna Photography
Coach Badwan noted that Ahmad is also a "very good learner. He listens and picks things up quickly. He takes criticism well and understands when I am hard on him, it is to make him better."
Growing up with an appreciation for sports
"The whole Badwan family have been tremendous athletes," Petrick observed. "His little brother is tearing it up in the eighth-grade league. His sister coaches for me in track. Abdallah is head coach in boys basketball. The whole family are big supporters of our school's athletic programs."
Petrick coached Abdallah Badwan from 2011-2014, when he played varsity basketball at Salam School. Badwan, 26, has been the Boys Basketball Team's head coach for the past two years.
When Ahmad was 4 or 5, he would tag along and watch Abdallah play basketball in the park. "I just started doing whatever they were doing," he said.
A one-sport player, Ahmad stuck with basketball. Because of COVID, he didn't have a freshman season. Starting his sophomore year, the 6-foot-3-inch player has started on varsity. "I get my homework done before practice, then focus on basketball," he said.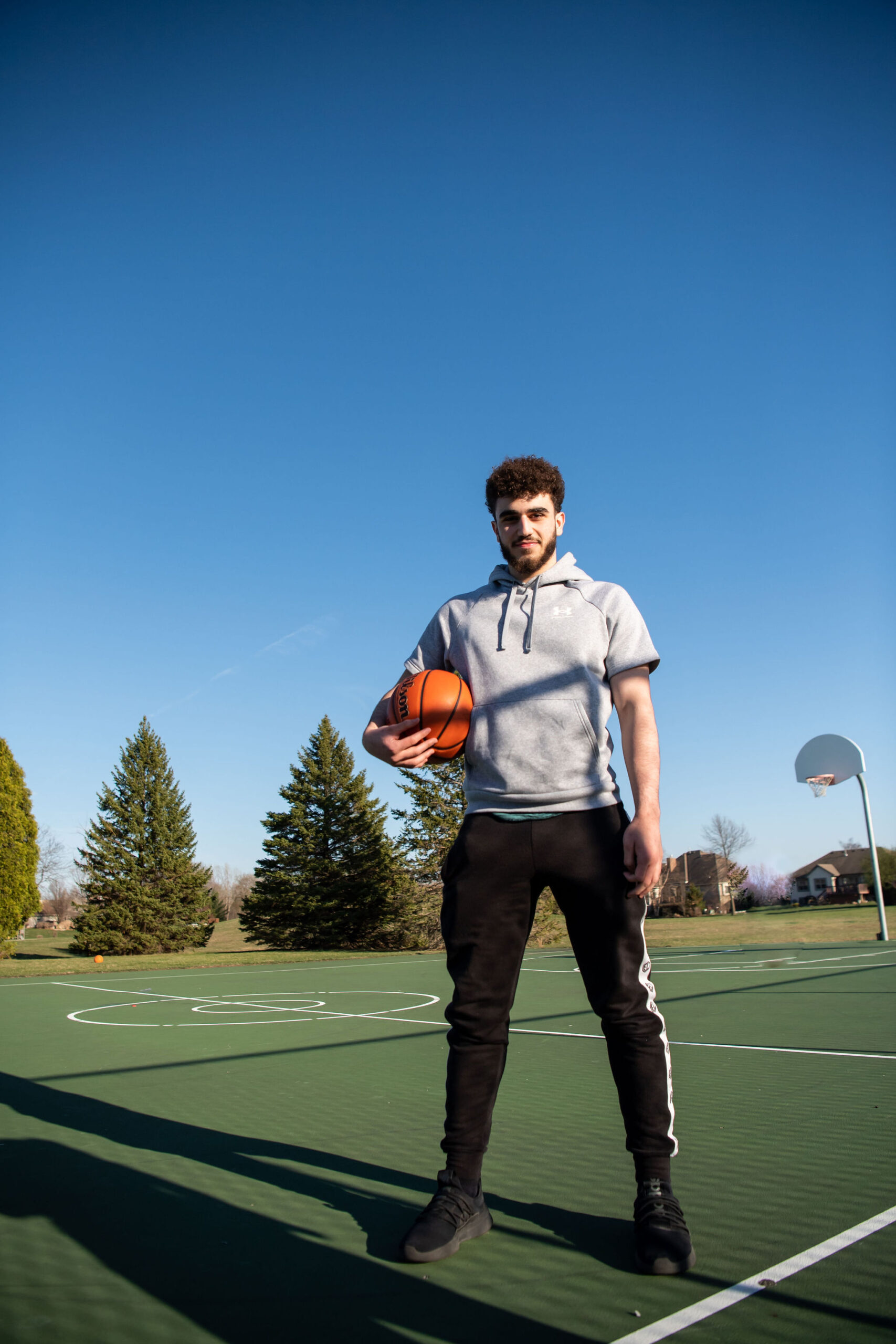 Photo by Mouna Photography
Having his older brother as his high school basketball coach "feels normal," he said. "He's been coaching me all throughout my life."
Badwan's parents are supportive both Ahmad and Abdullah explained. "They love what we are doing with basketball, but we have to keep our grades up," said Ahmad.
"When I was young and had practice every day, they didn't see the value," Abdallah said. "They immigrated from Palestine and, like foreign-born parents in general, the goal was to get a good education and a good job.
"Over the years, they have seen how sports help a kid become a better person on and off the court. It helps you deal with pressure in life. It builds character. You learn how to play with a team, which is important in school and in life. You learn leadership. You develop communication skills.
"It's about more than putting a ball in a hoop. Sports teach life skills. I think learning them at an early age gets you ready for the real world."
"Basketball teaches me to be disciplined," Ahmad said. "It shows you that if you want to accomplish something in life, you have to work for it."