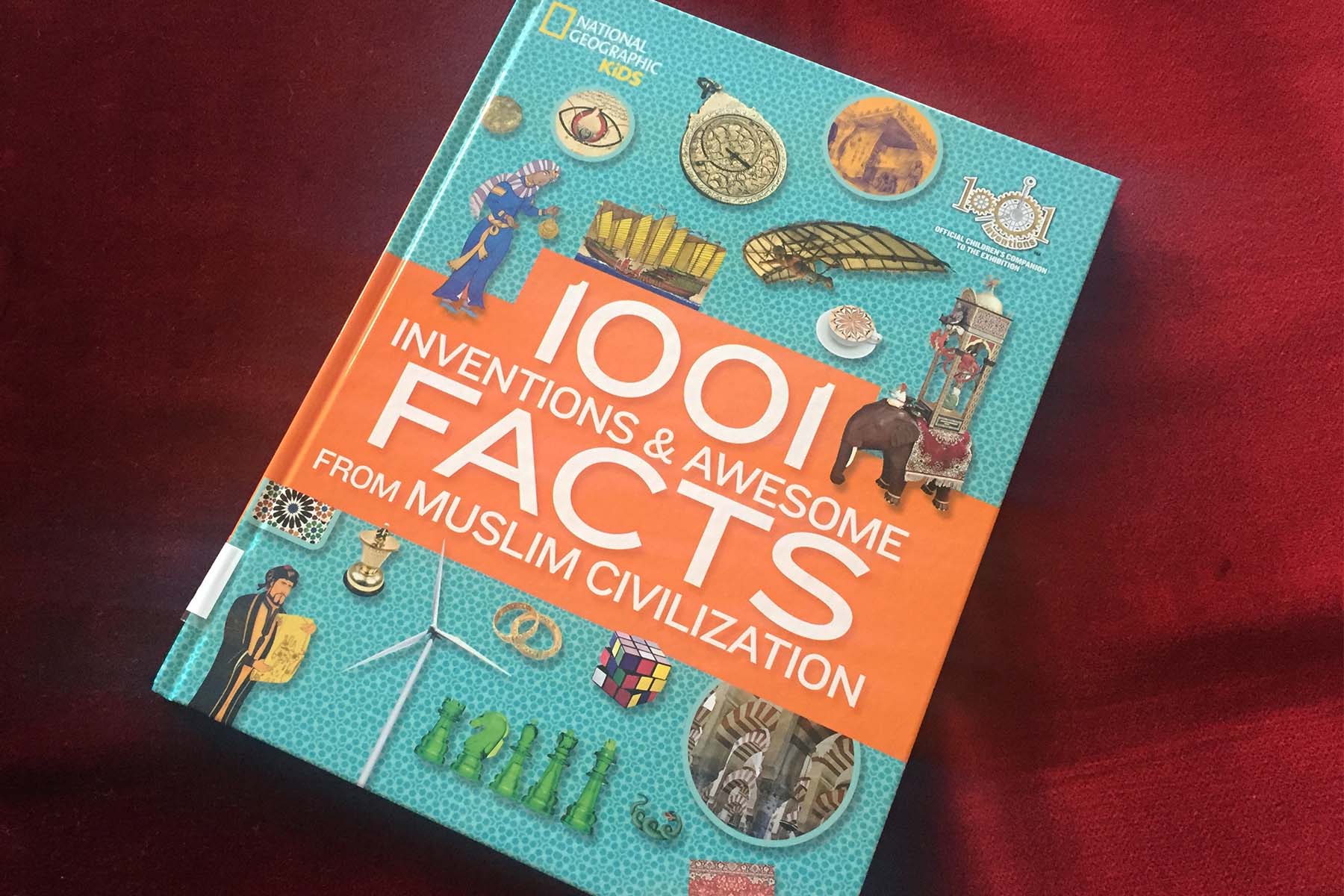 Elise Bellin, Librarian of the Islamic Resource Center, wrote this book review as part of an ongoing series that focuses on a range of books within the IRC collection as a service to the community.
1001 Inventions and Awesome Facts from Muslim Civilization
1001 Inventions and Awesome Facts from Muslim Civilization by National Geographic Kids, in concert with 1001 Inventions © 2012 – ISBN: 9781426312588
Most of what we learn in classrooms in the Western world are European advancements and inventions. Sometimes American (if it is someone like Henry Ford, Thomas Edison, or Benjamin Franklin), but never someone from the Middle East or predominantly Muslim countries. We are actually more likely to hear of Chinese contributions than the Middle East. As far as we are concerned, it is almost as if scientific and social advancement couldn't come from anywhere else other than Western society. This is probably a remnant of Manifest Destiny and European colonialism, but it truly doesn't give credit to the rest of the world.
To put a drop in the bucket toward fixing that sad state of affairs, National Geographic and others got together a number of years ago to put out a traveling exhibit known as the 1001 Inventions series. They traveled around the country sharing some of the amazing and everyday things we take for granted that actually originated, whether in their entirety or in concept form, from the Middle East, particularly from Muslim countries and Muslims.
We got to see the heiress that brought us the first University and later documentation of the first immunizations and evidence of how that was brought over to Europe through the wife of a wealthy English diplomat. We were shown how the gardens of Versailles were actually designed around Arabic water features and those feats of Muslim architecture that made it possible for the world to have arches and domes. And for those of you who were interested in games or photography, we saw the science behind pinhole cameras being created long before Leonardo Da Vinci and the original chess sets and puzzle boxes that would lead to the modern day… And let's not forget about coffee.
Of course, not everyone knew about or could make it to the exhibits and they are years out of circulation. But to continue to make a difference, National Geographic created one of their fabulous books for children detailing many of these inventions, surprisingly enough entitled : 1001 Inventions and Awesome Facts from Muslim Civilization. Come in and check it out today!
Founded in 2010, the Islamic Resource Center (IRC) is the first Islamic public lending library in Wisconsin. The IRC aims to provide resources to educators, students, health professionals, interfaith groups, and any members of the Milwaukee community that want an accurate understanding of the Islamic faith, its practices, and its people.