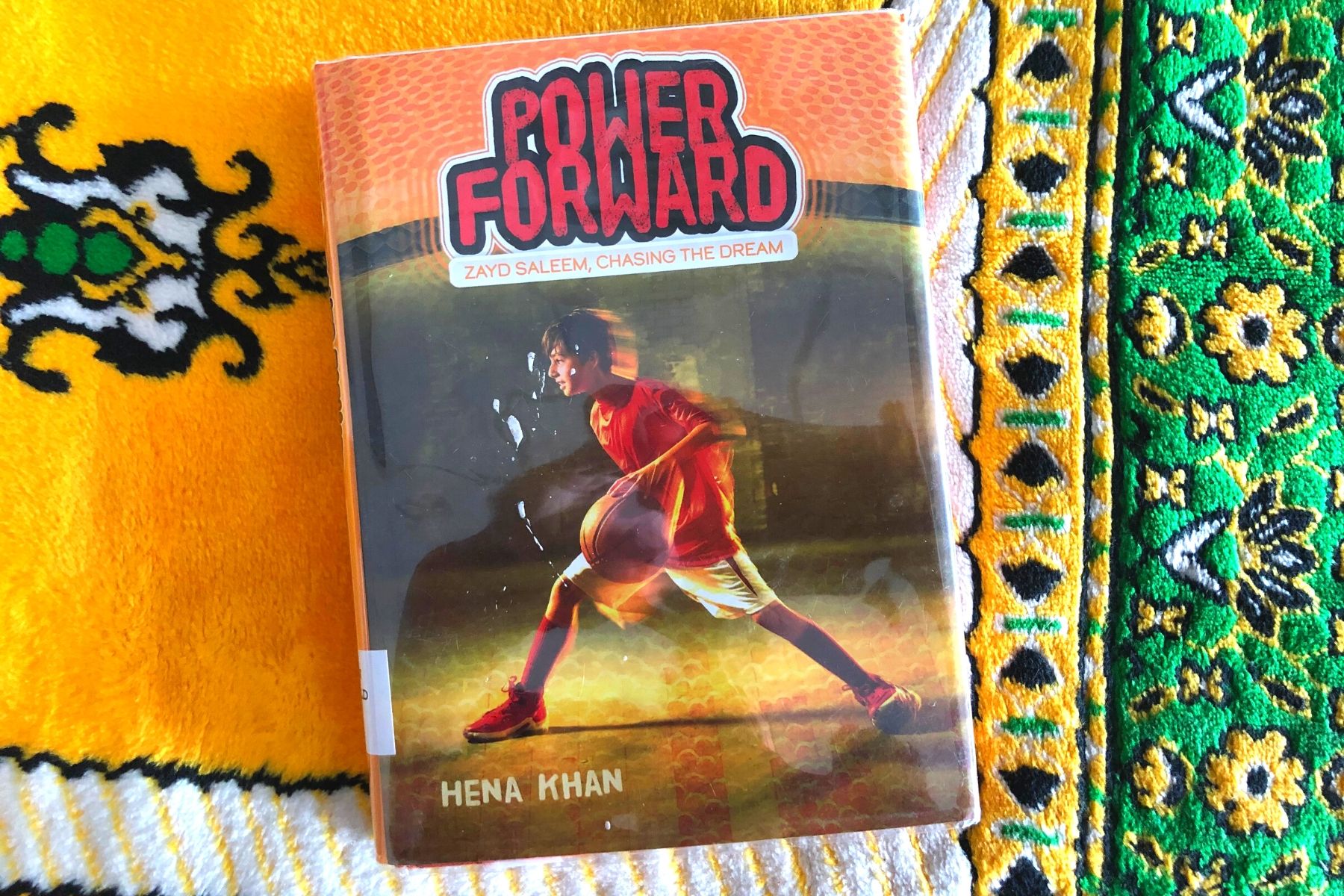 Elise Bellin, Librarian of the Islamic Resource Center, wrote this book review as part of an ongoing series that focuses on a range of books within the IRC collection as a service to the community.
Power Forward by Hena Khan (2018)
ISBN: 9781534411982
Fourth grader Zayd's one goal is to pass tryouts for the gold basketball team. His small size might be against him, but with his loving Pakistani-American family behind him (maybe not his annoying sister) and his best friend cheering him on nothing will stand in his way. When Zayd decides to skip violin practice and school orchestra rehearsal to get a little extra hoop time and gets found out, his parents are less than thrilled. His punishment: No watching basketball, no playing basketball, no reading about basketball, no talking about basketball. No basketball. For two whole weeks. Just in time for tryouts. How will Zayd achieve his ambition?
Power Forward is the first in a series focusing on a Pakistani-Muslim-American boy in his quest to become a basketball star. Zayd is at once likable and relatable. This is especially important as we are only recently seeing the emergence of good, reliable materials on and/or by Muslim children, in particular children of Middle Eastern and Asia descent, for Muslim children. It is the problem with many minority groups that they don't see near enough representation, especially in principle roles, in media of any sort. Hena Khan and the other authors represented by Simon and Schuster's Muslim imprint, Salaam Reads, are working hard to fill this need and series like Power Forward are the excellent, quality selections that do that.
Power Forward actually fulfils two purposes. It also helps to cross the gap often found in materials that adequately get boys to read. Books on sports and in which realistic portrayals of boys in these sorts of stories can be incredibly useful in bridging that gap. This series is aimed at elementary school children, which is when this gap can sometimes begin to occur and begins to be solidified once middle school is achieved. If we can keep them reading, though, we can shrink that gap and create generations of life-long readers.
Founded in 2010, the Islamic Resource Center (IRC) is the first Islamic public lending library in Wisconsin. The IRC aims to provide resources to educators, students, health professionals, interfaith groups, and any members of the Milwaukee community that want an accurate understanding of the Islamic faith, its practices, and its people.