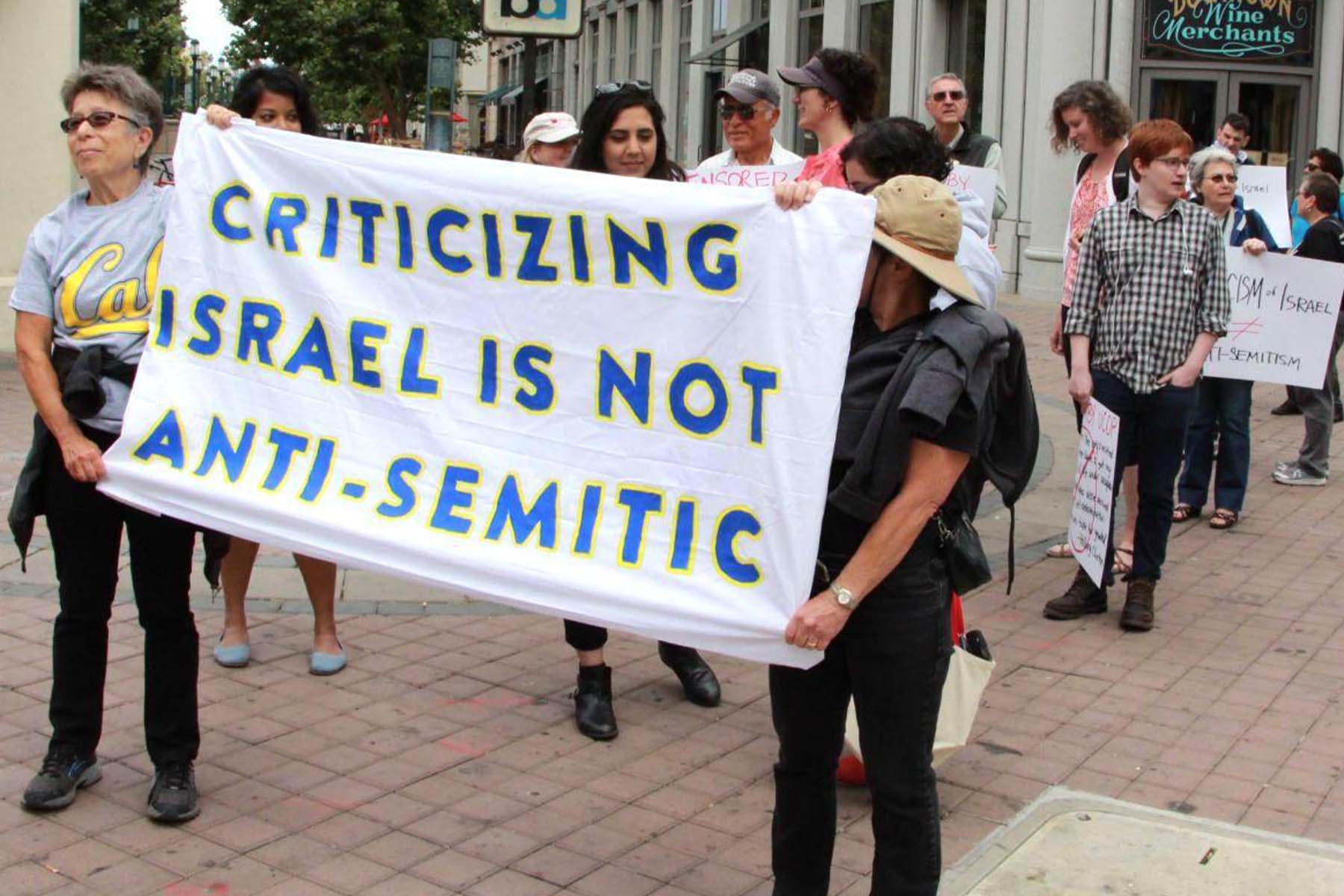 Academic Advisory Council/Press Release as "Jewish Students and Faculty Oppose Trump's Executive Order" for Jewish Voice for Peace
"This EO doesn't fight antisemitism – and it makes me feel less safe on campus"
December 11, 2019 (New York City, NY): As President Trump signs an Executive Order on antisemitism on college campuses, Jewish students and faculty cry foul. Jewish Voice for Peace students and academics know that this EO doesn't address the terrifying rise of antisemitism across college campuses, but instead is a dangerous, authoritarian attempt to silence student activism in support of Palestinian rights.
Trump's EO is the latest attempt in an ongoing strategy to shut down solidarity with Palestinian rights, one of the fastest-growing movements on college campuses and arguably the start of a nationwide and international anti-apartheid movement targeting Israel's violations of Palestinian human rights. For the past few years, Jewish and Palestinian students especially have faced high-level attacks for their activism on Palestinian rights, with cases at UMass Amherst, Duke/UNC, and NYU being the most recent examples.
"This executive order won't protect Jewish students against Nazis or Nazi recruitment, it won't prevent campuses from scheduling important events on Jewish holidays, and it won't protect Jewish religious spaces," said Tallie Ben Daniel, Research and Education Manager at Jewish Voice for Peace. "But it will target the incredible student movement for Palestinian rights, which is principled and diverse, and has always included a lot of Jewish students."
Here are some reactions by Jewish Voice for Peace students and academics and allies – still more are available to speak with the media.
STUDENT VOICES
"I am outraged and horrified by Trump's Executive Order. Two years ago, as a Jewish student at Barnard, I campaigned for the successful student vote to get my college to divest from companies that profited from Israel's human rights violations against Palestinians. Although the student body voted 64% in favor of the measure, we were immediately silenced and accused of antisemitism. This move by President Trump will codify this silencing into law and make our activism a criminal offense. But we know we're on the right side of history and we're fighting back!"
Sophie Edelhart, Barnard class of '19. She was a member of the Barnard/Columbia Jewish Voice for Peace chapter and majored in History
"This EO is trying to silence student voices who support Palestinian rights by falsely claiming to fight antisemitism. It's very clear that the EO will not make my Jewish friends safer, and in fact endangers all of us. I've watched the growth of all forms of white nationalism on college campuses, and I'm fighting back. Trump's EO won't help. Instead, Trump is trying to censor my right to talk about my family and our struggle for our rights."
Hasan Abdel-Nabi, Sophomore, Tufts University. He is majoring in clinical psychology and is a member of Tufts Students for Justice in Palestine
"Trump's Executive Order will not make me safer. As a Jewish student activist who supports Palestinian rights, it's very clear that this EO is trying to silence student voices like mine by pretending to fight antisemitism, while actively contributing to actual antisemitism – like we just heard from the President over the weekend! I've watched the growth of antisemitism on college campuses, and it's scary and I'm part of the fight against it. But this EO doesn't fight antisemitism, in fact, it puts Jewish students like me at further risk – along with Palestinian, Arab and Muslim students."
Miriam Saperstein, Junior at the University of Michigan. They are majoring in Judaic studies and are a member of Jewish Voice for Peace
JEWISH STUDIES FACULTY
"Trump's Executive Order is part of a longstanding strategy to shut down debate one of the fastest-growing movements on college campuses – the campaign for Palestinian rights – by falsely claiming that criticism of Israel is antisemitic. As a professor of Jewish Studies, it is beyond apparent that this EO fails to increase the safety of Jewish students or fight the growth of antisemitism. It will, however, silence debate and endanger the freedom of speech."
Barry Trachtenberg, Rubin Presidential Chair of Jewish History at Wake Forest University
"As a professor of U.S. history and a scholar of American Jewish life, I have traced the history of attempts to silence debate over Israel/Palestine, and it is clear that this EO will not fight the growth of antisemitism or make Jewish students safer on campus. Instead, it will prevent essential collaborations and will, without question, have a chilling effect on our freedom of speech."
Marjorie N. Feld, Professor of History, Babson College
"The Executive Order is a deliberate strategy to stifle debate on campuses around the country and to shut down learning opportunities. As a professor I value even heated discussion of ideas, seeing them as the powerful tools by which students can learn. Anything that declares what can and cannot be a fit subject is a danger to the point of university life, education in the broadest sense of the word.
Hasia R. Diner, Paul S. and Sylvia Steinberg Professor of American Jewish History, Director, Goldstein-Goren Center for American Jewish History, New York University
JEWISH VOICE FOR PEACE STAFF
"This Executive Order, actually, perpetuates a white nationalist understanding that all non-white Christians are lesser and "others"—and we know where this leads: To marginalization, exclusion, and, ultimately to ethnic cleansing. This EO is bad for Jews, no question, but the real impact of it will be felt by Palestinian and Jewish students on campuses who will be silenced and reprimanded for speaking up for Palestinian freedom. This is unacceptable."
Rabbi Alissa Wise, Acting Co-Executive Director of Jewish Voice for Peace
"I work with college students daily, and I've fought against the terrifying rise of antisemitism on college campuses. I've also watched the repeated attempts to intimidate students by falsely accusing them of antisemitism. This EO is nothing more than an attempt to silence student activism in support of Palestinian rights – it's appalling and utterly predictable, coming from a President who peddles in antisemitic stereotypes and brings white nationalists to the White House."
Maya Edery, Jewish Voice for Peace Student Organizer
###