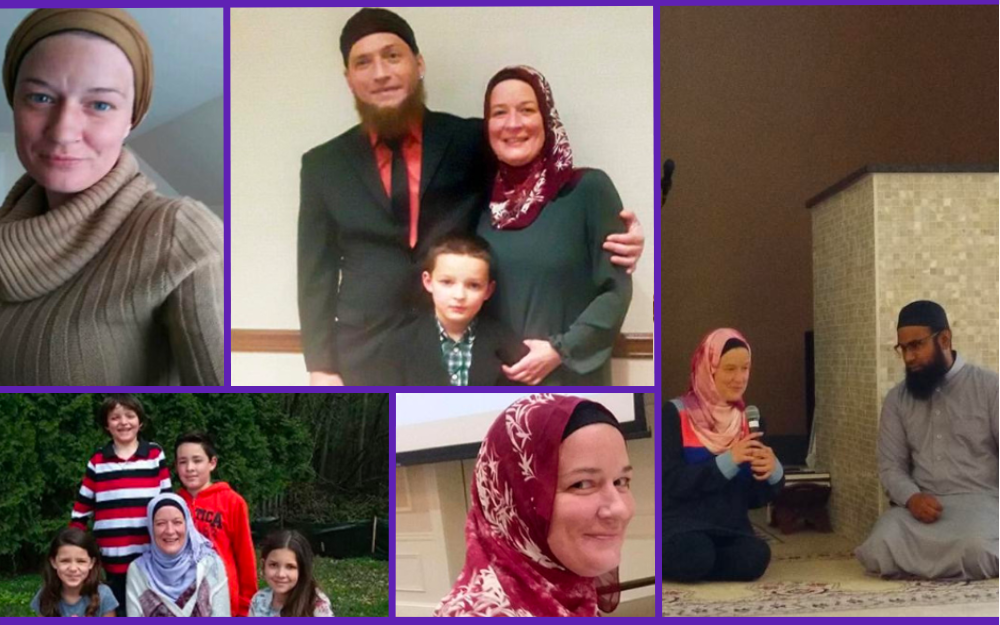 (Top center) Katie Silva with husband Drew Stewart and son Michael; (Bottom left) Silva surrounded by her children; (Right:) Silva makes her Islamic declaration of faith with Shayk Noman Hussain at ISM-Brookfield. 
In Katie Silva's short life (the Milwaukee woman died Wednesday at 40), "she saw things no human being should have seen, experienced things no human should have experienced," said Shayk Noman Hussain who led the prayers at her janazah (funeral) service Thursday at Masjid Al-Noor in Brookfield, where she made her declaration of faith a few years ago. "She went through all those difficulties and challenges. Yet, she persevered and gave back to her community."
Silva served the homeless even in times when she was homeless herself. Smart and curious, she eagerly sought to learn about God, studying both Christianity and Islam before deciding to become a Muslim. 
She smiled brightly to all–-rich, poor, the devout and the addicts–-lifting their spirits, said her husband Drew Stewart. "It was impossible to be in a bad mood around her. If you felt down, she was going to make you laugh."
Above all, she inspired those she met to be better people themselves, say all who knew her. "As much as we thought we were doing for them, in reality, Katie and Drew were doing for us," Hussain said. "They are an inspiration to so many of us because of their dedication and work."
Silva was buried Thursday at Arlington Park Cemetery in Greenfield with full U. S. Marine honors in the presence of family, friends and many from the Islamic Society of Milwaukee community to whom she was "a beloved sister," the ISM funeral announcement called her. She is survived by Stewart, her children Juan, Madelynn, Danica and Michael, her mother Heidi and grandmother Evelyn.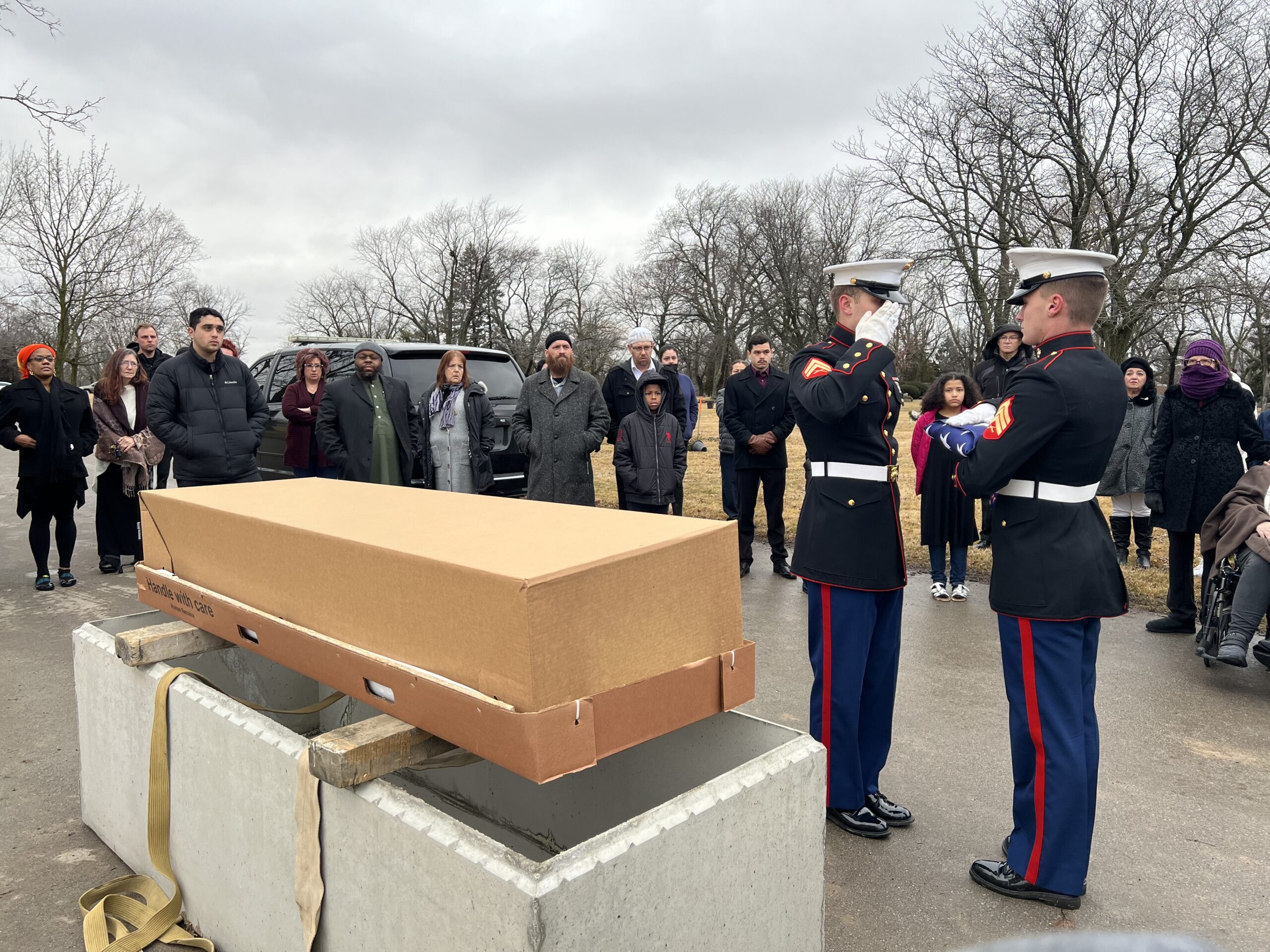 A United States Marine veteran, Katie Silva was buried with full military honors at Arlington Park Cemetery in Greenfield.
What was it about Katie Silva?
In an interview in the upstairs flat on Milwaukee's South Side, where Drew Stewart, Katie Silva and her son Michael, 9,  made their home, Stewart pointed to the center of the room where a coffee table sat.
"A few days ago, she was right here," he said, then pulled out his phone and showed his young wife in a hospital bed. "Sisters and friends were coming all the time." 
Silva spent her last five days in home hospice at the end of a month of decline. Her liver was failing, "although she had been clean for years," Stewart said. She couldn't get on a list for a transplant, he added. 
Her last night, she stayed up until about 2 a.m., watching Netflix with her husband and son. "It's like she didn't want to go until after we went to bed," Stewart said.
That's the Katie her family and friends described, always thinking about how to make others happy.
"That smile though was always there on her face," said Stewart, pointing to a photo on his phone of Silva snuggling with Michael.
In a telephone interview, Jamie Sharifian of Racine recalled meeting Silva during their freshman year at Rufus King High School. "Katie was the most bubbly person you could ever meet, as I'm sure Drew told you. She had great energy and a great vibe. It was so fun to be around her." 
The two girls talked and giggled together their whole 9th-grade year, Sharifian said. And Silva could still keep up with her classes, she added. "Katie was super smart, one of the smartest kids in school."
They each transferred to a different high school and weren't as close-knit for a while. They were surprised when they met again to take their physicals to enlist in the Marines. They went together to boot camp and military combat training before being stationed in different locations. They kept in touch "here and there," Sharifian said.  
After Silva completed her military duty, she went backpacking across the country by herself, her friend added. "She was fearless."
In 2017, they reconnected. "A Marine buddy came and we all met up. Katie showed up with her van filled with food and her kids with her. She stopped by to say hi but didn't stay. She had to get to her outreach (delivering meals to the homeless). It was so important to her. 
"It was so beautiful, knowing what she had been through, seeing her doing what she loved. Nothing made Katie happier than helping people. She was wearing her hijab. She looked so happy."
When Sharifian was going through a difficult time, a single parent with five children, including teenagers, Silva showed up and said, "'Let's go shopping.' And she didn't mean let's just pick up a few things. She meant to fill my fridge. Katie didn't have means, but she was able to save some money and used it to help others."
Achieving the impossible
Stewart and Silva met when they were both volunteering with a mission to feed the homeless. Silva and Michael were living with a Christian pastor and his wife, and she learning to become a minister, Stewart said.
They had both been homeless–Stewart living under a bridge at 25th and Beecher Streets and Silva in a homeless community in the woods on the South Side. They had both abused drugs and alcohol. Both had fought the difficult battle to "get clean."
Stewart had been in gangs and later in prison, where he first learned about Islam. After he was out of prison, he sought to learn more and was connected with Will Perry at the Dawah Center, with whom he did his shahada, the Islamic profession of faith.
Stewart and Silva became friends, and eventually husband and wife.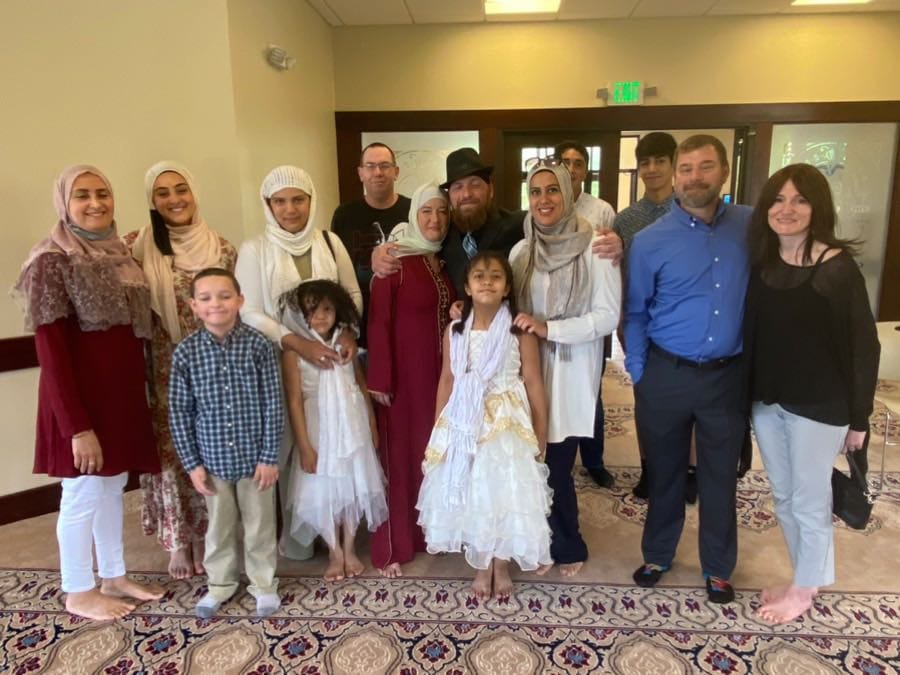 Katie Silva and Drew Stewart (center) with friends and family on their wedding day at ISM-Brookfield.
Silva's example "gave me a sense of purpose," Stewart said. "She had a van and was serving other people, doing all these things, after homelessness, after her addiction. She got back with her kids, Maddie, Danny and Papa," he said, calling them by their nicknames and pointing to their photos, printed on 8 ½ by 11 paper, taped to a door. "She got visits with them she never had before. And she got Michael full-time.
"Katie made all these strides forward in life that should have been impossible. Nobody can do it. She made it possible. 'To achieve the impossible, you must first believe it's possible.' Katie said that every day."
"I told her, 'Katie, look at me. I'm all tattooed up. Nobody's going to give me a fair shot.'"
"She said, 'Drew, let them see your heart.'
"She showed me how to be more confident in myself, how to be more of a husband, more of a father, more of a man.
"I have goals now and still have. I just wish she was here to see it. I think that's going to be a forever pain that doesn't go away."
Building their family
Ronald Heisel of Milwaukee met Silva and Stewart in 2017 when they did homeless outreach together with  "Street Life" (Streetlife Communities) and  White Stone Warriors. Street Life hands out bag lunches and supplies to the homeless, and others facing food insecurity, he explained in a telephone interview. White Stone Warriors delivers hot meals, clothes, water and other things, he said.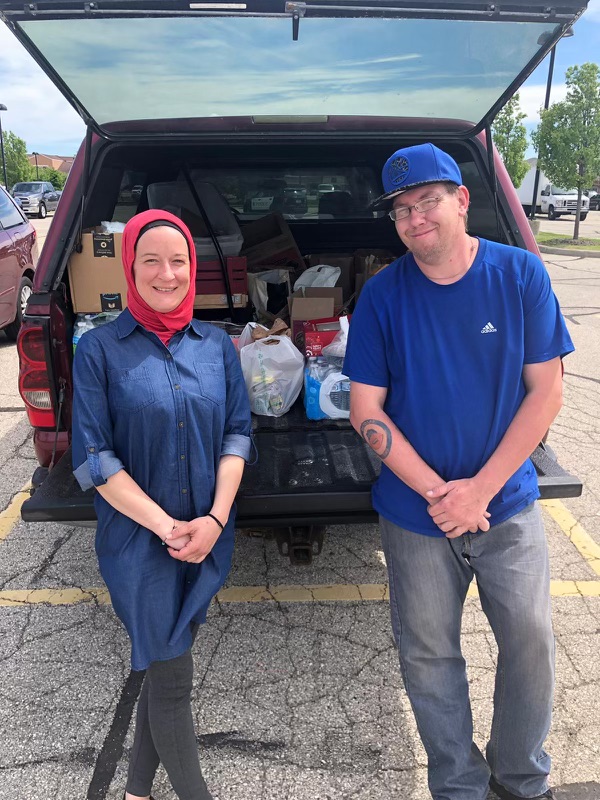 Katie Silva and Ronald Heiser prepare to deliver food to homeless people.
"The three of us bonded very quickly," Heisel said. "We had all come from the same place, grew up on the streets. It was easy to relate."
Heisel soon became part of their family. He was there for life's moments, big and small. He and his wife had meals with them,  attended their wedding, and were at their house when Silva had home hospice. He went to their home at 3:45 a.m. Wednesday when Stewart called to tell him Silva had died.
"I look at them as my brother and sister. I took Micheal to Chuck E. Cheese, and stuff like that, cause he's my nephew."
Losing Silva is hard, Heisel said.
"We always would say Katie was like a colorful unicorn. She was always upbeat. She kept a smile on her face."
When they delivered food to the homeless, Silva "was always willing to be the first one in there, to be the happy face of a friend. No matter who you were, no matter if you were Muslim, Christian, Jewish, any race or religion, she did not care. Katie held no ill will against anybody or anything."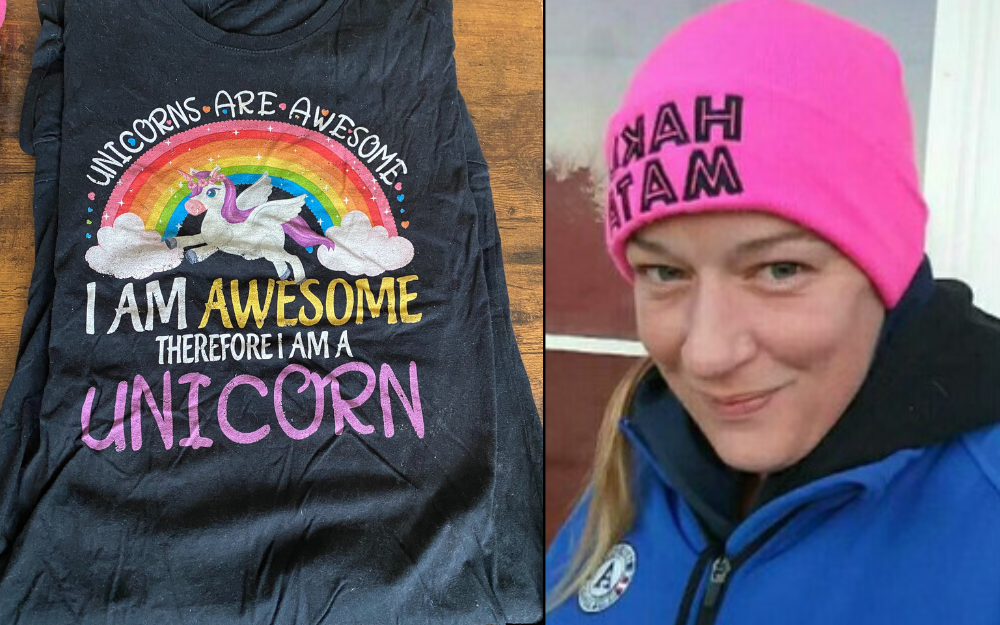 Katie Silva's T-shirt honored her bright, confident personality. Friends compared her to a colorful unicorn.
Creating Noor Oasis
When Silva said she wanted to learn about Islam, Shayk Hussain introduced her to Bushra Zaibak of Brookfield. They met over coffee regularly for chats. After many coffees with Zaibak and conversations with Stewart, Silva decided to become Muslim.
Meanwhile, Orusa Mozaffar Hassan was considering what could be done with leftover food. With Silva and Stewart's know-how, they could put together a plan. Muslim women in the ISM-Brookfield community brought leftovers from meals to mosque at appointed times. Silva and Stewart picked them up, recooked and delivered them.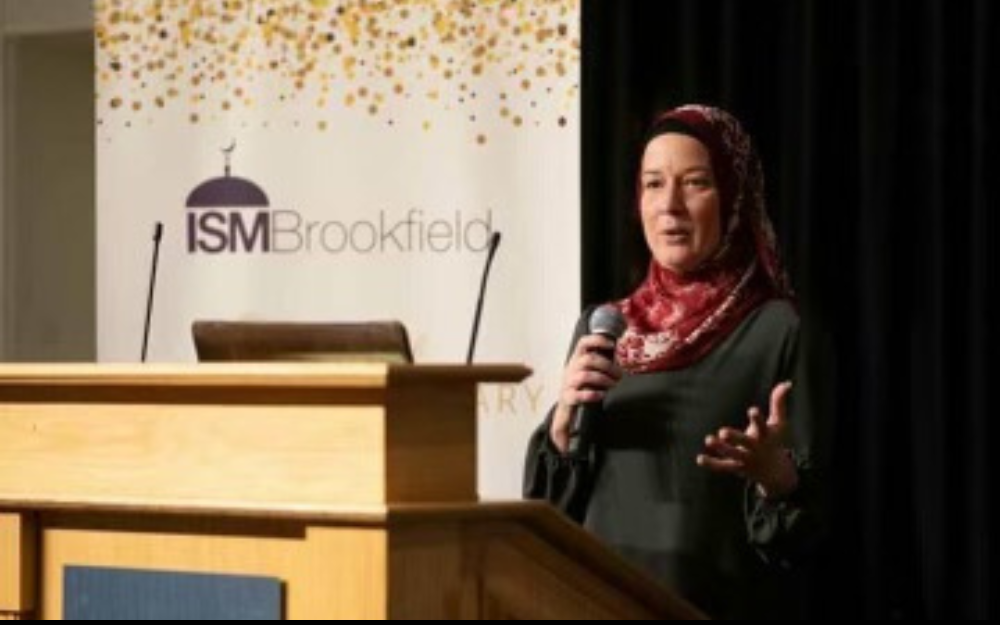 Katie Silva shared her experience of being homeless in a speech to the ISM-Brookfield community.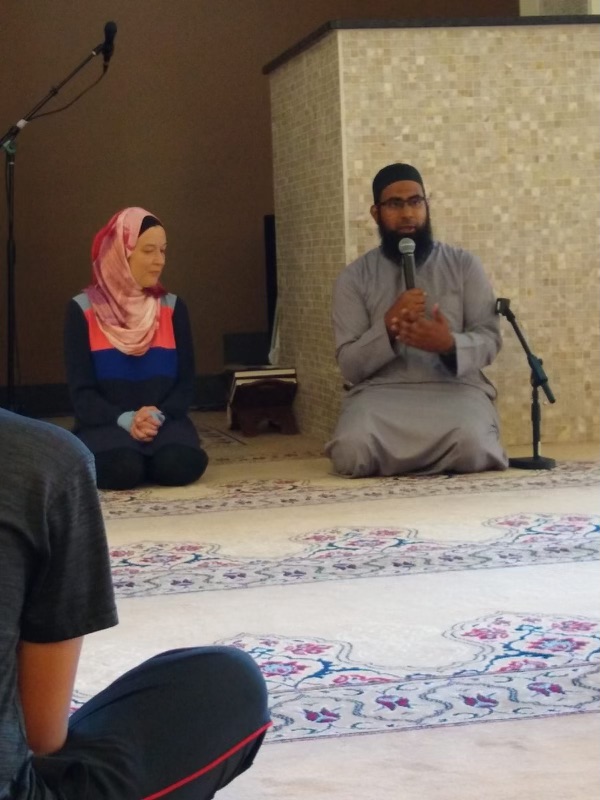 Katie Silva performs her Islamic declaration of faith before Shayk Noman Hussain at ISM-Brookfield 
"Women would bring chicken and we'd turn it into chicken and pasta, turning two meals into 20 or five into 40," he explained. "It kept growing. We fed so many people hot meals."
Stewart's first thought was maybe some people would sell the meals to buy drugs. "Katie taught me not to judge people, not to worry about what they were going to do. Katie was always loving to everyone."
Noor Oasis continues at the Dawah Center in Milwaukee, where anyone can stop in three times a week for a hot meal, Hassan said. Today the meals are catered, paid for by the women of ISM-Brookfield, an ongoing impact of the project Silva and Stewart did with them.
Lessons from Katie
When preparing to speak at Silva's janazah, Hussain considered her "interesting journey to Islam." 
He decided to address the Muslims attending, saying, "Many of us think that Islam belongs to a particular group of people, to people that look a particular way or live a particular way. But Allah guided Katie to Islam through Drew.
"He had his own history of being in gangs and abusing alcohol, yet Allah used him to bring Katie to Islam. God brought her to Islam and empowered her to serve the community and give back. Allah used them because of the sincerity found in their hearts."
"There are no words for how big her impact on me was," Stewart said. "I found Islam and some brothers, but they were on the other side of town. I couldn't always get there. She made me a better man  because for once in my life I had a family that loved me and I loved them."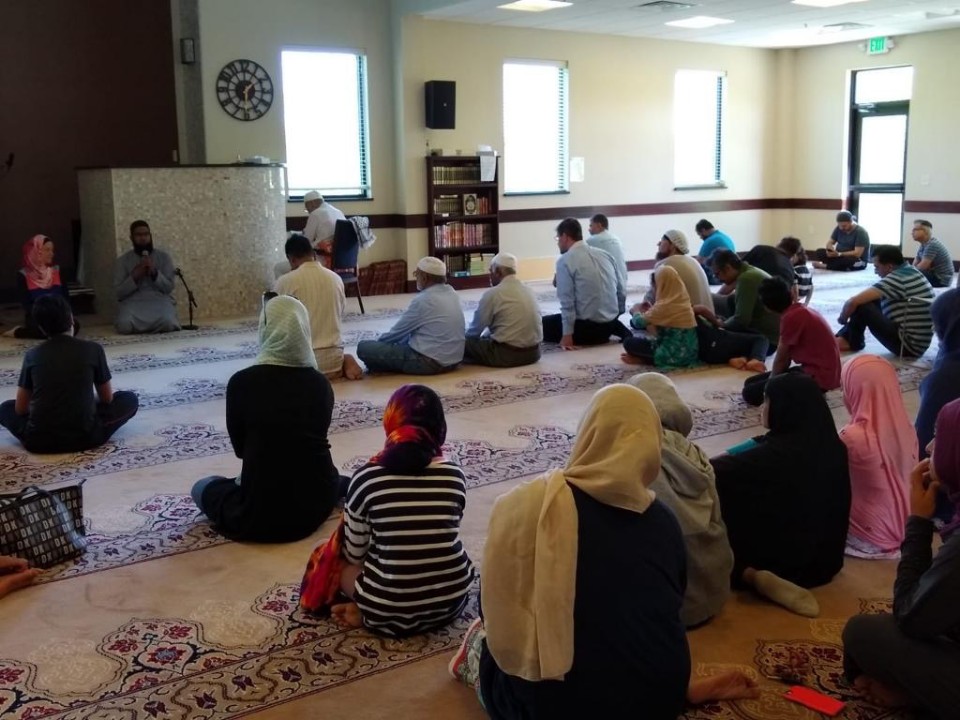 The ISM-Brookfield community gathered to witness Katie Silva's shahada (declaration of faith).
Heiser said Silva was "a calming spirit who taught him there was no use in getting angry, that anger didn't change anything."
"She was the type of person who makes everyone around want to be a better person," said Silva's longtime friend Sharifian. "Even when she was going through trauma herself, she found ways to help others."