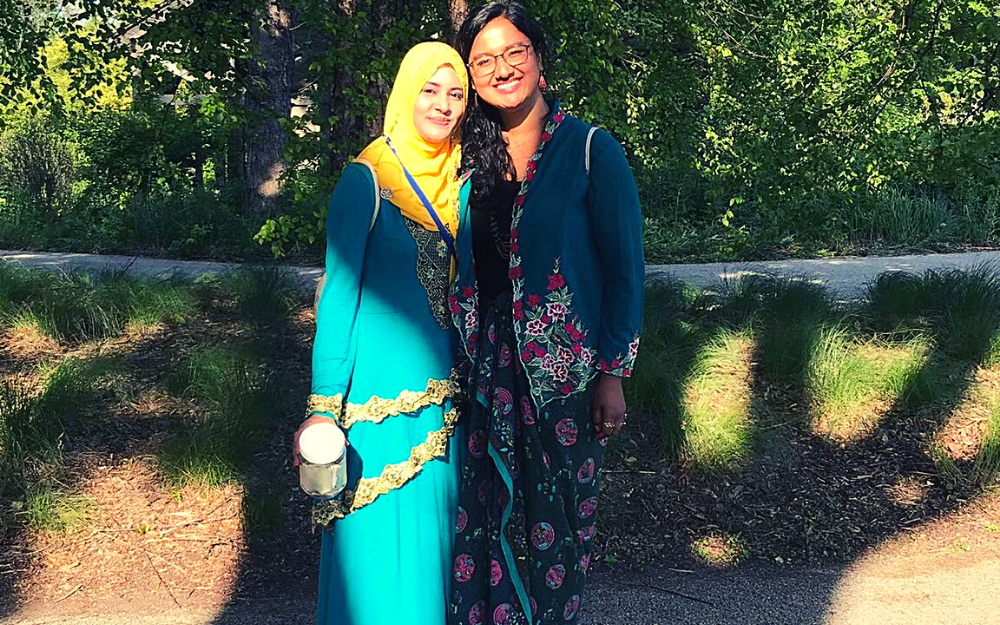 Rohingya community leader Hasina Begum and Malaysian community organizer Kim Khaira.
When Kim Khaira attended the Tables Across Borders event held at a downtown restaurant last November, she introduced herself as the interpreter for the two Rohingya chefs. With her long hair and wire-frame glasses, Khaira looked like a college student, one able to speak to the chefs, a husband and wife team, in Malay.
But Khaira, 32, was not a student. In addition to working as an interpreter when the need arises, she is both an artist and a community organizer who had been working with the Rohingya since long before she came to Milwaukee three years ago.
Khaira now works at Lynden Sculpture Garden, where she is the coordinator of the HOME program, currently a mostly virtual platform that features innovative workshops and panels combining nature, art, and culture in collaboration with refugee and immigrant communities.
"We first met Kim Khaira when she brought a group of mainly Rohingya women to Lynden to work with batik artist and indigo advocate Arianne King Comer in 2018," Polly Morris, Lynden's executive director, wrote in an email. "We were impressed by Khaira's organizational skills and her ability to reach into the community to interest refugee women in this slightly offbeat project."
This led to an artist residency at Lynden, where Khaira was able to "explore the intersection of her artmaking and her community organizing practice," Morris said. "While developing her own artist practice and sharing henna workshops at Lynden, she and Rohingya refugee leader Hasina Begum began to organize HOME 2019," which took place that June on World Refugee Day and was "a celebration of refugee art, food, and performance. I think we were all surprised at how this rapidly grew into a very large, all-day event – the largest event we've ever hosted at Lynden," Morris said.
"In recognition of the true extent of Khaira's work and impact," Morris said, she became Lynden's first community engagement specialist. Initially, the position was part-time, "but Khaira has reshaped the way we engage communities here at Lynden, and her position is now full-time," Morris wrote and supported by a CARES Act grant from the National Endowment for the Arts.
By the time Khaira began working at Lynden, she was already an experienced organizer who had been honing her skills since her student days at the International Islamic University of Malaysia.
Kim Khaira grew up on Malaysia's Penang Island in the historic city of George Town, which has been multi-cultural since long before that term became fashionable. "Malaysia is quite diverse," says Khaira. And though she says the country has its "own issues of race," there is no single ethnic identity that is identified as Malaysian. "A Malaysian can look like me, can look Indian, can look Chinese, can look Euro-Asian." In George Town, says Khaira, "We have this street called Harmony Row where there is an Indian Temple, a church, a Chinese temple, and a mosque."
George Town, located on the Straits of Melacca, was once a trading hub on the maritime Spice Route. It is famed for its UNESCO Historic and World Heritage sites. George Town's old section is known for British colonial-era buildings overlooked by modern skyscrapers. The area continues to be famed for its spices. "You have people who drive seven or eight hours from Singapore just to eat our food," Khaira said.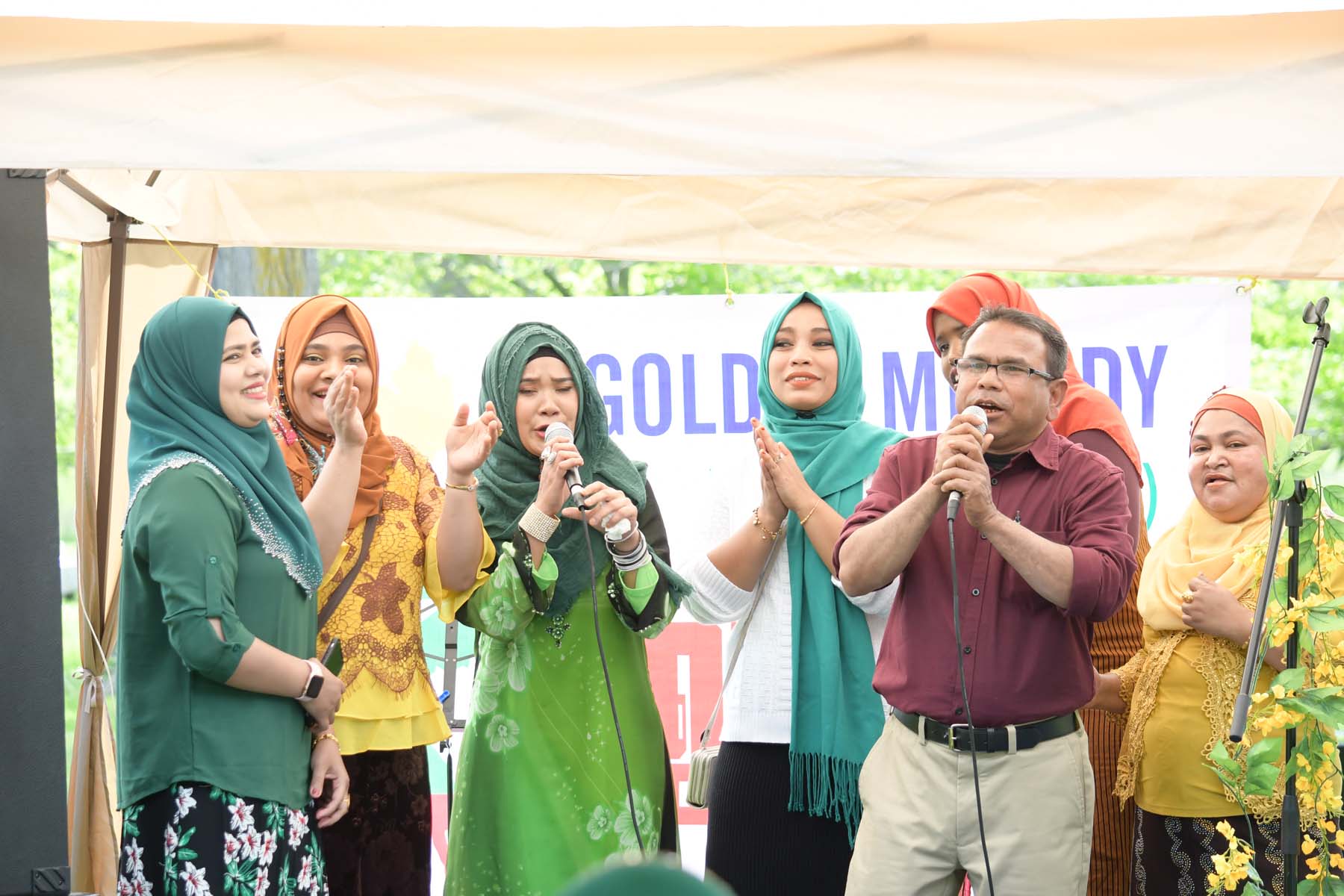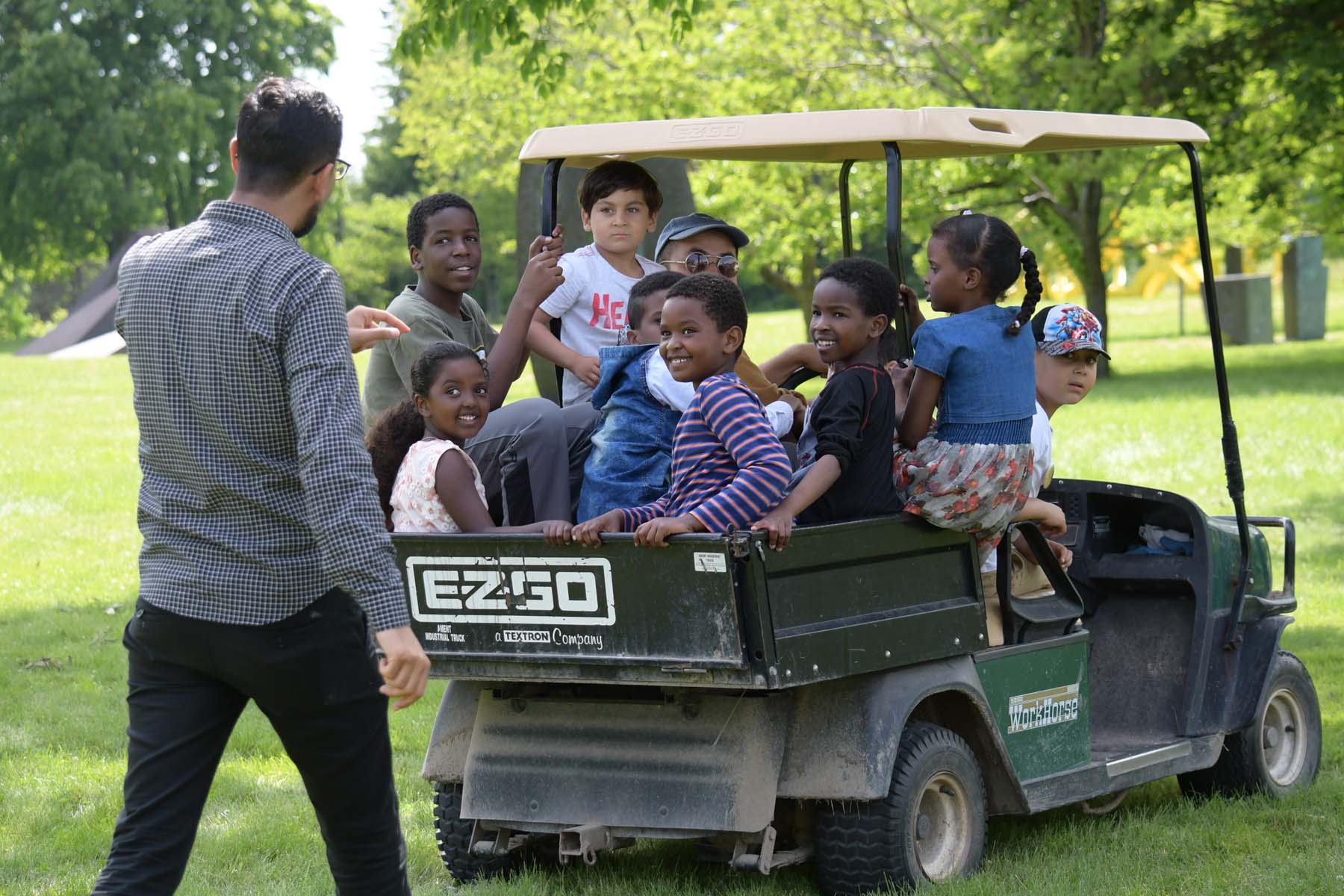 World Refugee Day held at Lynden Sculpture Garden in 2019 (Photo by Milwaukee Muslim Journal)

Khaira's father, whose parents were from the Punjab region of India, was raised in the Sikh religion. When Khaira was a child, her father became a Muslim. Her mother is one of the Dayak people, an indigenous group from Borneo. Khaira's mother was raised Catholic.
"When you're raised in a multi-ethnic, multi-cultural family," Khaira said, "you're pushed to be much more socially conscious. That led me to my education in political science. And meeting the Rohingya led to doing the work at the grassroots level and forging friendships."
Khaira attended public school, "which was a good thing for me to experience. Same as here, you're getting a more real sense of society in general," and then went on to the International Islamic University of Malaysia where, "it took me a while to find out what fits, what I was looking for."
Since childhood, she had wanted to be an artist. But an arts education is uncommon in practical-minded Southeast Asia. "Looking for the right fit in the university setting," Khaira says, "I stumbled upon political science and realized, 'this is perfect. This is how I understand things.'"
While at Islamic University, Khaira interned with a human rights organization. Then, "in-between semesters, I did a short community research job on gender, policy, and advocacy." She decided to get deeper into human rights work, joining the Penang Stop Human Trafficking campaign and volunteering with the U.N. "I ended up teaching once or twice a month at a refugee learning center," she says.
It was through her human rights work that Khaira met Rohingya community leader Hasina Begum. Malaysia currently hosts the largest number of Rohingya refugees in the Association of Southeast Asian Nations. Support for the Rohingya is part of Malaysia's "global Muslim solidarity agenda." However, Malaysia has also begun barring Rohingya boats, and many of those fleeing genocide in Myanmar are undocumented there.
Begum, who today lives in Milwaukee, describes Khaira as "my best friend" and "like a cousin to me." It was visiting Hasina and other friends she met through her human rights work that first brought Khaira to Milwaukee, which currently hosts the largest number of Rohingya refugees in the United States. Khaira soon found herself involved with refugee community organizations here.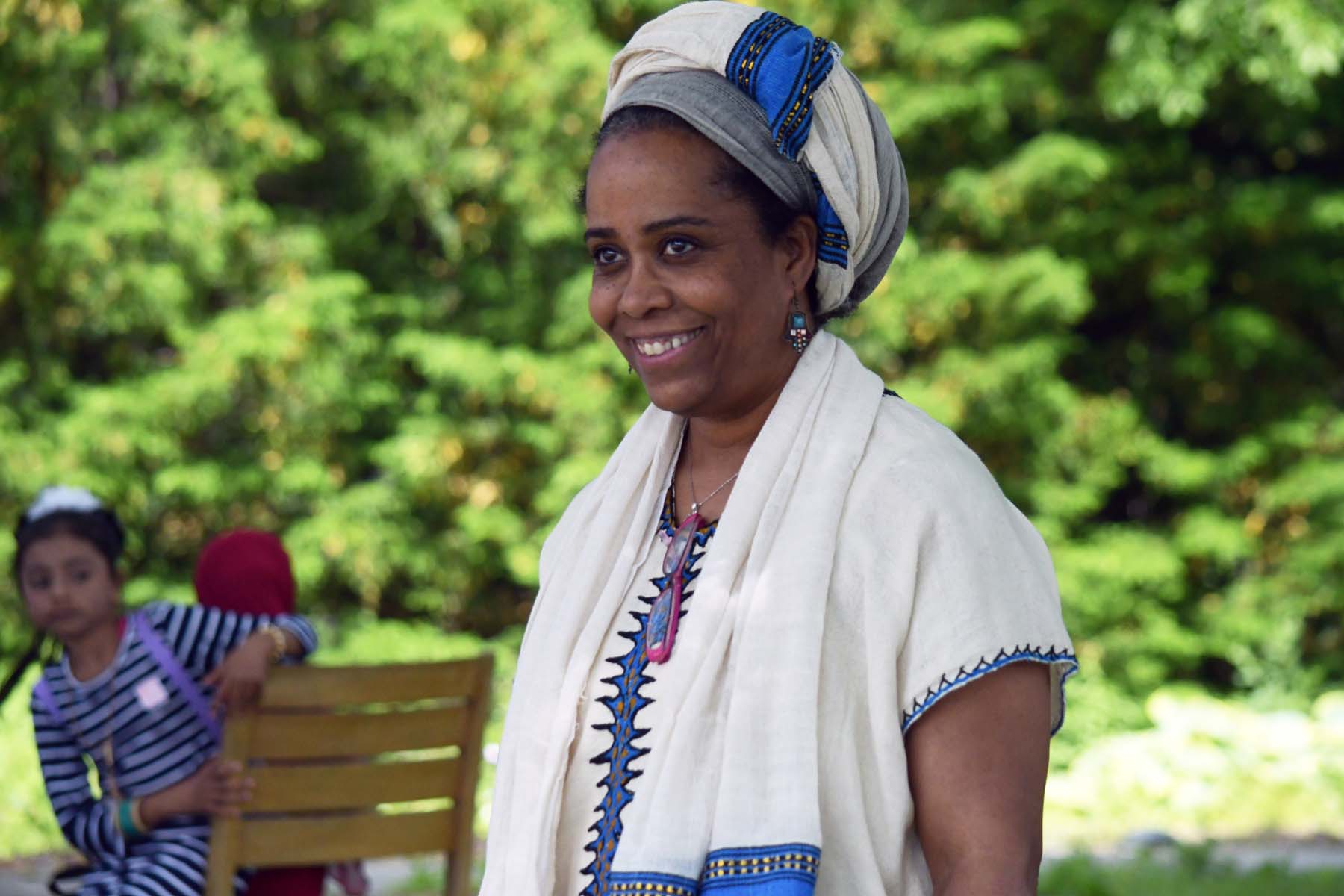 Kai Gardner Mishlove at World Refugee Day, 2019 (Photo by Milwaukee Muslim Journal)

"I started out applying for dozens of jobs," said Khaira, joking that she was her own caseworker, while "drawing and painting and exploring Milwaukee" until "I finally found an organization I thought I could work with," which turned out to be Lynden Sculpture Garden. "As an outsider coming into a new environment, you're continuing your life in a new setting, but you're also re-defining yourself."
Kai Gardner Mishlove, the program coordinator for Aurora Healthcare's Refugee Health Services and founder of the Tables Across Borders pop-up restaurants with refugee cooks, described Khaira in an email. "She organizes in an inclusive manner with emphasis on refugee communities leading and having a full voice in decision making. Other communities, especially communities of color, are invited to participate." Mishlove wrote that Khaira's work is "truly a collaborative process that discourages silos and recognizes the strength and wisdom of working collectively with attention given to current events."
Khaira's organizing of the HOME World Refugee Day events, now an ongoing series of programs and workshops at Lynden, "has explored topics such as the historical and current impact of racism and anti-blackness on refugee communities," Mishlove says. "These are issues that others either refuse to acknowledge or don't have the awareness to do." Khaira's work, says Mishlove, is "extremely courageous and done in an open and non-territorial manner that only artists such as herself can do."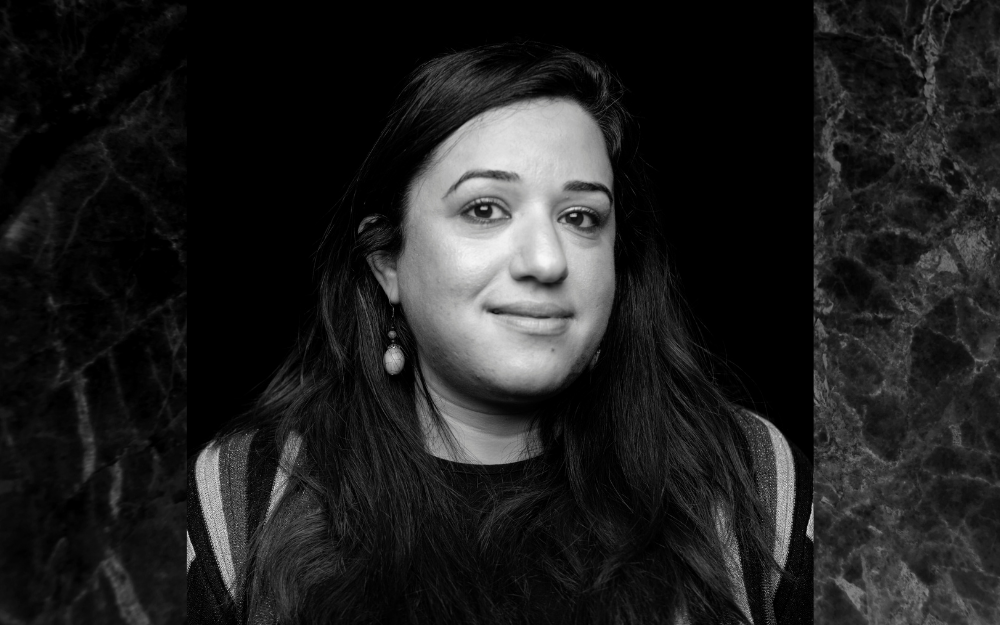 Sheila Badwan is currently the lead for the Hanan RRG Milwaukee Chapter (Photo © This is Milwaukee)
Shiela Badwan of Hanan Refugee Project, another frequent collaborator with Khaira, says, "Whenever I have a translation emergency in the Burmese-Rohingya community, I try to reach out to Kim first. She is my go-to person, always there to help, always connecting people." During the pandemic, Hanan has been distributing food boxes to refugee families who have lost jobs. And Badwan said Khaira "identified families in the Burmese-Rohingya community that we're really in need. She is very kind, always wanting to help." In short, says Badwan, "Kim is a wonderful person."
Virtual HOME events at Lynden Sculpture Garden: