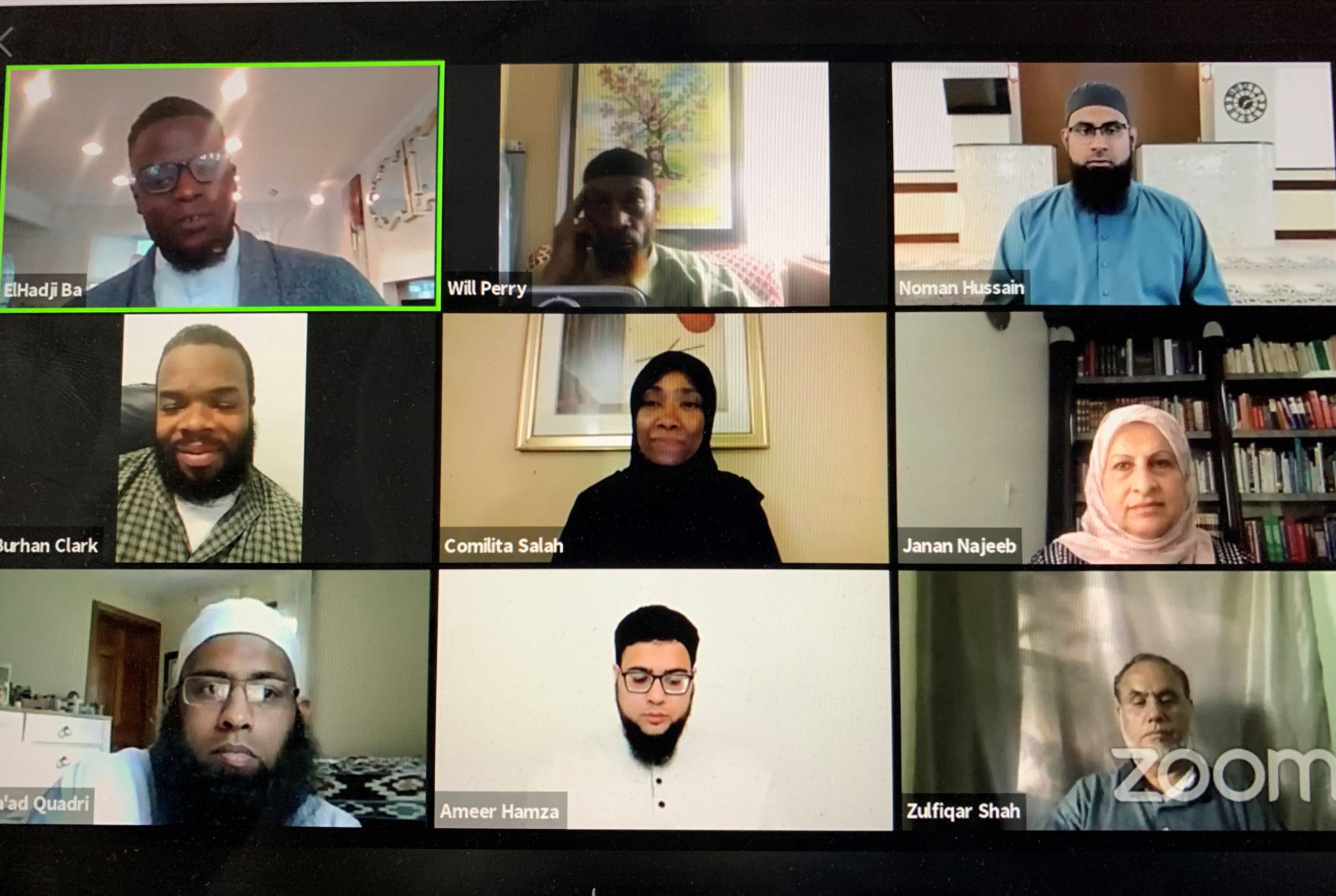 Silence is Violence: Black Lives Matter. Personal testimonies of African American community members and diverse perspectives from community leaders on racism in our community and beyond. Part 1 of a 2-Part Series
This time is different. George Floyd's horrific death in police custody on May 25 sparked nationwide interracial protests that show no signs of abating. In addition to the protests, another black life lost to police violence has sparked conversations about racism and a demand for real solutions. The Muslim community has shown leadership in its readiness to host and foster such conversations.
What follows are excerpts from a webinar held on June 3, the first in a two-part series of Zoom panels sponsored by Ma'ruf Milwaukee. The full version can be viewed at:
https://www.facebook.com/marufmilwaukee/videos/2355156838111042/?v=2355156838111042
The panelists were Br. Will Perry, Imam Yasin Dominique, Sr. Anyanna Jackson-Ba, Sr. Comilita Salah, Qari Noman Hussain, Dr. Zulfiqar Ali Shah, Br. Burhan Clark, Sr. Janan Najeeb, Sh. Sa'ad Quadri, and Imam Ameer Hamza. The webinar was moderated by ElHadji Ba, Ma'ruf's executive director.
ElHadji Ba: This is going to be an intra-community discussion, to give us a good foundation for a broader discussion. We're going to be focusing more on our individual experiences. We connect better if people hear personal stories from their leaders. We also get treated as super-heroes because you'll never see Br. Will lose it, lose his composure or his cool, despite all the things he does in the community. And the same goes for Sr. Janan, and Sr. Comilita, and Sa'ad and the imams that we have here. Nevertheless, we do know that behind these wonderful human beings there are humans with beating hearts and with feelings as well. So we hope that you are able to step outside your comfort zone and relate stories that you wouldn't have normally. . . The goal, ultimately, is changing our hearts through education and knowledge, and then action can be taken.
Br. Will Perry: In the summer of 1967, as a ten-year-old in the city of Milwaukee, living in segregated surroundings around 3rd and Vine Streets, where I grew up, I had the opportunity to participate in one of the marches by our brother Fr. Groppi dealing with segregation in Milwaukee [across the] 16th Street viaduct[1]. At that time, to go past North Avenue, it was as if we were going out to the suburbs. North Avenue to maybe 8th Street or 12th Street – it was a real adventure for us to go outside those boundaries. Growing up as a teen-ager, I would spend summers down in Arkansas and Tennessee with my grandparents and extended relatives, and there it was still sharecroppers, potbellied stoves and outhouses in the back, fetching the water and raising their animals and being submissive to the land-owners . . . and having to see and be exposed to the colored-only and whites-only drinking fountains. Moving forward, the Class of '79 with the Milwaukee Fire Department, a segregated Fire Academy class. They had separate classes for minorities and women. Brothers that came before us had to sue the City of Milwaukee [to be able to join the Fire Dept]. In some classes we would have 50 African-American men and maybe 2 or 3 women. None of the women would make it, and fifty percent of the men would be cut. Even though the sisters were carrying their weight and doing the job, the instructors of that time and the powers that be wanted to make sure than no women made it through the class [and limited the number of] African-American men. At that time, you had to quit your current job in order to enter the academy. After going through that, you then had to go to the various fire houses [and apply for employment] and you had very few African-Americans working in some of these fire houses, even on the North Side. I was about 22 years old. I had a family at the time, and I was still involved with the Marine Corps reserves. So I was exposed to a lot at an early age.
Qari Noman: I will say that as Muslims, every single one of us has experienced some level of discrimination, but I think the focus of this discussion should be on our black brothers and sisters, not only being black but Muslim at the same time. I want this platform to be a platform where we amplify the voices of our brothers and sisters and the struggles that they have experienced and the challenges that they are going through, not only being Muslim but being black and Muslim at the same time. I will defer to the next person Insha'Allah. . . .
Sr. Comilita: In the past when we've had discussions about race relations within the umma, the community in Milwaukee, I've always felt it to be a very surface level discussion that never approaches the real issues of race. I appreciate that we want to do something, but I feel that the complete and utter lack of understanding is so deep, and for my own part, I hardly speak of it. I'm married to a Palestinian. And as for how I speak about my own experiences being African-American, it's very rare, very seldom, so when I was approached about this opportunity, I'm very happy to be here. Of course, being African-American is its own thing. Being African-American and being a woman and being a Muslim is a whole host of things. . . . [But] it's so hard to be African-American and a man in this country. Every single uncle of mine and my brother has had an unfortunate encounter with police. It's hard to escape it. It's as though the government has somehow made it part of the code of the country that it's criminal just to be a black man. It's hard to get to be a black man, to be an adult, in this country without having an arrest record.
Sr. Janan Najeeb: What's happening today in America is nothing new. Now we have the technology, we watched a horrific death in real time, that just startled people to the point that it unnerved them. But this is something that's been going on for centuries in this country. . . I don't think that anything that I've encountered in my life would ever come close to it, although I'm of Palestinian heritage, [and] I've had many family members killed overseas . . . . You asked us to talk a little bit about our experience, I came to this country as a three-year-old, my father had been here previous to that, and the community that he knew, the community that he loved, the community that he worshipped with was actually the Clara Mohammed School[2] and masjid. That's where we went for Eid. That's where we went during Ramadan when we were growing up. That was our community. [At the time], there were no immigrant Muslim families. It was a beautiful community; it was a community that really embraced and had such pride in Islam and didn't look at us as being outsiders. They welcomed us with open arms. As we know, many of our masjids are primarily immigrants, are we welcoming our African-American brothers and sisters with the same type of open arms?
Sr. Anyanna Jackson-Ba: When I was a kid, about five or six years old, I was just walking down the street with my mother and my little sister. A cop pulled up in their car next to me and my family, and jumped out of the car, put my mother on the ground, and handcuffed her. We sat the on the curb, crying and confused, for at least twenty minutes, and then the cop decided that my mom wasn't the person that they were looking for, and he uncuffed my mom. He expected us to go on our way. The sad part was, we asked him why did he even do any of those things to our mom, and his only reasoning was that she was wearing a green jacket, and the person that they were looking for was wearing a green jacket. . . . My son went to school in Bay View. And he hugged a teacher once. He was reprimanded for it, and they automatically assumed a sexual content. He was only seven years old. And when they actually talked to my son about it, he told them he was just hugging the teacher because a Caucasian little girl hugged the teacher. He just thought he could give the teacher a hug because he saw another student hug the teacher.
Imam Yasin Dominique: This is a tough one for me, a very tough reality. Just listening to what's being said here opens up wounds. I do have a lot of those conversations about how people get treated. The feeling within our own community that as the revert[3], the revert African-American, you're just not good enough. You have to prove that you're a Muslim. I have to work harder, I have to be smarter. It's sad that you have to do that within Islam along with being an African-American in this country. Before I came to Islam, just being an African-American, you know, story after story. I had a rental car one time. There was a problem with the rental car, and I stopped at the rental office to get the issue resolved, and they told me that I stole the car. And I wanted to argue about it, you know, why would I come here to get a car fixed that I stole? Out of my fear of the police, because of the area that I was in, you don't want that involvement, I had to walk, and find another means of transportation to get where I needed to go.
Dr. Zulfiqar Shah: This problem of racism is almost universal. . . . This is a problem when it comes to the learned scholarship, the imams, the leaders. We all have to look into ourselves and see where we are coming from. Sometimes this kind of hidden prejudice and bigotry is a killer. . . There used to be a Sharia Scholars Association of North America, and Dr. Hakim Jackson was its president and I was secretary general. . . . I invited him to Jacksonville, Florida. We used to do a TV program down there. We got done with TV program recording, and we were late for salah, so I started doing my sunnah, and he came after me and he started doing his sunnah. He might have done two rakats and I am still doing four rakats. I am still doing the sunnah, [and] somebody came and asked him, "How long have you been Muslim?" And [Jackson] said "for a long time." And [the man] said, "You have not learned to do the salah even yet?" And I had to break my salah, because you know, Chairman Jackson can be really tough sometimes, and I told [the man], "[Jackson's] English is better than you, his Arabic is better than you, and his Islam is better than you. Shut your mouth up and get going."
[1] The 16th Street Viaduct links Milwaukee's North Side to its South Side and was often called the "Mason-Dixon Line" of Milwaukee
[2]Founded in 1975 by U.S. Muslim leader Imam W. Deen Mohammed, Clara Muhammad Schools were named by him to honor his mother and the wife of his father for 53 years, the late Nation of Islam leader Elijah Muhammad.
[3] Islam does not have "converts." Becoming a Muslim after growing up with or practicing another religion – or no religion – is called "reversion," thus one becomes a "revert," not a convert.