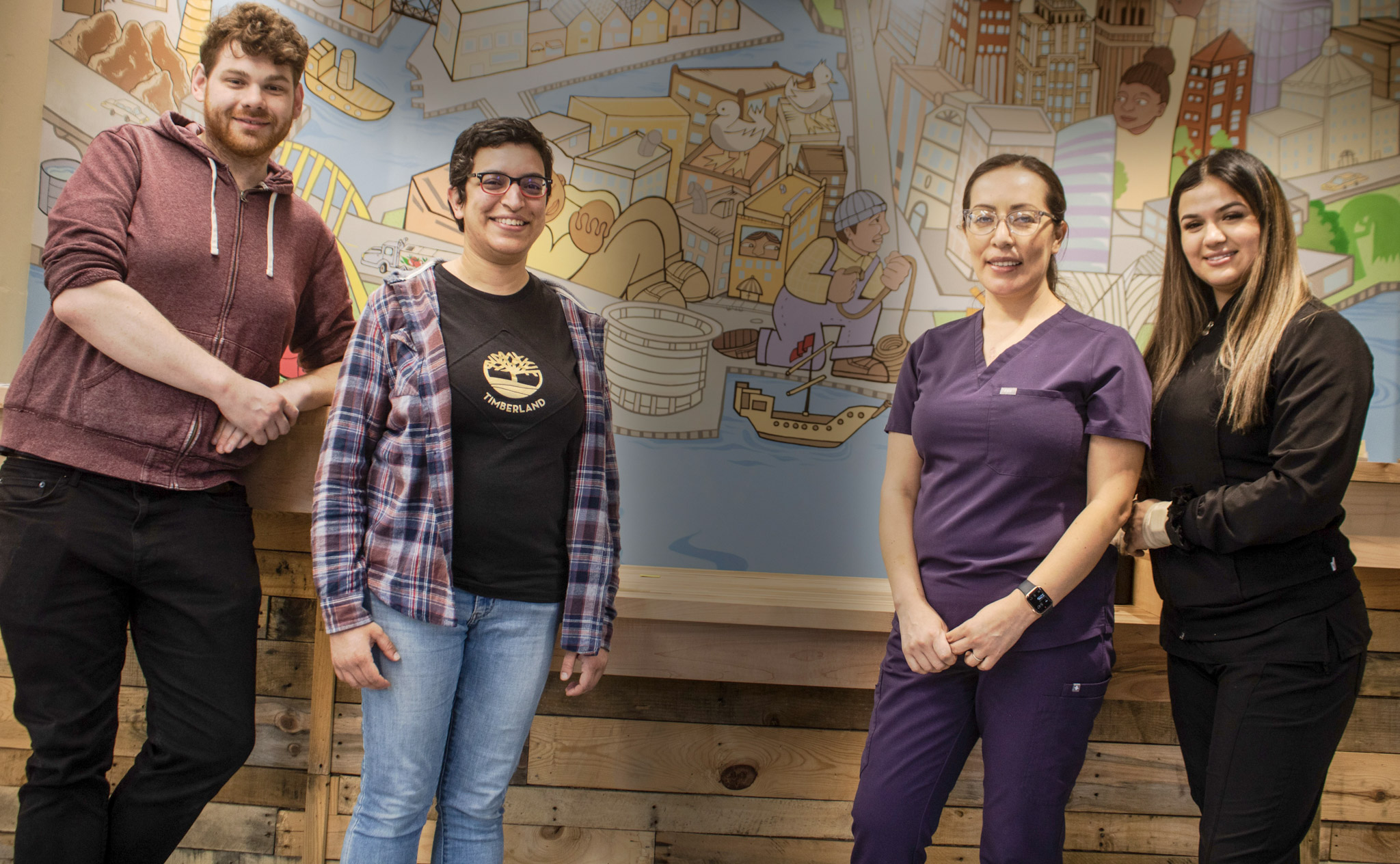 The clinic team at Community Oral and Maxilliofacial Surgery (from left to right): Jonathan Wieber, receptionist; Dr. Ruba Khader; Amira Rodriguez, dental assistant; and Iyat Dwaikat, registered nurse.
On informal office days, you'll find Ruba Khader, BDS, casually dressed in a comfy flannel shirt and jeans. There's nothing pretentious about the oral and maxillofacial surgeon despite her prestigious bachelor of dental science degree from Jordan University of Science and Technology and impressive residencies in general dentistry and oral and maxillofacial surgery at Tufts University School of Dental Medicine in Boston.
Dr. Ruba, as patients call her, is easy to talk to. She avoids complicated medical jargon or anything else that makes patients feel less empowered when managing their own health. At a time when doctors see more patients and reduce the quality time spent with them, 41-year-old Dr. Khader bucks a disturbing trend.
As owner of Community Oral and Maxillofacial Surgery, 408 W. Florida St., Milwaukee, she makes the rules.  And as a Muslim, her vision for her clinic reflects the pillars found in Islam.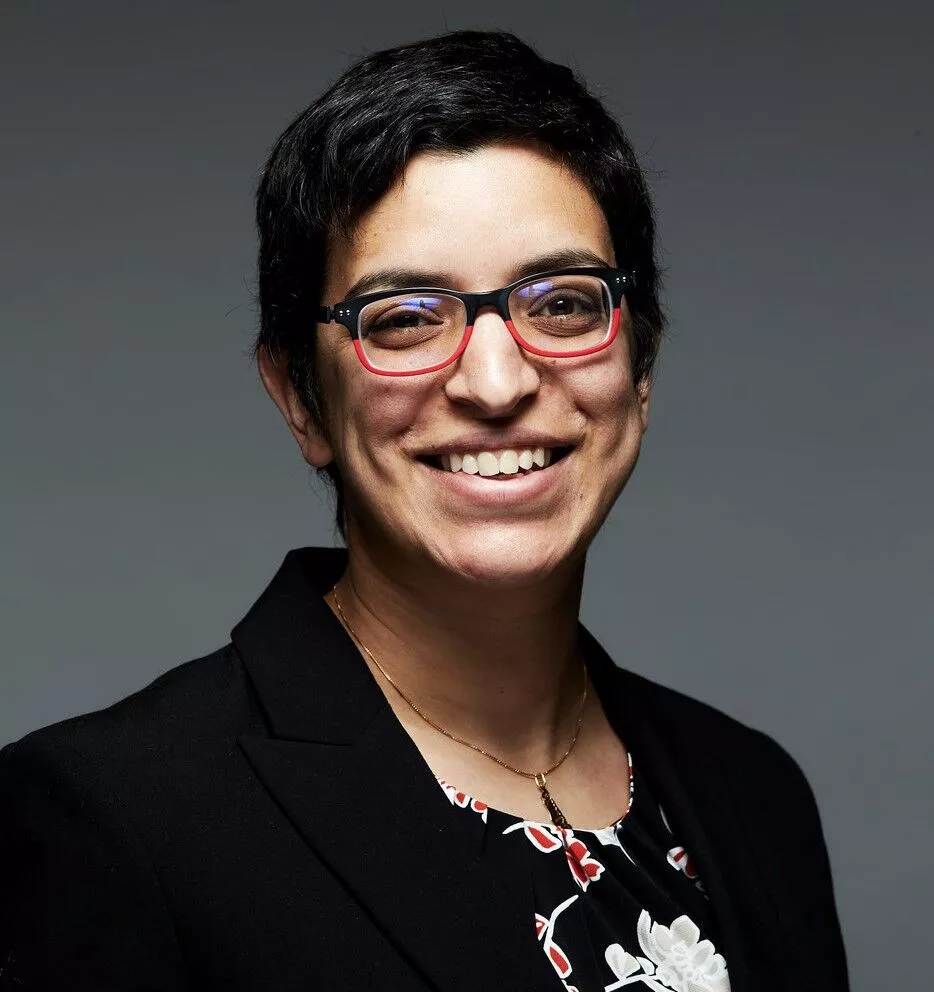 "Islam for me is faith, spirituality, the tenants of social justice. That's what this clinic is," Khader says. "The vision of this clinic follows the compassion of Islam. It follows the social justice Islam called for from the very beginning."
Khader, a Palestinian American, was born in the United States where her father earned a doctorate in aerodynamic engineering and her mother a master's in business administration. When she was around the age of 3 or 4, her family moved to Jordan. She lived in Amman and later Irbid, not far from Syria.
While life for displaced Palestinians can be complex, Khader says they were comfortable. She remembers Jordan's health care system as "great." To this day, she is extremely grateful for the education she received in Jordan.
Khader says her home was open and a frequent gathering spot for family and friends. Food brought people together. Aunts and uncles would boast about being the best cook.
During Jordan's olive season, usually October or November, Khader's grandmother made m'sakhan, a traditional Palestinian meal. Her grandmother would chop onions by hand, sauté them with olive oil, sumac and other traditional spices. The dish was served with chicken and bread.
"The house would smell like onions for days," she says. "I miss that meal so much."
With a supportive family, Khader thrived. By the time she turned 18, it was clear she was academically gifted. She wanted to teach but the area of focus was not clear. Tests suggested that she would do well in the field of dentistry, but she didn't see any women practicing oral and maxillofacial surgery in Jordan.
When she arrived at Tufts in 2004, she saw what was possible. The program director of oral surgery was a woman with two grown children. The chief resident was pregnant. Seeing this helped Khader take her career to the next level.
An impressive career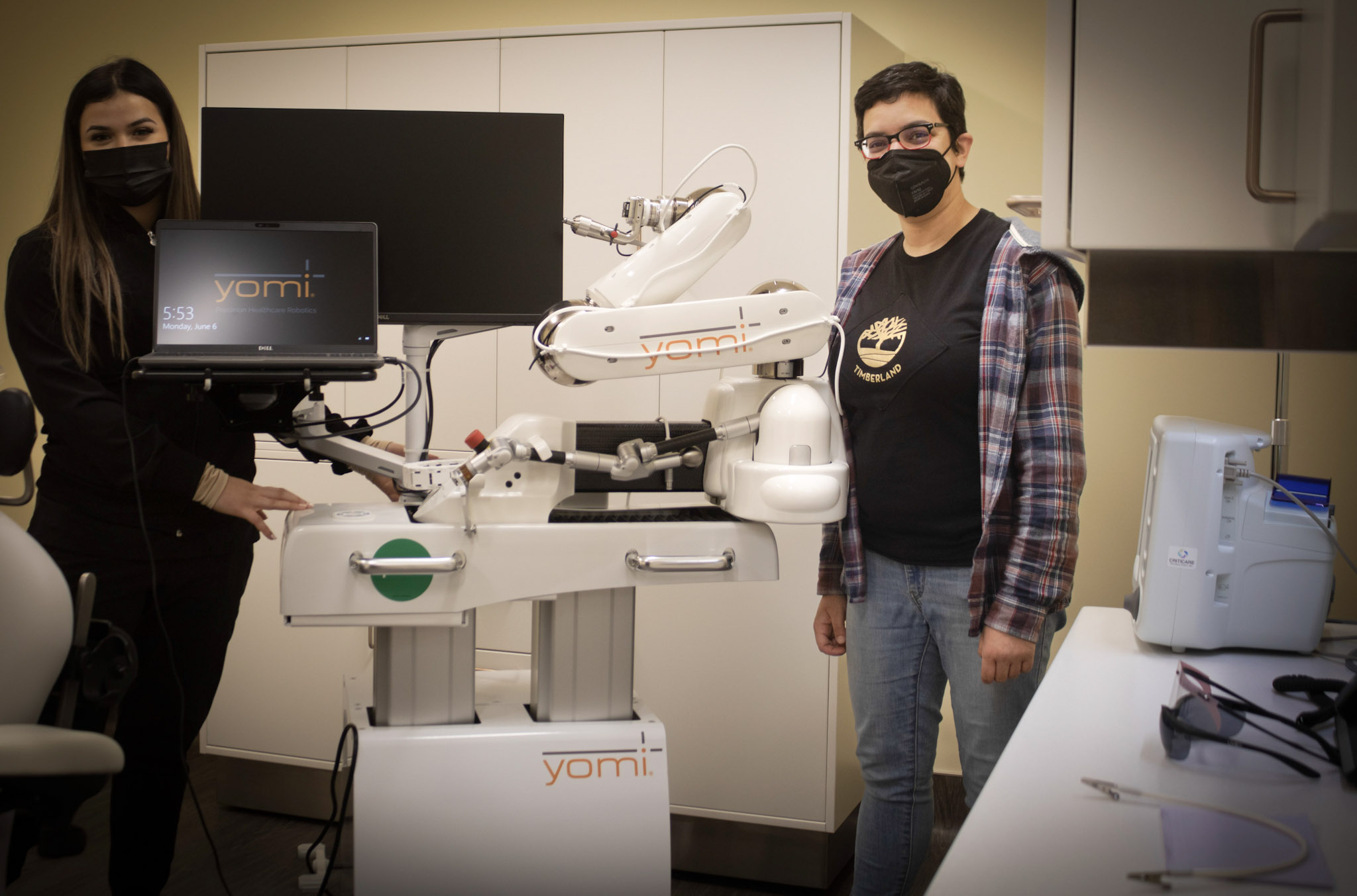 Dr. Khader employs the Yomi® Robotic System, the first robot-assisted dental implant surgery machine. In addition to providing a detailed blueprint of your teeth and jaws, Yomi® guides Dr. Khader in accurate placement of the implant, and allows immediate and precise adjustments during implant placement surgery.
Khader worked in academia at Tufts, the University of Kentucky College of Dentistry and the Medical College of Wisconsin. She's worked at Children's Hospital of Wisconsin and Froedtert Hospital of Wisconsin, and continues to see patients at the Clement J. Zablocki VA Medical Center several days a week.  
She is certified by the American Board of Oral and Maxillofacial Surgery.
Currently, she serves as a director for the Wisconsin Dental Association Foundation Board of Directors, and is the immediate past president of the Wisconsin Society of Oral and Maxillofacial Surgeons.
It seems everything has prepared her for her biggest project yet – her own clinic, which she opened in January.
The Community Oral and Maxillofacial Surgery clinic, located in Milwaukee's Historic Third Ward, is modern, high-tech and equipped with specialized robotic equipment to assist in surgeries. Services include tooth extractions to more advanced surgeries like correcting abnormalities in the jaw. 
The clinic is the only office in Wisconsin to offer Yomi® robot-assisted dental implant surgery. The staff includes an experienced nurse and everyone on the team is well-trained to handle emergencies.
Things that make Khader different go beyond her exceptional surgical skills and medical knowledge. Her practice is an extension of the life she hopes to live as a contemporary Muslim woman, mother and wife.
One of the best things about Islam is zakat (Muslim's obligatory charitable giving), Khader says. "If people really abide by that, there will be no poverty anywhere."
She says she is committed to working with patients who other surgeons may turn away because of low-paying insurance or other financial issues.
The clinic's mission includes a commitment to patient service with compassion and equity. Khader also says she wants to innovate with more state of the art technology to further improve patient outcomes.
In three to five years, she hopes to convert her business to an employee-owned clinic. Khader notes that a major contributor to the clinic's success is the competency of her registered nurse, Iyat Dwaikat. Before joining Khader in private practice, Dwaikat was an intensive care nurse.
"What's so great about working here is that every person on the team matters," Dwaikat says. "You feel like your voice is always heard. You don't feel disposable or like you're just a number."
Khader says she firmly believes in empowering people. By helping her team become fiscally secure and giving them the ability to contribute to the governance of the clinic, the clinic will operate at the highest level and provide outstanding care, she says.