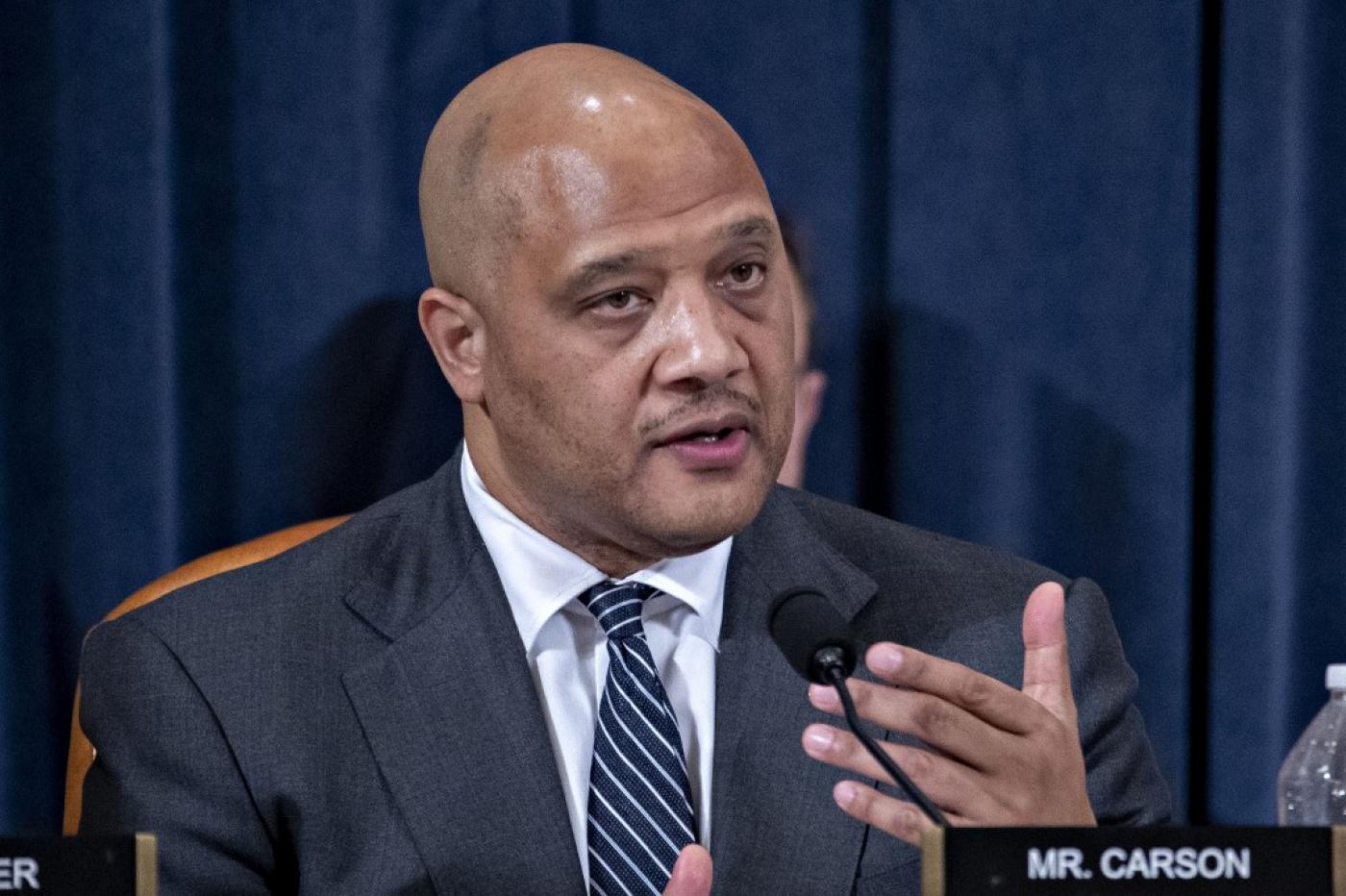 Trump supporters, who brought guns and explosives to the Capitol riot, had Andre Carson's name on a threatening note.
A man who parked a truck with explosives near the US Capitol during last week's riot also had a "concerning" handwritten message targeting Muslim-American Congressman Andre Carson, local media reported.
Lonnie Coffman, 70, was arrested on 6 January on 17 different charges after police found guns and a collection of explosive devices in his truck, including 11 Molotov cocktails – some of which contained a napalm-like substance.
The Indianapolis Daily Star reported on Tuesday that among the evidence filed in court proceedings was a handwritten message labeling conservative and right-wing figures as "good guys" and a Democrat-appointed judge as a "bad guy".
The note did not place Carson in either of the camps but stated he was one of only a few Muslim members of Congress.
"The handwritten messages in the defendant's pickup truck raise grave concerns about his intentions, and suggest that these weapons were intended to be used in an effort to violently attack our elected representatives," US Attorney Michael Sherwin wrote in the filing, according to the newspaper.
Carson said it was "extremely disturbing" to learn that he had been identified and singled out in the note, and pointed out the failure of police to properly notify him of the threat.
"It is extremely disturbing to learn from press reports that I was one of several individuals identified in a list of 'good guys' and 'bad guys' targeted for attacks," he said in a statement.
"These were not idle threats. These were planned and organized measures to take my life, my colleagues' lives, and try to destroy our government. Sadly, as a Black man and Muslim fighting for equality, I have often been the target of death threats by domestic terrorists."
Carson called on authorities to conduct a thorough investigation into the matter. "No American should ever be targeted for violence or death because they are Black, or Muslim, or because of their race or creed."
A Democrat of Indiana, Carson was elected to the House of Representatives in 2008. He became the second Muslim to join the national legislative body, following Keith Ellison of Minnesota, who now serves as attorney general for the state.
While members of Congress are still reeling from last week's events, in which hundreds of supporters of US President Donald Trump stormed the US Capitol building, security officials have briefed lawmakers on additional threats ahead of President-elect Joe Biden's inauguration on 20 January.
One of these threats includes a protest of "4,000 armed 'patriots'" who plan to surround the Capitol and prevent any Democrat from going in.
About 20,000 National Guard armed troops are being deployed to the nation's capital in anticipation of civil unrest.