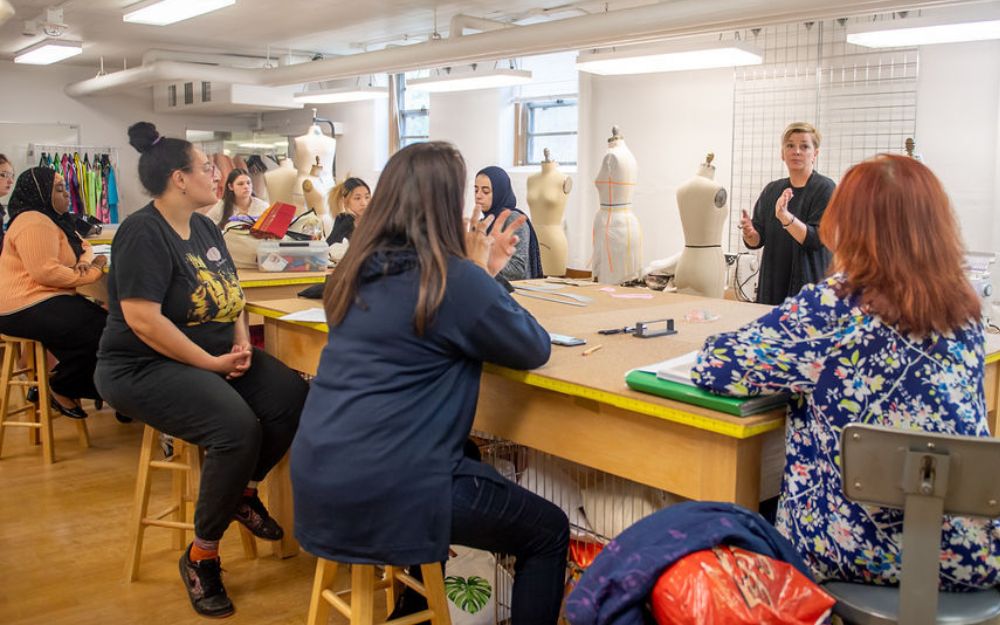 Mount Mary University's fashion design students and faculty prepare for a major Midwest fashion event, Mount Mary University's CREO Student Designer Fashion Show, Saturday, May 14.
One week before Mount Mary University's annual fashion show, student designers Mako Shidad, 22, and Asma Dasan, 21, sat with six senior classmates around a large rectangular table in MMU's sewing lab as Fashion Department Chair Ashley Brooks talked about prepping for their senior showcase.
"Think about curating the best examples of your process work to share in your display, such as patterns, thumbnail sketches and fashion illustrations," Brooks advised.
Shidad and Dasan, both from Milwaukee, are among eight senior student designers whose collections will be featured Saturday, May 14, following the 7 p.m. salon-style show. Both Muslims, Shidad and Dasan created collections reflecting their faith and heritage.
In interviews last week with Wisconsin Muslim Journal, Shidad and Dasan, and their professors, talked about the students' unique designs, which will be on display in Saturday's show and senior showcase displays.
 A major Midwest fashion show returns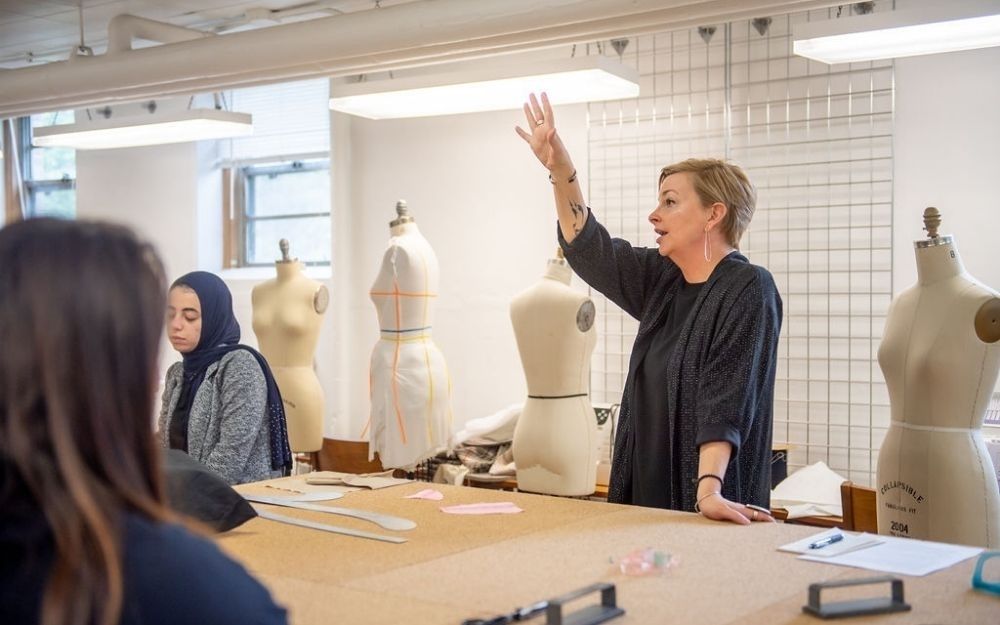 Fashion Department Chair Ashley Brooks talks with senior student designers about their senior showcase displays.
MMU's CREO Student Designer Fashion Show is a major Midwest fashion event.  (Creo is Latin for "to make, create, produce.") Mount Mary's first in-person show in three years will take place Saturday.
In 1965, Mount Mary created the nation's first four-year fashion programs, one in fashion-design and one in merchandising management. For more than 50 years, the groundbreaking programs have made Mount Mary a leader in fashion education and an incubator for the fashion industry's next generation of designers.
"The School Sisters of Notre Dame saw the 1960s fashion industry in Milwaukee as a way for women to play a role in the local economy," Brooks explained later in an interview with the Wisconsin Muslim Journal. "There were many apparel industries here at the time."
MMU's show, themed "Prismatic Parallel," is a celebratory event in MMU's historic Notre Dame Hall, Brooks said. "It includes two floors of fashion runways. Chairs lining the hallways give everyone a front-row seat." 
About 80 individual garments by 19 student designers are included in the show. Displays featuring the work of eight senior design students will be featured following the 7 p.m. show. 
Ticket sales for the live show and senior showcase are here. Saturday night ticketholders will have the opportunity to see senior designers' displays and talk with the designers. All tickets include a link to a video documentary that details the behind-the-scenes making of this year's production.
From inspiration to the runway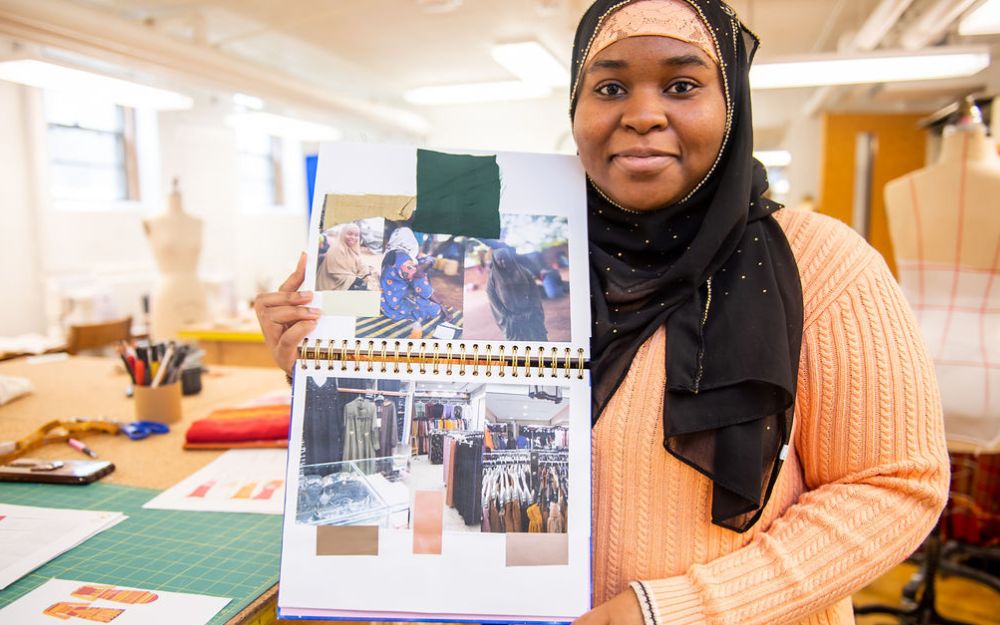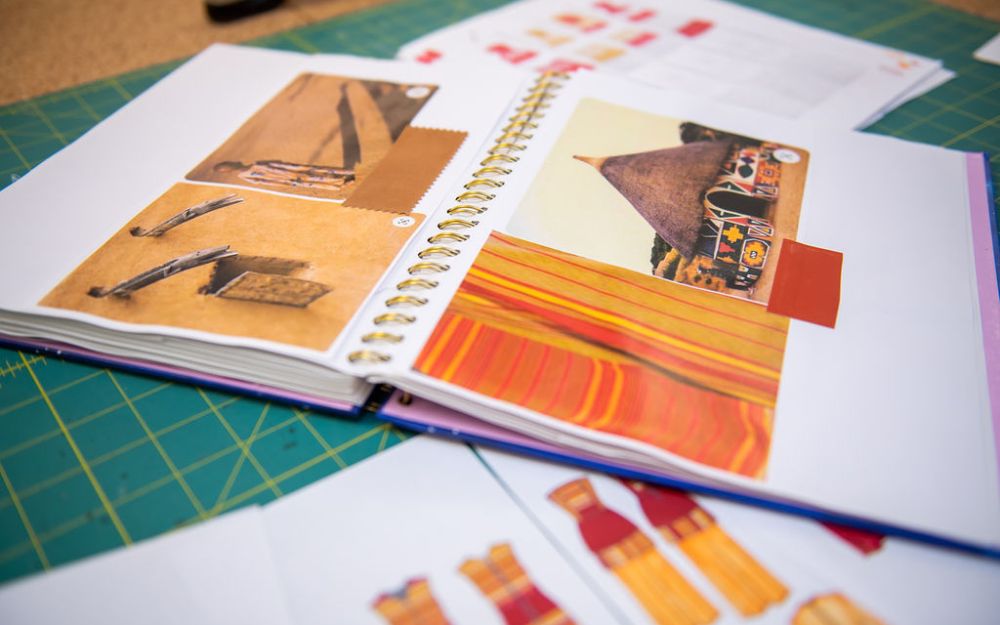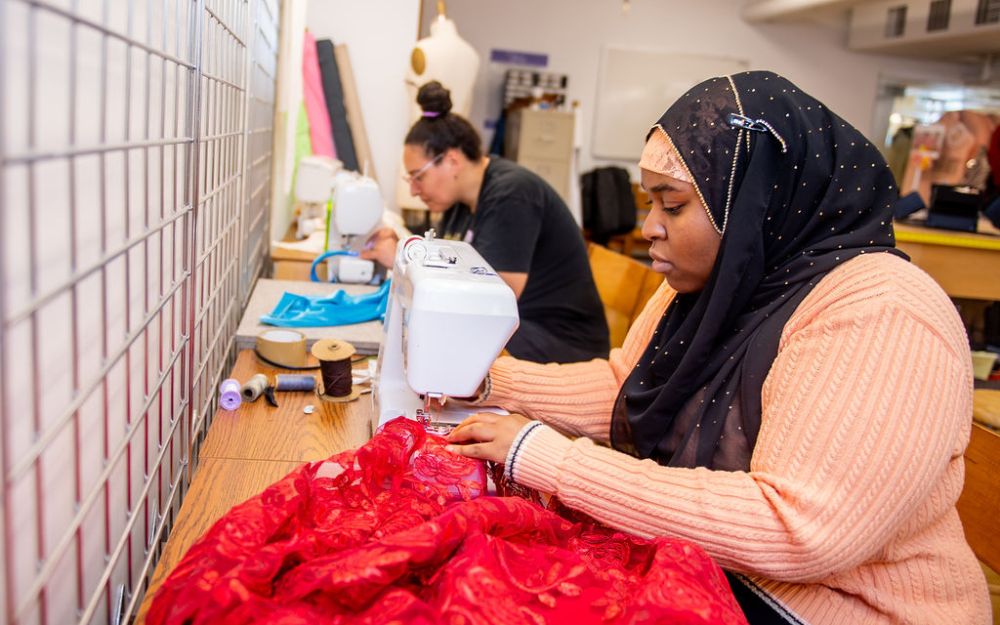 Student designers begin with inspiration, collect ideas, draw designs and create fashions. Left to right: Mako Shidad shows photos from a recent trip to the refugee camps where she was born; her inspirational process book holds colors and shapes from Kenya and Somalia; Shidad adds final touches.
Student designers began preparing for next week's show last summer or earlier, said Assistant Professor Elena Pitts, M.F.A., who teaches Senior Capstone classes. "Their assignment over the summer was to come up with their inspiration for their collections." 
"Collections include multiple looks that are tied to a central theme," explained Brooks, a successful designer who returned to Mount Mary in 2018 to teach and serve as Fashion Department chair. "Designing collections is all about riffing off an inspiration. It has many ways to reflect it—a repeating trim or shape, or a consistent use of fabrics."
Each senior student designer created an inspirational process book, a scrapbook filled with photos, scraps of cloth and swatches of color connected by their chosen theme.
Students choose words from a list as their starting points but may not use them in the end, Pitts said. Some examples include "uniqueness, escape, threads, isolation, fusion, sparkled, blossom, emptiness, to name a few. Someone had 'bodies,' like the human body. In the past, we had someone inspired by street art, another by urban life. 
"Both Mako and Asma chose their personal histories, families and cultures," Pitts said. "Mako had traveled back home and Asma had stories from her grandmother's life. They were strong inspirations in both cases. Both of them had them in mind for a long time."
Another unique aspect of Shidad's and Dasan's designs is their modesty, Pitts said. "Usually, young people create designs that expose a lot of skin. Both of these designers created a very modest yet still modern look, which really appeals to me."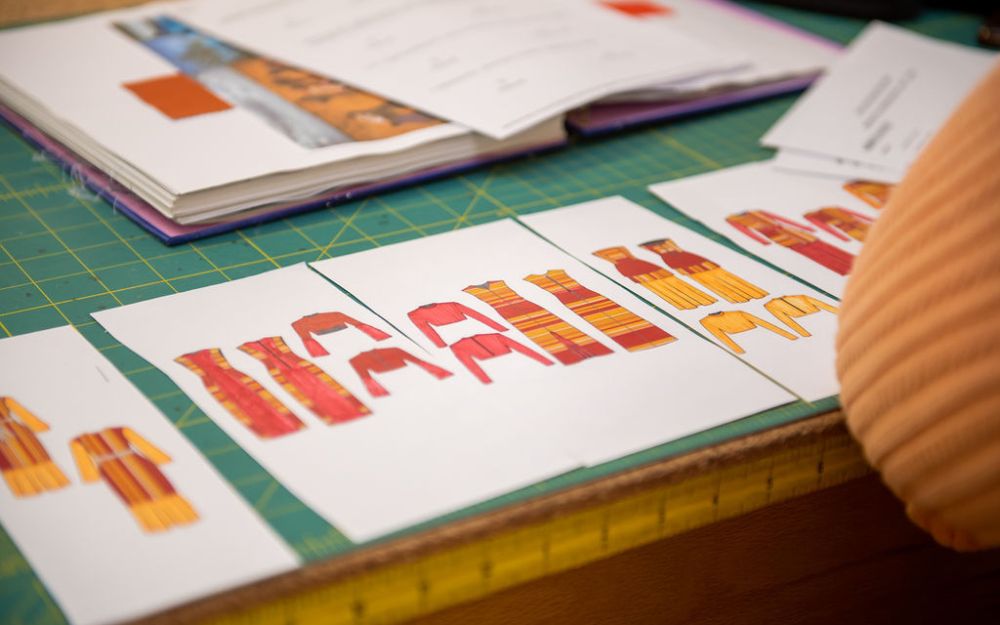 Creating collections and preparing a fashion show is a huge accomplishment, Pitts added. "They worked very hard. These seniors have gone through the entire process themselves for the first time. That doesn't mean we aren't here to guide them, but they have to make all the decisions on their own and trust themselves. They have to be able to see their collections like a customer or investor who might be viewing them.
"A lot of people don't realize all that goes into it. They think the designer made a nice sketch and then made a garment. They don't realize all the steps in between." 
Besides designing and making the collection, they have to choose fabrics, colors and documented embellishments, design garment labels, make sure their pieces fit the models, look presentable and are finished properly. Plus, on top of everything, it all has to be documented, Pitts explained.
Before their designs are accepted for the fashion show, they have to be approved by a jury, Brooks added. "Every design is viewed and checked against scoring criteria. Not all pieces get in the show. It is meant to be a real-life experience."
The jury also voted on awards that will be announced at dress rehearsal, she said.
Born in a refugee camp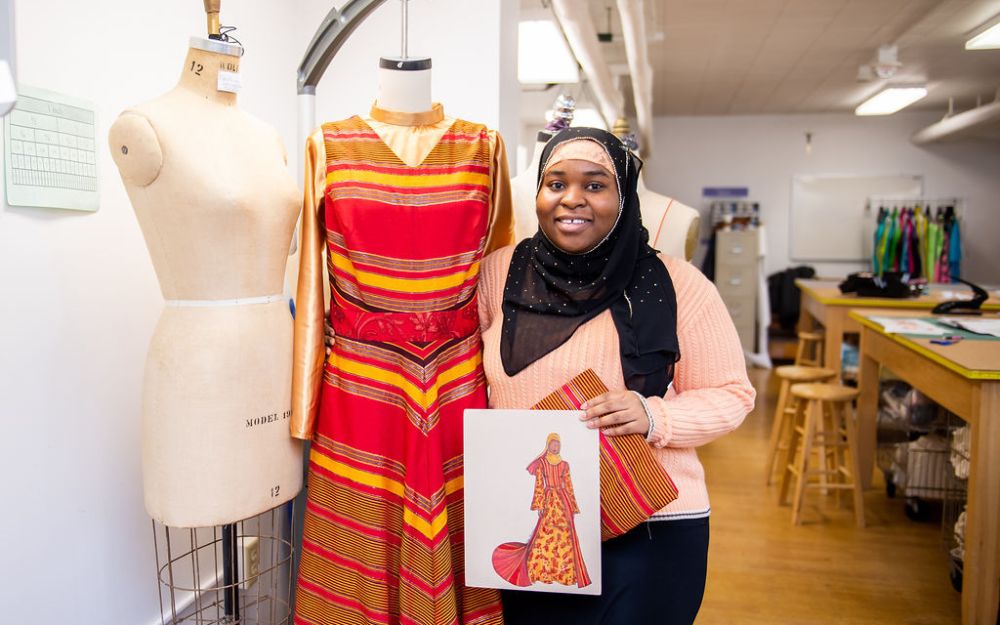 Senior student designer Mako Shidad of Milwaukee created a collection inspired by a visit to the refugee camp in Kenya where she was born. Her family, refugees from Somalia, relocated to Milwaukee.
"My name is spelled M-A-K-O but pronounced 'Meka,' like the holy city of Mecca," she said with a bright smile. In an interview after her Senior Capstone class, Shidad talked about her first trip back "home," her collection and her dreams.
Shidad spent the first years of her childhood in a refugee camp in Dadaab, Kenya, the world's largest refugee camp. She and her family are refugees from Somalia. 
She traveled with her mother and brother back to the camp in Dadaab for two months last summer. It was the first time to return since 2005, when she left as a 5-year-old child. "We brought three big suitcases filled with gifts for my aunties and for orphans over there. Donating to orphans is a big part of Islam. 
"I literally saw the house I was born in and the place where my grandma is buried, the only place outside Milwaukee I knew. I only know Somalia through my mom's stories."
In the camp, Shidad saw things that inspired her; some played into her fashion collection. "The stars at night are so gorgeous, so surreal," she said. "I could look up at night and not see any city lights. Everything is solar-powered and automatically shut off at a certain time."
She showed a photo of a hut in the camp. The walls, made of thin branches, hold up tin roofs. They are held together by wooden frames with planks crossing the walls horizontally midway up. This structure inspired Shidad to add tiers in the dresses she designed.
Another photo focused on patches of light on the ground where the sun shone through a cluster of leaves. "Doesn't this look like lace?" she asked.
Yet, her main inspiration was the need she saw everywhere. "Resources over there are scarce. People end up renting their wedding dresses and they are all wearing the same wedding dress. I want to create something that is socially acceptable (they are stricter regarding modesty) that I can ship to my cousin. It is something she could use to rent and help sustain her family."
Shidad held up a dress of red, yellow and orange with a heavy decorative lace. "It's red because that's the traditional color for weddings," she explained. "It's the equivalent of the white wedding dress. The colors are bright because it is a celebration. I want them to feel festive and happy."
Guntiino, a long piece of cloth that ties over the shoulder and drapes around a woman's waist, is used in the design. "Traditionally, it's worn like a sari, just wrapped around the body. A lot of the modern Somali wedding dressed designers are making it into something more modern," Shidad said. "As I am heavily influenced by my Somali background, I am making it modest—making sure nothing is sheer and that the bride is covered.
"Then I added bridal lace as well as other more Western bridal elements that give the best of both worlds, as now I am living in the United States. This senior collection is a mesh of my past and present. Being first generation, I'd like to put our Somali culture on the map in a positive light."
Shidad is already receiving requests for designs but is waiting until after graduation to take orders. She hopes to find a job where she can hone her skills and gain industry experience. "I will take freelance sewing jobs as well," she added.
Her goal is to be a leader and advocate for women's education, she said. Shidad hopes to start a nonprofit organization and open an all-girls boarding school in Kenya. She also wants to design her own line of clothes and use the profits to contribute to the school.
In the Wisconsin Association of Independent Colleges and Universities' newsletter, Shidad explained how receiving a combination of scholarships and grants (including a Wisconsin Grant) made her MMU education possible. "When I, an African refugee who never even imagined going to school, was given that opportunity, the sky was the limit." 
Her Senior Capstone teacher, Elena Pitts noted the courage Shidad demonstrated in the way she used fabric. "She used a few fabrics with one traditional fabric in every outfit, being able to move it and twist it in different ways. She really pushed herself, using heavier lace and traditional fabric. "Not everybody would have the guts to do so. You really have to have a feel for it to pull it off."
Sharing her grandmother's story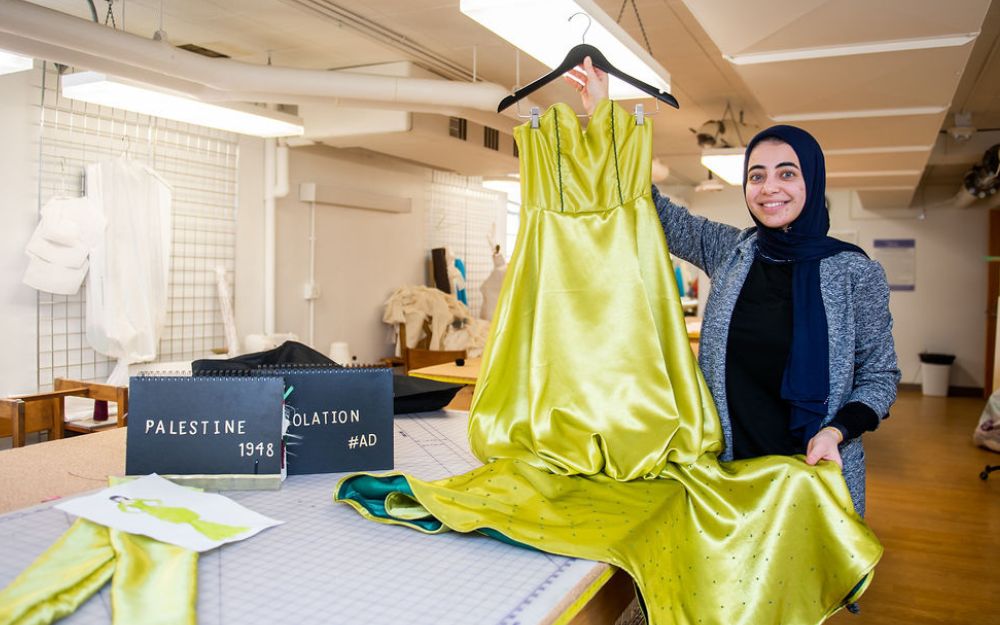 Senior Asma Dasan holds a formal dress from her collection, its color inspired by the olives of Palestine, she says.
Asma Dasan's inspiration came to her in Costa Rica two years ago when she was there on an exchange program. She caught a glimpse of a beautiful bird with the colors of the Palestinian flag—black, white, green and red. She learned it's called "the bird of freedom." 
"It only exists in Latin America and I'm one of the lucky ones who saw it," she said. "It has the Palestinian flag literally imprinted on its tail. That was the spark."
Dasan filled her inspiration book with images and colors of Palestine – the bright blue of the sea, golden sand, Arabic foods and styles, the blue and white Dome of the Rock mosque.
Fast forward to August 2021. Dasan was given the word "isolation" to explore as a theme for her senior collection. She immediately saw a connection to the situation of the Palestinian people, she said. "Palestine is basically isolated."
Although she has never been there, Dasan grew up hearing stories about her Palestinian grandmother Yusra, whose name means "with hardship comes ease," Dasan said. "I named my collection after her.
"Her story is my inspiration. She was born in Palestine, in Jerusalem. Her father was killed when she was 4, so she was an orphan. She worked on the land, collecting olives and they made olive oil from it. 
"Olives played an important part in my thinking. A branch of an olive tree stands for peace and that is what we are hoping for in that land." Olive green, along with the colors of the Palestinian flag, are featured throughout Dasan's collection.
Dasan's grandmother married. Her husband was killed and she had to leave Palestine. "All of this loss in her life, including her land" made a strong impression on Dasan. "She had to fight to survive. She sought refuge in Jordan and I think she was only 18." Yusra married again two years later; Dasan's father is her youngest child.
Dasan was born in the United Arab Emirates, where she lived for five years. Then her family moved to Jordan, "and I was practically raised by my grandmother from ages six to 12."
Her grandmother didn't have a chance to continue her education yet all of her children did, Dasan said. "She raised amazing people. She made sure they all were educated. Some are medical doctors; some have Ph.Ds."
When reflecting on her grandmother, two feelings came to mind: the "rigid side that everybody sees and the delicate side. I used that idea in choosing fabrics." Dasan held up a piece with soft satin and a stiff, 3-D structured fabric with a rose—"the rose of Palestine," she called it.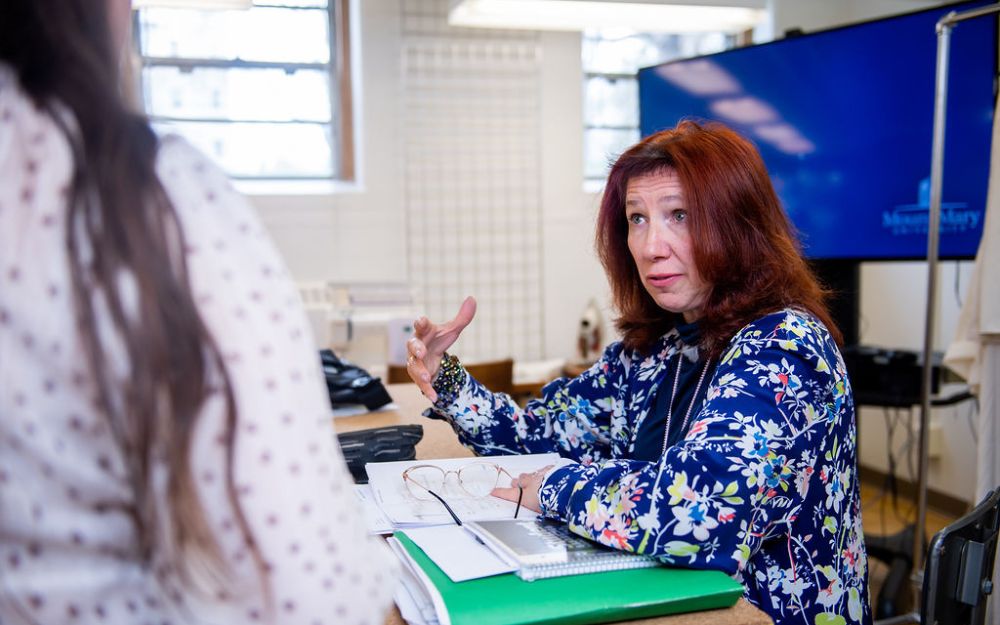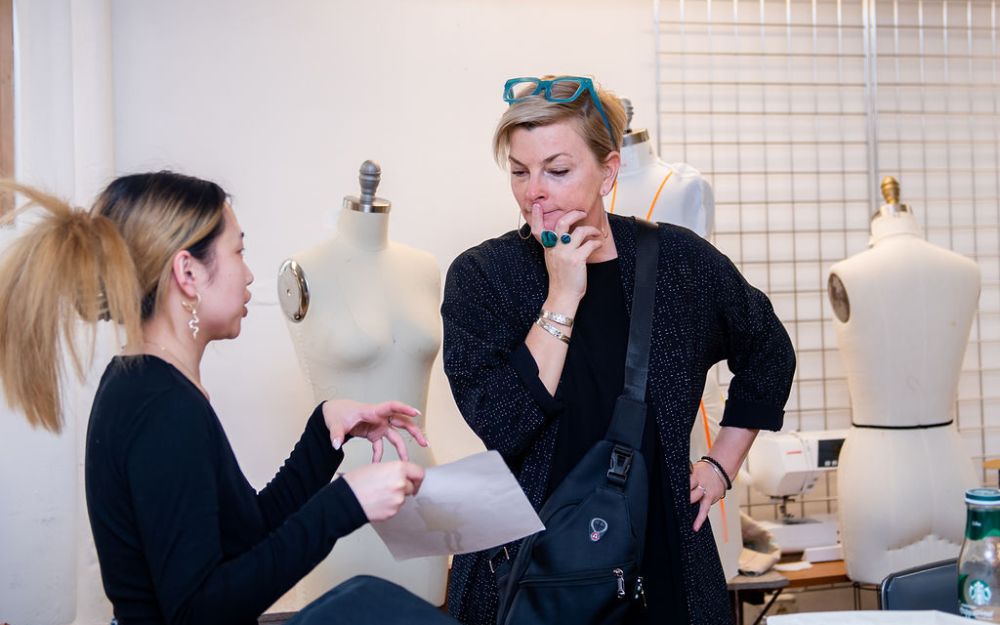 (Left) Assistant Professor Elena Pitts teaches the Senior Capstone class. (Right) Fashion Department Chair Ashley Brooks shares her experience as a professional designer with Mount Mary University students.
"She was very sweet but had to show the stiff side of her that kept everything going, to raise a family," Dasan added. Dasan last saw her grandmother on a trip to Jordan in 2017. Yusra died in 2020 before the family was able to make another trip back but she lives in Dasan's collection.
Dasan's gowns are filled with intricate beading and decorative chandelier trim. Beading work made Dasan think of her grandmother's patience. "Beads reflect light. Although they represent wounds, light shines through." 
The chandelier trim reminded her of hope and of how her grandmother, like a chandelier, could light a room with her quiet presence. 
A unique cage-like piece sits on the waist of a dress and drops over the hips. "It is a symbol of what is being done to Palestine," she said.
Dasan's collection is high-end formal wear for "a customer who would like to have a wow moment." 
"Asma put some hard work into her collection," Pitts said. "Her beading and silhouettes are very interesting. She's not afraid of shapes and some extra covers. The construction catches one's attention."
Dasan will go with her family on a trip to the Middle East after graduation. She still has lots of relatives in the Middle East. 
She is still exploring the role of her heritage in her life. During the trip, she plans to consider her future and decide where she would like to live and what she would like to do. 
Photos by Mouna Photography