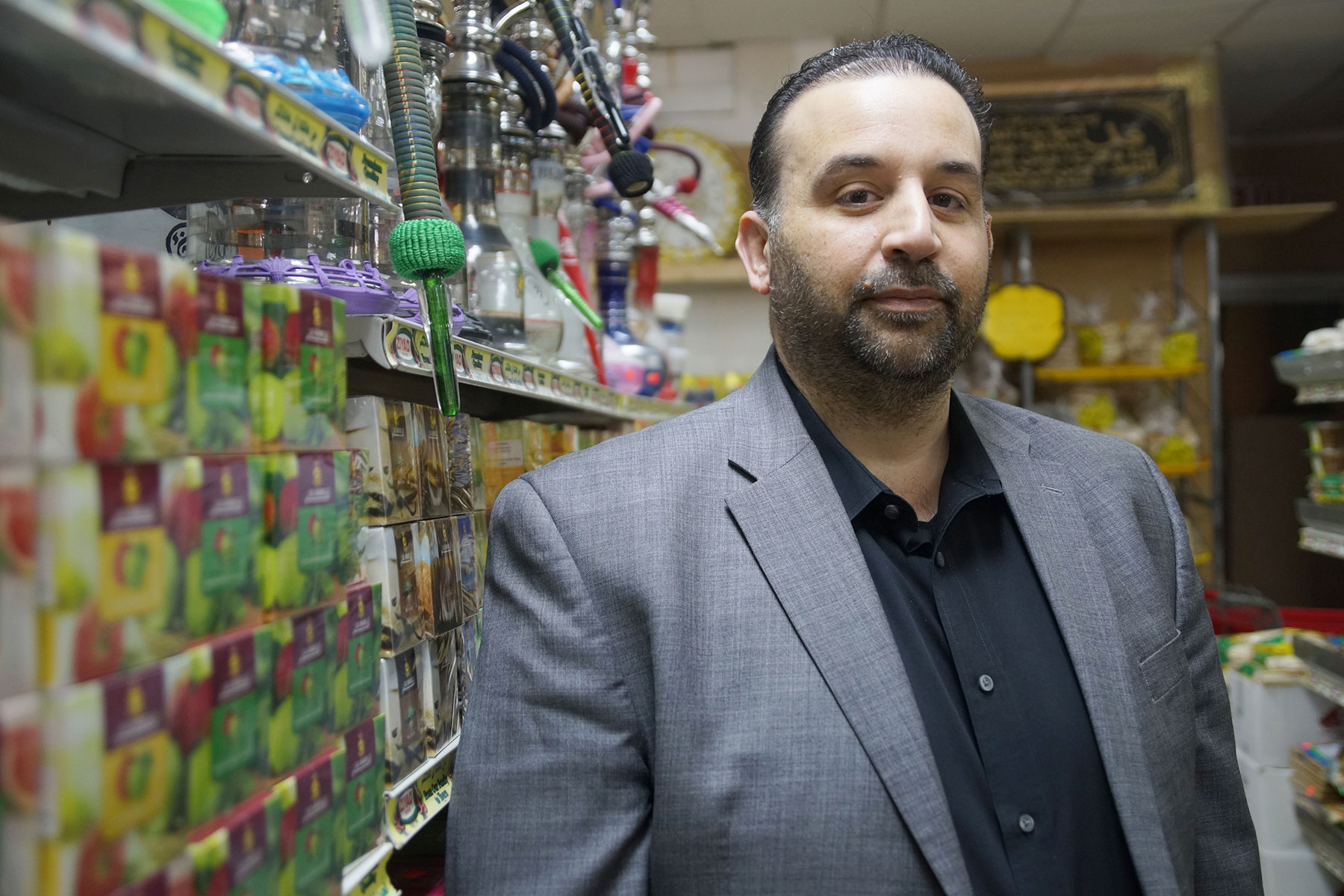 Individuals of the Muslim faith arrived in Milwaukee at the turn of the century, and became established as a group by the 1930s. The community has seen its biggest growth over the past couple decades, as historically restrictive immigration policies were lifted and coincided with displacement from American wars in the Middle East.
One entrepreneur saw this trend accelerating at the start of the new millennium. Ali El Hashash opened his first store, Holy Land Grocery & Bakery, in February of 2000 and later moved it to the former White Hen Pantry on Ramsey Avenue.
"Everyone in the Muslim community used to go down to Chicago to buy their supplies, and we thought there was a big demand starting up," said El Hashash. "The community was getting bigger here in Milwaukee, so we went ahead and opened our first shop, and this month is our 18th anniversary."
Born and raised in Oakland, California, El Hashash moved with his parents to Milwaukee at age 10. Over the past 30 years, it has become the hometown for his wife and children, who have blended into the neighborhood so it feels like one big family.
Holy Land Grocery has become more than just a small ethnic food market. But at its roots is a specialty store to find products not available in a regular super market. And while products cater to people of the Muslim faith, they span a variety of regions from Mediterranean to Middle Eastern to European.
"We have a lot of spices, and are known for our cut-to-order fresh meat. Regardless of it being halal, its fresh. We get our meat in 3 or 4 times a week and grind to order," said El Hashash. "People also come for our prepared food. We have homemade humus, falafel, kanafa, and our restaurant menu has been recognized by a lot of local magazines and newspapers."
Halal is similar to the concept of kosher meat. It has been blessed with prayers before slaughtering the animal. That is why consumers shop at these comparatively small ethnic stores. Not just due to location proximity or observation of faith, but because they are looking for healthy premium meat. Holy Land Grocery is also a place where shoppers can order specialty products that are not always on the shelf. El Hashash estimates that he is able to fulfill these requests 90% of the time, and always strives to get customers what the ask for.
Muslims in the Milwaukee area are a big part of the local community. They are highly educated as business people, with a large majority of doctors that serve the public. Yet even with this familiarity and by providing necessary services, the Muslim community is not exempt from the backlash that comes at this highly political time in the country's history. Fortunately for El Hashash and his employees, they have not had to deal with Islamophobia yet.
"We have a lot of customers, since we have been around for a long time. So every time something happens involving Muslims in the news, we get calls of support. Customers walk in showing their support in a really good way," said El Hashash. "It is a lot more comfortable for us, and our employees, when a Catholic priest walks in or people we have never seen before, and they show their support by thanking us for being in their community."
Along with his business partner Wajdi Ismail, El Hashash is looking at opening other stores in the near future, probably at bigger locations in the Milwaukee area.