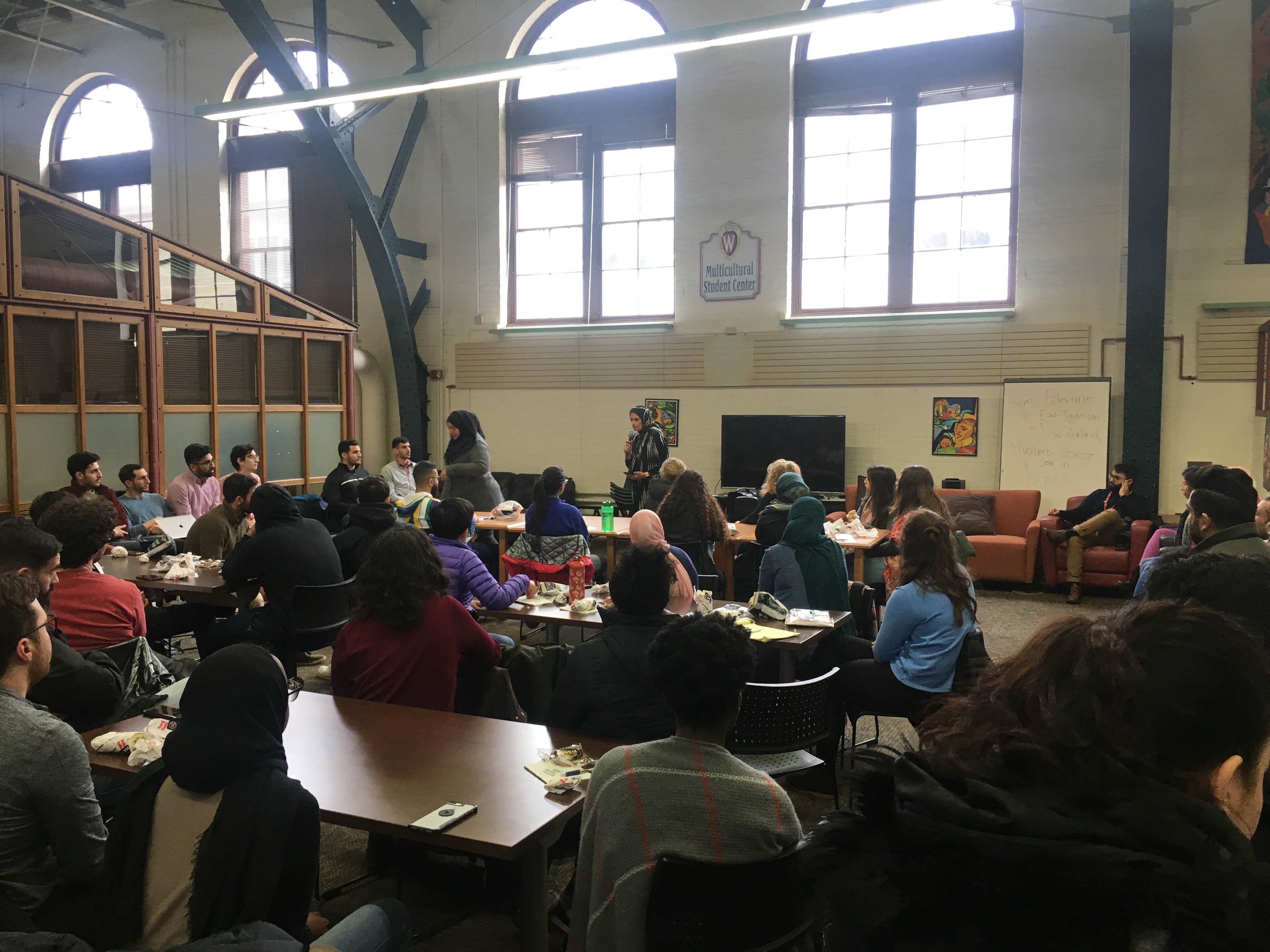 Fifty Muslims were killed in a white supremacist massacre in Christchurch, New Zealand on Friday during the weekly Jum'ah, or congregational, prayer. Left in a state of grief, Muslim communities around the world began dealing with their sadness: prayer, anger, disgust, and more emotions swelled as the horrific story developed and the death toll rose.
With this sadness came fear; however Madison Muslims were undeterred and prayed together as if it were their last prayer.
Devastated, yet motivated to come together, Muslim University of Wisconsin students Mouna Algahaithi and Ali Khan hosted a vigil just 12 hours later with the Muslim Student Association at the Multicultural Student Center, where the staff were more than willing to provide space and services. The Assistant Director of Leadership and Involvement, Maria Ahmad, assisted in inviting University Health Services mental health counselors, as well. Over 50 staff, students, and community members from various religious backgrounds gathered to honor the fallen victims.
"Growing up, I used to go to the masjid (mosque) every Sunday and every Friday for Sunday School and the Friday prayer," said Muslim Student Association president Ayyan Arshad. "It was a time to step away from your daily lives and to just relax. For us to think twice about that, it's very sad and disappointing. For people who have lost family members, looking at that place and the memories attached to that place, it's going to be very difficult…our Muslim community is similar in size. It could be any Muslim community."
Asifa Quraishi-Landes, a Professor of Law at UW-Madison, had words of advice for people who attended.
"For those who are scared: It's okay to be scared," he said. "Use it, listen to it, trust your gut, and use that to be safe. It's brave to come here, coming to a mosque now and in the future. It's also an act of courage to think about where to go and to decide if you don't want to go…you have to trust your gut and trust that God will be with you. Remember that God is closer to you than your jugular vein."
She referenced Hafez, a famous Sufi Muslim poet, for both allies and those who are still grieving, urging those present to allow themselves to simply feel.
Finally, Algahaithi closed with powerful remarks. "We must remember the reason that they went to masjid, and that was to seek the mercy and the connection of God. The only thing that felt right was to pray to God and to come together," she said. "Last night I kept thinking: what can we do? What can I do? We should demand justice. We should call congressmen and politicians and make sure this never happens again. And maybe we will do that. But maybe we should just sit with the influx and overflow of emotions that we are feeling.
"Being here today isn't about fixing a problem or coming up with solutions. It's about acknowledging the heaviness in our hearts, showing each other and maybe a bit of the world that what happened in New Zealand was heard and felt here, too."
She then invited the attendees to write letters to the families of the victims and over 30 postcards were written, and will be mailed to a local mosque in New Zealand.