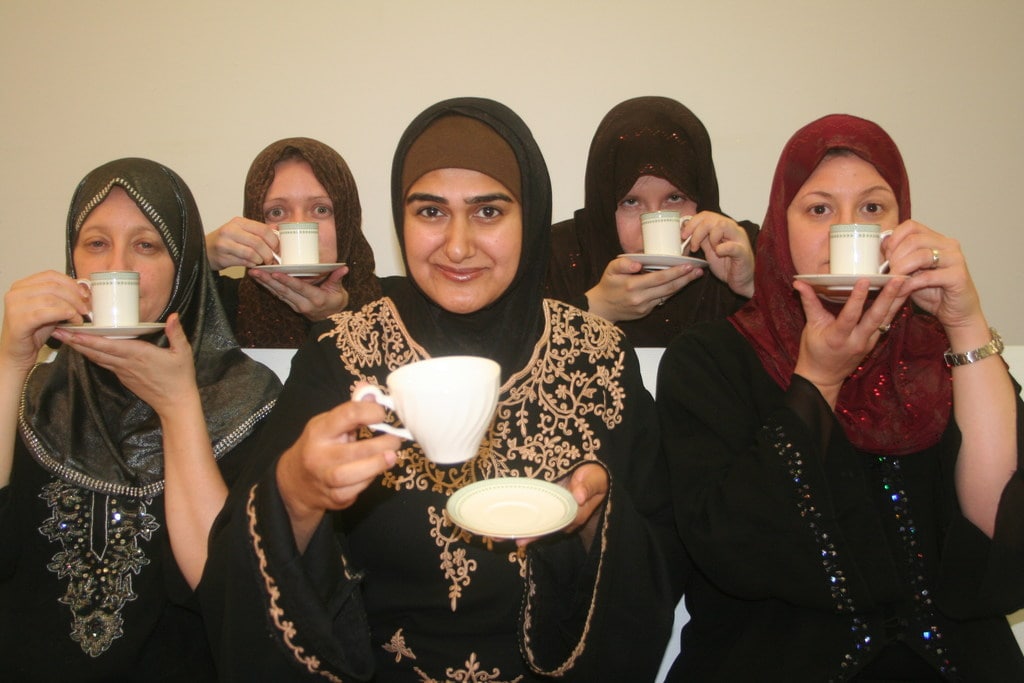 Baltimore Theatre Project presents Rohnia Malik's acclaimed solo play about being othered in America.
Hot tea is the recommended beverage for viewing Chicago-based playwright Rohnia Malik's Unveiled, available online through January 2021 from Baltimore Theatre Project. The one-woman show introduces us to five gracious and outspoken Muslim women who serve up heart-filled, painful, and hopeful stories of their experiences of living in a post-9/11 world where simply wearing a hijab, the traditional female headscarf, can be dangerous.
But don't simply boil water and drop a Lipton tea bag in a mug. Malik's Maryam claims that's not real tea. The real tea is an invitation to strengthen family relationships and friendships, a means to warm people up to share stories of love and loss, of pain, hatred, and prejudice, and of healing as the aromatic steam wafts upward.
Maryam offers up her own warm sweet tea invention — Chocolate Chai, sipped from a porcelain cup rimmed in gold. One of Malik's five female voices introduced over her 44-minute performance, Pakistani-born Maryam — named, she shares, for prophet Jesus' mother — is the most chatty. A dressmaker by trade, she calls herself an artist and reveals why wedding dresses bring up painful memories.
Each of these women has confronted suspicion, outright prejudice, hatred, even a horrific hate crime as a result of publicly wearing the hijab. Their stories, crafted by Malik, feel like personal one-on-one conversations. Noor's story is perhaps the most heartbreaking, and inspirational. A lawyer counseling a rape victim, she reveals her own shocking experience, her struggle with fear and depression, and, ultimately, her determination to beat back the demons. As she proffers a glass of Moroccan mint tea, Noor, which means light, glows with hard-fought grace as she repeats her mother's wise words: "Never say, 'Why me?' Say, 'What for?' … I have found my purpose in life."Warned to remove her hijab after 9/11, Inez is adamant, until it's necessary. And even then we hear her ask Allah for forgiveness. But she looks straight into the camera, noting that intolerance for one becomes — as we all now know — the intolerance for all: "This is every American's problem. Today's it's my rights…. Tomorrow it could be yours." Her Southern accent and smile belie the bitterness of the Middle Eastern coffee served at funerals, the coffee she drinks on the anniversary of 9/11 to remind her of the bitterness of that day and the burdens she carries as a brown-skinned woman who wears the hijab.
A rapper with a working-class lilt from London, Shabana wears her toughness on her blue track jacket. Sipping Kashmiri chai, a liquidy pink concoction, she asserts that hip hop gives her power in a world where she feels she has no voice. And the veil? She owns it: "It's about modesty. This is my feminism…a statement of solidarity with my sisters."
Finally, Layla proudly acclaims her spot — the best Middle Eastern restaurant in the suburbs — where she serves up a glass of pale green sage tea and a post-9/11 confrontation as she's caught wearing a hijab in a crowd. "Get to know me. Get to know my community. Islam means peace … remove the veil from your heart. You see, I wear a veil on my head but my heart, my heart is not covered."
Unveiled, which premiered in 2009, still feels current, even prescient. It has made its way to venues around the country over the years, drawing audiences of theatergoers, students, religious communities of all affiliations. You could call it "edutainment," but theater can and should make us think, perhaps change us, or a least cast an idea or individual in a new light.
The virtue of a one-woman show is the ease of bringing it to the virtual online environment.
Here Director Sabeena Schmidt shot Malik in various rooms of a home providing warmth and familiarity — a kitchen table, a dining room, living room, and porch —  and allowing for a feeling of intimacy to invade the lens with sharp closeups and Malik's direct address to the camera. While she is not gifted with the malleable plasticity of Baltimore-native actress Anna Deveare Smith, who has raised the one-person show to high art, Malik ably captures quirks and physical traits that bring her five characters to light. Using costumes, tempos, cadences, and accents, she's best at weaving a rich tapestry of Muslim women's voices into whole cloth. Listening to their sing-song accents, stories, and poetic incantations of verses from the Koran or from mother's advice reveals a worldview that most Americans have not encountered.
Theater — on stage or online — opens a doorway into the lives and experiences of those who so often in our country would be called "other" or "outsider" or simply be ignored if not bullied and worse. Here we hear heard a painful plea from Layla, her voice breaking: "Get to know me. Hear me." Playwright/actor Malik has pained otherness into a multifaceted portrait of revealing parables that demonstrates the strength, fortitude, and hospitality of Muslim women — reminding those of us willing to step in the door, sit, and listen for a while that we are all sisters and brothers in this polyglot American nation. Malik's Layla offers one further bit of wisdom that we could all use to hear right now: "If you are not concerned about the suffering of others, you are not human."