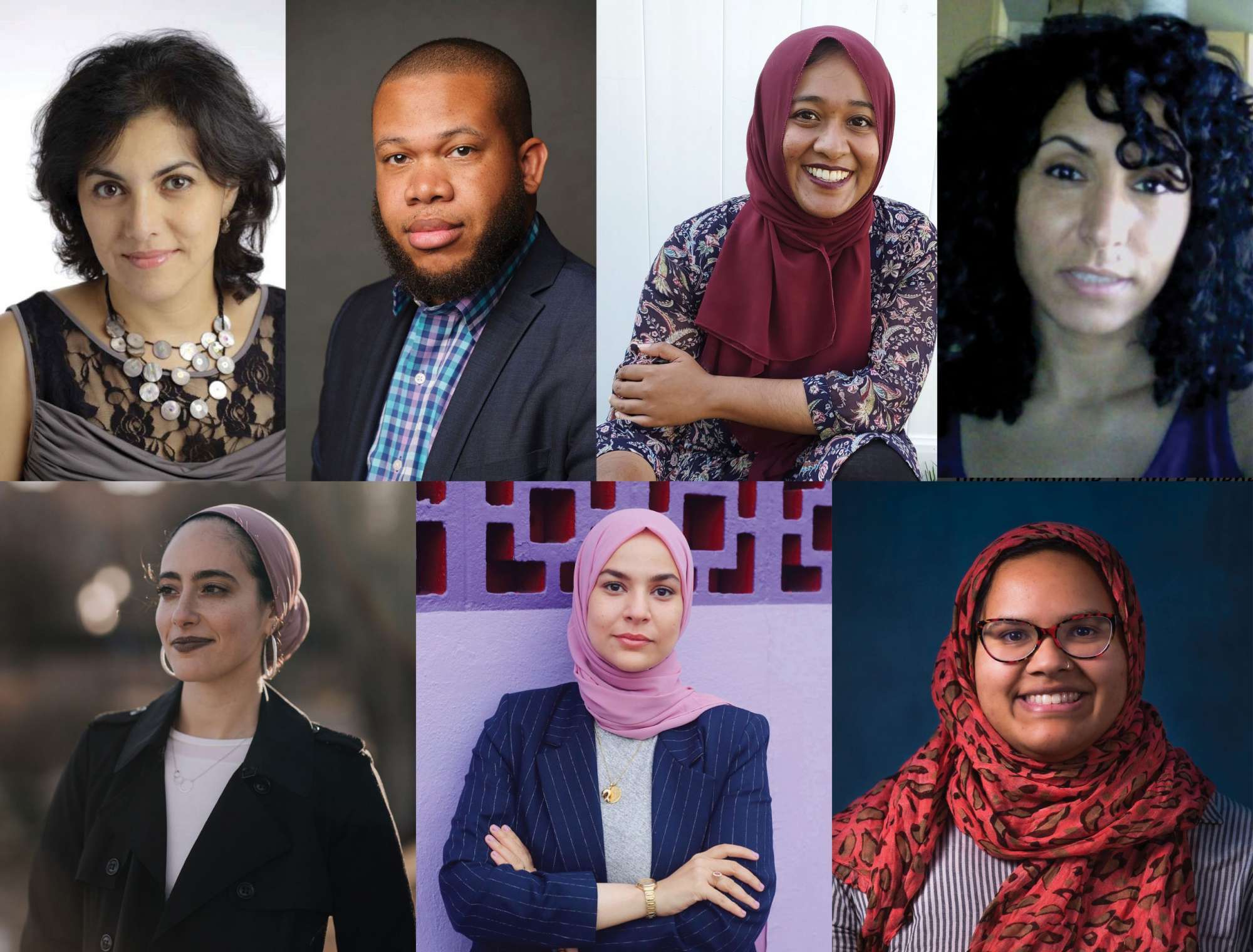 The research team "Reclaiming: ME (Muslim Educator)," top from left, Mayida Zaal, Amir Billups, Maheen Ahmad, Chedia Ayari; bottom from left, Nagla Bedir, Manar Hussein, Nushrat Hoque
Maheen Ahmad '13, a sixth grade English teacher in West Orange, New Jersey, never wanted to miss a day of school as a child. Her teachers, she recalls, "were the smartest, coolest people in the world. They knew everything."
But that changed as she grew older. She knows her hijab can affect the ways people see her, and in school, "I felt like I wasn't always accepted. One of the motivators for me is to be a teacher who encourages students to love who they are and where they come from."
Ahmad is using her experiences as a collaborator on the first national study of Muslim-American teachers, "Teacher Diversity, Retention, and Muslim-American Teachers," conducting research rooted in dismantling racism, Islamophobia and anti-Blackness.
Led by Montclair State Associate Professor Mayida Zaal, the work of the seven-member participatory action research collective – "Reclaiming: ME (Muslim Educator)" – is supported by a $500,000 grant from the Spencer Foundation's Large Research Grant on Education.
"The COVID-19 pandemic, the economic and political volatility, and the mass response to racism have increased the urgency of our research," Zaal says.
Zaal has focused much of her scholarship on recruiting and preparing teachers of color. As she watches the gap continue to widen among marginalized groups, and schools operating in systemically unequal and racist ways, she says children from marginalized communities are being left behind.
"Representation matters now more than ever. Our children and communities need diverse teachers to help address these disparities," Zaal says.
The group will examine the intersectional experiences of Muslim-American teachers in K-12 schools. "Part of what makes our project unique is that we are participatory action researchers. From the onset, as we were building our team, we were thinking through shared questions that we had about what teachers might be experiencing, what many of us were experiencing," Zaal says.
Nushrat Hoque '16 MA, a graduate of the Woodrow Wilson Teaching Fellows program at Montclair State, says the group has connected over a shared passion for social justice that has informed both their teaching practices and the study's structure.
Chedia Ayari agrees. "It's the deep desire for social justice, but we also spend a lot of time together just knowing each other and knowing our lives and who we are as individuals, as teachers, as parents. The experiences that we share in our educational background varies from negative to positive. Even the negative experiences have managed to enrich us as both researchers and individuals," says Ayari, a doctoral student in the Teacher Education and Teacher Development program.
The group also includes Nagla Bedir, founder of Teaching While Muslim, an organization that focuses on addressing discrimination and institutional racism in schools and creating a supportive network for Muslim-American teachers. "There's no institution, no system in place that supports Muslim educators in any way, shape or form," she says.
Studies have shown the benefits of a diverse teaching force, including higher academic performance, graduation rates and college enrollment when teachers share race, ethnicity or gender with their students. Researchers have found that when paired with a Black teacher, Black elementary students closed the performance gap on state mathematics tests by 35%. Having even just one Black teacher increased Black students' college aspirations and greatly reduced their probability of leaving high school. Students of all racial backgrounds in schools with greater representation of teachers of colors among the teaching staff score higher on state tests than schools that do not.
Preliminary findings in the "Reclaiming: ME" pilot, says Amir Billups, a high school social studies chairperson in Newark, New Jersey, "found situations where young people opened up because they found someone on the staff who shared their experiences. There's a connection that's being made there that's value added."
Manar Hussein, a doctoral student in Teacher Education and Teacher Development, recalls having only a few teachers of color growing up. "I've never had a Muslim teacher or an Arab teacher in the United States," she says. "I thought it was my experience. I didn't realize this was bigger than just one Muslim girl in New Jersey, that this was all over the place."
An important piece of the conversation is how Muslim Americans are impacted by complicit racism, specifically anti-Blackness, Zaal says. "The research says that the kinds of issues that push teachers of color out of the profession are things like racial battle fatigue, and having to always be the ones to advocate for marginalized students and to educate others about what it means to be different."
As the study expands nationally, the researchers will be talking with teachers in cities with growing Muslim-American communities, ethnic enclaves and in places targeted by hate crime, including Dearborn, Michigan; Minneapolis, Minnesota; and Chapel Hill, North Carolina.
The study's pilot "uncovered that some Muslim-American educators have experienced microaggressions, have experienced bias, or they've had to censor themselves in terms of the content that they covered in their classroom," Billups says.
The results were influenced by the school setting. "In the City of Newark or East Orange, areas with large Muslim populations, those teachers may not feel they need to censor or feel self-conscious about who they are," Billups says. "But in a different setting, Muslim-American teachers are forced to be a lot more conscious of who they are, how they show up in certain spaces, because they may be the only person who represents a faith or a culture associated with it."
"We need to flip the conversation," Zaal says. "Anti-racist education needs to be not only something that gets focused on in diverse communities. It's actually the reverse. We need to be thinking about anti-racist education that addresses predominantly white communities, where those conversations may not otherwise be had."