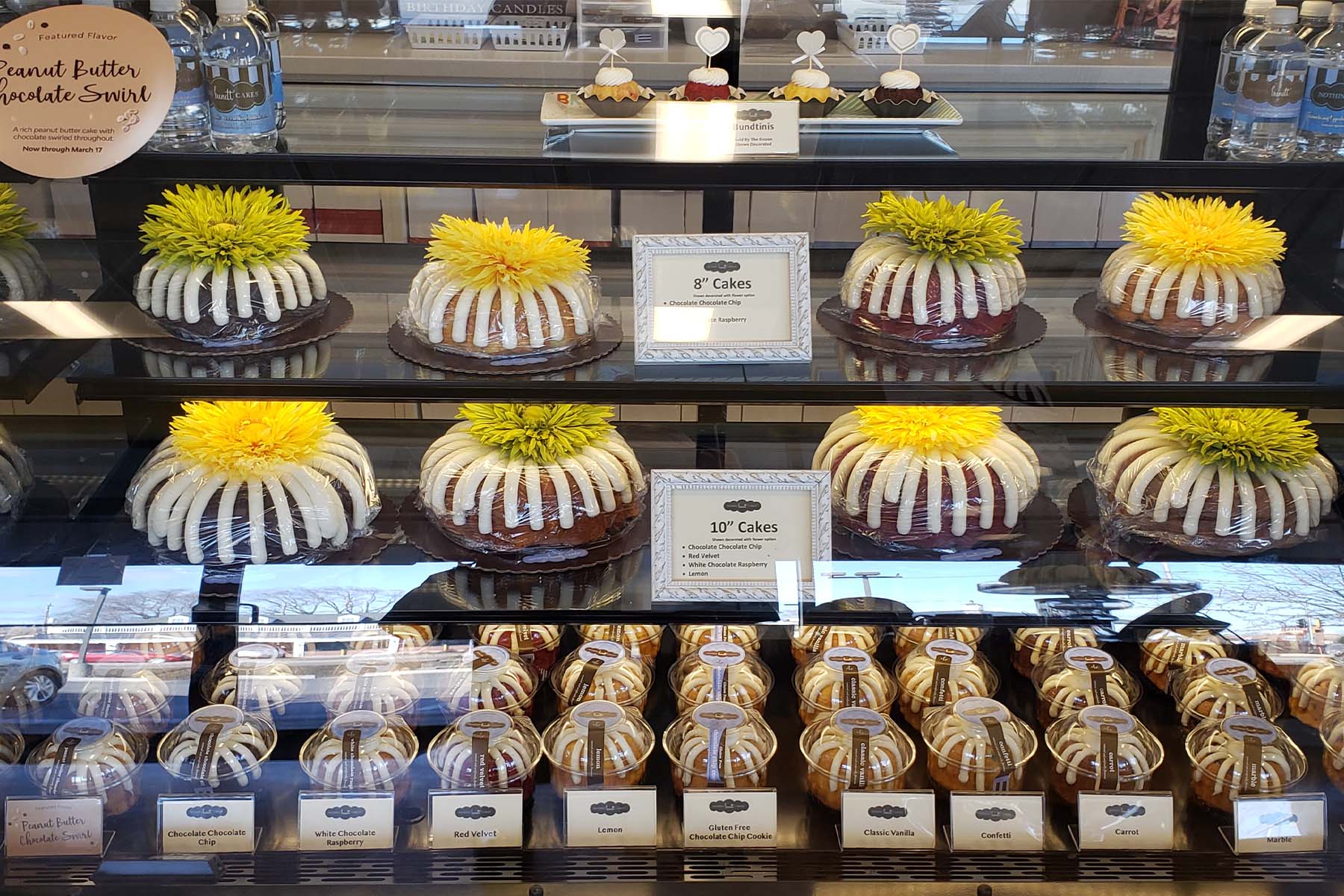 On its corporate Web site, Nothing Bundt Cakes – a play on words that stands for "nothing but bundt cakes" – describes itself as "a unique franchise concept" now open in 300 locations nationwide, featuring stores with a "Mom and Pop" vibe.
That's what attracted Abed Khatib, who in 2017 was looking for a business opportunity where he could be his own boss, but who wanted a business that would be both "wholesome" and "halal."
Nothing Bundt Cakes is currently making a foray into the Wisconsin market, with two locations open in greater Milwaukee, in Brookfield and on the North Shore, a store in Kenosha, and another in Madison. Orders can be made in person or online, and they deliver.
According to the legend promoted on the Nothing Bundt Cakes corporate Web site, two ladies with the perfect bundt cake recipe started the business in Las Vegas in 1997 "simply to please their family and friends." Out of this, a "successful niche bakery concept" was born that markets friendliness, usually in ceramic form, along with its "incomparable food product," a "delectable new luxury product at an affordable price."
The bundt cakes come in four sizes, extra small, bite-size or bundtini; small, one-person cakes; medium, 8-10 inch bundt cakes serving 8 to 18 people; and large, over-10-inch cakes serving up to 26 people, which are sometimes sold and decorated as wedding cakes. Giving the cakes as gifts is encouraged and includes single-serving cake towers and boxes of tiny cakes wrapped like candy.
A Nothing Bundt brochure describes the product as "hand-crafted cakes," and they are baked and decorated on site by bakery employees. Offerings at the store don't stop with cakes, however, but extend to the entire cake-eating, gift-giving experience. There are mugs of every size and description, decorative plates, and tea towels, proclaiming a variety of upbeat slogans like, "This is my happy place?" and "Cup of Sunshine" or "I'm a teacher. What's your superpower?"
But if you just want a sugar fix, you definitely can get it at Nothing Bundt.
All of that is what drew Khatib, 31, to opening a Nothing Bundt Cakes franchise on Brown Rd in Fox Point. Back in 2017, when he was a manager for Goodwill, he started looking around for a business opportunity. When he had a chance to try one of the cakes, he said, "These cakes are amazing." He began the process of opening his own store in 2018, and that included a one-month residency at Nothing Bundt's training center in Plano, Texas, where, he said, "they threw you right into operations." Company headquarters is now in Addison, Texas.
Khatib's personality meshes well with the neighborly values of the Nothing Bundt brand. Stopping in at the Starbucks next door to his cake shop, he tells the baristas that he will be back later with some unsold cakes for them. He gives away the cake that is "coming to expiration" to locations around the community, including other stores around the mall. He is in the process of becoming Kosher certified. One thing that drew him to the Nothing Bundt brand was that it "is kind of wholesome," said Khatib, whom everyone calls Abed. The cake mix itself comes in large sacks from corporate, but the eggs, butter, and cream cheese come are locally sourced, he said.
The bundt cakes come in gluten-free options as well as a variety of flavors, like chocolate chip, classic vanilla, red velvet, marble, confetti, lemon, white chocolate raspberry, and pecan praline. "We have ten flavors that we choose to carry," Khatib said, as well as a "rotating feature flavor of the month." For March, the special cake flavor is peanut butter chocolate swirl.
The initial investment in a franchise is steep, in case of Nothing Bundt, around half a million, Khatib said. But an original McDonald's franchise can require an upfront investment in the millions. The Nothing Bundt model is that the owner/operator can be in the black in three to five years, said Khatib, who is currently in his first year of operation.
"You have a lot of people willing to pay it," Khatib said of the franchise fee. With Nothing Bundt Cakes, "you have a proven business model. What works and what doesn't has been tested. And you have an amazing support team." And that support continues now that his store is open. Should he need anything, Khatib says he can call the store in Brookfield. "I don't think we see each other as rivals but more as part of the brand," he said.
Family has also supported him; his brother Samer took the training with him and helps out at the store, and his father is an investor. Khatib is the father of two, and planning for his initial opening gave him time, he said, to be a "stay at home" dad.
"We are a very niche market," Khatib said. "We overlap with cookie specialty stores and Baskin Robbins. But we want to keep it very 'mom and pop' with every bakery and owner" operating their own individual business. Bakery owners vary, he said, from executives to attorneys to teachers, but are all "people who really like the product."
To let the community know he's open for business, Khatib has been donating cakes to fundraisers and giving out cake samples since his opening. But the business doesn't stop at the shop door. Khatib supplies cakes for business-to-business and corporate events as well as weddings and birthday parties. He changes up the cake decoration for holidays and is currently working on a specially decorated cake for Ramadan.